Blue Note in 1964
The legendary jazz label had the best year of almost any imprint ever, exactly half a century ago. J.D. Swerzenski highlights just a few of the recordings you need to hear.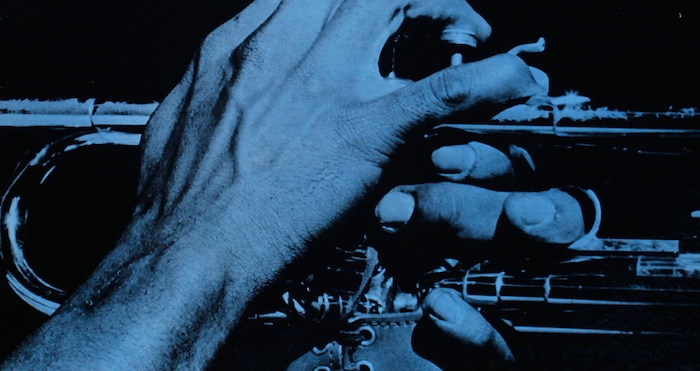 There was nothing particularly special about the Saturday session at Rudy Van Gelder's Englewood, New Jersey studios. Lee Morgan had cut over a dozen records there for Blue Note over the past eight years, all of which had been warmly received, if lightly recognized. But Morgan had stashed a bit of magic in his trumpet case for this session, a chart for a simple 12-bar blues riff that would end up serving as his calling card for the remainder of his career.
About three months after Morgan and his band cut "The Sidewinder," the track started picking up steam – first in pool halls and juke joints all across the country, then in the mainstream, finally peaking in January of 1965 at #25 on the Billboard Pop Charts.
The Sidewinder became Blue Note Records' best-selling record, breaking the previous sales record roughly ten times over. Lee Morgan's hit, however, was no one-off for the label: It was the opening shot in a year of classic recordings.
While today Blue Note's success seems like a given, in 1964 it was anything but. Despite the stellar material being produced by jazz artists in the mid-'60s, the genre was being overrun by the likes of Beatlemania and Motown. "The Sidewinder" was a more elemental and soulful sound for the label, one that appealed beyond a core audience of musicians and self-styled intellectuals. That accessibility would prove a large part of Blue Note's recipe for success in 1964, but it certainly wasn't all. The reason that 1964 stands out? It was a unique moment in which everyone on the label seemed to have something to say. The old guard was reacting to new developments. Other artists were hitting their stride. And new talents were emerging as well. More than 30 or so stone-cold classics were put out by Blue Note in 1964. Here are just a few of them.
Art Blakey
There's no better place to start the story than with Art Blakey, the heavyweight drummer whose trajectory is more closely aligned with Blue Note than any other artist. He was there for the label's earliest recordings, anchoring sessions by Thelonious Monk and Miles Davis in the early '50s. He also recruited some of Blue Note's top talent to the roster, with Hank Mobley, Lou Donaldson, Bobby Timmons and more all passing through the Jazz Messengers' ranks. Most importantly, Blakey's work – hard-hitting, groovy and always tasteful – formed the essence of Blue Note's trademark sound.
In 1964 Blakey had assembled his strongest group yet, held down by the airtight rhythm section of Cedar Walton at piano, Jymie Merrit on bass, and Blakey at his post behind the kit. With Lee Morgan at trumpet and Wayne Shorter at saxophone – both at the peak of their performative and compositional powers – it was an unstoppable crew. You could take your pick of just about any of the Messengers' four albums in 1964, but two in particular really highlight the brilliance of this band and showcase the range that occurred when Morgan and Shorter entered the picture.
"Free for All," the 12 minute monster from the album of the same name, highlights the free jazz-leaning side of Shorter. It would be out-and-out free jazz too, if not for the controlled churn from Blakey, who deftly manages to keep the track thrillingly on the verge of chaos. Nonetheless, "Free for All" is still Shorter's track, his solo building in wave after cascading wave, finally flaming out in one last incendiary squall. Even Blakey couldn't help but shout along in Keith Jarrett-like awe. (Take a listen around 2:50.)
On the other end of things is "Calling Miss Khadija" from the inscrutable Indescrutible. Lee Morgan couldn't oil his horn without writing a soul jazz classic in '64. Even then, "Khadija" is special, standing second only to "The Sidewinder."
Jackie McLean
After struggling to find their footing in the hard bop era, a whole gang of bebop titans found a second wind at Blue Note. Alto sax titan Jackie McLean had already hit a roll on 1963's One Step Beyond, and he found a way to double down the following year with his most fulfilling record to date Action Action Action. McLean had an ear for young talent, and his band here exemplifies that gift. Charles Tolliver and Bobby Hutcherson, both barely into their 20s, make the sort of first impressions that one would expect from two future jazz icons.
Dexter Gordon
By 1964, Long Tall Dex had cycled through about three crashes and comebacks since his earliest swing-era recordings. His move to Europe the year earlier, though, seemed to have blown plenty of wind into his creative sails. Most notable from this era is One Step Up, featuring the magnum opus "Tanya," which locks in for all 18+ minutes of side one. Penned by trumpeter Donald Byrd, "Tanya" owes plenty of its power to the bluesy touch of its players, including Kenny Drew, Art Taylor, Niels-Henning Orsted Pedersen and its composer. That said, there's no getting around how thoroughly Dex dominates the track, his eight minute solo a brilliantly executed distillation of the sound he'd so carefully honed over his two decades on the bandstand.
Herbie Hancock
No force was as strong in fueling Blue Note's furious creative streak in 1964 than its roster of young talent. Herbie Hancock came out with Empyrean Isles, most notably featuring "Cantaloupe Island." Just as solid was Hancock's sideman work, which included crucial assists on Wayne Shorter's Speak No Evil, Jackie McLean's It's Time and Stanley Turrentine's In Memory Of.
Tony Williams
Hancock's bandmate in the Miles Davis Quintet, the soon-to-be legendary drummer Tony Williams, also posted his debut recording midway through the year with Blue Note. Cut just a few months after his 19th birthday, Life Time showcases a more free jazz-inclined Williams than his later recordings suggest. However, the album aptly showcases the sort of versatility that would feature so prominently in his work for Miles Davis and his own band Lifetime in the '70s.
Chick Corea
A final, much quieter debut also occurred at Rudy Van Gelder's studio in late in late '64 when Blue Mitchell became the first to feature the young pianist Chick Corea on record. Corea's contribution to Mitchell's The Thing to Do was "Chick's Tune," a piece that would remain in his set for years to come.
Wayne Shorter
From his records as a leader, sideman gigs and live features, every note Shorter blew in 1964 turned classic. After signing on at Blue Note in January, the saxophonist wasted no time in putting out three full-length records before the ink on his contract had dried, each one better than the last. We're not talking three albums of standards here either. Juju, Night Dreamer and Speak No Evil were all chock full of originals, an incredible number of which quickly became standards themselves. ("Witch Hunt." "Speak No Evil," "Virgo.")
"Speak No Evil" is arguably the best of the bunch, a winding, ancient sounding melody that's equal parts mesmerizing and memorable. Shorter did all this while holding down a day job as saxophonist and musical director for Art Blakey, for whom he composed and performed on four albums in '64. He was no slouch as a sideman either, putting in impressive features on records for fellow Jazz Messenger Lee Morgan (Search for the New Land) and trombonist Grachan Moncur III (Some Other Stuff). Despite all this, Shorter still found a way to top himself by the year's end, landing jazz's most coveted gig as saxophonist for Miles Davis' band. His brilliance as a composer and improviser would become the key component in Miles' famed second quintet.
Standards
For all the incredible musicianship brewing around Blue Note in '64, its legacy has largely endured on the strength of the classic compositions first featured on its albums. "The Sidewinder" is an obvious example, but it had plenty of company, most notably Herbie Hancock's "Cantaloupe Island," one of jazz's most constantly covered, remixed and referenced tunes.
No one was cutting standards like Wayne Shorter in '64, and at least five tracks from his three releases that year still feature prominently in many a band's repertoire. Of that bunch, "Witch Hunt" continues to receive the strongest following. It's a weird tune, rooted in mystic sounding pentatonic melodies and start-stop rhythms – both of which should be at odds with Blue Note's typically straight swinging sound. But there's a brilliance in "Witch Hunt's" unorthodox construction, which has allowed for endless reinterpretations. Nothing tops the original, though.
Pianist Horace Silver also caught the creative wave in late '64, riding it towards his most recognizable jam "Song for My Father." The track would go down not only as his most instantly gratifying composition, but would also serve as the basis for Steely Dan's "Ricky Don't Lose That Number" about a decade later.
Home of the Free
Though Lee Morgan and the hard bop sound defined Blue Note's sound in '64, Blue Note made it a priority to capture all manner of jazz styles, including the cutting edge free jazz movement. The label's devotion meant low sales but a wealth of groundbreaking recordings. Forward-thinking saxophonist Sam Rivers cut his killer debut Fuchsia Swing Song in December, while pianist Andrew Hill posted two avant-garde opuses in the form of Point of Departure and Judgment! At the top of the heap, however, was Eric Dolphy's masterpiece Out to Lunch! Every bit as inventive as Ornette Coleman's The Shape of Jazz to Come or John Coltrane's Ascension, it's a record that managed to rework the free jazz sound around a hard bop framework, without sacrificing a shred of listenability or improvisational freedom.
Further Recommended Listening
Joe Henderson - El Barrio
Features the gnarliest sax intro ever pressed to wax, and it just gets better from there.
Kenny Dorham - Mamacita
The perfect middle ground between Afro Cuban fire and hard-bop swing.
George Braith - Nut City
Braith never gained the sort of fame of fellow Hammond B3 organist Jimmy Smith, but "Nut City" shows he could catch fire just like him.
Stanley Turrentine - Wahoo
Sax players don't come much more soulful than Stanley Turrentine, and this Duke Pearson-penned track gives Turrentine just the backing he needs to do his thing.