Fab Five to Black Portland: Hip Hop's 10 Favorite Sports Teams
Anthony Obst charts the genre's love affair with sports.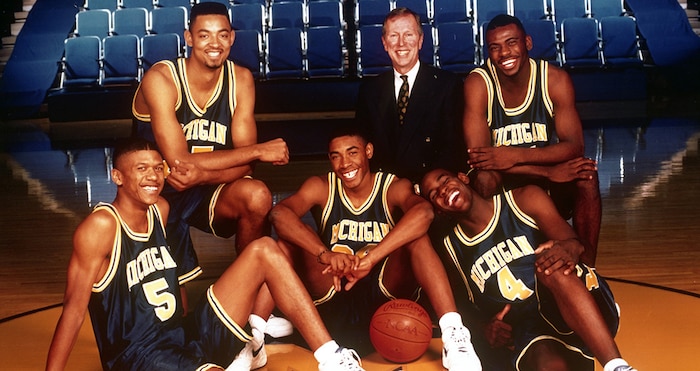 With the release of their curiously titled mixtape Black Portland, Atlanta's Young Thug and Bloody Jay brought back into focus what – over the years – has become taken as given: rappers love sports. From Kurtis Blow and bas-ket-ball to Drake standing in as a mascot for the Slam Dunk Contest, from Eazy-E making it feel good to be a Raider to Richard Sherman's battle rap declaration after the NFC Championship game, the shared history of rap and sports is long and intertwined. As hip hop evolved from subcultural phenomenon to mainstream force, its influence on the larger narrative of sports has grown with it – and so has the interplay between the two, leading rappers to salute their athletic peers time and time again. What follows is a (highly subjective) list of the ten sports teams that have been most widely embraced by the rap world.
Los Angeles Raiders
It was a match made in… well, maybe not heaven but at least its rogue equivalent, when the Oakland Raiders moved their franchise to Los Angeles in 1982. In only a few years – and after one successful trip to the Super Bowl – Raider black became the city's dominant, only universal gang attire. The fierce attitude of a team lead by scrappy running back Marcus Allen and a tough defensive unit, in combination with the baddest logo the NFL had to offer, provided enough raw material for gangsta rap to adopt the Raiders as their own. When N.W.A. burst on to the scene circa 1987, their black-and-white Raiders hats quickly became the iconic trademark of their hit-and-run sound. As Ice Cube puts it in the ESPN 30 for 30 documentary Straight Outta L.A., his group "helped turn the Raiders into more than a football team."
Memorable Line
"If you're talking shit about the n*s in black / Bow down to the Kings and Raiders hat" - Dr. Dre on N.W.A.'s "Real N*z"
Michigan Wolverines
When Chris Webber, Jalen Rose, Juwan Howard, Ray Jackson and Jimmy King entered the NCAA in 1991 as five of the highest-ranked basketball recruits in the country, two things were certain: One was that these dudes could ball, and the other was that they wouldn't be doing so in tight shorts. With the hip hop revolution in full swing, the Fab Five weren't going to play the game by its old rules, introducing their own, street-flavored style to a college basketball dominated by the chessketball of Duke. The Wolverines Freshmen were loud, fast, reckless and unafraid – just like the music they were always caught blasting through oversized headphones on their way to the court. They were the young gunners taking on the old guard, just as hip hop as a youth culture was finding its place in the mainstream. Their name might have been an ode to Yo! MTV Raps host Fab Five Freddy, but the Wolverines freshmen also inspired their fair share of name drops in rap music, standing in as namesake for the fusion of Boot Camp Clik's Heltah Skeltah and O.G.C. Years later, Chris Webber would even go on to produce "Blunt Ashes" for Nas, providing one of the best beats the Queens-native rapped on in the last decade.
Memorable Line
"All of my n**s fresh men like the Fab Five" - Rockie Fresh on "Never Never"
Portland Trail Blazers
Atlanta natives Young Thug and Bloody Jay recently dedicated their joint mixtape to "Black Portland," the young and hungry Trail Blazers squad currently shaking things up in the NBA's Western Conference. Why Portland? Well, as Bloody Jay explains to The Fader, "that's the kid in you, that wants to get outside when you've been in the house too much, that's Black Portland. That Saturday when the sun is beaming through your window, that's Black Portland." Abstract, yes. But for Thug and Jay, this Portland team represents a new wind blowing, just as their idiosyncratic mode of delivery is taking the rap game by storm. And the best part? We're all invited to join the movement. Jay: "All of us have some Black Portland in us."
Memorable Line
Damian Lillard
Georgetown Hoyas
Long before Big Boi was "bulldoggin' hoes" like said college dynasty, the Hoyas acquired the name "beast of the East" for their imposing play in the early- to mid-'80s. As one of the few all-black teams in the country, the Hoyas were subject to stereotypical notions of black masculinity – but consciously turned them in their favor, leaving opponents and the media confounded. Strong, aggressive and unapologetic, the Georgetown team around Patrick Ewing symbolized, as Todd Boyd puts it in his book Young, Black, Rich & Famous, "America's worst nightmare." In a way, the so-called "Hoya Paranoia" anticipated what Public Enemy would only a few years later describe as "fear of a black planet." And let's also bear in mind that Georgetown University offers a class on the "Urban Theodicy of Jay Z" and stands as the alma mater of a certain future NBA and rap game MVP…
Memorable Line
"ATL, Georgia, what do we do for ya / Bulldoggin' hoes like them Georgetown Hoyas" - Big Boi on Outkast's "Rosa Parks"
Philadelphia Iversons
A game-changer if there ever was one, Georgetown grad Allen Iverson not only instilled hoop dreams in every aspiring 5'11" streetballer and single-handedly turned his 76ers team into a contender. He also spearheaded the second hip hop revolution. At the brink of rap music's mid-'90s transition from American mainstream to global ubiquity, A.I. embodied the culture like no other. Baggy shorts, tattoos (including Mobb Deep-brand Darwinisms like "Only the strong survive"), corn rows, doo-rags and ice for days were the observable signifiers of his lifestyle that sparked an ongoing – and at times racially charged – feud with NBA commissioner David Stern, possibly the most un-hip hop person on the planet. But Iverson's rags-to-MVP story, his defiant, anti-authoritarian attitude and warrior mindset made him the ultimate role model for those who never considered hip hop to be a "bad influence" because it was already engrained in their lives. A.I.'s own rap career under his Jewelz alias (yes, THAT much ice) was upended by Stern the shook one, who labeled his lyrics "coarse, offensive and anti-social" and forced his record to be shelved.
Memorable Line
"This n** Ike with the Iverson jersey, light-skinned with herpes" - Nas on "What Goes Around"
New York Giants
Did the Knicks get snubbed? As official representatives of New York City's favorite sport, "We Fly High" should've been their anthem. But with Isiah Thomas sitting in the president's box in 2006, the Knicks were doing anything but ballin'. Instead, it was the Giants' defensive line that started celebrating their sacks by taking jump shots, and Jim Jones dedicated a remix of "We Fly High" to the Giants. In a parallel universe, that could've been the Allan Houston remix. Earning over $20 million dollars in a season without playing a single game? That's ballin' of another sort. That being said, the Giants do have a natural advantage over their competitors in the battle for New York supremacy. After all, Big Pun and M.O.P. would never have dreamed of naming a song after the Knickerbockers, Yankees, Jets, Rangers or even Islanders now, would they?
Memorable Line
"Ballin'!" - Jim Jones on "We Fly High"
Houston Astros
It may have been a lucky accident, but Houston's mid-'00s rap revival happened to coincide with the only time their baseball team was any good. Ever. Local heroes Chamillionaire and Paul Wall even went so far as to dedicate remixes of their songs ("Turn It Up" and "They Don't Know") to the rising – and soon-to-be falling again – Astros squad. If the rumors are true, even Lil Flip stopped wearing his Astros throwbacks right around the time the team had to bear their first 100-loss season a few years later. It's not quite clear why Houston hip hop never really embraced their basketball team much – and also why there aren't any punchlines related to '80s Astros strikeout-king J.R. Richard.
Memorable Line
"So I creep, the Astros got beat / The next week, St. Louis got sweeped" - Lil' Flip on "Remember Me"
St. Louis Cardinals
Nelly's St. Lunatics were so bad they were (almost) good. If only for that one song which saw them dishing out shallow sex-metaphors loosely related to baseball like fourth-graders who weren't trying very hard. Not even in Mark McGwire's final season did these guys manage to sneak a real-life reference into their walk-up song, "Batter Up." Meanwhile, McGwire's (less 'roided) successor Albert Pujols was destined to become a punchline favorite for rappers across the board, simply off the strength of the combination of a two-syllable Dominican last name and an extraordinary batting average.
Memorable Line
"All of us would be angels for Pujols' bread" - Joe Budden on Slaughterhouse's "Hammer Dance"
Brooklyn Dodgers
Jay Z's reference to legendary Brooklyn Dodgers star Jackie Robinson still stands as perhaps hip hop's only triple entendre: "I jack, I rob, I sin / Amen, I'm Jackie Robinson / Except when I run base, I dodge the pen." That last part of his line not only conjures up two long-standing personas of Jigga's repertoire – that of the elusive hustler (slinging drugs, avoiding jail) and that of the improvisational genius (never writing down his raps) – it also places the lightning fast baseball player in the bullpen. Though a reference to the dugout might have been more accurate in this case, Jay swang hard with his line. Just like Chubb Rock on "The Return of the Crooklyn Dodgers." Or Jeru. Or Masta Ace on "Crooklyn." After all, the Dodgers did inspire two of the greatest posse cuts of all time.
Memorable Line
"I jack, I rob, I sin / Amen, I'm Jackie Robinson / Except when I run base, I dodge the pen" - Jay Z on "Brooklyn (Go Hard)"
Pittsburgh Steelers
It's a shame there aren't more rappers from Pittsburgh. Because then Wiz Khalifa wouldn't have to be the one who's waving the Steelers flag the hardest. Players like Jerome "The Bus" Bettis, Kordell "Slash" Stewart and Troy Polamalu deserve a more imposing spokesperson than a skinny dude from North Dakota who hits bongs for a living. That said, "Black & Yellow" is a jam. And one that inspired an onslaught of remakes from other rappers repping for their own home team.
Memorable Line
"Reppin' in my town, when you see me you know everything / Black and yellow, black and yellow" - Wiz Khalifa on "Black & Yellow"
Honorable Mention
Los Angeles Lakers
Shall the last be first? The Lakers franchise is scientifically proven to breed the worst rappers of all professional sports teams. Kobe Bryant, Shaquille O'Neal, Ron Artest, probably Nick Young… and especially these dudes. Yet they find their way into rap lyrics time and time again. Rest assured, this is mostly Snoop Dogg's fault.
Memorable Line
"Everybody in the world fuckin' hates the Lakers" - Chance The Rapper on "Juice"
The New York Yankees hat
In hip hop, the popularity of the Yankees is greatly outweighed by the popularity of their hat. The iconic NY logo has graced the foreheads of an absurd number of rappers, but their allegiance to the team rarely exceeds mere appearance. With a character like Derek Jeter the face of the franchise for almost two decades, who can really blame them?
Memorable Line
"I made the Yankee hat more famous than a Yankee can" - Jay Z on "Empire State of Mind"