Hustlers Convention: The Grandfather of Rap Records
The Last Poets' Jalal Nuriddin reflects on the impact – both good and bad – of his influential 1973 album.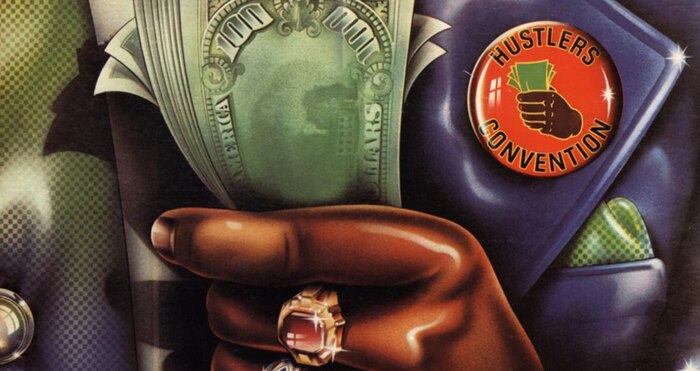 In 1970, The Last Poets' Jalal Nuriddin sat in his apartment in Harlem and began to write a fable. Entitled Hustlers Convention, it was his attempt to reflect a society around him that was characterized by "hustlers in the ghetto that were seen as role models 'cause they had the cars, they had the girls, they had the money, but... were parasites feeding off the people."
Hustlers Convention was eventually released in 1973, with Nuriddin's spoken word tale underscored by funked-up grooves provided by a musical ensemble including Kool And The Gang, sax powerhouse King Curtis and master drummer Bernard Purdie. The 12-track album's street-savvy patter and infectious breaks were a precursor to the hip hop movement that was about to sprout up in the nearby South Bronx. But 40 years later, Nuriddin wonders whether rap's biggest stars have overlooked the moral of the story.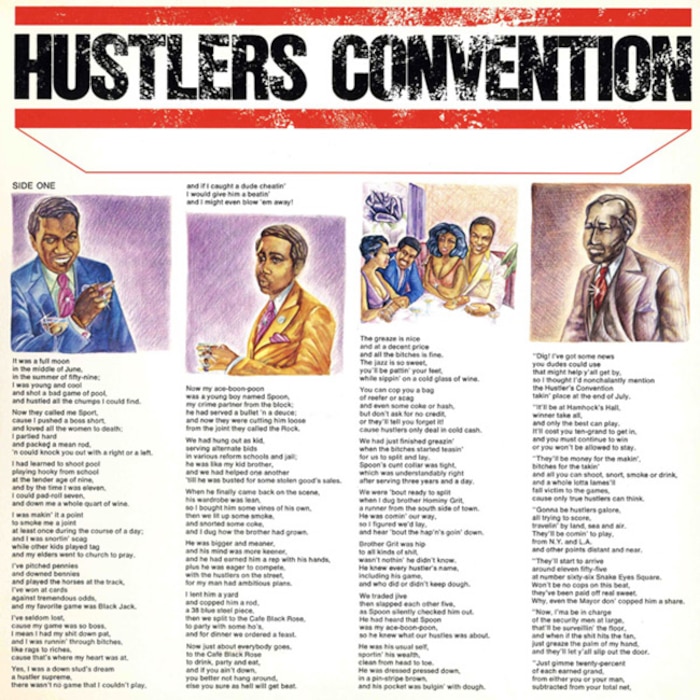 Talking from his home in Atlanta, the now nearly-70-year-old Nuriddin recalls feeling a responsibility to comment on the way young kids would idolize the surface glamour of New York City street life during the '70s. He took on the narrator's role under the name Lightnin' Rod (to signify "one who blows the whistle on wrong-doing in the community") and came up with two characters called Sport and Spoon to move his story along. The duo embrace a slick-talking fast life concerned with quick-money schemes, gambling games and, as Sport brags, a thirst for "running through bitches like rags to riches."
40 years later, Nuriddin wonders whether rap's biggest stars have overlooked the moral of the story.
The kicker comes when Spoon and Sport attend what they think is a lavish players' ball at Hamhock's Hall – a celebration of pimpish success attended by the "masters of streetology" – only to find out they've been scammed by the grand hustlers behind the event. In the aftermath, Sport is caught and beaten by cops and ends up in Sing Sing. "It had cost me 12 years of my time / To realize what a nickel and dime hustler I had really been," he finally realizes. (Nuriddin says he wrote the story's ending first to ensure all narrative roads stayed anchored to his moral point.)
Sport and Spoon's path is set to a soundtrack of funk instrumentals stitched together by environmental sound effects. Nuriddin says he didn't pick any of the heavy-hitting personnel that played on the record though. "The producer [Alan Douglas] was a control freak and he just wanted me to lay down the lyrics so he could do his thing without me." (While pleased with how the music complemented his words, he recently noticed how four of his couplets had been edited out of the final pressing.)
Nuriddin estimates that over $5,000 was spent on adding ambient sound effects to the record.
Forty years on from its original release, Hustlers Convention sounds like a template for rap albums to come. The heavy use of sound effects to link songs foreshadows Dr. Dre and Prince Paul's infatuation with cinematic skits. Nuriddin estimates that over $5,000 was spent on adding ambient sound effects to the record – dice hitting street-corner concrete, hushed chatter at the Cafe Black Rose, gun shots and sirens popping and wailing during the climax. With the music designed to bed Nuriddin's spoken word patter, the instrumentals are defined by fierce drum patterns and syncopated blasts of brass repeated in short phrases. Unsurprisingly, the album has been mined for samples by hip hop producers. (The opening bars of the introductory song, "Sport," have been used by the Wu-Tang Clan, Jungle Brothers and the Beastie Boys.)
Large Professor, who used snippets of Hustlers Convention for Main Source's 1991 Breaking Atoms album, recalls the excitement of discovering Lightnin' Rod's work. "I first heard about it on one of the Ultimate Breaks and Beats records," he says. "It was used for a record I liked called 'Small Time Hustler' by The Dismasters, which was the music from the song 'Sport.' I eventually found out what the original source was and found a copy at Second Hand Rose Records on 6th Avenue in Manhattan, maybe in 1990." Once he heard Hustlers Convention in its entirety, it became a part of the soundtrack to his life. "Coming up, I knew of the hustlers and the underworld but to have it on a record and listen to it and have someone reenact the underworld life for entertainment just blew me away.
"Hustlers Convention is a lot of what hip hop is," Large Professor continues. "It's a lot of boastful swag and the origin of all these words and catchphrases today, just earlier instances of it. It's a staple of rap history." He adds that he got to meet Nuriddin during a studio session with A Tribe Called Quest. "It was crazy 'cause I kept referencing all the Hustlers Convention phrases and he's looking at me smiling. Then I got to see him again and he signed the album for me. It's just great, it's beautiful."
Q-Tip, who invited Large Pro to the session to meet Jalal, endorses his sentiments about the record foreshadowing hip hop. He recalls first hearing Hustlers Convention played at parties when he was a kid, and instantly being struck by Jalal's voice. "Although it's spoken word poetry, the image of it was kinda gangsta and street and unapologetic and graphic," says Tip. "In a lot of ways, it did pre-date hip hop."
"Although it's spoken word poetry, the image of it was kinda gangsta and street and unapologetic and graphic. In a lot of ways, it did pre-date hip hop."
Nuriddin's own take on how hip hop has benefitted from his cultural capital is framed in less welcoming terms. "Because of the business that took place after it was released," he's never received any money from the frequent sampling of Hustlers Convention. Asked whether he's appreciative of the creative way the record has been repurposed, he's curt: "They say imitation is the highest form of flattery, but they also say flattery will get you nowhere. I'm not interested in none of these samples 'cause it makes them look unoriginal." Hustlers Convention was pulled from print quickly after its release after an alleged label dispute. Summing up the situation, Nuriddin quips, "The point of the story was that all that glitters isn't gold – now I've ended up like one of the hustlers at the convention being hustled myself."
Tales of artists from the '60s and '70s seeing their music sampled but never receiving any financial recompense are common. On that count, Nuriddin is one of many artists to have a queasy relationship with the way their music has fueled hip hop. But he's also frustrated how the lessons he wanted to convey with Hustlers Convention have been overlooked. "I wrote this to deflect gangsta rap, not promote it," he explains. "It isn't good what happens to the hero at the end of the story – it's a forecast of where not to go."
Slipping into his still-slick spoken word patter, Nuriddin explains that "Hop had a shotgun wedding with Hip but it was a bad arrangement because Hop just took what it wanted from Hip. But Hip remains hip and can only be acquired from knowledge converted into wisdom. They make for strange bedfellows. And me, I would rather be healthy than wealthy."
Nuriddin says he's since been on a "20 year quest to find out who did what, when, where and how as I tried to get to the bottom of the mystery." That investigation is now producing dividends, as a documentary about the album – executive produced by Public Enemy's Chuck D – is in the works. Nuriddin wants to call it The Hustling of the Hustlers Convention. There's also a sequel to the record awaiting release, titled Hustlers Detention, that's twice as long as the original.
"They say I made the grandfather of rap records with Hustlers Convention," says Nuriddin as he reflects back on the album's life. "I was writing a story with a beginning, a middle and an end, but maybe it's not ready to end where I first thought it would. The Hustlers Convention is still going on – it's still a story that needs to be told."