Flight Time: A Guide to Jazz-Funk Legends The Mizell Brothers
Jazz-funk would have existed without the Mizell Brothers. But it wouldn't have been half as funky. Zaid Mudhaffer explores the key tracks from their catalogue.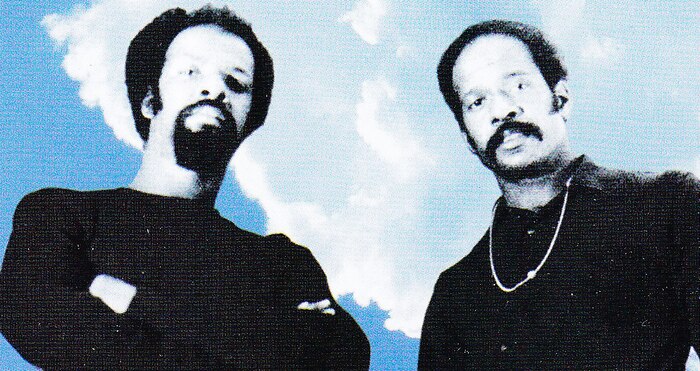 Brothers Larry and Alphonso Mizell produced some of the most timeless jazz, funk and soul records of the 1970s. Their spacey and floaty signature sound – brought emphatically to life by Harvey Mason on drums, Melvin "Wah-Wah Watson" Ragin and David T. Walker on guitar, Chuck Rainey on bass, Jerry Peters on piano and Stephanie Spruill on percussion – adorned a slew of albums for Donald Byrd, Bobbi Humphrey and Gary Bartz, among others.
The Mizells' awesome catalogue – profitable enough to allow them to have taken almost the whole 1980s off to play tennis – is difficult to summarize.
Born in 1944 and 1943 respectively, Larry and Fonce grew up between Manhattan and Englewood, New Jersey. Their earliest foray into the music business was the formation of their ill-fated Hog Records in 1965 with two friends from Howard University, but neither made serious inroads until the decade's end. Put in touch with Motown by a friend, Fonce became part of The Corporation, who had been assembled to write and produce for The Jackson 5. The four-man music factory – Freddie Perren, Deke Richards and label boss Berry Gordy – churned out evergreen classics like "I Want You Back" and "ABC."
Following The Corporation's dissolution, the Mizells moved to California in the early 1970s and formed Sky High, their production unit – Larry leaving behind a career as an aerospace engineer through which he'd worked on NASA's Apollo Program – and embarked on a prolific career behind the scenes. The Mizells' awesome catalogue – profitable enough to allow them to have taken almost the whole 1980s off to play tennis – is difficult to summarize, but here are a few key productions.
Donald Byrd - Love's So Far Away
(Black Byrd, 1973)
Between 1973 and 1976 the Mizells produced five great albums for legendary Blue Note trumpeter Donald Byrd, who was by then looking for a new direction following his run of late-60s LPs. He found it in the tight jazz-funk of Black Byrd, the Mizells' first assignment for the iconic jazz imprint. "We had no designs or initial plans to take Byrd in a commercial direction or to try and create a dance-fusion sound or anything like that," Larry Mizell told Wax Poetics in 2006. "Because of it being Blue Note, the record got scrutinized for being a jazz record – because of Byrd, specifically, which was quite natural. Jazz critics had a field day with it, but it was not a jazz album." Despite critics' reservations, the album sold beyond expectations and won a Grammy nomination.
Bobbi Humphrey - Harlem River Drive
(Blacks and Blues, 1974)
Diminutive Texan flautist Bobbi Humphrey, who was discovered playing with Herbie Mann at a gig in New York's Central Park, recorded her final trio of studio albums for Blue Note under the Mizells' wing. The standout track on her first album with the Brothers is the sublime "Harlem River Drive," a breezy and rejuvenating seven-minute Uptown excursion. The Fancy Dancer album from 1975, with a stellar cast of contributors including Dorothy Ashby on harp, is another certified scorcher.
Johnny Hammond - Los Conquistadores Chocolates
(Gears, 1975)
"Johnny [Hammond] was used to formal production," Larry Mizell told Wax Poetics in 2006. "When we got with Johnny and introduced him to our style, he got into it. It wasn't his style, but he was looking for something different." A career recording for labels like Prestige, Riverside and Kudu stretching back to the late 1950s behind him, Hammond was taken in a fresh direction by the Mizells, encouraged by his new producers to play electric piano in addition to his trademark organ. The exhilarating, rolling "Los Conquistadores Chocolates" from Gears, one of a couple of Mizell-produced Hammond albums, was championed on the New York club scene by David Mancuso at his Loft parties as well as DJs at the Paradise Garage.
Donald Byrd - Dominoes
(Places and Spaces, 1975)
Devastating space-funk is the modus operandi here, one of the most renowned works in the Mizells' canon. A dominant string section arranged by Wade Marcus – alternating between floaty and dreamy and tense and dramatic – runs the show alongside a menacing bassline, framing Byrd's restrained trumpet. Another solid gold Mizell bomb from the classic Places and Spaces album is "Wind Parade," cannily sampled by Black Moon for "Buck 'Em Down."
L.T.D. - Love to the World
(Love to the World, 1976)
The staggering title track from Love, Togetherness & Devotion's 1976 LP was co-written with the youngest Mizell brother, Rodney, and remains one of the producer's standout creations. A slowly meandering two-minute intro gives way to a slick yet earthy fusion of jazz, funk, gospel and soul, elevated by a blissful Wade Marcus-arranged string section. Also found on the album is the original and definitive version of the slow, sweet classic, "Love Ballad."
Rance Allen Group - Peace of Mind
(Say My Friend, 1977)
Pastor and musician Rance Allen had recorded a string of albums for the Gospel Truth label before he wound up in the Mizells' capable hands in 1977. Re-titled The Way It Is and reissued with different artwork a couple of years after its release, Say My Friend contains the blistering "Peace of Mind," an uplifting, anthemic, soul-gospel classic. "A gospel album that didn't beat you over the head with religion but was still spiritual" is how Larry Mizell defined the album in Wax Poetics in 2006.
Gary Bartz - Music Is My Sanctuary
(Music Is My Sanctuary, 1977)
A rare groove favourite, a world away from saxophonist Bartz' avant-garde early 1970s albums as NTU Troop with Andy Bey and company. The motif here is self-explanatory, with Syreeta Wright – never a poor choice for a guest singer – sitting atop a thick, bustling arrangement. The jazz-dance classic "Carnaval De L'Esprit" follows on side one of the record. Larry and Fonce also produced Bartz' The Shadow Do LP in 1975; hip hop fans will recognize "Gentle Smiles (Saxy)" from its use in A Tribe Called Quest's "Butter."
A Taste Of Honey - Boogie Oogie Oogie
(A Taste Of Honey, 1978)
Irresistible disco, demonstrating that – by the end of the 1970s – there was a lot more to the Mizells' repertoire than slick and spacey jazz-funk. Fronted by singer/bassist Janice Johnson and singer/guitarist Hazel Payne, A Taste Of Honey were spotted by the Mizells performing in an LA nightclub and soon inked a deal with Capitol. The single went to number one, selling a couple of million copies and bagging the group a Grammy for Best New Artist in the process.
Marvin Gaye - Where Are We Going?
(Unreleased, 1972)
The idea of early 1970s Marvin Gaye produced by the Mizell Brothers might have sounded like something of a fantasy, so it was to the pleasant surprise of many when such a thing debuted on an anthology in the early 2000s. One of three tracks recorded after the release of What's Going On, "Where Are We Going?" is a touching state-of-the-world rumination set to a tight Mizell arrangement, accentuated with trumpet and Marvin's unmistakable vocal whoops. But the songs were shelved, Gaye turning his attentions to the Trouble Man soundtrack instead. The song wasn't wasted, though, cut by Donald Byrd on Black Byrd and Funk Inc on their 1974 set Priced to Sell.
For more unreleased Marvin Gaye work from the Mizell Brothers', check out this clip from their 2006 lecture at the Red Bull Music Academy in which they play "Woman of the World."