Interview: Japan's Mouse On The Keys on Blending Philip Glass and Helmet
The genre-defying Japanese group on the 3/11 earthquake, their hardcore beginnings, and working with Levon Vincent.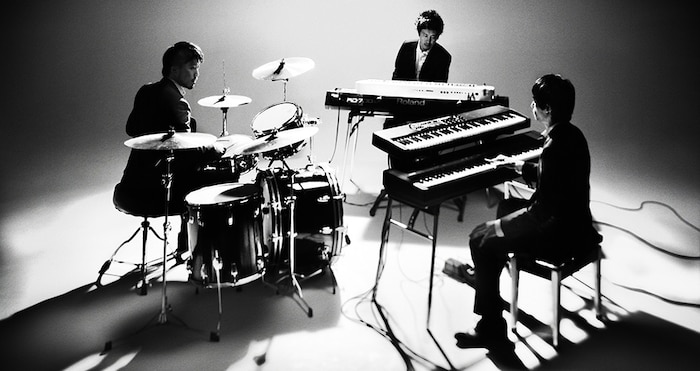 Japanese artists are well-known for blurring genres. Just think of acts like Cornelius, Boredoms, and Yellow Magic Orchestra. Mouse On The Keys is another band in this tradition, comprised of two keyboard players and a drummer. Blending minimalist classical music with hard-hitting rock, this unique configuration of musicians are as much Philip Glass as they are Helmet.
Their music evokes the sharp and fluid lines found in the structures of modern architects such as Kenzo Tange, as well as the expressionism of filmmakers such as Hiroshi Teshigahara. Apart from having their songs used in high-profile TV commercials, they are also known for their intense live shows, and collaborated with filmmaker MINORxU on the live DVD Irreversible, which documented an extensive 2011 tour in Europe. We spoke with founding keyboard player/drummer Akira Kawasaki and keyboard player Daisuke Niitome about their influences and philosophy towards music.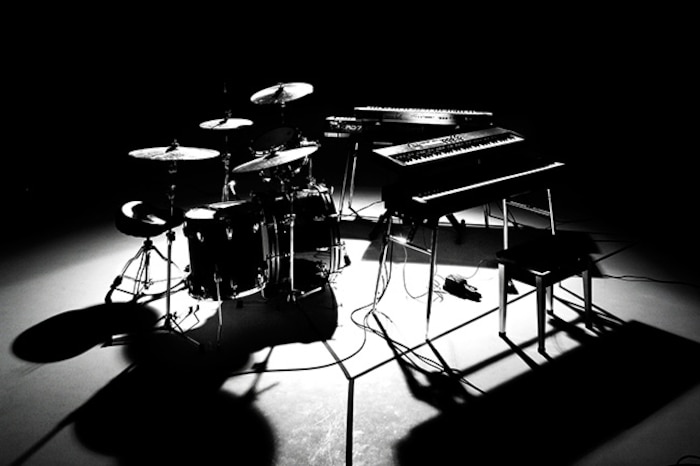 How did Mouse On The Keys form? Why did you decide to make it a band with only piano and drums?
Kawasaki: I was initially thinking of starting Mouse On The Keys as my solo project, but after welcoming Kiyota and Niitome as members, it became a band. I have always loved the piano, and always wanted to start a band with the piano as the focal point. When I was a teenager, all the bands had guitar players. There were already countless talented guitarists around me, so l decided to start up a band without any guitarists.
I had a specific sound concept in mind when I started up Mouse On The Keys. It clearly explains our musical influences. The concept was: "Utilizing elements of modern French music represented by composers such as Debussy and Ravel, along with the hardcore music of the '80s and '90s that our drummer Akira Kawasaki was influenced by, and mixing them in a style reminiscent of Detroit techno."
The pianos in Mouse On The Keys are reminiscent of minimal music, classical, and jazz. What keyboard/piano players were you influenced by? Are Atsushi Kiyota and Daisuke Niitome graduates of formal music schools?
Tokyo was reduced to ashes during World War II, and was quickly restored, but we only know about that from textbooks.
Kiyota and Niitome aren't graduates of music schools. Atsushi Kiyota went to a small private music school for a few years when he was in elementary school. After that he was not involved in music for a number of years, but around the age of 18, he started getting into more aggressive music and going to hardcore shows. After he met me, we started the band Nine Days Wonder which was one of Japan's pioneering post-hardcore/post-rock bands. That's when he started getting into post-hardcore and post-rock from the U.S. He was in charge of keyboards in that band, but in Mouse On The Keys he now plays piano. Niitome started playing piano from 2007 when he joined Mouse On The Keys. Before that he was a composer and multi-instrumentalist playing guitar and drums, so he was quickly able to pick up the piano.
Can you talk about the concepts and differences between your albums Sezession, Machinic Phylum, and An Anxious Object?
Sezession was our first release as a band, and it was our manifesto expressing a departure from the music we were doing in the past, as well as pointing to a new direction in creativity. An Anxious Object is based on our image of the city of Tokyo where we live. Having been born in the post-'70s era, our generation only knows Tokyo after it became prosperous. Tokyo was reduced to ashes during World War II, and was quickly restored, but we only know about that from textbooks. There are barely any historical buildings left in Tokyo and there is new construction going on 365 days during the year. The billboards that are plastered across the buildings change every few weeks at an alarming rate. This city is like "an anxious object," so we decided to express that in sound.
The title of the record Machinic Phylum represents the future music of Mouse On The Keys. It is our declaration that we will be creating a hybrid music combining structuralism and chaos. Regardless of what is from nature and what is artificial, "machinic phylum" is expressing that everything we do is both artificial and natural at the same time.
On Machinic Phylum you guys collaborated with Levon Vincent. How did that happen? What was the process like in collaborating with him?
Four or five years ago, Mule Musiq brought him over to Japan for the first time. Cou Hirae (manager and stage director of Mouse On The Keys) was assisting Levon during his stay in Japan, which is where the relationship started. When Levon came to Japan the second time, our music was playing in the car on the way to Tokyo from Narita airport, and Levon showed interest in it. He sent us a message saying that he wanted to make music with us.
We were fans of his music such as "Late Nite Jam," and we felt something in common with his music because it was like a geometrical form of techno, which was hard but at the same time had the grooves of Motown music. He has released various remixes, but he said he wanted to do something different with us, and suggested that we could rearrange his music. He sent us simple melody lines, and Niitome used that and refined it.
Your music is very complex and intricate. How do you guys compose your music? Does it normally start from the piano? Or do the three of you jam together?
Up until now, I was making all of the parts of our songs in Logic. From Machinic Phylum and onwards, we would come up with one motif, and then we would all jam together and expand on it. From now on, we want to compose the songs by jamming with all three of us together. But I also want to keep an objective view on songwriting, so we also will still incorporate the computer in our compositions.
You have toured Europe three times. How have the European tours gone?
Niitome: We come from an island country, so we were surprised by being in a region where several countries were connected to each other, and that you could travel to them easily by car. European audiences shout and express their emotions more directly compared to the Japanese audiences, so we had a lot of fun playing. The interior design, colors, and forms of the clubs were different to that of Japan which was fascinating to us. I also love to drink, so I loved it how the venues would give us unlimited beer. I wish Japanese clubs would do that.
You released the DVD Irreversible documenting your tour in Europe, but during that tour a devastating earthquake and tsunami hit Japan on March 11, 2011. Which country were you in when this happened? And how did the 3/11 earthquake, and the resulting radioactive contamination from the nuclear power plant in Fukushima affect you and your music?
Kawasaki: We were in Liverpool, England when the earthquake happened. Two years and ten months have passed since the earthquake, but we still haven't found a way to resolve the problems of the Fukushima Daiichi Nuclear Power Plant. There are still people living in temporary housing, and many people can't return home. We couldn't return to Japan during that time, which is why we named the DVD Irreversible.
Whenever I turn on the faucet to use water, or whenever I have food in my hands, there is never a time when I am not conscious of radioactive contamination. It's a crazy situation that all people living in Japan are being affected by this invisible threat of radiation. I think that this situation affects the mental condition of everyone living in Japan, and will influence our music.
I heard that after you returned from the European tour, you suffered a stroke. How did that happen?
Whenever I turn on the faucet to use water, or whenever I have food in my hands, there is never a time when I am not conscious of radioactive contamination.
The type of stroke I suffered from is called a lacunar infarction, where some of the capillaries in my brain died off. My doctor said that since my blood pressure and blood sugar levels were normal, he couldn't figure out the reason why. Since the area of damage was small, it's not a fatal issue. However, if the symptoms get worse, and there are more blockages in the blood vessels in my brain, it could lead to dementia, speech disorders, and or impaired mobility.
I personally think that the reason this happened was because I have been playing the drums really hard and headbanging while I do it for many years. Terry Balsamo, who is the guitarist for Evanescence, suffered from a stroke in the brain and was hospitalized, and it was said that the reason was too much headbanging.
Is it also true that you were working in construction at the time?
Back then, I used to work as a demolisher for buildings. I had to stay long hours in enclosed spaces while tearing down concrete, so it led to oxygen deficiency. I had to work long hours of hard labor, and I would cut down on my sleep time so I could write music and rehearse. Now I am more careful to not work too hard.
Your live shows synch visuals with sound perfectly, but what are you conscious of in creating that link?
Mouse On The Keys is conscious of the 20th century modernist movement in all that we do. In our cover designs, visuals, and sound, we choose to keep the imagery stark, and reminiscent of the subdued concrete structures that were designed by architects such Louis Kahn and Kenzo Tange. For our stage performances and the visual projections, we have people in charge of producing all of that, so we work as a team. We give them a concept, and they are free to make the visuals that they want.
The Mouse On The Keys live shows are aggressive and energetic, but what do live shows mean to you?
Performing live is a way to get our music to the audience directly, so it is something that is essential to us. Our music may sound similar to contemporary classical and have a refined sound to it, but when we perform live, our shows are just as aggressive as hardcore shows. In our shows we'll dive into the audience and scream into the mic. But I think that our music will move more in the direction of ambient and atmospheric sounds, so our live shows may become more dreamy and deep.

This feature is part of a week of articles guest curated by Levon Vincent.
Says Levon, "My tour guide in Japan introduced me to Mouse on the Keys. I'm usually not that interested in virtuosity in music, but these guys were really impressive. I sent them a track I had done called 'Memory' and said, 'Hey, this tune has metric changes throughout. I thought you guys would really like it.' They eventually got back in touch and said, 'Hey, we've learned how to play this. Check it out!' It was really exciting to me to see what they had done. I will continue to work with them."
To check out more of the features that Levon Vincent picked out, check out his guest curator hub page.