Robert Hood on Being David in a Techno World of Goliaths
The minimal techno pioneer breaks down the many guises he's taken on through his lengthy career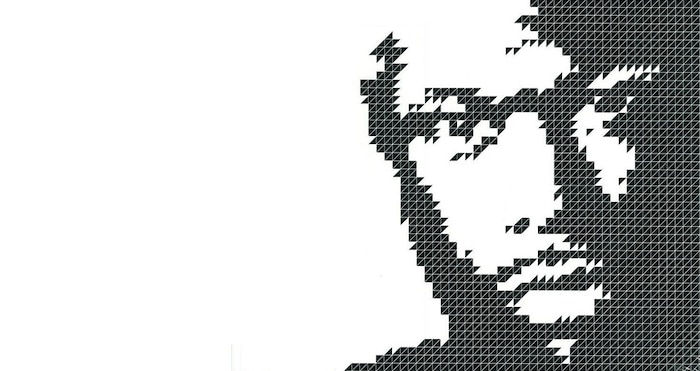 In an era where credit is rarely given when due, a lot of today's so-called "minimal" enthusiasts may not actually be familiar with its creator: the magnificent and innovative Robert Hood. Raised primarily on Motown in Detroit, Robert Hood's family was enveloped in music: his mother recorded a 45" locally, his uncle managed jazz and R&B bands, his grandmother's first cousin was Berry Gordy, his father was a jazz musician. Robert followed his father's footsteps at a young age by picking up the trumpet in the school band. But, distracted by youth, it wasn't long before he swapped the trumpet for vinyl, obsessively focusing on the arrangements, musicality and instrumentation of the records he cherished.
His zealous interest in production guided him to a pawn shop, where he picked up some basic equipment and began recording demos. Eventually, a fortuitous introduction to a well-connected musician, Mike Clark, AKA Agent X, led to him eventually passing on a demo to a key player in underground Detroit, Mike Banks. With UR, Robert forged a path for himself, creating a simple yet powerful sound that fully encompassed the Detroit ethos, but also pushed unparalleled levels of imagination.
Many seminal UR releases later, shortly after the X-102 project, Jeff Mills and Robert decided to set up Axis, which was "more of a housey, abstract sound." Hood and Mills hopped cross-country to NYC in 1992, the home for their brilliant H&M productions. Robert's own ground-shattering Minimal Nation LP hit the electronic music world with unprecedented explosion – it is credited today as a turning point for techno. Shortly after, Hood took a step in an entirely different direction, with M-Plant in 1994.
This year marks the 20th anniversary of M-Plant, and Hood will be celebrating throughout, releasing a series of EPs that are set to reintroduce some of its vaunted catalogue to the public and update some of the classics with a clutch of remixes from high-profile admirers. Far from being "just" a minimal producer, the Hood – and M-Plant – catalogue has a variety of sounds to its name. In this edited and condensed version of a recent interview for RBMA Radio, Hood gives us a comprehensive insight into his many guises.
The Vision - Gyroscopic EP [1991]

I was actually introduced to Mike Banks from my ex-girlfriend's hairdresser. He was also a DJ and techno artist. He was instrumental in me meeting Mike Banks. That's where the relationship with UR began from there. That was prior to them forming their production team.
When you talk about my work with UR, Gyroscopic is the first recording that comes to mind. Of course I can go back a little bit further than that, but Gyroscopic rings out to me. It's a particular moment in time where I first began to conceptually work with Underground Resistance. I came in as sort of an MC. They were working on a compilation, but it evolved to include me into production as The Vision. Of course I did this sort of vocoder rap over Mike [Banks] and Jeff [Mills]'s productions. But that was the advent of me being introduced to the world as The Vision, as a techno artist.
There were rumors floating around that I was the minister of information for UR. That wasn't the case. I was mostly the Underground Resistance flunky. I was the gofer. I was the guy who ran and got the laundry. I watched over the label while Mike and Jeff were out of town. I counted the t-shirts. I answered the phone. I dealt with distributors. Basically learning the inner workings of the label through them.
Jeff Mills stops by and he's like, "What is this? I've got to get a lacquer of this..."
I can remember one day I was in my loft. The loft where I lived was like Underground Resistance HQ. Mike had his loft and office down the hall. That's where we conducted business. I was working on... I think it was a compilation for a Japanese label. At the time Abdul Haaq, who did artwork for Transmat, was over at my place and he was working on the artwork for this compilation that I was doing. I can remember hitting a particular chord on my Juno 2. That really gave me my signature sound. I thought it was so unique and so different, it was like nothing I'd ever heard before, yet it was so Detroit. It had such a Detroit feeling to the sound. I just looked at Abdul and I'm just like, "Wow, this is ..." He looked at me and Jeff stops by and he's like, "What is this? I've got to get a lacquer of this..."
He was DJing at The Limelight in New York, a resident DJ, and it just was a huge turning point for me in my career because I was searching for my signature sound. This is right around the time when Jeff and I were starting up Axis and Underground Resistance was sort of starting to implode, for lack of a better word. Things were starting to fall apart with things as we were accustomed to them.
In between, just to fill in that gap of what I was going through, I was trying to find myself. Jeff and I had talked about me moving to New York too, and I just, "No, I can't really do that. It sounds appealing, but I've got to find myself." Jeff was already solidified, of course, as a world renowned DJ and producer. I had to sort of get my footing solid. It was imperative that I stay in Detroit and stay rooted and grounded in my Detroit roots to really solidify who I was as a techno artist.
That was very important to me, to develop a name and a sound for myself and not to follow anybody else. Of course, coming up behind Jeff Mills and Mike Banks and so many other great artists, listening to Derrick May and Kevin Saunderson and being influenced by them, it's so easy to get lost in following somebody else's footprints. I believe that Gang Starr said it best when they said, "It's a long way to go when you don't know where you're going. You don't know where you're going when you're lost." I had to have a Robert Hood personality to shine forth through this music.
Robert Hood - Unix [1994]
All of the tracks on Minimal Nation, for the most part, have rhythms inside of rhythms inside of rhythms. If you listen closely, what you think you were hearing at the beginning, you sort of begin to hear an inside rhythm, an inside loop. I always compare it to those pictures you could stare into where you can see an image inside of it if you stare at one particular area long enough. It was so minimal and so stark and so stripped down, but yet there's another layer of melody inside of the melodies. If you look even closer, and listen even closer, there's yet another hidden melody. That's what made me know that this is really something. This is not just a kick drum, a snare and a hi-hat, maybe a few hand claps, a rim shot and a bassline. This is storytelling. This is not just minimal for the sake of being minimal.
Unix sort of encompasses everything that techno is to me, in my perception, and everything that techno is going to be.
That's what I think a lot of people missed, and still continue to miss today. I'm not saying that everybody has to approach minimal art and techno in this way, but the hi-hats have to sing. The thing was, "How do I get my soul on this record, on this wax? How do I convey that to the listeners without saying a word?" The titles have to make sense and tell a story. I always compare it to pages and chapters of a book. It's like building a house. All of the rooms have to come together and make sense. Every track is like a room in this house. "Unix" probably sticks out in my mind the most. It's very short, and I wish I had made it longer, but it is what it is. It's sort of ancient, yet modern at the same time. It sort of encompasses everything that techno is to me, in my perception, and everything that techno is going to be.
Robert Hood - Internal Empire [1994]
Internal Empire was conceptually real to me. What I found out with Internal Empire is that when it's real to me, it will be real to everybody else. But it has to be real to me. It has to say something that means something. What I was saying with Internal Empire is that within me, and within all of us, is a kingdom of information, of creativity. After Minimal Nation, that was the beginning of me telling my story and giving the listener insight to my experiences, being a black kid who grew up in Detroit.
I didn't want to be perceived as just this minimal dude.
This was the precursor to Nighttime World, to Point Blank, to different sides and different dimensions of who Robert Hood is as an artist. That was very important to me to spell out. I didn't want to be perceived as just this minimal dude. I've got so many musical influences that I grew up on and I wanted to get all of that out, but I knew I had to just do it step by step.
Robert Hood - The Color of Skin [1995]
In working on the Nighttime World sessions I was having a conversation with Jeff as we would have pretty much, I don't know, maybe five or six times a week. We would be constantly talking about what we were working on and we would be going back and forth through the whole weekend, sort of like challenging each other. There was competition. I don't know what it was doing for Jeff, but it was certainly strengthening me, it was building me up. We would have conversations about music and what real music is and sampling and techno and what electronic is and what it's not.
Jeff encouraged me to do some real ... just some jazz tracks, just some music with melodies, not just stripped down rhythm tracks. I said, "Okay, we can do that." I started working on some ideas and that's basically how the whole thing came about. Being a fan of Jean-Luc Ponty, being a fan of Marvin Gaye... I'm a music nut, just music that moves me. I hear melodies, and I've been hearing melodies in my head since as far back as I can remember. Always wanting to be in a band.
I would always hear the actual parts that I would play in a band, the bassline, the keyboard lines, the drums and everything. All of these rhythms and complete songs, sometimes, going on inside my head. When Jeff said that, it was just automatic, "Let's lay down piano lines, let's do strings, let's do arrangements. Let's make it sort of like a Yellow Magic Orchestra meets Howard Jones and Thomas Dolby and mix all of that up together with George Clinton and Stevie Wonder and Patrice Rushen. Let's mix it all up together." That's what came about, that's the child that was born from it and from all of these musical tastes. That whole album. I love that track still to this day. "The Color of Skin" is one of my favorites.
Floorplan - Funky Souls [1996]
Floorplan started with Funky Souls. That was the advent of this disco-fied techno house gospel fusion that's Floorplan today. That line, "Funky Souls, sisters and brothers who love each other," just laid the groundwork of where I wanted to go with this. Again, telling the story of man and woman staying together and becoming one and unified. Me and my wife, we had just gotten married, so I was real excited about my marriage. We were just bonding, it was beautiful. I don't mean to get corny and sappy and all that stuff, but it was just such a beautiful thing.
You don't see couples dancing together anymore. You just see people who are facing the DJ.
It's just about making people sort of dance together again. That's one of the ideas I had in mind. I felt that that was sort of lost. I come from a time that men and women used to dance together. You see each other in the club and say, "Hey, would you dance with me?" You don't see couples dancing together anymore. You just see people who are nodding their head, and they're all facing the DJ. That's kind of what I had in mind.
Monobox - Realm [1996]
Monobox was an alien project. I read this book when I was probably around 13 or 14. It was this ominous black box that came from some other universe, and it was just sort of hovering over the planet, over acornfield somewhere. After maybe a few weeks it began to open up and objects and these creatures from another world began to emerge from this box. The whole thing about Monobox was that it was an alien life form. To approach minimalism from an alien futuristic perspective.

With 2003's Molecule, the concept was about nanotechnology. I read this article where they asked, "What if you could throw seemingly a handful of dust out into the field and all of a sudden this nano-dust builds a city?" I thought, "Wow, that's fascinating." The article I read talked about how nano-capsules could go in and repair hearts and arteries and do brain surgery and to build new molecules and build atoms and whatnot. That was very interesting to me. It was an experimental record. Working on albums like that and X-101 or X-102 allowed me to delve deeper into these "What if?" stories. "What if we were able to do this?" "What is it going to mean for mankind?"
Robert Hood - The Grey Area [1997]
"The Grey Area," conceptually, is about Detroit, and it's about the hopeless yet promising mood that hangs over Detroit. A lot of times in Detroit the sky has this grey tone to it. I don't know if that's from the factories, or from the emissions from cars, or from the overcast skies. There's like a grey atmosphere hanging over Detroit.
Of course, we've dealt with high unemployment before, but never on this level.
Spiritually, it just speaks to my heart, it just speaks to my soul about the condition of unemployment in Detroit, the struggle. Yet again, it speaks of the potential, the potential greatness and Detroit having the promise and the ability to rise from its ashes. You think that Detroit, being a major metropolitan city would never go under, would never go bankrupt. Here we are in bankruptcy. When I went to Detroit recently, I was there pumping gas at a gas station and there was a young kid asking me if can he pump my gas for a few dollars. He just said it's really hard finding a job here now.
I had never seen that kind of hopelessness in Detroit while I was growing up. Of course, we've dealt with high unemployment before, but never on this level. It's the struggle, to put it in one word. It's the struggle. The single mother that's struggling to raise three kids in Detroit on welfare. The father who can't find a job and who's finding it hard to maintain his sense of manhood. The lack of education. That's why it's spiritual, for me, and I connect with that, being born and raised in Detroit.
Robert Hood - The Key to Midnight [2000]
With Nighttime World Volume 2, my idea was to give an illustration of what Detroit is from the inside out. Being black and being in America and trying to take Detroit further. Not just emulate what I did before, but sort of going deeper into my own roots. There's a picture of me on the inner sleeve and I have my father's trumpet. My father had passed away when I was six and he was a jazz musician. It seemed like a natural thing for me to delve into my roots as the son of a jazz player.
His music was all live, he never recorded. He was an artist as well, a commercial artist. I've seen some of his artwork. The only memory I really have ... I have a few memories of him. I was very young when he died. I remember sitting at the piano with him and I was hitting this one wrong note, and he would get just livid with me about it. I remember being completely frustrated. You know how a kid is, I'm doing my best, but in looking back on it, it's one of my fondest memories of my dad. It wasn't traumatizing or anything like that, it was just like dad and son, you know? A father and son moment.
Robert Hood - Obey [2009]
"Obey" and "Resurrection" was me reintroducing myself to the world again, because in between that and [2002's] "Point Blank" and "Who Taught You Math" I kind of lost my way. I kind of got lost. My vision became blurry and I wasn't exactly sure about where I was going. That was a big transition time for me. We were just moving to Alabama. After I moved, waiting for our house to be built, studio packed away, and just not as sure-footed as I was back around 1997 or '98.
I kind of lost my way. I kind of got lost. My vision became blurry and I wasn't exactly sure about where I was going.
After I did the fabric mix, I began to find my way again. I was also taking school of ministry classes. I read this book by Dr. Myles Munroe, it's called The Power of Vision. That book and getting into ministry is where I really found that God was telling me that, "You thought you had a foundation before." He told me, "I am your foundation and once you establish your foundation on this solid rock, the sky can't even contain you. There's nothing that you can't do through the power of God."
It really reinvigorated my vision. That's why I titled the B-side, "Resurrection." I had gotten saved, in terms of Christ, some years ago, but this was a real turning point, where I'd been resurrected, I'd been born again. Not only am I turning around, but now I have to also walk in obedience. That meant completely selling out, and being about Christ. That also meant speaking on his behalf. You're no longer just a techno artist making music. Now you're a spokesman for the kingdom of heaven. Now you represent the kingdom. Now you have a new responsibility.
Robert Hood - Towns That Disappeared Completely [2010]

I used an Akai XR20 Music Production Center for the bassline and drums on this. And a microKorg, I believe. It was sequenced with a Yamaha QY1000. I believe a producer once said, "Robert likes to use these small hand-held Japanese electronics." That's what it's been for me for all of my career. It's just minimal pieces of equipment. When I didn't have anything, I had to squeeze blood from it. That caused me to really use this computer [points to head], my mind, which is the most powerful computer in the universe.
That's what I've been doing all through my career: killing giants with my five smooth stones.
I've seen producers with a whole studio full of gear, keyboards, everything you could name. I've seen producers that had it all, but were stuck and didn't know where to go. I look at it like David and Goliath. King Saul had given David his armor to face Goliath, but David found somebody else's armor cumbersome. He wasn't accustomed to moving around with this armor. All David needed to defeat the giant, Goliath, was his slingshot and five smooth stones. That's what I've been doing all through my career: killing giants with my five smooth stones. That's minimal.
Robert Hood - Hate Transmissions [2012]

"Hate Transmissions" sums up the whole concept of Motor: Nighttime World Volume 3. The concept was black people, former share-croppers and sons of daughters of former slaves migrating to the north to Detroit, in search of a better life but meeting opposition in the promised land. Again, I'm referencing the Bible, the children of Israel going to the promised land and crossing the Jordan River into Canaan, only to be met by giants.
Now that I live in Alabama, it's going back full circle to the land where my ancestors were hung, were lynched.
The opposition through racism that black people faced in Detroit in trying to obtain a better life for themselves and their families are those "Hate Transmissions." Working in the automotive industry and dealing with racism and bigotry in and outside of Detroit were the transmissions that, I can say, being a black kid growing up in Detroit, that we got from my parents, from my grandparents, and hearing their stories. It made us stronger and made us better. Realizing that my grandparents and my parents provided us a way to become astronauts, to do space travel, to tell these stories about Omega and Monobox and Nighttime World.
They probably hadn't envisioned techno coming out of them. Had they stayed in the South, all this wouldn't be. We wouldn't be having this conversation. Now that I live in Alabama, it's going back full circle to the land where my ancestors were hung, were lynched. Going back to where those hate transmissions started from. I can still feel the pain of my ancestors swinging from a rope. Those transmissions came from those fields that I'm now living on. It has come full circle for me, and spiritually I'm growing from that.