Bushwick's Finest: Forgotten Heroes of the Brooklyn Hip Hop Underground
Not gangsta. Not flashy. Bushwick's underground hip hop scene was caught in the middle. Phillip Mlynar tells the story of Da Beatminerz, The Arsonists and more.
"We used to have rap ciphers in Knickerbocker Park," recalls D-Stroy. "But that changed the day Ching Rock got slashed across his face." It was the early '90s and D-Stroy was part of a Brooklyn neighborhood collective named the Bushwick Bomb Squad. "A lot of the guys would just come and hang out in my house, do art work. When you hang out with a bunch of guys, things happen, like fights for no reason."
Dismayed at the violence – "I'm baffled that I got punched in the face over an MC battle" – D-Stroy vowed to turn the Bushwick Bomb Squad into a music-focused crew called The Arsonists. "We were hip hop kids, not into gang culture," he explains, "so I eliminated all those guys from the Bushwick Bomb Squad." Soon after, The Arsonists would record on Bobbito Garcia's revered Fondle 'Em label and become part of the fabled independent rap movement of the '90s.
While Bed-Stuy and Brownsville's '90s rap rosters made their way overground and into the mainstream, Bushwick's stayed rooted in the underground.
It was during this same time period that Bushwick's equally-tumultuous neighboring areas were beginning to turn into world-renowned hip hop hotspots. In Bedford-Stuyvesant, Jay Z and The Notorious B.I.G. were about to thrust the name of their neighborhood into the pop culture lexicon: "My Bed-Stuy flow's malicious," rapped Big on Jigga's anthemic "Brooklyn's Finest." Over in Brownsville, the boisterous M.O.P. were celebrating a major record deal: "Brownsville's the place where crews seem the livest / Cops getting knocked down, the body count's only rising."
But while Bed-Stuy and Brownsville's '90s rap rosters made their way overground and into the mainstream, Bushwick's stayed rooted in the underground. Despite the lack of a breakthrough Bushwick star though, the area has left behind a fascinating seam of mid-'90s underground hip hop, sparked by Da Beatminerz and defined by a quartet of now-cult artists.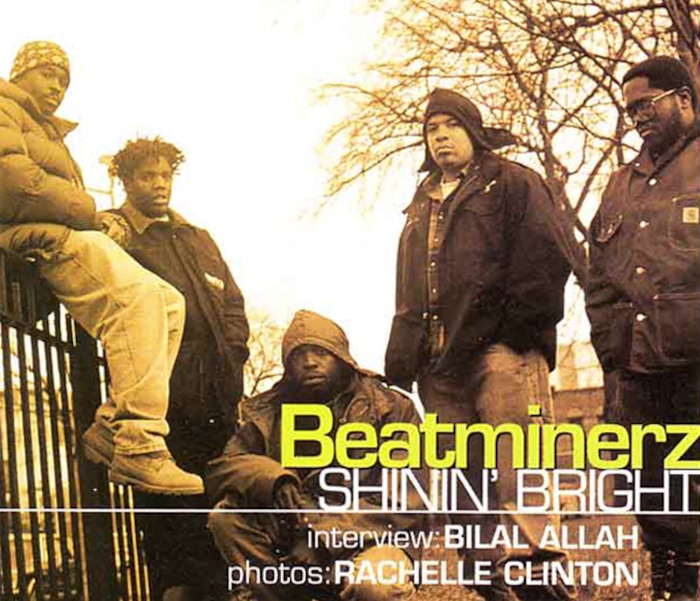 Da Beatminerz
Consisting of Mr. Walt and Evil Dee, the brothers that make up Da Beatminerz production unit experienced an early taste of hip hop when a Bushwick block party scene sprung up in the late '70s. Set against a backdrop of blocks that had been ravaged during the city's blackout in 1977, Mr. Walt recalls local deejay crews like Grand Slam, the Disco Masters, Park Sounds and the El Producto Brothers "playing at Halsey Junior High School and Irving Square Park, which was right across the street from my house."
Favoring a sound that paired dusty sampled loops with thudding drums, Da Beatminerz's first official release was a remix of the Ultramagnetic MCs' "Poppa Large" – although Mr. Walt says he and Evil Dee took a backseat as their friends Freedom Lyles and Ike Lee III did most of the work. With Evil Dee also claiming a role in the group Black Moon, Da Beatminerz's stock rose when they contributed production to songs like "Who Got the Props?" and "How Many MCs" from the 1993 album Enta Da Stage. (The other members of Black Moon – Buckshot and 5 Ft. – weren't Bushwick natives.)
Da Beatminerz used their blooming profile to inspire a wave of grassroots hip hop on their home blocks. "The '90s hip hop thing was really about originality. This is so cliché, but it was about real hip hop, so the essence of hip hop, turntables and rhyming," explains Mr. Walt. "Black Moon set it off for our generation, then came Finsta Bundy, the Arsonists, Dysfunkshunal Familee and Shadez of Brooklyn.
"I always tell everybody that all that underground hip hop, Def Jux and Atmosphere and all that stuff, Finsta and Bundy started that," continues Mr. Walt. "The backpack? Finsta Bundy started that. Once Black Moon got signed to Nervous, after that they stopped wearing the backpacks. Finsta and Bundy created a dark sound. Everybody else started emulating that sound. They're the fathers of that sound."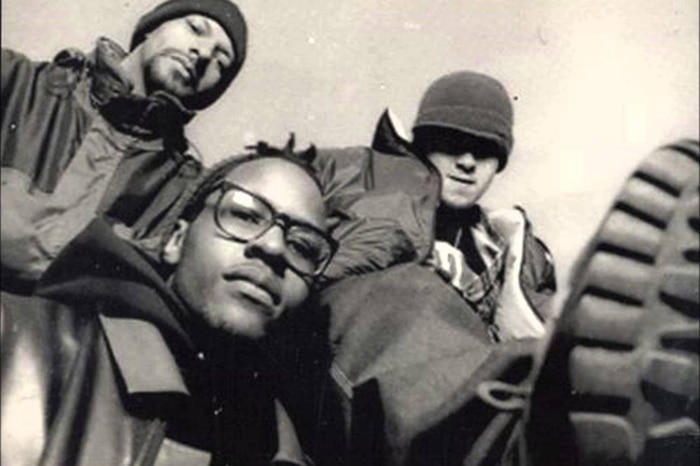 Finsta Bundy
Comprised of Finsta – an original member of Black Moon – plus Bundy and DJ Primetime, Finsta Bundy's first outings were released on Big Willie Records, an imprint based in London. (A deal was struck after the owner flew over and they sat in Irving Square Park and thrashed out a plan.) During the '90s, the trio's tracks were typified by a musky funk appeal and blunted-but-elegant vocals. An early moment of municipal fame came when Kid Capri spun "Finsta Baby" on the local radio station WBLS. As Finsta recalls, "My dude Monzie D, who is a pioneer in the 'hood, pulled his car over on Wilson and Schaefer [three blocks from Irving Square Park] and asked if that was me, because most cats didn't know I rapped. It was a dope feeling."
Despite underground buzz, Finsta Bundy's sound failed to pique the ear of the wider music industry during the '90s. "I can remember going to labels with demos and getting the 'You need to make party records' spiel and told our sound was too dark or the studio quality wasn't there," remembers Finsta. "I was working with a two second sampler and four-track; I get it, it wasn't the commercially viable sound they were looking for."
Undeterred, Finsta Bundy put out what have become cult classic 12-inches. Even today, interest in the minutia of the group's back catalogue endures: Last year Finsta released a limited edition pressing of demo recordings from 1993 via the Chopped Herring label.
Shadez of Brooklyn
Shadez of Brooklyn materialized when Mr. Walt and Chocolate Tye were in a car listening to Raekwon's Only Built 4 Cuban Linx... "We were like, if Wu-Tang can do it then we can," says Mr. Walt. "Tye brought in his cousin Tee Black and the Reverend Al while I brought Billy Flames – all guys from the neighborhood that we grew up with."
Mr. Walt says five records were initially recorded. The Ahmad Jamal-sampling "Change" emerged as the most revered of the bunch after it appeared on DJ Premier's New York Reality Check 101, a connoisseur's summation of the city's mid-'90s underground. The melancholy track even comes with a prescient comment on the beginnings of the gentrification process that would eventually hit Bushwick: "In tears and it appears my crib for years has just been rented to the landlord kids."
Elsewhere in the Shadez of Brooklyn canon, "When It Rains It Pours" brims with hearty references to Wilson Avenue, one of Bushwick's main arteries, and closes with an ad lib that nods to the fabric of the neighborhood long before bespoke coffee spots and micro-brew-stocked bars popped up: "Bushwick, n*a, AKA Bosnia!"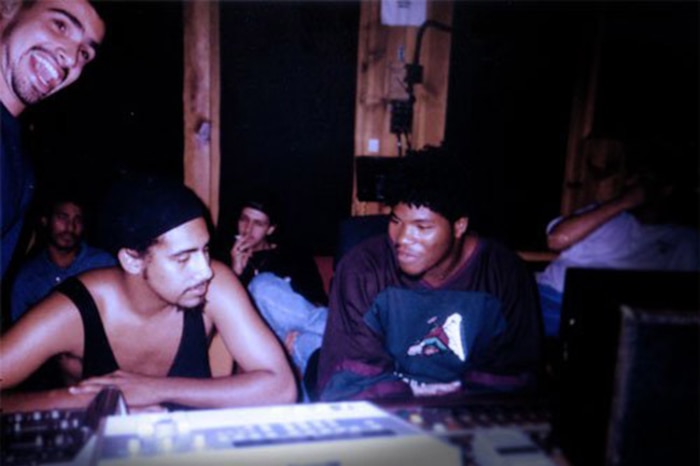 The Arsonists
When D-Stroy turned the Bushwick Bomb Squad into the Arsonists after that harrowing incident in Knickerbocker Park, it was a move that mirrored old school pioneer Afrika Bambaataa's mission to end gang violence in the South Bronx in the late '70s with the formation of the Universal Zulu Nation. D-Stroy's own rap roots claim deep heritage too. His cousin was part of the Bushwick Posse along with Bushwick Bill, the dwarf-sized member of the Geto Boys; during the '80s the crew "were all knuckleheads and very dangerous guys. They're OG's now, but back then they ran that section of Bushwick."
D-Stroy's path to founding The Arsonists was also prompted by his life at home. He recalls finding the crack his older brother was selling stashed in one of the cassette decks of his radio; the other deck housed a copy of Jeru The Damaja's "Tha Frustrated N*a." A revelation took place. "I didn't like it and I knew I didn't have to be a part of what I seen in the radio." Jeru's song calmed D-Stroy down.
Once he'd switched his focus to The Arsonists, D-Stroy remembers a time in Bushwick where other local artists started to sprout up. He fondly recalls a crew called Putnam Out (named after Putnam Avenue), along with Us Plus One (consisting of Popcorn and Quick), and U-Krime. If the Bushwick music of that era had a common sound, D-Stroy says "it was about the music not being over-produced – just drums and loops. It was the music you'd hear on Stretch and Bobbito before they even came into the fold."
Dysfunkshunal Familee
D-Stroy's ideal of pursuing a creative consciousness through hip hop was also embraced by another Bushwick clique, Dysfunkshunal Familee. Its nucleus, DJ Bazarro, chose the group's name after watching an episode of the Oprah Winfrey Show centered around dysfunctional families. (The collective's original title was The Hitman Squad, but they felt it too close to EPMD's Hit Squad.) Dysfunkshunal Familee's debut single, "New Ruff Flava," showcased a playful but rambunctious sound that Bazarro says was inspired by the Native Tongues movement: "Our sound was reality, meaning like real life, like this is us and there's no gimmicks. It's just regular people making good music.
"We made a lot of noise on the underground and we never really went out to try and get a record deal," Bazarro adds. "We just wanted to make music for ourselves; we just wanted to put out vinyl 'cause that's what we loved to do. We were testing the waters with an alternative to the same old genres like gangsta rap and commercial hip hop. We put out records because we loved making music – that was it."
Bushwick Day
"Our sound was reality, there's no gimmicks. It's just regular people making good music."
Beyond his lynchpin role in Dysfunkshunal Familee, DJ Bazarro also curated a savvy snapshot of the mid-'90s scene with his Bushwick Day mixtape. It now resonates as an audio time capsule of a hyper-local micro-movement. The 19 song tape contained offerings from Shadez of Brooklyn, Finsta Bundy, The Arsonists and Dysfunkshunal Familee, along with local curios from Splattahouse, a group based three blocks away from Bazarro's home and whose members – Lockness Monster and Doug – had a link with one of the Wu-Tang Clan's extended members. The melancholy closing track, "Dwelling in the Attic," comes courtesy of Us Plus One, who also released a song in 1994 titled "Dear Jenny" in tribute to a girl murdered by the serial killer Joel David Rifkin.
The abiding style of production on Bushwick Day favors jazz loops and gritty and often static-sodden beats; the sound seems less flashier than hip hop from Bedford-Stuyvesant during that era, but also a little airier and less aggressive than the nearby Brownsville sound typified by M.O.P.'s guttural shout-raps. What appeals to modern ears, though, might have also been the same reason the Bushwick sound stayed confined to its home blocks: It's a beguiling basement listen with the neighborhood's '90s patina still coating the music.