Craving The Rave: Detroit's Electronic Music Scene in the '90s
They said there were over a million people in attendance. That was the official count provided by the City of Detroit following the first Detroit Electronic Music Festival. That number has been highly debated in subsequent years, but regardless of the actual tally, those who were there in 2000 couldn't believe how many people had arrived at Hart Plaza to dance in the daylight to the techno sound that had been born in the city almost two decades earlier.
The festival felt like a culmination of a decade's worth of growth that had seen a small circuit of parties turn into a thriving party scene.
No one was more surprised than Derek Plaslaiko, a local techno DJ and employee at dance music emporium Record Time, who had been a fixture in the city's party scene since 1994. "Where the hell have all these people been!?" he asked me at the time, as we watched a sea of partiers chant "Dee-Troit! Dee-Troit!" as they danced to Richie Hawtin's headline set.
It was a valid question. Despite the increased popularity of "electronica" in the late '90s, no event in Detroit had ever drawn even a fraction of the crowd of the first DEMF. But no matter where they came from, the moment felt like a culmination of a decade's worth of growth that had seen a small circuit of parties turn into a thriving party scene. From roughly 1992 until 1999, an entire generation of dance music fans and artists took the blueprint laid out by techno's founders – Derrick May, Juan Atkins and Kevin Saunderson – and continued to refine the sound and style of Detroit as electronic music exploded around the world.
Hawtin is, of course, the biggest name to come out of this era, and tales of his legendary '90s Detroit parties are well-documented. But his story is only a small part of why this era of Motor City promoters and partiers helped set the stage for the annual techno festival that is still thriving today.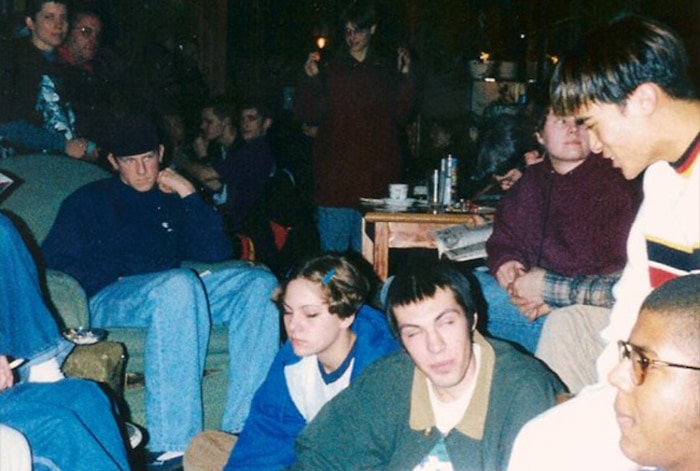 On Mondays, everyone went to Zoots coffee shop in the Cass Corridor for EXAT, a weekly night of ambient and experimental music (the name stood for EXperimental Audio Transmissions). There, the core of Detroit's mid-'90s rave community would unwind from the previous weekend's adventures, and talk about the following weekend's agenda.
"It was a chance to meet the kid who you saw at the party every week, but could never talk to because it was too loud. Now, you're sitting having coffee with him. Or drinking a 40 oz. out on the porch," recalls Adriel Thornton, a promoter who had grown up on Detroit's Westside. Thornton was exposed to techno at a young age via tapes supplied by his cousin who was part of city's early '80s African-American "progressive" scene that eschewed typical "urban" music and danced to weird Eurodisco instead. It was this scene that would originally inspire Detroit's first techno innovations.
"They would talk about this progressive music," Thornton says. "It was never called house or techno. It was just called progressive. The progressive party scene." By the time he was old enough to go clubbing in the very early '90s, the progressive scene was more or less gone. In its place were spots like The Alley, a modest after hours club run by Carlos Oxholm, who while still in high school had worked on the sound system at the legendary Music Institute, widely acknowledged as the world's first techno club.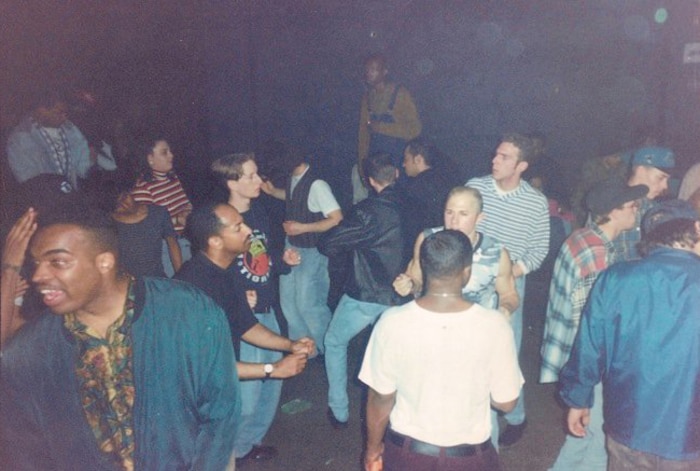 Thornton began passing out fliers for The Alley, but he wouldn't stay for long. Other downtown spots, like the Bankle Building, owned by local artist Camillo Pardo, as well as 1515 Broadway (the original home of the Music Institute), offered space for more rowdy events. In nearby Pontiac (about 30 minutes drive from downtown), Industry nightclub hosted a Friday techno party. Two Industry regulars, Jon Santos and Alan Bogl, soon partnered up with Industry managers Steven Reaume and Marke Bieschke and began throwing underground parties under the name Voom. Where Industry was aesthetically connected to the New York club kids scene of the early '90s, Voom was something different. Something more raw and non-commercial.
Soon other promoter groups were formed, developing a sort of unofficial rotation for throwing each weekend's party. There was Tribe 9 (Thornton), Cheshire (Jason Huvaere), Detor (Detroit-Toronto), Elephanthaus (Tim Baker and Twonz), Motor City Macks (Alan Bogel and Johnny Saco), Hardware (an actual old hardware store run by Dean Major), and several more.
While the parties moved around week to week, one of the more regular venues was the infamous Packard Plant, a long abandoned auto factory that in recent years has become something of a monument to urban decay. "Suburban kids were becoming more interested in the underground warehouse thing," explains Thornton. "It was very scary to go to Detroit. It meant you were a badass if you did." In the '90s, the Packard wasn't as decrepit as it is now, but it was still the epitome of raw urban spaces. If you spent a night at the Packard, you could be sure that you would have black snot for days afterward.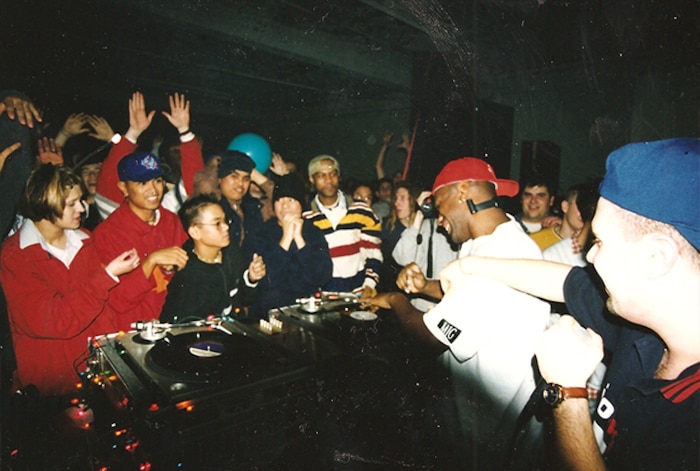 "We just cared about good music and top DJs," says Brian Gillespie, a Polish-Irish DJ who threw the Poor Boy parties with his Vietnamese-American partner Dat. "It's funny. All of the black club DJs heard about the famous DJ Godfather vs. Gary Chandler battle at the Packard Plant. Gary could not believe there was over 1,500 people at the Packard, freaking out that he was there."
More than 1,500 paying customers was a lot for a scene that was used to just a few hundred attendees less than a year earlier. The sudden growth of the underground was a cause for concern amongst those who had been leading the community up until that point. Much of that discussion took place at 1217 Griswold, where many of the most active members of the rave scene resided, including Jason Huvaere and Jason Clark, who would later take over the Movement festival, as well as promoter Dean Major and Underground Resistance DJ Buzz Goree.
"1217 was a cross between a squat house, an artist community and promoter school," reflects Goree.
"In that one building, you had half who just wanted to do these small parties," recounts Thornton. "And another group who wanted to do bigger things."
Probably the biggest proponent of the bigger-is-better mentality was Major, who began throwing the Syst3m parties in the fall of 1996. Another was Gabe Szakal, a few years junior to Major, who called his company Analog Systems. The rivalry was legendary, with Major naming one of his events Fuck Analog, Go Digital. Even more mischievous was the time Major allegedly distributed replicas of the flier for a competing Analog party, but with the Syst3m info-line printed on them instead.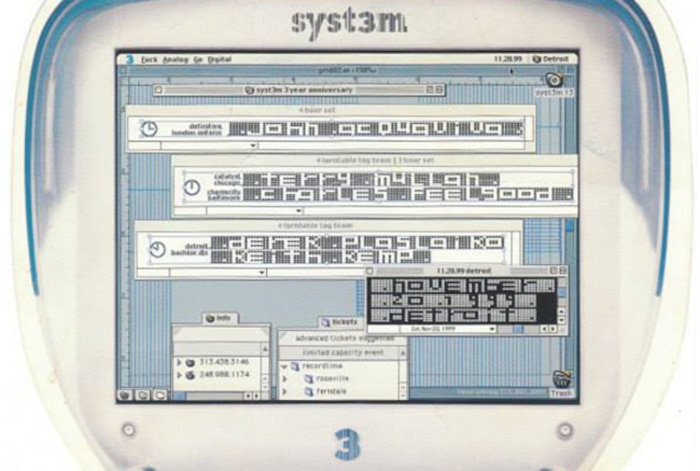 With bigger parties came additional unwanted attention from outsiders. By 1996-97, raves had come under police scrutiny nationwide. Detroit clamped down hard, breaking up parties, writing tickets and occasionally even brutalizing ravers. "You couldn't go a month without something getting busted," Plaslaiko recalls.
The pressure intensified when a local FOX affiliate aired their infamous "Crave The Rave" report in 1998, inciting the city's gang squad to issue a zero-tolerance policy towards illegal parties. While throwing underground raves became an increasingly risky proposition, new clubs, most noticeably Motor in Hamtramck, began offering a legal alternative to the unlicensed party scene. (Full disclosure, I worked as a promoter at Motor from 1999 until 2002.)
There wasn't such a huge appeal to the DJ coming from overseas. And play what? The music we already have?
In some ways, Motor was the antithesis of the rave scene, with its liquor license, 2 AM closing time and selective door policy. But at least you'd find Thornton working the door most nights, making sure the rave veterans were always welcome. "When Motor came along, we had been attempting to move into the clubs anyway," he explains. "Here it was different because it wasn't just a club co-opting our culture. We figured, if the clubs were gonna be there, we should be involved." The Motor door policy allowed for a "classier skate clothes" dress code, as Plaslaiko describes it. "A lot of Alien Workshop t-shirts. Q-wear. Kikwear." Candy ravers were discouraged, although not forbidden, depending on who was the guest DJ that night.
Around that time period, most of the US was starting to rely on star touring DJs to fill the club week after week. Motor was no different: The Detroit scene had its out-of-town heroes like Terry Mullan and Green Velvet from Chicago and Murat from Toronto. But many of the stars were Detroiters, both internationally known and unknown. "Almost every party, somewhere at the top of the list, would be Eric Haupt, James Covert, Twonz or Acid Pimp," says Plaslaiko. "If one of those guys weren't on your bill, then your party was suspect."
"We were spoiled here. You pick up any international magazine and they're talking about our DJs," Thornton confirms. "There wasn't such a huge appeal to the DJ coming from overseas. And play what? The music we already have?"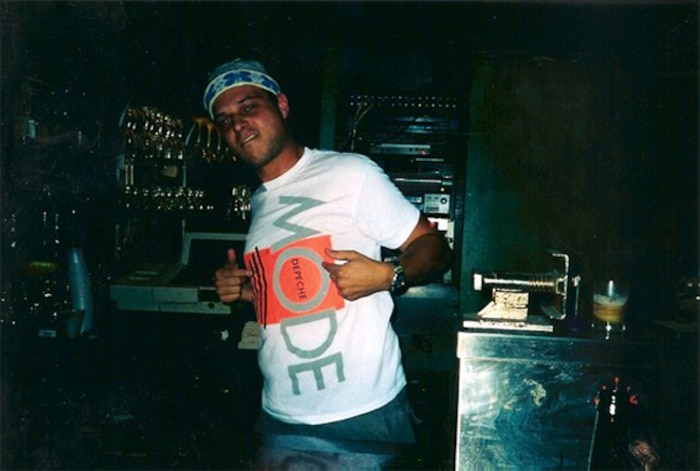 Motor did make plenty of room for Detroit DJs. All of the global Detroit stars played there: Carl Craig, Robert Hood, Claude Young. Stacey Pullen had a monthly residency. The truly local scene was also supported. Gillespie held down the back room on Tuesday night, playing the funk, hip hop, trip hop and soul he had become known for through his weekly Family Funktion parties. He also joined DJ Godfather, playing ghettotech, bass and electro in the side room along with Paris and Billeebob, two DJ fixtures going back to the Bankle era.
Thornton took over Tuesday nights for a gay party called Family. (Although the crowd was mixed.) The resident DJs were Plaslaiko and Jason Kendig. Unlike EXAT, Family was an all-out dance party. But it still served as a mid-week social hub for the ever-growing dance music community – the same performers, promoters and fans that came together just after the turn of the millennium to create the first DEMF. True, the rave scene was never so big as to predict the sheer scale of the festival. But if you add up all of the faces that passed through the doors of these '90s events – from small coffee shop gatherings to large underground parties and select nightclubs – and brought them together for a single weekend each year, it's not hard to see how it could all add up to one helluva party.