The Sound of Found Sound: Negativland and Over The Edge Radio
A tribute to one of the longest running freeform radio shows in the United States.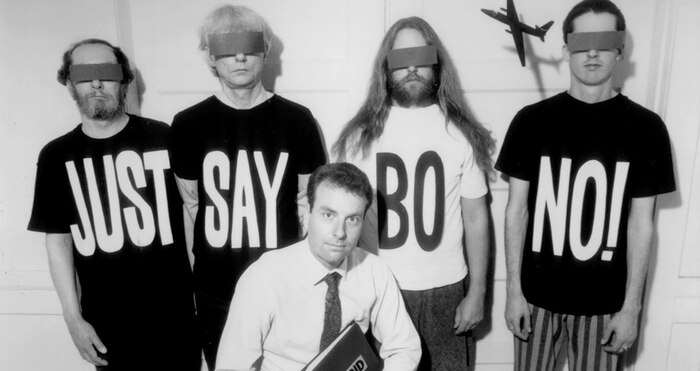 Celestial choirs give way to an old Moog novelty record. A voice, apparently from Ground Control in Houston, announces that things are getting ready and looking good. We must be nearly ready for take-off. A disembodied "YES" crashes in before quickly giving way to a smooth cocktail party jazz number, in the midst of which a man starts wearily complaining about his troubles while a woman laughs mockingly, uncontrollably.
As the show's lynchpin Don Joyce told me, when you tune in you know "you've found the sound of found sound."
I'm listening to a show quite unlike anything you are ever likely to hear on "normal" radio. This is episode 50 of The Universe, just one of the many themed sub-series of Over The Edge, broadcast by members of the group Negativland for KPFA, Berkeley every Thursday night. By far the longest running show of its kind, the programme has spawned nine releases on cassette or CD along with many more bootlegs and mp3s, a devoted cult following, and a whole slew of imitators. But Over The Edge remains the original and the best. As the show's lynchpin Don Joyce told me, when you tune in you know "you've found the sound of found sound."
None of this would have happened without Jonathan Dayton. The future Little Miss Sunshine director got his start in the movie business circa 1977 when he borrowed a Super8 camera from Mark Hosler, a "horribly bullied, beat-up" high school kid who up to that point had found his only solace in making little animated films in his spare time. When Dayton finally returned the camera, it was broken – "and he lied about it!" says Hosler – leaving the younger boy looking around for a new hobby.
By that time, Hosler had already developed some fairly outré tastes in music, picking up imported post-punk and German prog from a specialist record shop in Berkeley. But there was always something he felt was missing from those albums, except in odd moments like the skronky final track on Pere Ubu's Dub Housing album. "And of course finally it dawns on me," Hosler told me via Skype, "I'm gonna do it. I'm gonna make that thing."
Of course Hosler still had scant idea about how to actually go about doing that. After a winter holed up in his bedroom with borrowed synths "just screwing around," he still wasn't really getting anywhere. Until one day, sat in his after-school call center job, and absentmindedly compiling a list of desirable vinyl, a colleague passed by his cubicle, looked at the scrawled notepad, and said, 'Oh, Klaus Schulze, Picture Music. I have that!'
That colleague was Richard Lyons. He soon introduced Hosler to another friend, David Willis (known to Negativland fans as The Weatherman), who had already started making his own home-built electronic feedback machines called "boopers." It wasn't long before they started collaborating on what would eventually become the first Negativland record.
Meanwhile, Don Joyce, a former painter and installation artist from New Hampshire, had recently become a volunteer disc jockey at the non-commercial Pacifica Network radio station KPFA-FM. By 1981, his regular weekly show, Over The Edge, had been running for a few years, playing an eclectic mix of weird music and spoken word, when a mutual friend introduced him to Negativland.
"I had sometimes suspected the medium of radio could be art, rather than always just being about art."
At this point the group had already released two albums on their own Seeland imprint. Joyce invited them to the studio, and the group rolled up with their own mixers, drum machines and synthesizers, recordings of household sounds and found noises, "and we immediately started playing three records at once, playing things backwards, putting phone calls on the air…" In a phrase that would be used by both Hosler and Joyce, it was at that moment that Over The Edge "finally began to live up to its name."
Over The Edge became, in Hosler's words, both "a laboratory" and "a playground." Shows would be themed around different topics, they would take place in alternative realities populated by a whole slew of fictional identities. Anything could happen and everything was up for grabs. "I had sometimes suspected the medium of radio could be art, rather than always just being about art or using art that was created elsewhere in other media as its content," Joyce would speculate in a reflective essay written many years later. "This kind of live, spontaneous, multisource mixing may seem like a common enough possibility now, but it wasn't common in 1981." They were hooked. Joyce joined the band and Negativland became a permanent fixture on Over The Edge.
For Joyce, who had attended Rhode Island School of Design in the '60s, the show was "cubist broadcasting," defined as "an array of disparate parts, fragments and angles of view thrown together in a single work." It's an apt description. But it's a painterly one. The audio origins of what Negativland were up to can be traced back to the composer and insurance executive Charles Ives published a "Barn Dance," part of his Holiday Symphony. In keeping with the festive spirit, the score to Ives's barn dance is full of excerpts from popular songs of the period.
This in itself was nothing particularly new. But as occasional Negativland co-conspirator Jon Leidecker (AKA Wobbly) has noted in his history of musical sampling Variations (which was itself remixed into an Over The Edge special in 2009), Ives went a step beyond simply quoting these old tunes, "he conveys to the listener the environment in which they were played. The event itself, right down to the mistakes of musicians having too much fun, and the guy on the floor joining in on mouth harp."
After Ives, "the sound of early audio collage was deeply linked to the sound of shortwave radio," Leidecker explains. He points to a vaudeville duo called The Happiness Boys who in 1928 recorded a tribute to the broadcast medium, "Twisting the Dials," complete with shortwave noises faked on a pennywhistle and cues from shellac discs cut in seemingly at random. Far outside the art worlds of contemporaneous collagists and radiophonic experimenters like Kurt Schwitters and Walter Ruttmann, The Happiness Boys inaugurated a vernacular tradition of audio montage that would later incorporate such gleeful mash-ups as Buchanan & Goodman's 1956 hit "The Flying Saucer" in which brief cuts from hits by The Platters, The Penguins, and others, are spliced into a riotous pop parody of Orson Welles's notorious War of the Worlds.
Joyce still calls it "cubist broadcasting" in the station I.D.s. But from the moment Hosler, Lyons, and Willis stepped into the studio they brought with them an anarchic spirit that brings it closer to the vernacular tradition of "Twisting the Dials" and "The Flying Saucer."
From the very beginning, Negativland had interpolated bits of talk radio, TV, and recordings made in their parents' kitchens, and layering that up with live instruments and electronics. With Joyce onboard, their collage started to become more critical, more focused. "I injected more topical or 'informational' content into Negativland productions," Joyce told me. "I also was more into the repurposing of this material for humorous or ironic effect." Hosler concurs, and over three decades later, while the other members of the group remain involved in Over The Edge from time to time, Joyce is still the backbone of the radio show, putting in days of pre-production each week for no renumeration.
"If it wasn't so satisfying when it gets done every week, I would consider myself insane."
"We are all geographically distant from each other now," Joyce told me, fondly remembering the days when they would all pile into the studio together and work out special concepts and complex scripts for the broadcasts. But for a long-time "obsessed radio listener" like Joyce, "it never wears out and remains a uniquely potent form of getting our ideas out." He considers the show a kind of "appointment art" which effects "a continuous and continuing relationship with an unfocused and unknown listening public."
The only problem is the incessant drive to find new material to mulch – an almost impossible demand. "I can only attempt to do it by making this radio show my full-time job all week long," he tells me, "and do nothing else but constantly watch/listen to mass media with recorder ready. If it wasn't so satisfying when it gets done every week, I would consider myself insane."