Herbie Hancock's Mwandishi Years
The strange and essential albums that came before the artist's smash record, Head Hunters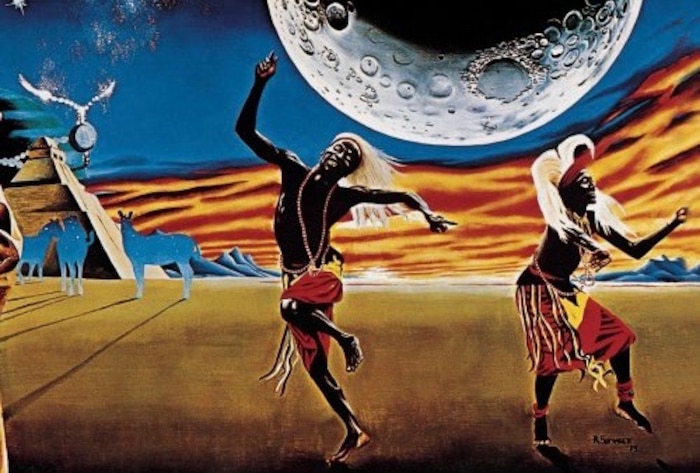 Herbie Hancock had five years with the Miles Davis Quintet and seven Blue Note albums of his own under his belt when he found himself at a crossroads in the summer of 1968. Encouraged to stretch away from traditional jazz by the success of Miles' Bitches Brew, Hancock delved deep into the unknown, experimenting freely with synthesizers, fusing jazz with rock and embracing the avant-garde. Reflecting the unrest in American cities and protests over Vietnam, the music was turbulent and stormy, and a tough sell for Warner Brothers, his new label, who weren't accustomed to the mainly long, sprawling tracks at odds with the pop format.
These four albums defined a critical period in Hancock's canon, the pianist at his most daring, open and challenging.
Still, a niche of likeminded followers rejoiced in the out-there nature of the material. "Nothing I have experienced since has had more of an effect on my life," guitarist Pat Metheney wrote in a testimonial for Bob Gluck's 2012 book You'll Know When You Get There: Herbie Hancock and the Mwandishi Band. "To me, that band was the epitome of everything that jazz has ever promised to be. Collectively and individually, they brought together a sound that was so deeply in and of that moment in time that it became thus transcendent and timeless. They inspired me and a generation to aspire to their level of creativity and commitment."
Hancock would regain chart success with the straight-up jazz-funk of Head Hunters in late 1973, but his preceding four albums defined a critical period in his canon, the pianist at his most daring, open and challenging.
Fat Albert Rotunda (1969)
Hancock's first post-Blue Note album only hinted at the tangents his work would soon take. Produced in part for a Bill Cosby-penned animated TV special, Fat Albert Rotunda was a soul-driven jazz-funk album, more earthy and digestible than his Blue Note records and subtly geared towards a larger audience. Written and produced entirely by Hancock, the standout track is the sublime "Tell Me a Bedtime Story," spruced up by Quincy Jones on his 1978 Sounds... LP. Later, in one of the more impressive feats of sampling, Mobb Deep's Havoc morphed the album track "Jessica" into the main melody of the hip hop classic "Shook Ones Pt. II."
Mwandishi (1971)
By the end of 1970 Hancock had settled on his new Sextet: joining him on a journey into unchartered territory would be Buster Williams on bass; Billy Hart on drums; Eddie Henderson on trumpet and flugelhorn; Bennie Maupin on clarinet and flute; and Julian Priester on trombone. Produced by New Yorker David Rubinson, Mwandishi (Swahili for "The Composer"; all the musicians had Swahili names bestowed upon them in the credits) marked the start of Hancock's explorations of the outer limits of jazz.
Taking its lead in places from Miles' In a Silent Way, the record was spacey and experimental, joining the acoustic with the electric and darting into the wild while remaining rooted in jazz rhythms. The zinging opener "Ostinato (Suite for Angela)" is built around a thick, pulsating groove; "Wandering Spirit Song," which occupies the whole of side two, unravels over 20 minutes, abstract and dramatic. Warner Brothers' indifference to their artist's newfound leftfield aspirations was apparent in the record's rather flat two-tone cover image and lack of sleeve notes, and positive reviews failed to translate into healthy sales.
Crossings (1972)
Crossings explored deeper, more arcane territory than its predecessor, producer David Rubinson putting greater emphasis on electronic elements. In the mix this time around was Patrick Gleeson, a composer and synthesizer player who has been experimenting with electronic music since the mid-'60s, honing his skills working on sessions for Californian rockers Jefferson Starship. Gleeson introduced Hancock to the Moog and wound up touring with the Sextet.
Gleeson's contribution may have been sidelined as somewhat of a novelty by a less trusting bandleader, but his influence on the sessions was pronounced, with Moog prominent on the abyssal "Quasar" and the delirious "Water Torture," filling space in amongst the unusual structure. "Exploring the upper atmosphere of music," is how Hancock remembered the period in an interview for the sleeve notes of the 1997 CD reissue of Head Hunters.
Sextant (1973)
Following the release of Crossings, Hancock played on what would become Miles Davis' On the Corner, and a year later the complex Sextant pursued further depths still, built on tracks like the convulsive, otherworldly "Rain Dance." By now Hancock had added the ARP to his arsenal of synths, and retained the services of Gleeson, key to their cosmic sound. "Some people resented what we were doing," recalled Gleeson in an interview with Hydra Magazine in 2009. "They said, 'You look like a maddened telephone operator!' A lot of musicians didn't understand… To me, it was a way of expanding the tonal palette of jazz by introducing this improvising, orchestrating instrument. You know, I was really serious about it."
Sextant was the last hurrah for the Mwandishi band, an inappropriate booking supporting the distinctly more pop-friendly Pointer Sisters closing the door for good; touring with such an array of newfangled synthesizers was already stretching the budget to its limit. No doubt to the relief of Hancock's new label Columbia, the artist's interest in going over the mainstream's head in the name of experimentation waned, too. "Now there was this need to… feel a little more tethered; a connection to the earth," Hancock said in the notes for Head Hunters' CD reissue. "I was beginning to feel that we were playing this heavy kind of music, and I was tired of everything being heavy. I wanted to play something lighter."