Peter Gordon: The Love of Life Orchestra Founder's Formative Years
The versatile composer details the influential characters that helped define his artistic outlook.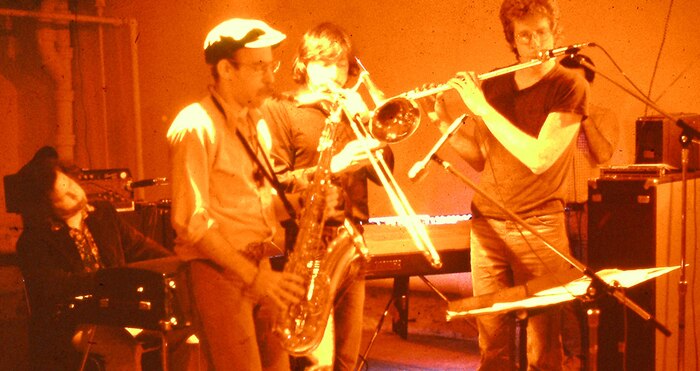 Peter Gordon's music embodies many things: funk, minimalism, rock, disco, classical music, post-punk, and the creative ferment of downtown New York. Stumbling upon his odd and rich discography – much of it performed with his long-running, rotating group known as the Love of Life Orchestra – is like uncovering a hidden treasure.
Many of Gordon's old friends and collaborators, such as the late Arthur Russell, have been extensively documented in recent years through books and reissues, but Gordon remains a bit of an enigma. His music received a high-profile push thanks to James Murphy, who prominently featured Gordon and the Love of Life Orchestra in his Fabriclive.36 mix, assembled with LCD Soundsystem drummer Pat Mahoney in 2010. Later that same year, a revelatory reissue of Gordon's music from the '70s and '80s was released on DFA Records, which included two little-heard tracks recorded with Russell.
Gordon's concept for the Love of Life Orchestra dates back to the mid-'70s. He wanted to create a "democratic music," where people coming from all sorts of backgrounds – classical music, rock music, poetry, visual art – could play music together. Their newest work is Symphony No. 5, a striking and elaborate statement in five movements. Gordon's symphony isn't traditional, in the classical music sense. "[Symphony No 5] is a part of an ongoing exploration between funky music and more structural music and compositional music," Gordon says. The project includes Love of Life Orchestra veterans from the very earliest days – including the cellist Peter Zummo, the guitarist Ned Sublette, and many more.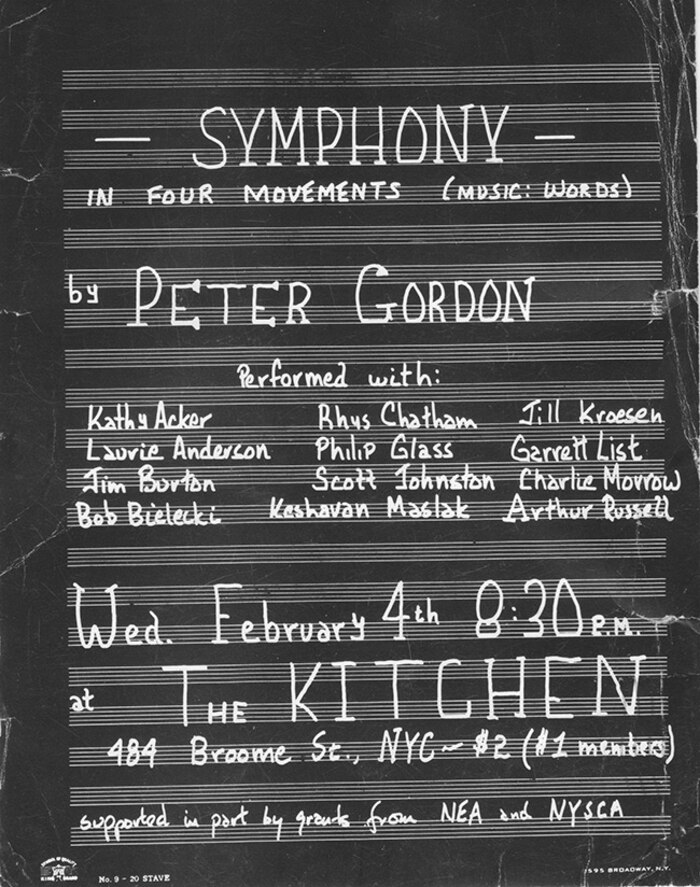 Gordon's life is just as kaleidoscopic and varied as his music. It's a story that spans from mingling in smoky Munich jazz clubs as a teenager in the '60s to hanging out at Captain Beefheart's house in Los Angeles during the recording of Trout Mask Replica. Gordon's education included time spent studying under the experimental composers Robert Ashley and Terry Riley during a particularly legendary time at Mills College in California in the '70s, before moving to New York City for a rough-and-tumble informal education in art, poetry and music. It's easy to see in retrospect how Gordon's interests run the gamut from funk to minimalism.
Gordon was born in New York City, but his childhood was spent in many different locales – Virginia, Munich, and Los Angeles. During Gordon's teenage years in Munich, he learned to play saxophone and clarinet, and fell deeply in love with jazz. "I had an early Sun Ra record Heliocentric Worlds which fascinated me, Albert Ayler... I would just go to record stores and be poring through all sorts of music." He could also enter clubs without getting carded – which meant he immersed himself in live music at a young age. "At the time, you would get to hear new bands like the Yardbirds, Animals, Kinks – basically, I heard all those British bands in small clubs as they were just starting out. I was a big fan of the Animals, and through the Animals I was introduced further into R&B and blues and soul music."
"Captain Beefheart and the whole Magic Band would do the grocery shopping at 2 AM."
When Gordon was a senior in high school, the family moved to Los Angeles. The abrupt move from cosmopolitan Munich to the strange plastic vistas of LA was hard to take at first. But Gordon's life soon made a welcome turn for the weird when he met Don Van Vliet, AKA Captain Beefheart. "At the time, Beefheart was recording Trout Mask Replica and the whole Magic Band was living in his house," Gordon recalls. "My friend Richard and I went over… I would hang with Don and we'd talk for hours."
Beefheart could be freeform and freewheeling with his own playing, but he ran a tight ship with the musicians in the Magic Band. "He was a total autocrat," says Gordon. "He would bring the musicians up and have them play something [and] if they played it wrong, he'd send them downstairs to practice for four hours. There were also wild shopping trips at 2 AM, with the whole Magic Band; they would do the grocery shopping at 2 AM. It was kind of weird. I don't even know what I was doing up so late, still being in high school.
"Anyway, it was really through Beefheart that introduced me to the idea that rock music and pop music could be art simultaneously, and you didn't have to buy into the whole commercial record business. You could make really raw, funky music and have it be really smart at the same time."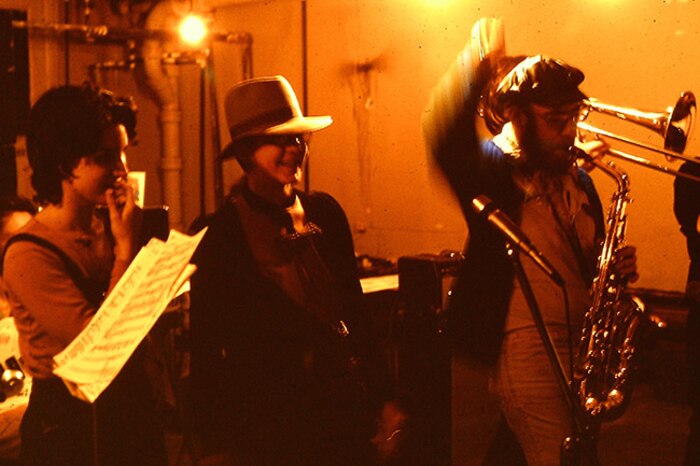 Gordon went on to study music in nearby San Diego, with the composer Kenneth Gaburo. But Gordon felt like something was missing. "When I was studying with Gaburo and working with language, it was all about dissecting language into syntax and linguistic structure, but at the same time avoiding what was on the surface – what was actually being talked about," Gordon says. "I was a sax player. I liked funky music and I liked spoken voice."
When Robert Ashley came to campus, the course of Gordon's life was altered forever. "He did [the opera] Kit Carson. And I was really amazed…it had the combination of being highly structured and completely free." Gordon was struck by the political content of Ashley's work, written during the Nixon administration. "[Ashley] saw the whole political corruption as a structure, and based the structure of the whole piece on that, which I thought was just brilliant," Gordon says.
"A typical class with Terry Riley would be you would come in, you would take out an instrument, Terry would start playing, and you would start playing."
Poetry was also an inspiration – particularly the work of David Antin. "He would do the talking poems where he would just get up and talk, and I loved the musicality of the language, of spoken language," Gordon says. Gordon soon met – and dated – the poet and writer Kathy Acker, a formative relationship that would continue for six years. Ashley motivated Gordon's decision to join Mills College as a graduate student in the 1970s. Ashley and Terry Riley were both teaching there at the time, along with "Blue" Gene Tyranny. "Bob [Ashley] really saw the idea of music as news," says Gordon. "Each week there would be a new idea to explore. It was really project-driven. People would bring in pieces and perform them and then we would talk about them. He would ask questions and we'd answer them. Bob had a great sense of curiosity."
Studying with Terry Riley was also an unforgettable experience. "When you go in with a composition class with Terry, you just start playing music," Gordon recalls. "You work out ideas. I remember very little of Terry saying anything, actually; it was all about listening. It was all about interacting, being right in the music, being so completely dedicated to music…a typical class would be you would come in, you would take out an instrument, Terry would start playing, and you would start playing. Everyone would join in, and different musical ideas would develop. At a certain point we'd stop and leave. It was pretty incredible – very radical – but it was very experiential, kinesthetic learning."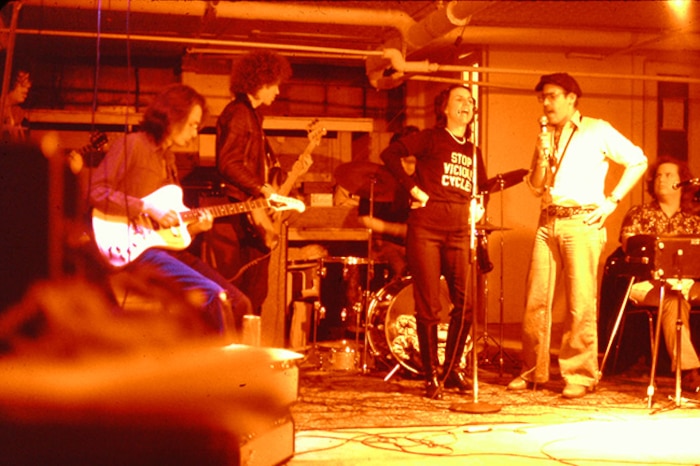 Gordon moved to New York in 1975, and headed directly for the East Village. "The first week I was there I met Rhys Chatham and Arthur Russell," Gordon remembers. "This was basically through the St. Marks poetry scene at St. Marks Church, the poetry project. I was still with Kathy [Acker] at the time, so I met a lot of poets, and it was the early performance scene and the early days of Soho and the East Village and there was a lot of openness."
Many of Gordon's Mills College friends made the move to New York by the late 1970s. Ashley had also moved to Manhattan, and he played a major role in the downtown scene. "He was like the godfather," Gordon says with a laugh. "I mean, he was very generous in terms of introducing people to each other. He would have cocktail parties where he would invite us, as well as different people from the art scene."
The dirt-cheap rents enabled artists and musicians to live downtown, in close proximity to one other. "It was easy to find an empty loft or a bar where nothing was happening, and put on a concert," Gordon recalls. Musicians could afford to have massive lofts in Soho or huge apartments in the East Village – a situation that would be unthinkable in today's real estate market. "No one had any money – I mean, you know, New York was at bottom," Gordon says. "It was like this combination of freedom and anarchy."
Header image: "Blue" Gene Tyranny, Peter Gordon, Peter Zummo, Rhys Chatham, 1977; All images courtesy of Peter Gordon