A Guide to Strata-East
Andy Thomas showcases some of the jazz label's finest moments.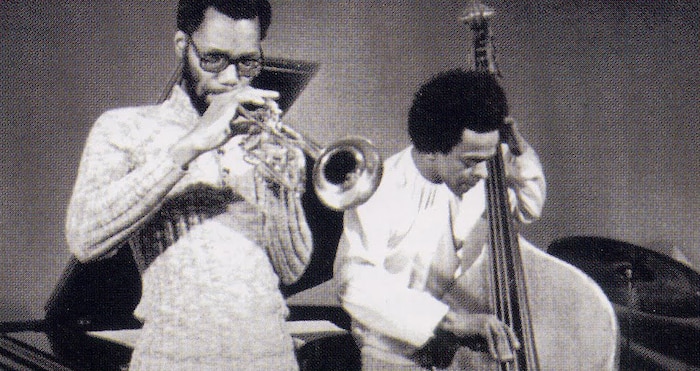 Next to the absence of Sun Ra, one of the most glaring omissions in Ken Burns' Jazz documentary was the radical black music collectives that came out of America in the '70s. Burns saw the end of the 1960s as a break in the creative line of the art form. But rather than being the museum piece that Burns seemed to suggest, jazz in the new decade would make some of its most progressive statements. And it was in the creative freedom of independent ventures like New York's Strata-East that the future would be mapped out.
Alongside similar outfits like Tribe in Detroit, Black Artists Group in St. Louis, and The Association for the Advancement of Creative Musicians in Chicago, Strata-East consolidated the previous advancements from all corners of jazz with a hard-edged militancy and community ethos that suited the times. Inspired by the empowering ideology of the Black Power movement, these collectives were fiercely independent.
Our surprise at not being able to place the freshly recorded tapes with a major company for a sufficient advance morphed into our determination to self-produce it.
Strata-East's independence was not initially born out of choice. Charles Tolliver and Stanley Cowell had appeared on some of the great jazz sessions of the 1960s. A year after both playing on Max Roach's Members, Don't Git Weary they formed Music Inc., and released the LP The Ringer (under the name Charles Tolliver and Music Inc.) on Polydor in 1969. But by the time they had finished recording their next LP, jazz was losing its commercial pull. When they took the material to the majors at the start of the '70s they were met with indifference. "Our surprise at not being able to place the freshly recorded tapes with a major company for a sufficient advance morphed into our determination to self-produce it," explains Stanley Cowell. "The '60s Black Power movement in the United States had an effect on many black artists toward self-reliance, entrepreneurship and self-determination."
At the time, one such group of artists was operating out of Detroit under the name Strata. Cowell and Tolliver were so inspired by this grassroots collective they began to work on plans for a similar operation in New York. "Kenny Cox and Charles Moore came to New York with their papers for Strata Corp. and inspired us to form a corporation," recalls Cowell. "Strata-East, Inc. would be part of a larger artist-controlled concept. As we saw the potential for our catalogue to expand more rapidly, we decided to form Strata-East Records, Inc." And so the label was born at the start of 1971 with the Music Inc. Big Band LP.
For the likes of 4 Hero and Kirk Degiorgio, the label became the missing link between Blue Note and Transmat.
"The notoriety that began to follow caught the attention of other independent black artists and producers who had tapes and wanted LPs pressed and distributed," explains Cowell. The artists were no doubt drawn by the community ethos and the control offered to them. That control was founded on what Stanley Cowell had termed the condominium concept, "The artist-producer signed a contract with Strata-East Records, furnished the recorded material and paid for the initial cost of fabrication," he explains. "Strata-East Records then sold the LPs via our distributors. The artists/producers received the lion share of the profits as Strata-East Records only took a minor percentage after costs."
From the outset, presentation and quality became a central part of the creative vision. The label's sharp black and white logo by graphic designer Ted Plair set the tone. Always pressed on the finest vinyl, Strata-East's recordings were pressed in limited numbers, adding to their cultish status. Twenty years after their creative peak, the label achieved overdue recognition when Soul Jazz released two compilations in the mid-'90s. Those albums and subsequent releases of Tribe Records and Black Jazz became central to a new understanding of jazz history to those turned onto the music through Blue Note breaks.
The first tunes to grab the attention of DJs and heads alike included dancefloor weapons like Keno Duke's "Too Late, Fall Back Baby" and Larry Ridley's "Changa Chikuyo." But the label was equally known for its deeper African-leaning spiritual jazz. In fact Strata-East covered many bases – from deep modal outings and post bop to experimental free jazz and African/spiritual excursions. And just as Tribe Records and Black Jazz provided inspiration to producers like Carl Craig and Theo Parrish, so Strata-East exerted its own influence. For the likes of 4 Hero and Kirk Degiorgio, the label became the missing link between Blue Note and Transmat.
Music Inc. - Music Inc.
The first release on Strata-East arrived in 1971 as a signal of intent from two titans of the 1960s. Jacksonville trumpeter Charles Tolliver had played on key Blue Note LPs by the likes of Jackie McLean and Andrew Hill. During the same period, Bobby Hutcherson and Marion Brown were just two of the leaders to call on Ohio-born pianist Stanley Cowell. So when Tolliver and Cowell teamed up to release their first LP as Music Inc., The Ringer, no one should have been surprised to hear the might of tunes like "On the Nile."
For their Strata-East debut, they built a hard bop big band, adding drummer Jimmy Hopps and bassist Cecil McBee. From the opening interchanges of "Ruthie's Heart," the unit moves with all the finesse and intuition of the large-scale ensembles of Mingus and Ellington. And there is a fire and fury in the playing that captured the velocity of the times. When Dizzy Gillespie was asked in a Downbeat magazine interview to say which trumpet players he was listening to he replied, "Charles Tolliver - I like him." Just listen to the poise and power of his playing on "Brilliant Circles" and you can hear why.
Stanley Cowell - Musa Ancestral Streams
After appearing on the first three Music Inc. LPs, Stanley Cowell chose a solo piano work as his debut for Strata-East in 1974. It remains one of jazz music's great solo outings, ranking alongside Horace Tapscott's series of sessions for the Nimbus label and Abdullah Ibrahim's LPs on Enja.
The pianist had first presented his composition "Equipoise" to Max Roach who had used it on his Members, Don't Git Weary LP. He would return to it throughout his career, most notably on the The DeJohnette Complex LP and his own 1978 LP Equipoise alongside bassist Cecil McBee and drummer Roy Haynes. But nothing quite touched the beauty of the version here. The Pharcyde certainly agreed, sampling the tune heavily throughout "On the DL." Another beat digger checking this LP was J Dilla, who took bits from "Maimoun" on his unreleased instrumental "Trashy." The LP also features perhaps the ultimate version of "Travellin' Man" with Cowell "duetting" on both acoustic and electric piano. Regular Strata-East artist Carole Byard weighed in with a beautiful coloured chalk drawing of Cowell on the cover.
Clifford Jordan Quartet - Glass Bead Games
Chicago saxophonist Clifford Jordan had pedigree well before he approached Strata-East to release his 1971 LP In the World. He debuted in 1957 with the Blue Note LP Blowing in from Chicago sharing tenor duties with Sun Ra associate John Gilmore in a quintet that included Art Blakey and Horace Silver. When the time came for him to lead his own quartet, it wasn't just one but two he took into the Minot Sound Studio in White Plains, New York. The first quartet saw the tenor joined by Stanley Cowell, drummer Billy Higgins and bassist Bill Lee (Spike's dad). Pianist Cedar Walton joined him in the second quartet, alongside Higgins and bassist Sam Jones.
The prayer-like chants of "John Coltrane, black spirit, John Coltrane, first newborn" match the spiritual force of the playing on one of Strata-East's deepest recordings.
The LP took its name from the futuristic novel by Herman Hesse that explored the individual's search for self-knowledge and spirituality. One of the themes of the book was music as meditation, an idea that was of course also central to the teachings of John Coltrane. A Love Supreme was clearly an influence on the two quartets: From the opening dedication to the civil rights singer "Powerful Paul Robeson," the band play with an elegance and intensity that deserves comparisons with Coltrane's legendary quartet of the mid-'60s. It was Bill Lee who penned the most moving dedication to the late saxophonist and one of the greatest basslines in jazz. The prayer-like chants of "John Coltrane, black spirit, John Coltrane, first newborn" match the spiritual force of the playing on one of Strata-East's deepest recordings.
Pharoah Sanders - Izipho Zam
Equal to his most essential albums on Impulse, Izipho Zam was recorded in 1969 at the height of Pharoah Sanders's creative power. The flood of LPs on Impulse like Jewels of Thought, Karma and Thembi confirmed what John Coltrane knew when he took Sanders into his band in 1965. It's the same here: The spiritual intensity of Izipho Zam almost lifts you off your feet.
The LP appeared in 1973 as part of Strata-East's Dolphy series, largely composed of recordings that had been on the shelf for a few years. Like Charles Brackeen's Rhythm X and Cecil Payne's Zodiac, Sanders' only LP for Strata-East came in a distinctive sleeve with black and white photos of band members taken at the sessions by Martin Bough and designed by Edgar Fitt.
It wasn't just hyperbole when Albert Ayler famously said, "Trane was the Father, Pharoah was the Son, I am the Holy Ghost."
The LP makes full use of the rhythmic power of its huge 13-piece ensemble. Where "Prince of Peace" acts like a hymn to a higher force, the second track "Balance" is one of Sanders most fiery and free numbers. If Sanders had the power to assault, he also had the medicine to heal. At nearly half-an-hour long, the closing title track is one of Sanders' deepest journeys to the east, continuing on the path started by John Coltrane in 1961 on tracks like "India." Although many incredible saxophonists emerged during this period, it wasn't just hyperbole when Albert Ayler famously said, "Trane was the Father, Pharoah was the Son, I am the Holy Ghost."
Gil Scott Heron & Brian Jackson - Winter in America
Pharoah Sanders' Izipho Zam had included some of the big names from the Flying Dutchman label including Leon Thomas and Lonnie Liston Smith. Another musician closely associated with Bob Thiele's New York label in the early '70s was Gil Scott Heron. Following a dispute with Thiele, Winter in America was released on Strata-East in May 1974.
"We approach winter at the most depressing period in the history of this industrial empire, with threats of oil shortages and energy crises. But we, as black people, have been a source of endless energy, endless beauty and endless determination," Heron stated in the original liner notes. And it was against this backdrop that brilliantly perceptive and biting poems like "The "H²Ogate Blues" were written. Heron did meditative allegories as well as acerbic send ups, and his lament for Africa, "Rivers of My Fathers" is one of his and Jackson's most tender compositions. Apart from the future hit "The Bottle," there was a more sparse sound than on the previous two Flying Dutchman LPs. "Peace Go With You, Brother" and "A Very Precious Time" were two of the tracks that benefited from the stripped back line-up of Heron and Jackson alongside drummer Bob Adams and bassist Danny Bowens. Six LPs followed Winter in America on Arista from Heron and Jackson, but the Strata-East session is perhaps their most essential.
Milton Marsh - Monism
While Strata-East welcomed some big names that had already recorded with other labels, it was also known for opening the doors to unknown artists. Composer, arranger, saxophonist and flautist Milton Marsh only recorded one LP for the label before slipping away into relative obscurity (he would later turn up with the 1985 LP Continuum). But what an album it was. Recorded over three sessions at Media Sound studios in New York in 1973 and 1974, Monism was possibly the finest spiritual jazz record on the label.
The artwork for Strata-East always matched the music, and this rates as one of its most striking sleeves. Created by regular label designer Carole Byard, the collage of images from the civil rights struggle and of African hints at the depths to be found within. The mournful horns of "Vonda's Tune (Part 1 of 'Earth of Home of the Mortals')" sets the tone. In naming a track "Community Music," Marsh was in tune with the ethos of a label who treated less celebrated players like pianist Cedric Lawson and bassist Don Pate the same as burgeoning stars David Ware and Greg Bandy. The result was a wonderfully loose collaborative sound best heard on the title track, with Marsh intoning a Sufi poem to heighten the elevation of the horns. Alongside the avant-garde leanings of compositions like "Monism" and "Metamorphosis," you have the contemplative bop of "Sabotage" and the Latin tinge of "Ode to Nzinga." Monism is a little known Strata-East spiritual jazz outing well worth tracking down.
Mtume Umoja Ensmble - Alkebu-Lan - Land of the Blacks
Perhaps the Holy Grail for diggers of Strata-East – and certainly the most expensive LP, if you can find it – is this session by an ensemble led by a young James Mtume (of "Juicy Fruit" fame). Recorded live at The East in Brooklyn, this most obscure of Strata-East LPs includes some of the biggest names to perform on the label. Saxophonist Gary Bartz, violinist Leroy Jenkins, tenorist Carlos Garnett and vocalist Andy Bey were just some of the artists who joined the young Mtume in his powerful ensemble. The LP begins with an "Invocation" to the teachings of pan African activist Maulana Karenga, "What you are about to hear is not jazz or some other irrelevant term we allow others to use in defining our creation. But the sounds which are about to saturate your being and sensitise your soul is the continuing process of nationalist consciousness."
Mixing African rooted improvisation and spiritual modality, this is about as heavy as Strata-East got.
Umoja stands for unity and the force of the ensemble hits you like a wave on the 17 minute-long "Baba Hengates." Mixing African rooted improvisation and spiritual modality, this is about as heavy as Strata-East got. Two years later James Mtume appeared as percussionist on Miles Davis LPs like Dark Magus. It was there he met Reggie Lucas, with whom he would end up penning '70s classics for the likes of Stephanie Mills and Phyllis Hyman. But back at the start of the decade he inhabited a far more avant-garde corner of black music.
Cecil Mcbee - Mutima
Recorded – like many of the Strata-East sessions – at Minot Sound Studios in White Plains, Cecil McBee's debut as a leader was introduced by this proclamation: "The legend of Mutima (forces unseen) is a key to the spirit and culture of Black Africa. Through the longing for Oneness with the Universe, mankind and nature are made one by Mutima." As you might imagine, it sits very much amongst the most Afro-spiritual LPs on this often-expansive label. "From Within" opens the session with McBee bowing on two acoustic basses to both electrifying and unearthly effect. It's a heavy opener full of angst and beauty that places him alongside other bassists of the period carving their own space as leaders like Charles Mingus and Ron Carter.
"Voice of the 7th Angel" provides a short interlude with Dee Dee Bridgewater providing the celestial vocals before the power of the ensemble hits you with force on "Life Waves." Flip it over and the title track is a glorious piece of spiritual jazz that recalls McBee's outings with Pharoah Sanders on LPs like Jewels Of Thought. This was a real family affair, with son Cecil McBee Jr. weighing in on electric bass on "Tulsa Black," the track that put many people onto McBee after it appeared on a Soul Jazz compilation. "This is probably my favourite Strata-East LP," Martyn said when compiling this list, and you can hear why.
This feature is part of a week of articles guest curated by 3024 label boss Martyn.
"I think the first record I bought on Strata-East was the Winter in America one by Gil Scott Heron, following from my explorations into jazz/funk/soul things on Flying Dutchman like Lonnie Liston Smith. Winter in America was followed by just trying other things out like Cecil McBee, Music Inc., etc. And before I knew it, Strata-East became buy on sight for me.
There was an amazing secondhand store in Rotterdam where I used to live called Demonfuzz that had an excellent jazz selection, so that really helped my collection. Strata-East has such a varied range of music on it, which is what I really loved, and it didn't have the obvious appeal to hip hop heads for sampling, the way Flying Dutchman or Blue Note had, although I did later find out there are some giant samples on it..."

To see more of the features that Martyn picked out, check out his guest curator hub page.