Tortoise's Pioneering Debut Album: An Oral History
It was as casual as a phone call inviting some friends to hang out. But what transpired from a friendly get-together in 1993 between members of underground Chicago bands evolved into a bold, exciting new sound. Tortoise, originally comprised of Doug McCombs, Johnny Herndon, John McEntire, Bundy K. Brown, and Dan Bitney, took their collective desire to move as far away from the guitar-heavy scrape of their other groups to create something that brought together elements of dub, jazz, modern classical, Afropop, house music and the more esoteric ends of the SST catalog into a singular aesthetic.
At the time, Chicago was in the throes of a national alt-rock thunderclap fueled by the runaway success of MTV-friendly acts like Smashing Pumpkins, Liz Phair, Urge Overkill and Veruca Salt. But the music Tortoise was creating for what would become their eponymous debut album for Thrill Jockey would help define the sound of the city for the years to come. And while their 1996 sophomore LP Millions Now Living Will Never Die is largely considered to be their landmark recording, it was the group's eponymous debut in 1994 that crystallized the subgenre which would soon be known as "post-rock." In celebration of its 20th anniversary, we talked with several key players in the conception, gestation and realization of Tortoise.

The Players:


Bundy K. Brown: Original member of Tortoise; formerly of Bastro, Gastr del Sol, Directions and Pullman; veteran recording engineer


Doug McCombs: Founding member of Tortoise; leader of Eleventh Dream Day and Brokeback


John McEntire: Producer and proprietor of Soma Electronic Music Studios in Chicago; current member of Tortoise, The Red Krayola and the Sea and Cake; formerly of My Dad is Dead, Bastro, Gastr del Sol and Seam


Dan Bitney: Current member of Tortoise; formerly of the Tar Babies


Sam Prekop: Singer/songwriter and frontman for the Sea and Cake; formerly of Shrimp Boat; painter, whose work was used on the Tortoise album cover


David Wm. Sims: Bassist for Scratch Acid and the Jesus Lizard; owner of Torsion Records, who put out the first Tortoise 7-inch


Brad Wood: Former drummer for Shrimp Boat; co-owner and chief recording engineer of Idful Music Corporation, the studio where Tortoise was born

Bundy K. Brown
Tortoise was started by Doug McCombs and Johnny Herndon.
Doug McCombs
Before we even asked John [McEntire] and Bundy to play with us, there had been a couple stabs that we made at recording. And it wasn't like we even had any songs for real, it was more like Johnny and I had played together a couple times and we were trying to decide what we were going to do. We didn't have a concrete idea of what our band would be. We just played together a few times in the practice space, just, "Here's an idea I have, let's play it a couple times and if we can make something out of it."
Bundy K. Brown
We all lived in this small community in Chicago and there was a recording studio called Idful. They were good friends with Brad Wood, one of the owners and principal recording engineers over there. And he would just call them and say, "Dude, nobody's booked for Friday night if you want to just come in and screw around."
Brad Wood
Idful Music was located close to where a lot of musicians lived, drank and played. The studio was inexpensive, relatively well-maintained and we were good at providing finished recordings quickly. The Tortoise sessions were done on off hours when schedule permitted.
Doug McCombs
We just started going over there every once in a while in the afternoon or even late at night sometimes and started recording some things with the idea of making a 7-inch or something. That was still just me and Johnny. Those recordings became the first two 7-inches we did [as Tortoise].
David Wm. Sims
In the very, very beginning, they were going to call it Mosquito.
Bundy K. Brown
We thought Mosquito was clever, because with two bass players and two drummers everybody thought it was going to be this thick, heavy thing so we came up with a name that was opposite of that.
In the very, very beginning, they were going to call it Mosquito.
Doug McCombs
On the day of our very first gig, we found out there was another Mosquito. And it was actually a couple friends of mine from New York who was in this band. I called them up and I was like, "Hey, are you guys really a band or are you just gonna make a 7-inch?" And he was like, "Nah man, we're a full-time band." So we changed our name. They made three Mosquito albums and then broke up.
Bundy K. Brown
When it came to us being called Tortoise, like a lot of things in the early days, it was a democratic process. We actually kicked around a whole bunch of other names. Doug wanted to call the band the Terrapin Rhythm Section, which was a name that he had come up with. I don't remember why we felt that wasn't right. Maybe we thought the name was too long, but we all just decided to shorten it to Tortoise.
Doug McCombs
[Thrill Jockey's Bettina Richards] had said to me, "Oh, I just started my own record label. Here's the first three records that are coming out. If you ever wanna do something, just let me know." And I said, "As it happens, I'm trying to record this 7-inch, maybe you wanna put that out." The first two 7-inches go together as a pair, but she released one of them and David Sims released the other on his label, Torsion.
Bundy K. Brown
Right when the band started, [Doug was in] Eleventh Dream Day, [which] was still a full-on thing. Johnny had just joined the Poster Children, who had just got signed to Sire. So they were just starting to work on their first major label album and they were doing some serious touring. John had just moved to Chicago and was beginning to work really heavily in the studio scene there, was trying to get a lot of work and book a lot of sessions. And me, I was still playing in Seam and Gastr del Sol. So Tortoise was like this other thing, something we'd work on in the middle of the night when nobody was in the studio and we could just do what we want.
Sam Prekop
The first drummer that we had on the first Sea and Cake record was Brad Wood, who owned Idful Studios, which was an epicenter of one faction of the scene back then. It was where I had met Doug McCombs. We were all sort of orbiting around Idful.
John McEntire
[Doug and Johnny] had their thing that they were doing, and Bundy and I were kind of involved in those first 7-inches and stuff but that was more of the two of them. I think when it really started was when Doug and Bundy started writing together and I remember getting the demos from them and being super psyched about it, just knowing it had so much potential, even as skeletal as it was. But it was really, really great in terms of the writing and the direction and everything.
Brad Wood
I recall Johnny and Doug being anxious to explore more musical directions than what their current roles in their main bands allowed. Tortoise – or Mosquito, really – was the two of them having fun and discovering stuff. The early sessions at Idful were pretty simple attempts to have fun outside of the more rigid band structure.
It wasn't, "We're trying to deconstruct rock." It was, "We're making some weird stuff and you should come over here."
Bundy K. Brown
Where with Gastr it was this real cerebral music, with Tortoise gigs, in the early days, they were like dance parties. It was very rhythmic and people were into that vibe we were throwing out. I've been listening to hip hop my entire life. But that just didn't really come into play in Bastro or Gastr. But to be able to do this stuff that was more informed by reggae or dub or hip hop was refreshing. We used to do Isaac Hayes covers.
Dan Bitney
I remember getting a call from Johnny. He was like "Why don't you try to come over and play some stuff?" That's how informal it was...it wasn't even like, "Here's what we're trying to do, we're trying to deconstruct rock." It was like, "We're making some weird stuff and you should come over here."
Doug McCombs
We all knew Dan from the Tar Babies. We didn't have a definitive idea of what the songs were gonna be, so we were in the studio recording them and just kind of adding stuff and [then] adding [more] stuff. So Dan was around, and we asked him, "Hey do you want to come and do some stuff on this record we're doing?" And he ended up being in the band.
Dan Bitney
I was coming from punk in the early '80s. The first couple of Tortoise singles, they still seemed kind of weird and experimental. I had never played in anything like that. I just knew I was kind of sick of dealing with guitar players, you know what I mean? It was reactionary. Nirvana was blowing up, and we were like "Okay, let's do something else..."
Bundy K. Brown
John was a percussion major and he's studied on the vibes. He really knows how to play them. A lot of it came about because there were some songs where we didn't need two drums or two drums plus percussion, so it was an opportunity to have this other melodic element, especially because there weren't many songs with vocals. Actually, on the first single, there was a song that had vocals on it. People think of Tortoise as an instrumental band because 99 percent of the music is instrumental. It wasn't like we set out to be an instrumental band, it was just that nobody really wanted to sing.
John McEntire
I think we were all of the same mindset, and especially at that time, to bring the vibes in was a real novelty. We thought it was an interesting way to add an upper register voice that wasn't a guitar or a keyboard or whatever.
I didn't know any Krautrock stuff...particularly when we started doing press, I was like "Oh man, I feel like such a schmuck."
Bundy K. Brown
I lived on the South Side of Chicago from 1985 until about 1991, and I lived in a community called Hyde Park, where a number of the AACM musicians lived. There was a really cool jazz scene down there. When I moved to Chicago that was something that really opened my eyes: having access to this world class jazz and world class improvised music. Eventually Johnny studied drums with Ajaramu, one of the AACM drummers.
Doug McCombs
All of us were listening to a lot of jazz at the time. I don't think we were ever really aspiring to be jazz musicians at all in any sense, but that music was inspiring to us and I think in a certain way we were reacting a little bit to all of the heavy music that was going on around then.
Bundy K. Brown
A record that we were all really into and were using as our benchmark was the Brian Eno and David Byrne album My Life in the Bush of Ghosts. It was real rhythm based even though there were a bunch of instruments.
John McEntire
Our mutual appreciation for Six Marimbas by Steve Reich was much more applicable to what we wanted to do as opposed to a more jazz approach, however.
Dan Bitney
I didn't know any Krautrock stuff...particularly when we started doing press, I was like "Oh man, I feel like such a schmuck." Especially when we were in Germany. But you can't look a gift horse in the mouth: We were the darlings of the rock scene there, which is great. But [the Germans] always thought we were messing with them, if it wasn't by design. But no, we'd get in the room and some of us might smoke something, some of us might drink something, and we just figured out what sounded good together. And they'd be like, "You didn't plan this out?" Not really.
John McEntire
I was really the one who was big into Krautrock at the time, especially Can. Ege Baymiasi of course is the classic, but they're all great.
Bundy K. Brown
The song "Ry Cooder" was totally built on the Paris, Texas soundtrack. Doug wrote that song and I think that kind of aesthetic has really informed his music. When I hear that sound, that soundtracky sound on a new Tortoise record, I always say to myself, "Doug wrote that song." [laughs]
Doug McCombs
At that time in the late '80s I was trying to reach out...sort of break out of what I had been listening to...I realized that that song had almost nothing to do with any of [Ry Cooder's] music, it was just sort of an homage to him.
I don't think any rock bands or indie rock bands put out a remix record before we did.
Bundy K. Brown
In Chicago, you just really couldn't escape house music. That's where it was born and it was really predominant there. At that point in time, rave culture was just getting started and there were lots of art students in that community and they were participating in that, too. It was all happening in the same geographical space. And some part of it we would be exposed to because it was all around us. There would be a party in the building next to us where we were hanging out on a Saturday night and some crazy DJ who was probably internationally famous was spinning in there. When there would be jungle DJs at these parties... that was when we became a lot more involved and interested.
Doug McCombs
I wasn't really aware of [house music] and those guys were. Especially Johnny and Bundy. I got into [hip hop] from those guys as well. Johnny Herndon was into it, and Dan Bitney and Bundy were both super deep into the hip hop stuff that was happening at the time. I would hear it all from them.
Bundy K. Brown
I don't think any rock bands or indie rock bands put out a remix record before we did [1995's companion album to their debut, Rhythms, Resolutions & Clusters]. If I'm going to claim anything that Tortoise did, we brought that whole idea of it being cool to have these electronic dudes tear it apart and redo it. I remember even approaching [Steve] Albini to do a remix on the remix record and he was like, "What the fuck are you talking about?" And he was one of the most talented recording engineers I know, a master of tape editing. He knew all of this stuff that guys had to do to become competent remixers in the era before samplers. He's really great at all those things but his whole perspective was, "Remix? What are you talking about? The record's the record." And I was like, "No it's not. We're on the verge of the 21st century here."
Brad Wood
I was a performer on the first Tortoise date at Lounge Ax.
Doug McCombs
The Lounge Ax was a hugely important place for every act in Chicago in the '90s. Probably not as legendary as Maxwell's or CBGB's. It didn't last as long. But for the time it was open, every touring band in America went through there. If you could ask any touring band in America what their favorite 400 capacity club was, they would say Lounge Ax.
Brad Wood
We rehearsed at their loft a bit, with me on soprano sax and I played drums on one song. The lineup was in flux then and I felt like a non-crucial element. At best, I think the others were humoring me by letting me putter around with my sax and delay pedal and we all were relieved when I faded out of the picture.
Bundy K. Brown
We wound up doing a Gang of Four cover and Johnny Herndon did the vocals on it. I have video footage of it that I keep threatening to put up on YouTube one of these days. We did "Paralysed."
David Wm. Sims
I saw the very first Tortoise show at Lounge Ax. Usually, when you see a band's first show, they tend to not be very good, and you cut them a fair amount of slack. But I was really impressed with the show, and have said several times since that it was the best first show by a band I've ever seen.
Doug McCombs
When we first started playing shows it probably was two bass players and two drummers and we had to throw something together to play at the last minute. Our first few shows were very far apart. We played a show as two bass players and two drummers, then literally a year later we played another show as virtually the same thing, but maybe with a synthesizer on stage and maybe a tape recording of a pre-recorded drum track and weird stuff like that. It was really an oddball band. For the first three years, we probably weren't sure what we were doing or what we were going to do.
For the first three years [of live shows], we probably weren't sure what we were doing.
Bundy K. Brown
During most of my time with Tortoise we didn't do any touring. It was mostly one-off shows. We'd play Madison and Milwaukee with Red Red Meat, for instance. We would do these little weekend gigs to where we can drive to from Chicago. We never really hit the road because mostly by that time Doug and Johnny were busy with their other bands. I remember the first year that Johnny toured with the Poster Children he was gone for like six months. Then he would get back and we'd be working on music and someone would say, "Hey let's book some gigs," but Johnny would respond, "I was just on the road for fucking six months, no way!"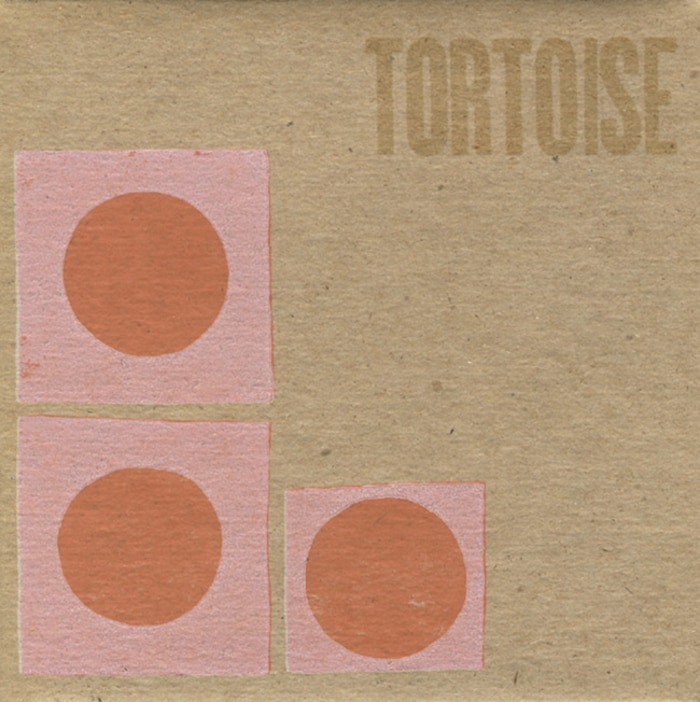 Sam Prekop
I remember the painting they used for the cover of Tortoise. I actually lived just like a block and a half away from the loft where all the early Tortoise rehearsals took place, so it was probably one of those things where Doug or John or someone saw the painting and decided it might be cool to use for the cover.
Bundy K. Brown
We lived near Sam and were friends with him. And he was having an art show and he had done that painting. We saw it and everybody was pretty into it and decided then and there, "OK, that's gonna be the record cover." It really seemed to speak to the music and its vibe.
Sam Prekop
I have a feeling it was Doug's inspiration which got that moving. For the original issue, the shapes were orange and silk screened onto brown paper bag looking material. The white and green cover was a reprint, and I definitely did not approve those colors. [laughs] But the first cover was closer to what the actual painting was really like. I was making a lot of paintings along those lines at that time, sort of simplified and very graphic, but very muted in a way. Super subtle color patterns, very flat paint strokes and all that.
Bundy K. Brown
Once we decided on the name Tortoise, we started collecting images of turtles to put on flyers and stickers and so forth. Regarding that image of the two kids riding the turtle on the back cover, I wanna say a friend of Johnny's gave that to him. She did a lot of collage art and Johnny's a visual artist so they collaborated a lot. And she would always find stuff like that, these old things from kids' books and stuff.
Sam Prekop
I know who has the painting now. Do you know Peter Margasak? He's a local critic for the Chicago Reader who was an important scene booster for us. He actually owns the painting.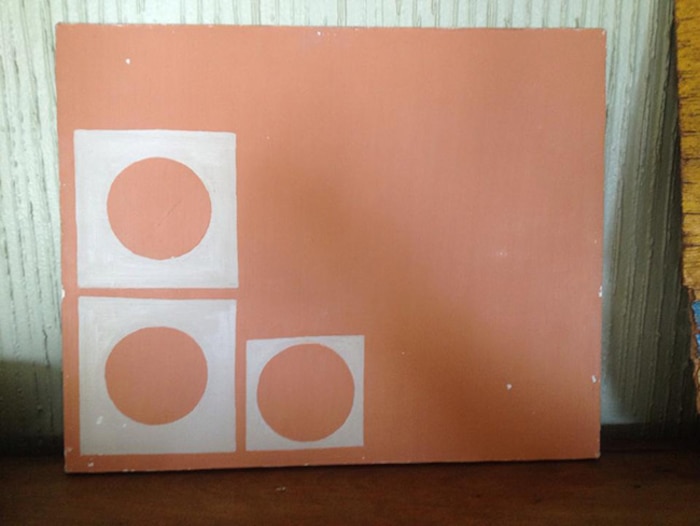 Bundy K. Brown
When [Tortoise] first came out I think it did OK. We were relatively popular for a local band.
Sam Prekop
There was a general air of excitement revolving around Thrill Jockey, Tortoise, the Sea and Cake and everything and how it was evolving organically. And at the time there wasn't this insane Internet-propelled turnover of bands and genres and all that stuff. I think we were really lucky to come up in that time when the music developed organically. But it was terrifically exciting that people were taking note, and we were all getting written up quite a bit.
Jim DeRogatis was like, "Those guys are pretentious." And I was like, "Whoa, this dude's pissed, man!"
Dan Bitney
I heard a review Jim DeRogatis did of our stuff on his radio show and he was like, "Those guys are pretentious." And I was like, "Whoa, this dude's pissed, man!" Then somebody reminded me he had come and interviewed us. I can honestly say at that point in my life I had done five interviews. And then you got McEntire who kind of doesn't say anything. I can imagine that guy coming over and being like, "These guys are total dicks." We were weird.
John McEntire
The first record is kind of an outlier in a lot of ways. It really doesn't sound like the other ones, because it is so minimal. I feel like we were getting our footing at the time, even though it's a really cool record, for me its more of like a foreshadowing of all the stuff we would go on to do later.
Doug McCombs
I think Millions [Now Living Will Never Die] is probably more interesting. I think the first record is probably a little tentative and it's us dipping our toes into what we want to do and trying to figure it out. Millions is more of a jumping in, and being like, "How can we take these ideas and shove them all together and make them into something that's greater than any single idea?" And then we just pushed it as far as we could.
Header image © Thrill Jockey