Key Tracks: Benjamin Wright Jr. on Michael Jackson's "Don't Stop 'Til You Get Enough"
The celebrated arranger and producer breaks down the story behind one of his biggest hits.
The man responsible for some of the biggest hits of popular music has been playing the beat that everyone else has followed ever since high school. After cutting his teeth on the road with R&B icon Ted Taylor, Benjamin Wright Jr. went on to tour with James Brown, Otis Redding, Gladys Knight and The Pips among many others. Following a short stint in the Air Force, he even got the chance to meet Duke Ellington, a game-changer that firmly set him on the path to become an arranger producer composer extraordinaire. At the tail end of the '60s, he worked alongside notable arrangers Charles Stepney and Donny Hathaway, and consequently joined Pieces Of Peace, the session group that provided plenty of magic moments for soul and funk heavyweights like Curtis Mayfield and The Impressions, Jerry Butler, Earth, Wind & Fire, The Chi-Lites and more.
Finally, when he moved to Los Angeles, he slotted easily into the role of musical director for The Tempations, Aretha Franklin, Barry White and The Love Unlimited Orchestra. It was while he was working as the string arranger for Michael Jackson's Off The Wall that he met Quincy Jones, striking up a lifelong friendship, and continuing his work with some of the best vocalists in the business. Dr. Wright has gone on to work with such pioneers of modern R&B, soul, hip hop and pop music as Mary J. Blige, Destiny's Child, Outkast, and Justin Timberlake, stacking up awards and gold discs like a man who's been deep in his groove from day one.
In this edited and condensed excerpt from his recent interview with RBMA Radio, Wright talks about one of his biggest hits, Michael Jackson's "Don't Stop 'Til You Get Enough."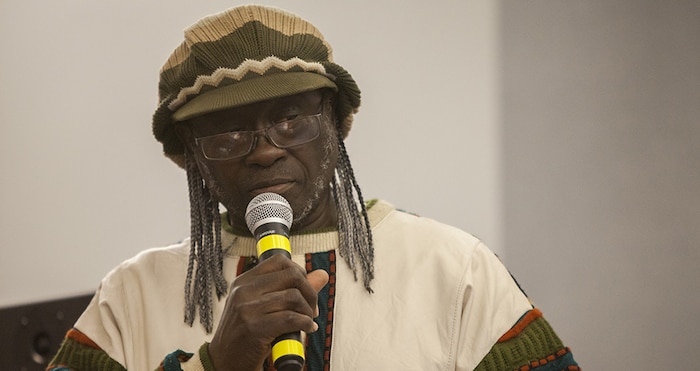 Within three days of getting to Los Angeles, I saw a gentleman by the name of Mickey Stevens – who was a big person at Motown – as I was coming out of my new apartment. He says, "Benjamin Wright. What are you doing here, man?" I said, "I just moved here." The next thing out of his mouth was, "You got to be The Temptations music director." I had already been The Dells' music director. I knew what that was about. So I said, "Man, I didn't come here to be no damn Temptations music director."
Mind you I had no money, no relatives; I went to L.A. like one of the pioneers. The Temptations were the highest thing in the world. And I'm saying, "I didn't come out here to deal with that." Needless to say, the cat stayed on me and I finally took the job. God blessed me. In six months, I was producing The Temptations. That's what I came to do, I came to produce records.
My session work in L.A. began to grow real fast. Then one day I get this phone call, "Ben Wright." "Yes". "This is Quincy Jones." "Quincy who?" "Quincy Jones." I said, "Yeah, right." Right away my mind is thinking this must be one of these damn guitar players playing a joke on me. He went into a conversation and told me about Michael Jackson doing a solo album. This, that and the whole bit. He gave me an address to come to in Bel Air. None of my friends lived in Bel Air. So I went to that address. Man, I'm so nervous. I get to the house and my confirmation before seeing Quincy was seeing his wife at the time, Peggy Lipton. Most of us knew her from Mod Squad. She was on TV. I knew that face. Wow, I said, "This is the real deal." I met a movie star.
Finally, the Lord talked to me. He says, "You better put some notes on this paper." I did.
She took me to Quincy, and Quincy began to tell me about all his wonderful years in Chicago. This was before my time in Chicago, but he mentioned Bruce Swedien, the engineer. I practically grew up under Bruce, because with Pieces of Peace we did most of the stuff that came out of Brunswick Records. Bruce was one of the first cats that I know of – and possibly one of the only in the country – who was beginning to play with two multi-tracks.
Quincy made me feel at home and gave me Michael Jackson's stuff. I'd done a lot of arranging at that point. But I was nervous about this Quincy Jones thing, because Quincy was so big. I had about a month, 30 days to prepare the charts. And for 28 days I did no writing, because I didn't know what to do with it. Finally, the Lord talked to me. He says, "You better put some notes on this paper." I did.
On session day I'm nervous all over again. This is not the norm for me, because everybody knows Benjamin is extremely confident. Not arrogant, but he's in charge. This time, I'm scared. I'm scared to death. It was the first time I'd ever been in the studio. I walk in the studio and somebody says, "Hey Ben." It was none other than the great Bruce Swedien. Then Bruce makes it worse. "Hey Q, piece of cake. Ben is here." I think I'm going to have a heart attack.
I pass out the music. We began to play. I'm not frightened anymore. I'm in charge now. I'm watching Quincy on the other side of the glass and he's falling down on his knees and it's like, "Oh my God, is this stuff that bad?" The first tune I did was "Don't Stop 'Til You Get Enough" and Quincy is going crazy. I don't know if it's good or bad. I'm still nervous at that point.
So we do the take and I go in the control room. Q is like, "That's the shit. That's it, man. Wow." I'm still trying to compose myself. Is this good or bad? It was good. In fact it was so good that he gave me another song that day: "Rock with You." I had to leave town right after that because I was still The Temptations music director. I remember coming back, three weeks later, and hopped a cab. The taxi driver was talking about the new Michael Jackson record. I'm listening to him and then all of a sudden "Don't Stop 'Til You Get Enough" came on the radio. Man, I lit up like a Christmas tree.
This guy had just finished talking about it, how great it was and now I'm hearing it. This is the first time I heard it outside of the studio. I'm so excited that I began to tell the cab driver, "I did that. That's my music. I worked on it." The cab driver, with all this enthusiasm over the music, turned cold and said, "Yeah, right."