The Roots of Techno: Detroit's Club Scene 1973–1985
The forgotten history of the clubs and DJs that helped birth Detroit techno.
Overshadowed by the story of techno's creation in Detroit is the story of the city's pre-techno history – the disco and post-disco era that spawned the techno movement itself. "I try to mention it in interviews, but it gets deleted because it predates techno," says Mike "Agent X" Clark, an established DJ in the city. "It would be great to finally have Detroit heard and understood before techno."
Because of a lack of readily available documentation, there is a gap in Detroit's music history between the days of Motown and the rise of techno in the mid-'80s. It's as though when Motown left Detroit in 1972 for Los Angeles, the city's music scene essentially died until it was revived by techno a little over a decade later. This is far from true: a fascinating tale mostly left untold, aside from a small chapter in Dan Sicko's Techno Rebels and a handful of articles, Detroit's blossoming dance music culture between 1973 and 1985 was a highly influential period that never received the credit it deserved.
Memories of teenagers throwing thousand-strong disco parties; rampant after hours clubs, with authorities turning a blind-eye under the rule of Mayor Coleman Young; a short-lived New Wave boom that brought the likes of The B-52's to party in Detroit – all of it has basically been forgotten in the techno surge that followed. To add to the understanding of how Detroit birthed such a vibrant genre in the late '80s, Ashley Zlatopolsky speaks to some of the DJs and producers that were there.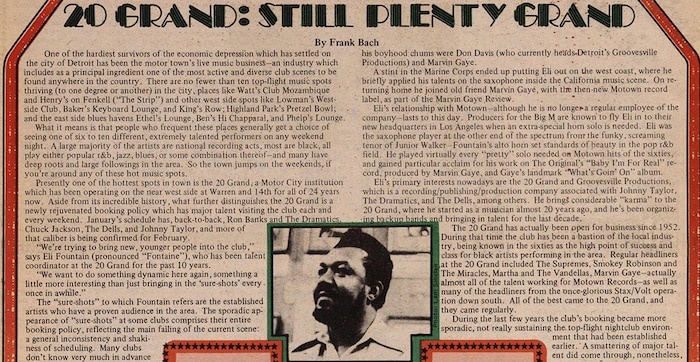 Before disco's mainstream explosion, funk bands held precedence in Detroit clubs. The city was awash in four-piece R&B groups who later incorporated full ensembles consisting of trumpets, trombones, drums, guitars, pianos and vocals. Once strings were added in, the disco sound began to emerge. "If you took classical and put it with a funk band that had a full piece, you got disco," says longtime Detroit DJ Felton Howard.
Club owners took notice of the newfound sound and the attention it attracted, especially at a popular hangout for Motown artists, The 20 Grand on the corner of 14th Street and Warren. Howard, who lived across the street from the club, recalls when The 20 Grand made the transition from funk to disco. "The [funk] bands were being pushed out because a band cost $500 and a [disco] DJ cost $50," he says. "The DJ got all the popular records, so why would anyone pay for a band?"
Other funk clubs in Detroit such as Millie's, Ethos, Wash's Flamingo and the Pink Poodle soon followed suit. Party promoters like Zana Smith (owner of Harmonie Park's Spectacles) put newer disco spots on the map, such as the Downstairs Pub, while others including Dale Willis, Bruce Moore, Carleton Northern and a Jamaican man known as Effie were key names responsible for Detroit's early disco parties, which drew anywhere up to 2,000 people a night. Charles Love was another important figure, throwing events under the name Fun Time Society in suburban-friendly spots like the Northville Hilton hotel.
In conjunction with the evolving club scene of the mid-'70s, radio also hopped on the disco train. Stations WJLB (pre-FM), WCHB, WLBS and WGPR placed on-air personalities and mix show DJs like Tiger Dan, Jay Butler and Al Perkins in clubs for nighttime gigs, a trend later followed by Duane "In The Mix" Bradley and others. "I think we were all inspired by disco music," says Delano Smith, one of the city's second wave disco and house DJs. "A lot of the radio stations completely changed their format and played disco music day and night. [It was one of the ways] Detroit was introduced to Ken Collier."
Ken Collier, who passed away in 1996, was one of Detroit's foremost gay disco DJs, later a leading name in the progressive and house movements. The founding fathers of techno often list Collier as a direct influence, but Collier has all but been forgotten in the international conception of Detroit's music history. As the funk/disco changeover transpired, Collier pushed disco at Studio 54, Detroit's smaller version of the infamous New York Club. "Ken [Collier] refused to play anything funk," says Howard. "He preferred the more disco sound."
Although DJs like Collier, Renaldo White and Morris Mitchell, who had a group called True Disco, welcomed the disco movement with open arms, others, such as Howard, were wary. "You have to understand, in the black community, you had to mix disco and funk," remembers Howard. "You couldn't just put on Gloria Gaynor's 'I Will Survive' and not do 'Brick House' by Commodores."
The friction lessened as disco continued to move in. And, by the middle of the '70s, as it was the case in the rest of the country, disco was everywhere. Studio 54 was a big part of Detroit's scene, but clubs such as Lafayette Orleans, Boogie Down Lounge and My Fair Lady (later just The Lady) were also staples for the straight urban crowd. For the straight suburban crowd, disco clubs included The Butterfly in Sterling Heights, Lenote in Roseville and Angie's in Farmington. Across the Detroit/Windsor border, the Canadian hotspot was Elmwood Casino, open until 6 AM.
Elmwood Casino was one of many late-night disco joints. They were especially prevalent in the gay black community, who embraced the free culture that went hand-in-hand with disco music. The Chessmate on Livernois near Six Mile was a gay club that Ken Collier and Renaldo White of True Disco often played. "That was why I wanted to be a DJ – because of what I saw at the Chessmate," says Stacey "Hotwaxx" Hale, one of Detroit's first female DJs.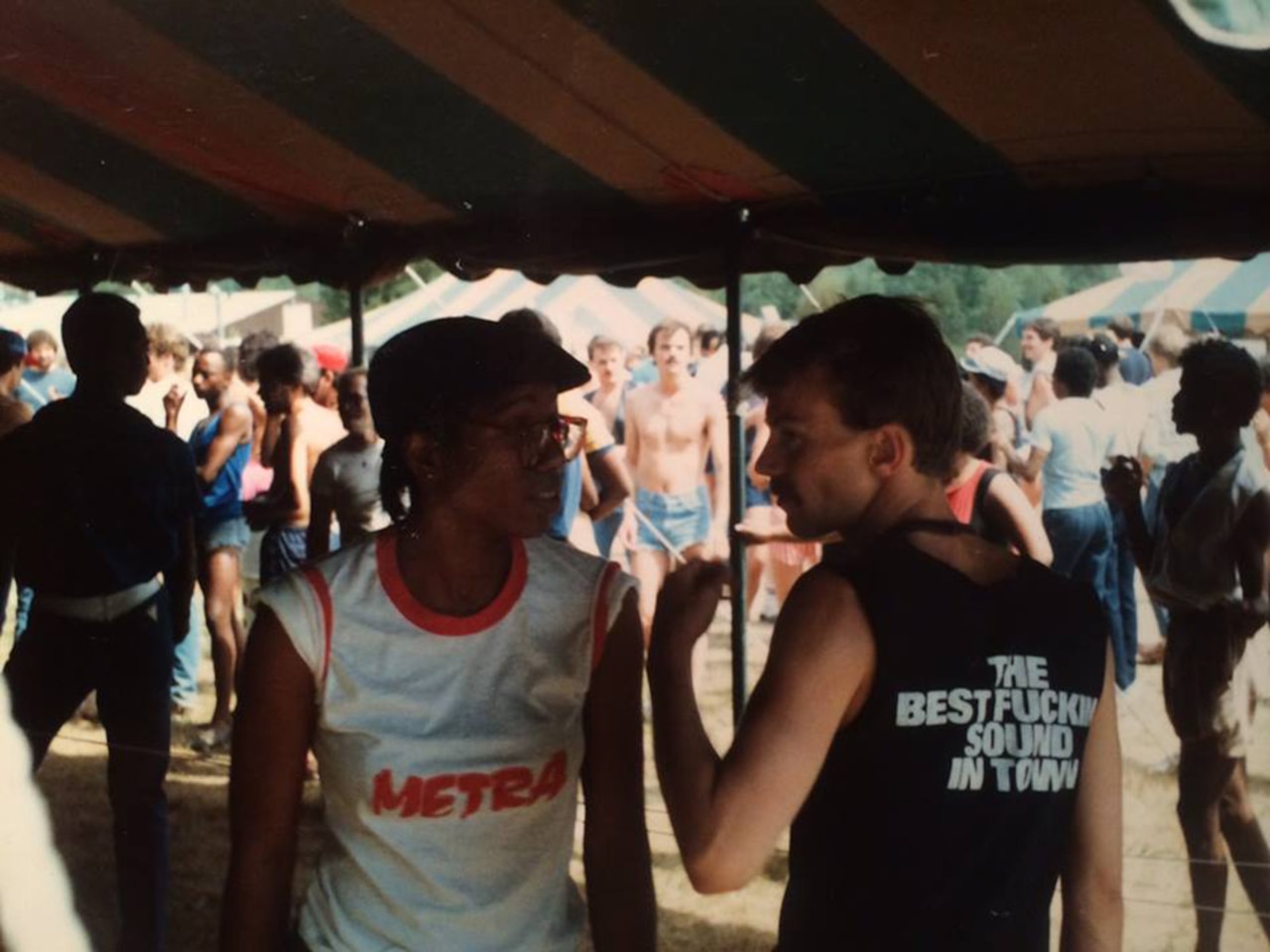 When Studio 54 closed at 2 AM, the crowd went to the Factory on Jefferson, another one of Ken Collier's many residencies. There was Famous Door, The Escape, Backstreet, Menjo's and Todd's, a spot on Seven Mile where Duane Bradley and Collier's brother, Greg, spun records. Another, Club Fever on Six Mile and Woodward, was a membership-only gay after hours that reportedly ran until 10 AM at times. Also nearby was Bayside, an after hours club on West McNichols. "That particular part of Detroit, Palmer Park… a lot of gay people lived in that area," explains John Collins, current member of Underground Resistance and first wave Detroit disco DJ. "At gay clubs [like the ones in Palmer Park], we could play whatever we wanted to."
By the end of the decade, though, the disco boom was coming to an end, especially following 1979's Disco Demolition Night at Chicago's Comiskey Park. Dance music, however, wasn't going away. In Detroit, high school students began forming social clubs and throwing dance parties in banquet halls like the YMCA and The Roostertail under labels such as Charivari, GQ, Courtier, Schiaparelli, Remniques, Giavante, Ciabittino, Cacharel, Arpegghio and Avanté, all named after Italian clubs and designers at the time.
"The music was still new and mixing with two turntables and a mixer was just getting popular," recalls Delano Smith, who was DJing high school functions and backyard parties as a teenager. He was part of Courtier and a second social club, The Next Phase. "Not many of us [teenagers] knew how to beat match very well back then; some caught on and some didn't. I think I was one of the fortunate ones that caught on early. I didn't own equipment [at the time] and often practiced at my friend Carl Martin's house. He and Next Phase founder Avon McDaniel formed the DJ crew 'Soundwave,' which I was a part of. We did gigs around the city of Detroit for various high school organizations. Carl had the best mobile system around back then. Ken Collier would often rent Carl's system at some of his after hour parties. I would help Carl set up, carry speakers, etc., and we'd watch Ken all night."
Direct Drive, another late '70s teenage DJ crew that supplied sound, would also become an influential force in Detroit's early house music scene just a few years later. Owner Todd Johnson began his career providing sound and lighting for other promoters in the area such as Kevin Mapp of Rafael and the Charivari crew. Knowing there were ample opportunities for another crew, Johnson recruited DJ Darryl Shannon and went after Delano Smith and Terry Adams of Courtier as well, although both declined to become a part of the nascent group. Johnson eventually convinced Tim Slater and Hassan Nurullah, and the Direct Drive team was set – with the group expanding over the years to include James Wells, Kevin Dysard, Duane Montgomery, Ray Barry, Alan Ester, Alan Heath, Mike Clark, Mike Brown, Theresa Hill, Jay Ralston and more.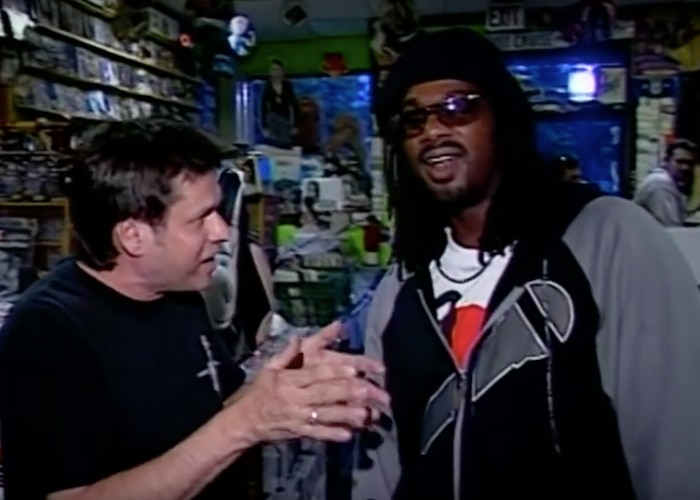 Mike Clark was only 12 years old when he attended his first social club party in 1978 and met Direct Drive's Todd Johnson. Clark's older brother Gilbert threw parties with a group called Gentlemen of the '80s, and his mother often asked him to bring Mike along. "I'll never forget – the first record I heard was 'Rapture' by Blondie," Mike recalls. "It was interesting because it was that post, end of the disco era, so you still had light beacons, a disco ball, flashes and fog going on, everybody dressed up all crazy."
The event Clark experienced became a more frequent occurrence as the teenage party scene grew through the early '80s. "We had this spot called the Park Avenue Club, right across from the [now] Bucharest Grill," he says. "At the time it was a hotel and it had two banquet rooms, and we used to have parties at both. Back then you had one party a week, so a lot of people went (over 1,000). No matter where they [the parties] were, they were always packed."
He continues, "Around '81, we started getting other DJ groups coming in [such as Deep Space]. Kevin Dysard, Ray Berry [and others] were the second generation of Direct Drive – Direct Drive DJs that came in after '82. I was brewing myself to step into the next lane, but in the meantime, while all that stuff was going on, Deep Space [Juan Atkins, Kevin Saunderson, Derrick May, Eddie Fowlkes] came in. They were the new cats on the block but they came in way left, on the industrial side… more catered to the suburban audience [because they were from Belleville]."1
The scene that was developing post-disco and pre-techno in Detroit was wildly diverse musically. "When you take kids that have never been in a party atmosphere, they're so happy to go out that you can beat them senseless with [music] stuff they don't know," says Howard. "Ken [Collier] and [others including] myself took advantage of that because we were playing high school parties where the kids had no idea what we were playing (because the radio was limited).
"So we got these kids that are anxious and want to dance. The harder we played, the more they danced. They were coming up with routines, dance steps, dance groups and lived to dance – ain't nothin' else to do! They didn't have video games back then. All you did was either rollerskate, or dance... All of those kids, teenagers… they were coming out [to party] and trying to find themselves. They didn't know who they were or who they wanted to be, but at that point in time, they just wanted to party – and party hard."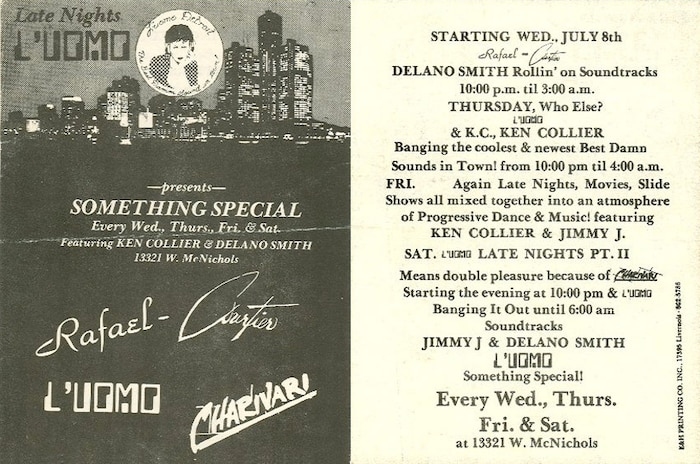 One of the most popular clubs in Detroit at the time was L'uomo. Initially situated on Six Mile and West McNichols, the club catered to teens earlier in the night, followed by an adult crowd as the evening (or morning) progressed. L'uomo eventually relocated to East Seven Mile, but it hardly mattered. Often, these illegal parties pulled crowds of up to 4,000. Delano Smith held residencies at both L'uomo locations. "[L'uomo] was a warehouse-style club in a seedy part of the city with a massive sound system," he recalls. "[It was] my first residency and I think it's how I got popular in Detroit. It was the only club of its kind back then. When I first met Ken [Collier] I was around 17 years old and played on Wednesday and Saturday nights at Club L'uomo's first location. I played until 2 AM and he'd have after parties until 6 AM."
Aside from L'uomo, many gay after hours were kept hush-hush because of a cultural stigma against LGBT lifestyles. Yet Detroit had many after hour clubs of other types, for all ages and lifestyles. "There was gambling, dancing… whatever taboo was out there, we could do it in an after hour joint," says Felton Howard. "Detroit, at one point in time, was bonkers about staying out late night."
With Detroit under the rule of Mayor Coleman Young from 1974 to 1994, after hours were rampant because Young himself was a fan of late-night partying and gambling. Nearly all events from 9 PM – 2 AM were followed by an after hours. Many local DJs started their careers at the parties. Stacey Hale's first gig was at Club Hollywood on 8 Mile and Greenfield, which is now a church (amusingly, many of these illegal venues were later transformed into places of worship).
"We [Club Hollywood] weren't mainstream. The music that we played was not on the radio," Hale recalls. "We made such a noise and we didn't care... There was a lot of love at our parties. There was no violence."
Ken Collier was the Frankie Knuckles and Larry Levan of Detroit.
When the new decade surfaced, a new club scene emerged in Detroit. Around 1980 Detroit's late night culture started to become more mixed – socially, racially, and sexually. "We went to go see Steve Nader, a gay DJ," recalls Felton Howard. "What type of club? It didn't matter to me. I went to straight clubs, gay clubs, black and white clubs, Latino clubs – everywhere. And then we had this thing where we got bored of black urban clubs and we wanted to get out to hear some good music, so we started venturing to the gay clubs. We go to Backstreet and we hear Steve Nader, and I'm dancing and this guy had the gall to play 'Blue Suede Shoes' and I caught myself dancing to Elvis Presley! I'm like, 'Get outta here!' And I actually was loving it."
Inspired by DJs like Nader, Howard began playing Carson's on Woodward. He also held a weekend residency at Climax 2, a new club on Mt. Elliott between Lafayette and Jefferson with a capacity of 1,500 people. It was one of many new clubs – the '80s ushered in a plethora of fresh names such as the Warehouse in Woodbridge, Cheeks, The Gas Station, Heaven, The Factory (on Jefferson), UBQ, Taboo, Bookie's [Club 870], Tremors and The Downstairs Pub. "A lot of the older clubs closed so we had to find new places to party," says Delano Smith.
The Gas Station and Heaven, in particular, became two of the most influential in Detroit's thriving dance culture. "Club Heaven had an international reputation," says John Collins. The clubs shared a building in the middle of a parking lot on Seven Mile and Woodward. The Gas Station was a 9-2 joint downstairs and Heaven an after hours that resided directly above. Ken Collier's long residency at Heaven was also arguably his most influential. "Ken Collier was the Frankie Knuckles and Larry Levan of Detroit," says Hale. The legendary radio DJ Electrifying Mojo even gave him the nickname "Godfather."
Collier was highly respected in the local music scene and also in the dance music hubs of New York and Chicago. Other DJs turned to him with any music-related questions. "I recall calling Ken [Collier] on a Sunday night [in 1982-1983] and asking, 'What's your favorite record right now?'" says Howard. "And he said such and such, and that it 'brought the house down.' This is when three-way calling was popular, and we'd call in with Frankie Knuckles and Larry Levan on the phone, and I'm on the phone talking with Ken, and they would say, 'The house record for the night was...' such and such."
Although there were record pools like Dance Detroit run by Steve Nader and Jerry Johnson, and United Record Pool run by Tyrone Bradley, Collier had one of the ultimate collections, which he shared with his peers. "I met him [Collier] through the Direct Drive cats 'cause they always hired him to do parties," says Clark. "He lived down the street from me as it turned out, and he used to sell his records [from his house]. Me, Norm Talley, a guy named Tim Mitchell and a couple other people would always go to his house and buy tons of tunes, and he always let us DJ with him."
Collier helped bring Detroit's dance community even closer and facilitated friendship and social networking rather than rivalry amongst the DJs. Watching Collier captivate crowds of thousands at Heaven, who danced nonstop for hours with whistles, air horns and the like, motivated Stacey Hale to inquire about a gig for herself. "I went up to him [Collier] and was like, 'Is there a female that plays music?' And he was like, 'No,' so I said, 'I'm gonna be your head girl,'" recalls Hale. "There were other female DJs, but they weren't mixing. I was also in radio so I brought the light there. I actually brought the B-52's there; I brought them up to the club to come and dance."
Working at stations across Detroit, Hale and other mix show DJs came in contact with legendary names across the music industry, but few left an impact as profound as her experiences with one of Detroit radio's biggest names, The Electrifying Mojo. A radio enigma who has still yet to show his face in public, Mojo was at the helm of late '70s and early '80s late night shows such as The Landing of the Mothership and Midnight Funk Association, where fans were "call[ed] to the mothership" as Mojo played a genre-bending mix of funk, soul, New Wave and rock following a goosebump-inducing intro.2 Credited with breaking Prince, The B-52's and Kraftwerk into the Detroit radio market, Mojo also propelled the emerging New Wave sound that followed disco, previously holding residencies at disco clubs like Studio 54. "He was playing New Wave before we even knew what it was," says Hale. "He was always playing the B-sides and stuff… just different."
Meanwhile, in a club called Cheeks, Jeff Mills was developing his Wizard persona. Another important '80s club, John Collins and Stacey Hale held residencies at Cheeks, with Mills and Alan Ester DJing as well. Celebrities would often show up, like Anita Baker, Aretha Franklin and members of the Detroit Pistons.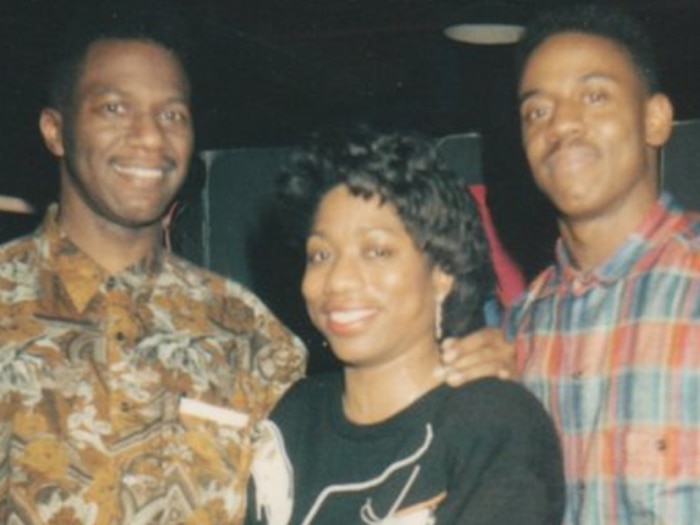 Cheeks was where Mills got his foot in the door. What sounded like early hard techno at Cheeks was actually a succession of disco record intros piled on top one another, cut and scratched at such a rapid rate by Mills that the sound evolved. "An intro generally has about one minute, one minute and a half before the actual singing starts," explains Felton Howard. "Jeff was fast enough just to play the intro. If you listen to disco tracks, they're always rhythmic in the beginning. Jeff would play 30 to 45 seconds, maybe a little more if it was a long intro and put another record on, and before that record started singing, Jeff was on it with another one, and another one."
Cheeks is often namechecked as one of the first clubs to play Detroit techno thanks to Mills and others, but it was also a club that allowed the movement to grow and take form. It evolved into a Detroit techno/house landmark along with The Music Institute before shutting down. Kevin Saunderson even handed out one of the very first promo copies of "Big Fun" and "Good Life" to John Collins at Cheeks. "I think the history of Cheeks is glossed over," says Collins, the first black DJ ever hired at Cheeks. "Being there from the beginning, I know what happened."
I think the history of Cheeks is glossed over. Being there from the beginning, I know what happened.
The underground community didn't respect the club at first. "When Cheeks opened in the early '80s, it was a white club with white owners on West 8 Mile in Detroit near Schaefer," Collins recalls. "Cheeks was a really swanky club that everybody wanted to go to. One of the guys who owned it was a lawyer, a very arrogant lawyer, and he got off on turning people away from the club. They had about a four-year run and then they decided they wanted to move and open up another club in the suburb of Pontiac in a much bigger place called Menagé."
After that, everything changed. The Warehouse owners Larry Harrison and Marshall Jackson took over, and moved from a velvet-rope club with an air of exclusivity to a vibrant club open to anyone. According to Collins, people often climbed the wall to get in. It was the hot place to be. History remembers The Music Institute as techno's first home in Detroit, but forgotten is the influence Cheeks held before The Music Institute even opened its doors.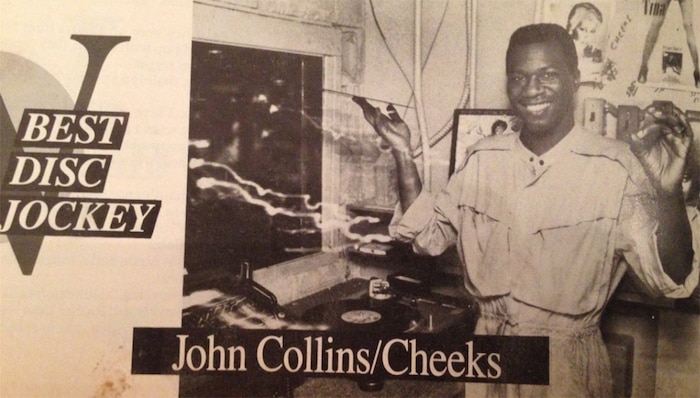 What is often lost in the accepted history of techno's beginnings in Detroit is the genre's connection to house – and progressive and disco. "I'd like for this history to be known," says Hale. "We were setting the tone for techno. We didn't know that's what we were doing, but we did."
"If you listen to some of the early stuff that Kevin Saunderson did, as well as Derrick [May]… you think about 'Big Fun' and 'Good Life,' it's a 4x4 beat," says John Collins. "They have the keyboard, they have the drums… it's so close to house music, but it did take a step further and add some electronic elements. It just goes to show you how much house music influenced early Detroit techno. Even 'Strings of Life', which is one of my all-time favorite techno records, was very house-y.
"When techno started, everybody went techno crazy," continues Collins. "I don't know why [the stuff beforehand] wasn't written about like it should have been. It's a story that needs to be told. It was forgotten. It's like with the Belleville Three – how Eddie Fowlkes must have felt when they didn't talk about him being a founder."

Special thanks to Stacey Hale, Mike Clark, John Collins, Delano Smith and Felton Howard for sharing their stories, pictures and taking the time to be interviewed. Image credits: 20 Grand via Old News; Chad Novak and Stacey Hale at Metra Picnic. Chad Novak was the longest resident DJ at Menjo's and both were Billboard reporters at the time; Luomo Flyers via Delano Smith; Stacey Hale, Alan Ester, John Collins; John Collins/Cheeks, Best DJ in Detroit 1985 via Detroit Monthly Magazine.
Header image © Joe Clark - U.S National Archives and Records Administration