Sing Sing: A Loop History
The story of how a 1978 disco track became the backbone of Baltimore Club music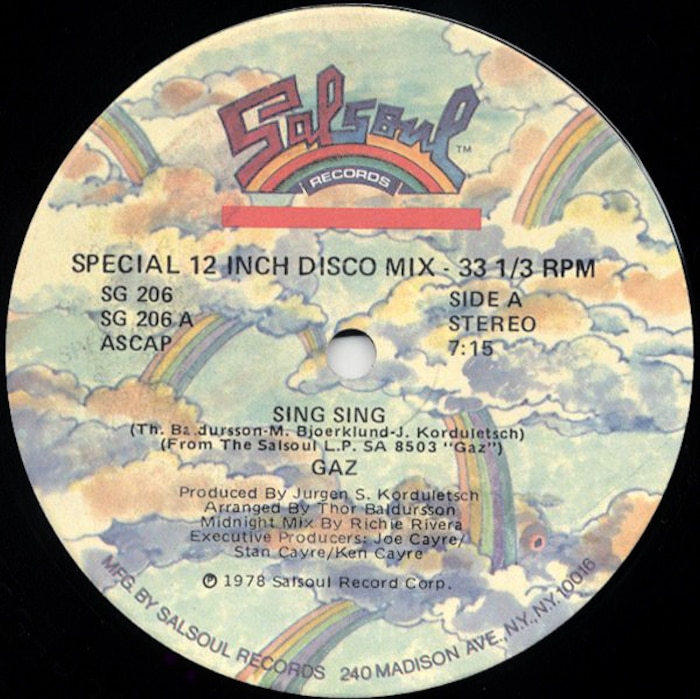 You may have never heard Gaz's 1978 disco track "Sing Sing" but its break has become the shot heard 'round the world (in club terms at least). Vivian Host investigates how Sing Sing became the backbone of Baltimore Club music and how it migrated to New Jersey, while investigating the power of its signature shuffle.

You can filter it and EQ it or chop it and screw it, but if it doesn't have a Sing Sing in it, you may not have a Baltimore Club hit. Various elements make up the signature sound of the Charm City underground – including its distinctive drum pattern, enormous muffled kick drums, and diced-up pieces of Lyn Collins' "Think" – but it's a section of shuffling shakers lifted from Gaz's 1978 Salsoul disco-funk hit "Sing Sing" that really tear da club up (as DJ Class would say).
Any hip hop DJ worth their salt knows the Sing Sing break – alongside the Amen, the Apache, and the aforementioned Think, it's part of the classic canon lifted from soul, funk, and disco records. "Sing Sing" – from the group's only album, 1978's Gaz – appears on Volume 4 of Ultimate Breaks and Beats and was a favorite in Grandmaster Flash's early DJ routines. It has been sampled by everyone from Wu-Tang Clan to Chubb Rock to Lil Jon to Kylie Minogue. (Salsoul slapped Kylie and Warner Brothers with a fat lawsuit in October 2013, claiming she ripped off the "entire rhythm" of the Gaz original for her song "Speakerphone.") But perhaps no one has loved the Sing Sing more than Baltimore Club producers, who upped the tempo to between 125 and 130 BPM, fed it through an ASR-10 sampler, and EQ'ed the hell out of it, adding a distinctive high-end jazz to the genre's giant 808 kicks and massive mids.
"Everything is in there," says Baltimore Club legend DJ Technics. "It's not like the Amen where you only got three seconds to work with. In Sing Sing, it's four or five minutes of them jamming out and the pattern changes three or four times. EQ it different and it's gonna sound different in every song you use it in. People know that break and it sounds good in everything."
Sing Sing is like that lady in the Southern Baptist church with the tambourine – until the lady starts hitting the tambourine, the church don't start jumping.
"Anything with Baltimore music, it's always some mess of house and hip hop," explains Bmore Club godfather Scottie B. "And a lot of it is subliminal. A Baltimore person would gravitate towards something that grooves like a house record but with a pattern like a hip hop record, and the drums aggressively upfront." Booman agrees. With production partner KW Griff and MC Jimmy Jones, Boo created some of the first Bmore Club classics— such as "Watch Out for the Big Girls" and "Pick Em Up"—to slice and dice the Sing Sing break. "We were hip hop producers first, but we added the rebellious portion to house music. The Basement Boys and all those house guys were our mentors but we made it a lot more edgy."
Before Bmore ran away with "Sing Sing," the Gaz band original was a staple in local clubs. But Gaz was actually made up of Icelandic keyboard player/arranger Thor Baldursson, sometime Moroder collaborator Mats Björklund, and German producer Jürgen S. Korduletsch, who would later remix rave acts 2 Unlimited and Human Resource. Korduletsch's rave connections are interesting, because British and German breakbeat techno records inspired the Baltimore sound as much, if not more, than hip hop. "The first time that I heard the Sing Sing break used in club music was by someone outside of Baltimore," says Technics. "It was a London [hardcore] record called Invisible Men 'Skin Up & Trance.'" As Booman recalls, "Some of these import records were really too crazy to play but they would have one little piece in the middle that was ill. So we would chop and loop those pieces into our DJ sets."
The Bmore club sound evolved as DJs like Karizma and Frank Ski applied the tricks they were already using in the clubs to producing their own records, followed by the likes of Scottie B, Technics, Booman and KW Griff who were, at one point, all under the umbrella of Shawn Caesar's Unruly Records camp. "We liked Diamond D stuff and early '90s hip hop and we paid attention to the producers," says Scottie. "We were noticing that it seemed like basically the production was grounded in a mother loop and then they had another loop chopped up within it. I was like 'It's really hip hop just faster. Why don't we play a Think break and break it up with the Sing Sing under it?'"
I would get calls from the pressing plant saying, "We can't press this. The levels are out of control," and I'd say, "We want it just like that."
"The Sing Sing to a Baltimore track is like the glue," explains Booman. "At one point everyone had the same sounds. You'll have this break that would be more like the mids and the punch – like chopping up the Think break. Then there was this sample just called 'bass kick' – I can't remember where it came from or who gave it to me, but it was an 808 that had gotten EQ'ed a million times. That was the low-end and then vocals. And the Sing Sing is the high-end, the thing that kind of makes the track move."
"Sometimes the difference in the track is putting it in there or not," concurs Technics. "It's like that lady in the Southern Baptist church with the tambourine – until the lady starts hitting the tambourine, the church don't start jumping." Of course, the machines available back then – Tascam four-track mixers, cassette decks, and samplers like the SP-1200 and the Ensoniq EPS 16+ workstation – greatly influenced the sound of the Sing Sing break you hear. Because although Bmore Club's pioneers all sampled from the original Gaz band production, it's the way the break was processed that gives club classics like Griff's "Bring in Da Katz" and Rod Lee's "Dance My Pain Away" their grit and swing.
To hear the legends tell it, though, it was the ASR-10 workstation that had the biggest impact in shaping the sound of Bmore Club. "Everyone was using it," explains Technics. "It did nothing but sample and sequence. Load all your sounds in and you could make a song do anything. When we were using the ASR-10 it was the beginning of the digital era. Some of our records were analog – we were recording straight to a tape and sending that off to get pressed so a record had a certain sound. Then when the DAT came out we realized we could get things louder – once we realized we could blast it, it would define our sound: distorted and loud and crunchy. We would send it from the ASR-10 right to a Mackie mixer right to digital audio tape. Plenty of times I would get calls from the pressing plant saying, 'We can't press this. The levels are out of control,' and I'd say, 'We're paying our damn money. We want it just like that.' When you get the records back you know it's right because when you take it to the club and play it you gotta turn the system down."
Many of the early Bmore Club records – like Technics' 1993 joint "It's Soul" – use entire loops of the breakbeat. By 1994, Booman and KW Griff began chopping things up a bit more, and making vocal tracks with MC Jimmy Jones – tracks with chants designed to rile the clubs. "Certain clubs only had people from a certain neighborhood in them," explains Technics. "Paradox [a legendary Baltimore venue] was one of the only places where people from the East Side, West Side, South Side would come together. And the chants became anthems for starting fights in the club."
"The early records were pretty much all chants," recalls Technics. "But after a while, you couldn't play those on the radio. We had to make things that were universal and that's when we started sampling." This ushered in the era when there was a Baltimore Club remix of everything, from doo-wop records like "Hey Mr. Postman" to rap hits. Eventually, even Radiohead and cartoons like Spongebob and Dora the Explorer would get Bmore re-rubs. DJ Class' 1999 banger "Tear Da Club Up" also ushered in an era where horns went with everything. "You couldn't get them crazy like that with violins!" says Technics. "With horns, the right note and the right sequence pretty much destroyed the room when you heard them."
Mighty Mark, part of the new generation of Baltimore Club producers, remembers Say Wut's "Go Pt. 2" as one of the most well-loved horn classics. "Dancers were having battles and instead of matching to the vocals or drums they were syncing to the horns when that came out. [That track] was kind of like a 'Samir's Theme' for my generation."
By the turn of the 2000s, New Jersey's DJ Tameil brought the Baltimore sound up the coast to Philly and Jersey, where it would ultimately morph into the Jersey club sound that's big today. Jersey club artists – DJ Sega, Tim Dolla, Sliink, Nadus and many more – kept the hard-hitting drum pattern of the Bmore sound, but speed the tempos up to around 138 BPM, dial down the swing, and put the Sing Sing into competition with newer samples that perform the same driving, high-pitched effect (like the bed squeak from Trillville's "Some Cut").
Mighty Mark says that while the Sing Sing may not be the current hype, it still carries weight. "What makes a good club track to me is feeling and arrangement. One clap or one 808 at a certain point in the song can change a mediocre track to a classic, a dub to a stud. I always believed that it was necessary to have some rawness or grit, some distortion and grime – if not, then it isn't Bmore Club in my opinion. In terms of the younger producers here in Bmore, I don't hear the Sing Sing too much or too much percussion at all. The main thing that's hot right now is 808s and vocal chops. But I believe [that] loops like the original Sing Sing give soul and heart to tracks. When I hear the Sing Sing loop in a Bmore jam I just start grooving, even though I can't dance!"