It's a South East London Ting: Mo Kolours, Paul White and More
Laurent Fintoni profiles the crew of producers centred around Mo Kolours and Paul White making some of the most exciting beat music of the past few years.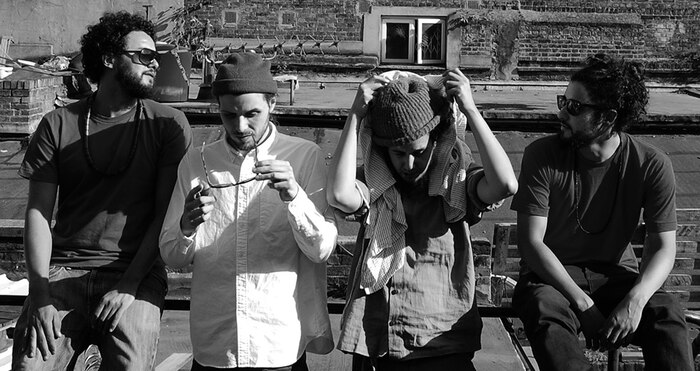 As the stretch of road that extends from London's Old Street roundabout to Stoke Newington via Kingsland Road grew into a cacophony of bars and pop-up shops over the past decade, the south east London neighbourhoods of Brixton, Camberwell and Peckham played a gentle counterpoint to the capital's hip centre in the east.
Enticed by the cheap rents and invigorating cultural surroundings of London's south east, a group of young artists and friends installed themselves between the quiet residential streets lined with terraced homes and the bustle of the African, Caribbean and South American communities that have long occupied the main streets. Within the comfort and anonymity of their bedroom studios, they began to concoct and refine a sound all of their own – a worldly, soulful and almost spiritual take on the musical melting pot that is London.
Paul White is arguably the best known member of this group. He's south London's answer to Madlib, with a taste for prog rock, African rhythms and biscuits. Then there are the three Deenmamode brothers: Mo Kolours, Reginald Omas Mamode IV, and Jeen Bassa. Completing the group is Al Dobson Jr, a childhood friend of the Deenmamode brothers, and London cohorts Henry Wu and Ed Tenderlonious.
Paul and Mo Kolours were the first to officially emerge from the south London bedroom studios, gaining plaudits for their work from sources as disparate as UK broadsheet newspaper The Guardian and Detroit rapper Danny Brown. But the past year has seen the rest of this loose collective announce themselves via a string of small, independent London-based labels: 22a, Izwid, Five Easy Pieces, and Rhythm Section. Collectively, the releases have grabbed the attention of tastemakers such as DJs Kutmah and Lefto, Hot Chip's Joe Goddard, UK radio personalities Lauren Laverne and Gilles Peterson and landed them appearances on Boiler Room and the Resident Advisor podcast series.
The music they make may sound disparate at first – head nodding hip hop instrumentals, shifting house grooves, lo-fi jazz and soul, scratched up reggae – yet there is an underlying thread that ties it all together: an understanding of the power of human rhythms. This lends their music a certain soul, "a freedom," as Reginald puts it. A number of their tracks are peppered with samples that reference the importance of rhythm as a driving human force. "We have appreciation for that swing," Jeen Bassa admits.
The Deenmamode brothers grew up in a mixed English and Mauritian household. "Our parents would encourage us to dance and sing and have fun," Reginald recalls. They shared rooms and tape players, avidly listening and dancing to Michael Jackson and James Brown. The most important lesson from their youth, however, seems to be an ingrained appreciation for "clapping your hands and stomping your feet." It's "the essence" of what they do, something immediately apparent in the disarming quality and playful charm that animates their music.
Al Dobson Jr took a slightly different route, sitting at home while his dad would play records from his collection. "I listened a lot," he says, a practice that to this day remains his modus operandi. He's the group's resident selector.
Their collective rhythmic approach is in stark contrast to both grid-heavy programming and the forced sentiment behind so much of the purposefully unquantised productions that have littered the hip hop underground since Jay Dee's passing. Their fascination with natural rhythms also connects with the brothers' island roots. The musical traditions of Mauritius, and the group's self-avowed "love affair with African drums and rhythms," first became apparent through Mo Kolours' music, with much made of the percussive aesthetic that drove his first releases and debut album.
"What you hear from us today is maybe like a crumb of a hobnob biscuit."
You can also hear it in Paul White's most recent work for R&S, as well as the modern soul of Reginald's recent work and in the hypnotic quality of the lo-fi hip hop and house at which Al Dobson Jr and Jeen Bassa both excel. When I raise the question of what to call the music they make, it's clear that this isn't something that keeps any of them awake at night. Reginald is quizzical about that particular side of the musical equation. "It becomes genre-ified by other people," he says alluding to the vastness of music they hold that goes unheard. "What you hear from us today is maybe like a crumb of a hobnob biscuit," he explains before Al jokingly holds one up to prove the point.
Despite their reticence to fit themselves within an established aesthetic, they acknowledge – and are thankful for – the filters for their output, people that help make sense of their seemingly never-ending stream of ideas. Two key characters in that regard have been Kutmah, the London-by-way-of-Los-Angeles DJ who supported Al early on before releasing the Sounds From The Village album on his Izwid imprint earlier this year, and Alex Chase, the man behind One Handed Music who gave a home to both Paul and Mo Kolours early on and has since helped to support their extended family.
The attention and relative success they've received so far would be enough to fuel Twitter and Facebook feeds for a few days, however most of them are recluses from digital chatter and self-promotion. Most of their social media profiles are run by other people or non-existent, which isn't an anti-internet statement but rather a normal extension of their way of living: they're the archetypal example of artists who'd rather be creating than talking about it.
"I've tried to stay off the internet, and yet it keeps reaching me."
Despite this, they're quick to admit the benefits of the internet as we discuss live appearances and recent travels to Russia, China and Europe. They all feel humbled and amazed at the reception they've received. Reginald seems even a little perplexed by the situation at times. "I've never publicised my email address and yet I'm still getting offers! That's how nuts it is. I've tried to stay off the internet, and yet it keeps reaching me."
Now that their music is starting to gain recognition, it feels perhaps a little bittersweet that this would coincide with their surroundings being next on London's list of neighbourhoods to regenerate. Since the completion of the Overground train line in 2012, Peckham is now a half-hour, direct train ride from east London. With Shoreditch and Dalston well past the tipping point, Peckham and Brixton are now the new cool. Even if their area remains "quite ghetto, with litter and yams still spilling onto the streets," the community that provided them with inspiration is disappearing fast. "It used to be people just living," Mo Kolours says wistfully before reaching the one factor by which they're all most likely to judge whether or not an area's worth living in. "In south London you could still find records under a tenner. The more coffee shops come here, the more the records have gone up."