Key Tracks: Janet Kay's "Silly Games"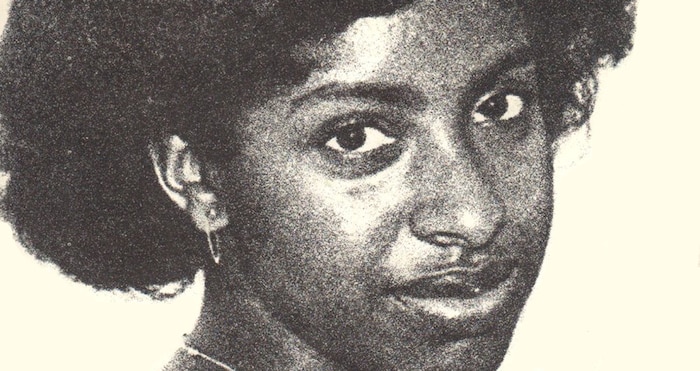 During the late 1970s, a new sound took hold in Britain: lovers rock was a home-grown take on the reggae ballad, grafting tales of teenaged heartbreak onto its irresistible rhythms. The underground movement sprang from London's diverse black communities and gradually spread to the wider population, being particularly popular with young females that loved reggae, but could not relate to the militancy of Rastafari. After all, black Britons may have faced police harassment and high unemployment, but London was hardly war-torn Kingston, and most British fans weren't smoking chalices or seeking governmental overthrow.
According to Mad Professor, who became a leading exponent, lovers rock was inspired by Jamaican adaptations of soul ballads, which held particular appeal for black British youth. "A lot of black kids growing up in England didn't identify with the Jamaican thing – they wanted something of their own, and one really influential Jamaican record that a lot of people tend to forget is 'Silly Wasn't I' by Sharon Forrester, a version of the Ashford and Simpson soul song; Motown had a strong presence in the UK, and while it wasn't as big a hit as it should have been, 'Silly' made local girls start thinking, 'We can do it too,' because 'Silly' was different from the typical reggae that was coming out, leaning towards the whole Rasta thing. Then Dennis Harris started a label called Lover's Rock to capitalize on it, and the first song he did was 'Jealousy'; Ann Peebles did the soul original, while the reggae version was done by a white girl named TT Ross, who was effectively the first lovers rock singer."
Although lovers rock is sometimes conceived as the antithesis of roots reggae, chief musical architects such as Dennis Bovell, Mad Professor and Aswad were all heavily involved with both forms; Prof says Harris was the pioneering producer that made best use of Bovell's talents, solidifying the lovers rock formula through shrill female soul adaptations. "Dennis Harris was visionary; you'd go to parties and hear his records being played. Gradually, he had TT Ross, Brown Sugar, Cassandra, and he was cashing in, until another influential record came along in '76, 'Free' by Deniece Williams, which really influenced all the girls to take the pitch up there and break the wine glasses. Then you had Louisa Mark with a next influential soul cover, 'Caught You in a Lie,' which was a very popular song – popular for years, never quite going away. And then you had Janet Kay."
Born in London to Jamaican immigrant parents, Janet Kay Bogle was a natural for the form, since soul and reggae were twin influences, and reaching the high notes a specialty. "Lovers rock evolved because our parents came with their music from the West Indies, but we didn't have West Indian music on the radio or TV, so we were mainly exposed to pop music, R&B, and Motown," Kay explains. "I liked the Beatles, I liked Lulu, but I loved Motown, with the Temptations, Diana Ross, Stevie Wonder, so lovers rock was melding the two together: reggae was the backdrop, and the centre of the music was a mixture of the pop, R&B and Motown that we were exposed to. There's a whole a generation of people that needed something to relate to as their own, and it wasn't only black people that enjoyed the music, it kind of crossed over to everybody of our generation."
Janet Kay made her recording debut in 1976 with a cover of Minnie Riperton's "Loving You," produced by Jamaican balladeer Alton Ellis, after being brought to his attention by Aswad's bassist, following a chance meeting. "A friend from school took me to where Tradition and Aswad used to rehearse, and I was just testing the mic, and Tony Gad from Aswad came into the room and heard me sing. He must have been working with Alton, and Alton was looking for a female singer, so I met up with Alton, but my parents were very strict, so Alton had to come and meet my parents too."
There was an advert for Memorex where Ella Fitzgerald sang a note and broke a glass, and I wanted a song with a note like that; little girls always try to sing a high note... so it meant that every female in the dance would try and sing that note.
Kay followed "Loving You" with covers of "That's What Friends Are For" and "I Do Love You" for Delroy Witter's D Roy label, but neither made much impact. As with lovers rock in general, Kay needed a more substantial hit, something that could tip her into the major league. And as it turned out, the D Roy tracks paved the way for the breakthrough success of "Silly Games," an original number Dennis Bovell had written. As Bovell explains, "There was an advert for Memorex where Ella Fitzgerald sang a note and broke a glass, and I wanted a song with a note like that; little girls always try to sing a high note, so when I wrote 'Silly Games' and put that high note in there, it meant that every female in the dance would try and sing that note. I was the engineer when Janet Kay had done that Deniece Williams tune, 'That's What Friends Are For,' so I heard her sing that high bit at the end quite comfortably. Then I remember one song she was doing, the harmonies were in a bit of a muddle, and I helped her straighten it out, and she said, 'Oh, you're a musician, if you've got anything you want to do, call me.' So I leapt on the piano and I played 'Silly Games' for her, and when I hit the high note, she's like, 'What, you can do that? Then I must be able to do that.'"
When Kay voiced the tune, she delivered exactly what Bovell had in mind, but Bovell felt the drum line needed improvement. "The original drummer was Jah Bunny, and I'd started to work with Drummie Zeb when we were at Dennis Harris' studio, so I went back into the studio with him and I said, 'I've come up with a new pattern for reggae,' cause we had the Flying Cymbal, One-Drop and Steppers, so I'm coming with a beat that was merging Afrobeat and reggae, where both hands are rolling on the hi-hat, and occasionally, the left hand comes off to the snare; I started playing the bassline, and we're recording the thing, but he didn't know what the melody of the tune was."
When I listened back to it, I thought, "That's bloody magic!"
Zeb gave the tune even greater distinction by laying complex drumrolls towards the end of each verse. "When the man puts a roll in there, I'm thinking, 'I didn't want a roll there'," laughs Bovell, "but when I listened back to it on the playback, I thought, 'That's bloody magic!' The timing of it was really, really good, it kind of gave the song a lift. Then I filled it up with the guitars and the keyboards, and I came up with the synthesizer intro. So I had the synthesizer thing and I had this young girl who I reckoned was the champion, the new Minnie Riperton."
Within six months, "Silly Games" was in the Top 20. Picked up by Warner Brothers, it became the inaugural release on Scope, their subsidiary label devoted to lovers rock, its sustained popularity bringing Kay onto Top of the Pops and making her the first black British female to reach a #2 chart position with a reggae record. A slew of new lovers rock releases soon followed, including several by Jamaican artists, which proved that British reggae had come of age. Lovers rock has been on the wane since the mid-'90s, but because the song remains a perpetual favourite of UK sound systems and community radio stations, the immortality of "Silly Games" is assured.