Interview: Truss & Tessela, Brothers in Electronic Music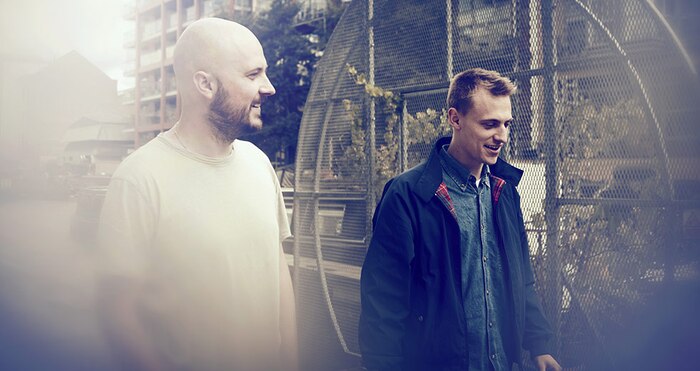 Born ten years apart into a family where careers in classical music were all but a given, Tom and Ed Russell instead now make music that reasserts the beauty to be found in battering repetition. Producing and DJing under multiple aliases including MPIA3, Truss, and as one-half of Blacknecks with Bleaching Agent, Tom makes techno with a painfully exposed core, managing to achieve monumental emotional impact with the barest elements. As Tessela, Ed has had a remarkable career for someone who has just turned 25, crystallizing a jungle revival with the inescapable "Hackney Parrot," releasing two well-received records on R&S, and managing to secure a residency on BBC Radio 1 that ended earlier this year.
Together, the brothers perform as TR\\ER, and though they've only released the track "UC" on the aptly named Brothers label, it's a fitting collision of their talents, with lightning bolts of acid countered by redlining broken beats. Speaking via Skype from Ed's flat in East London, the two finish each other's sentences and demonstrate an ongoing sibling rivalry: Ed initially refers to himself as "the one that sounds youthful," with Tom countering that he's "the one who sounds wise." The two spoke to RBMA about the experience of growing up playing the French horn, the things they've learned from each other as artistic collaborators, and making techno from computer programs found in cereal boxes.
Did you both grow up in the same household?
Ed
Yes and no.
Tom
There's a ten year age gap between us. About three years after Ed was born, I went to boarding school for a couple of years. By the time I left that boarding school our parents had split up. Ed split his time living between our mum and our dad, and I just lived with our dad.
What music were your parents listening to? With both of you doing what you're doing now, I expect you heard some out-there music growing up.
Ed
It couldn't be further from the truth, unfortunately. Our dad has only recently started to believe that techno counts as "real music." He's still not totally convinced. He's a big classical musician, has been playing in orchestras for the better part of thirty years, and is now a conductor. The music that was played in the house was nearly always classical. Our mum was quite into classical music as well.
Tom
I think the only things that deviated from classical music that our Dad found acceptable were things like the Beatles.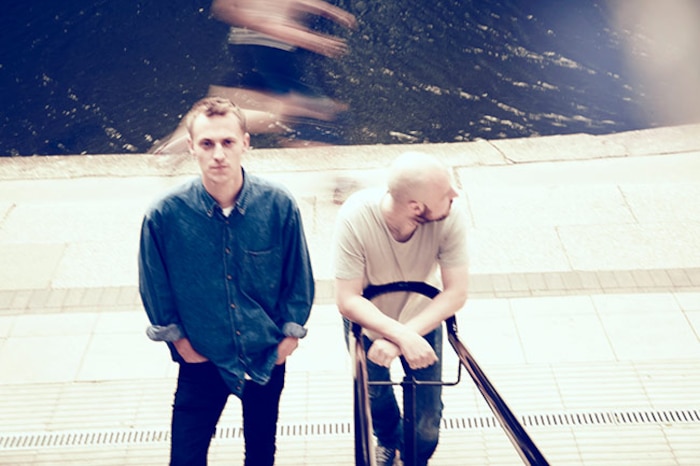 Did both of you have a musical education because of your father's position?
Ed
We both learned a pretty large variety of musical instruments. He teaches a lot of different instruments, so when I was younger I ended up learning piano, French horn, and trumpet, and all of these different things that dad would be trying to teach us. I never really stuck with many for that long. Tom was similar.
Tom
My instrument was French horn. The reason I went to boarding school is actually because I got a music scholarship. It was very much encouraged to be involved in music, but specifically orchestral music. I quit a long time ago, though.
Do you think the music you're into now was a reaction to growing up around so much classical and orchestral music?
Tom
There's an element of rebelliousness that led me to rave music in particular. Just like with most teenagers growing up, you're kind of looking for something that your parents really don't like. That was one of the things that drew me towards rave music. I was also into metal and stuff that was quite noisy.
Ed
I think the music influence came much more from Tom than my parents. My first experiences with electronic music were through him.
Tom
It's not dance music, but I remember buying Appetite for Destruction by Guns N' Roses, playing that in the car, and my parents being shocked by some of the lyrics. I never really bought records until I was 15 or 16, but I was already getting a hold of some old rave tapes when I was 10 or 11. I was playing those in my bedroom, and I don't think my parents really understood it at all because it was so repetitive. That was the thing my Dad still finds very difficult about dance music in general, the repetitiveness. He's still far from converted.
Ed
Him seeing that you can make a living off it, and that there are other people that are interested in it as well, that's made him think, "This is actually a thing." He's so removed from it. Before we started chatting to him about what gigs we were doing on the weekend and stuff, I think he thought it was a much smaller thing than it is.
Tom, is it true the first piece of music you made came from software you got from a cereal box?
Tom
Yes!
Ed
It's probably true for me as well.
Tom
I think the cereal was Wheat-Os, because that was always my favorite cereal. The program was called DanceEJay, a horrible, cheap, loop-based software. It came with loads of preset loops. One thing it did have was a drum sequencer, where you could actually make your own patterns, and that was actually the first time I was able to do that. I just spent hours and hours coming up with loops.
Ed
I remember using it as well, just making really, really long tracks. Whenever you made something on there it always seemed to turn into a fifteen or twenty minute techno epic.
Tom
I recorded a couple of them to tape at one point, but I'm sure – or I hope – that they've long since disappeared.
Ed, what was your musical education like via Tom, despite the age differences?
Ed
I always used to hear Tom's music through the walls at our dad's house. When I was 11 I bought my first pair of decks, because I knew Tom had them. I never really bought records because I was eleven and didn't have any money, but I'd nick stuff from Tom's room when he was away, and I had a small collection of records. At school I started recording these little mixtapes that I called "Aniseed" and did cheesy covers for them. We sold those to anyone who would buy them at school when I was eleven. I don't remember the price exactly, but it was probably pretty extortionate knowing me. At that point I didn't really understand mixing that well. I was just interested in messing up the sounds with EQs and little effects. I sold the decks after a year or two, because at that age your interest levels drop and peak pretty rapidly. It took me a while to pick it back up again.
What was the motivation for picking it back up?
On my 16th birthday Tom bought me a proper copy of Reason and told me it was an investment.
Ed
I was doing a GCSE in music, and you had to make compositions. Most people were doing these classical things on a program called Sibelius that all sounded really shit. Musically they were quite good, but the sound on Sibelius was rubbish. So I did a couple of basic dance tracks on Reason when I was fifteen. That was on a demo copy of Reason. On my 16th birthday Tom bought me a proper copy of Reason and told me it was an investment.
Tom, you were clearly looking out for Ed.
Tom
I'm really happy that Ed got into similar things to what I was interested in. I think the main thing was that I was keen for Ed to try his hand at making music. It seems to run in the family. I've really enjoyed making music and being in the scene, and I thought Ed would probably enjoy it as well and also probably be good at it. That was the main reason for the encouragement.
Ed's first release as Tessela was a remix of "Osbasten" on Perc Trax. Tom, how did that remix come about?
Tom
I wrote the track and played it to Ed, and Ed really liked it and asked if he could have a go at remixing it. I said, "Yeah, sure, but I can't guarantee it'll be released." I was pretty sure it wasn't going to get on vinyl, and that if it was going to be released at all it would be a digital bonus track or something. He turned this amazing remix in that caught us all of guard. As soon as I sent it to Ali he said he wanted to put it on the vinyl.
Ed
That was in my first year of university. I was doing pretty different stuff at that time, all over the place, really. When you're just starting out you make loads of different crap, and most of it is actual crap.
Tom
You wrote some good stuff. You were starting to find quite a bit of success in some other scenes. I think you decided quite quickly you weren't interested in that scene after all.
What was the motivation to start a project like TR\\ER?
About two weeks before the gig we realized we didn't actually have a live set at all.
Ed
Two friends of ours wanted to start a label called Brothers. The idea of the label was that each release would either be a collaboration between two people who were actually brothers, or just two close friends. We said we'd write a track for that, and it's still the only thing we've ever actually released. It did a bit better than we thought it would.
Tom
It went down quite well. Then we got a gig in Ireland, and they said they wanted us to do a live set. We agreed, but about two weeks before the gig we realized we didn't actually have a live set at all. We scrambled to get something together, and just about managed to pull it off.
Ed
That was about 14 or 15 months ago.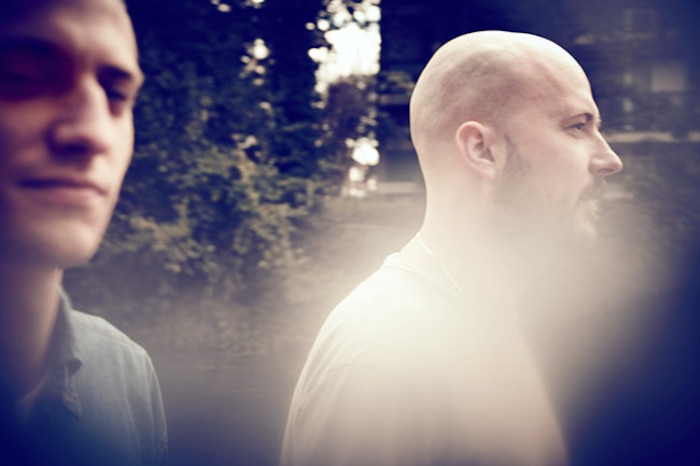 I read you two started making music together three or four years ago. How different do those tracks sound to what you made as the first public TR\\ER track fifteen months ago?
Ed
Pretty different. Both of our production processes changed over those years. At that time I think we were both predominantly using software. The first tracks we wrote together three years ago were actually more a result of just starting stuff when we were together at mum's place around Christmas. We were just a bit bored and started making loops and things on the computer. Now our production processes have changed quite a lot. We both use quite a lot of hardware. That's the difference, really: more distortion.
How much TR\\ER material is written with both of you in the same room?
Ed
We've never actually sat down properly and said, "Yeah, let's write some music." And when we play live it's largely improvised. We don't have set pieces.
Tom
We split up the responsibilities. Generally speaking, Ed is on drums and I'm on synths.
Ed
I'm better at drums, Tom's better at acid.
Tom, what have you learned collaborating with Ed?
Tom
It's always a tricky question to answer. I think it's an approach to writing that is always different with different people. On a very basic level we share production techniques. We both use Cubase, although Ed's recently started using Ableton. We both have used Cubase for a number of years, and there are quite a few ways Ed was using it that I found interesting because I hadn't thought of using it in that way. In that respect, I've learned a lot.
Slamming stuff through distortion: Tom's pretty good at that.
Ed uses a lot of limiting as a very creative effect. That's been quite inspiring, because I've always thought of it as just used to make stuff louder, but I've seen him use compression in a much more creative way to sculpt sound. I hadn't used it like that before. Then there are boring things, like filing systems. The way Ed filed and stored his samples was very different from the way I was doing it.
Ed
Tom's arrangement process is really different than mine. He's super fast at arranging. That's something I usually have trouble with, or just do a bit slowly. A big thing I've learned from Tom is how to map out a track really quickly and just get it going. Slamming stuff through distortion: Tom's pretty good at that, too.
What kind of creative exchange goes on between you two outside of TR\\ER?
Ed
If either of us have a new track we always send it to the other for feedback. I always send stuff to Tom before I send anything else.
Tom
We're both happy to tell the other if we don't like it or think it's really bad, without fear of offending each other.
What's your favorite part about the others music?
Tom
With Ed's music it's definitely the drums, especially the high-end percussion and hi-hats. He manages to make them sound very "live," something I find very difficult to do. Ed's music creates a very "live" feeling," which is something that is often lacking in electronic music.
Ed
For Tom's music, with tracks like "WTTP" or other MPIA3 bits, they're just rolling, thick slabs of groove, where every element jells into one cohesive lump, and it's just mad energy. Something that I very rarely do is have longer, evolving tracks where it takes until the fifth minute to all kick off and it really makes you want to go mad.
Is there music one of you likes that annoys the other?
Tom
There's a track Ed's playing at the moment, and I really like the track, but there's an annoying phone sample in it that really, really puts me off. Ed used to listen to quite a bit of drum & bass, which I was never particularly into. I don't dislike it, but it was just something I never really got into.
Ed
There aren't really any genres of music I have a problem with, except shit, middle-of-the-road basic wanky house, but then neither of us like that.
What are the pros and cons of being brothers and also artistic collaborators?
Ed
I don't think being brothers gets in the way at all. We've never argued at all, really, not just music-related. We were never the squabbling siblings.
We always got along, apart from the time I shot him with my Gat gun when he was three.
Tom
I think that's probably the age gap. I was really happy when Ed got to an age when I could go to the pub with him and chat about music and all that. We always got along, whatever age he was, apart from the time I shot him with my Gat gun when he was three. Ever since we've been able to properly hang out together as adults we've never had any problems.
Ed
On of the big perks about being a duo is travelling with someone else. It feels so much more like a holiday when you're there with someone else and not just on your own, sitting in your hotel or travelling on your own. One of the best things about doing the live show is travelling together.
Tom
It makes the whole thing much more enjoyable.
Ed, which tracks got the biggest response when you DJed at Tom's wedding?
Tom
We did a B2B session as well – "Vamp" by Outlander probably got the biggest response. "Hackney Parrot" got a big reaction as well – Mum was feeling that.
Ed
Yeah, she was into that. There was a Nightmares on Wax tune, "Aftermath," that she called me up the next day to ID.
Both of you are working from fairly recognizable inspirations. How do you avoid slipping into pastiche when producing?
Ed
It's about trying to use those sounds, but chop them up and use them in a new way. If it starts sounding like a '90s hardcore record I'll toss it. I'm not sure it's a particularly conscious thought.
Tom
A lot of the time we're both making music that we'd like to hear in a club, that would make us lose our shit. That's the case for me, anyway. I'm not thinking about being imitative. I'm just making music that's predominantly for the dancefloor. The main thing for me with most of my music, especially MPIA3, is that it reflects my fascination with very basic music, using the fewest elements necessary to work on a very fundamental level. That mentality carries through into a lot of my other projects. I've never really set out to try and emulate something, though I appreciate that it's not really doing anything that hasn't been done 20 years ago.

All photos: Sam Jackson