Wild Style Breaks: The Untold Story
For three days in June of 1981, a movie director, a hip hop scenester and a drummer met in Blank Tapes studios in Manhattan and created the soundtrack to the most iconic hip hop movie in history, Phillip Mlynar tells the story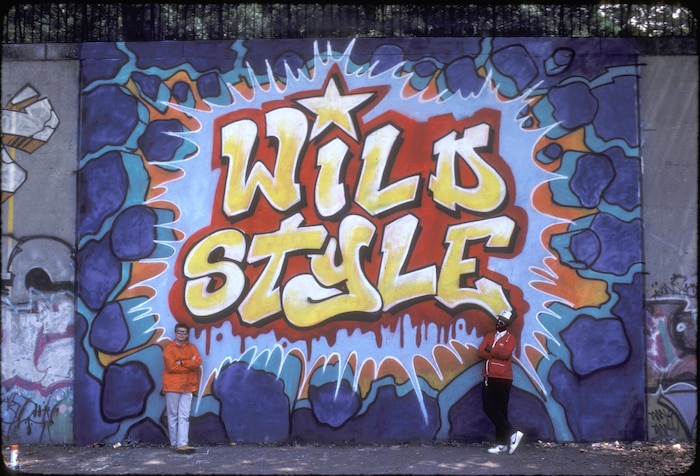 For three days in June of 1981, a movie director, a hip hop scenester and a drummer met in Blank Tapes studios in Manhattan and created the soundtrack to the most iconic hip hop movie in history. Named Wild Style, the flick was a collaboration between the aspiring filmmaker Charlie Ahearn and Fred Brathwaite (known around the downtown scene as Fab Five Freddy); after a conversation at a Times Square show, Ahearn recalls they decided to "bring the hip hop world and the graffiti world together into focus" on the big screen. As a musical curveball, Ahearn proposed what he looks back on as a "ridiculous" idea: Instead of utilizing the popular soul and funk breaks that DJs like Grand Wizard Theodore and Grandmaster Flash were spinning at parties, they would create their own instrumental percussive grooves to score the movie.
To that end, they drafted in the talents of Lenny Ferraro (sometimes known as Ferrari), a drummer playing on the punk circuit who had originally cut his teeth backing up Aretha Franklin and Jerry Butler. The outcome of those studio sessions became known as the Wild Style breakbeats – a series of 13 short instrumentals that are now some of hip hop's most revered and mysterious recordings.
After laying the groundwork for Wild Style in June of 1980, Ahearn aimed to shoot the film the following summer. As the deadline drew closer, Ahearn says, "It began to concern me what music was going to be used behind the MCs rapping and the DJs playing. What if they all wanted to play the same hit song on the radio? Or what if they use 25 different songs and it turns out most of them are by record companies that want to play hardball and make things difficult for us?" Ahearn says he never approached any of the burgeoning hip hop labels like Sugarhill to strike a deal partly because rap was "kinda like a get-rich scheme then – made quickly and sold to a public that wasn't sure what it was."
Taking a cue from the film's mix of "documentary and narrative," Ahearn told Brathwaite of his idea to engineer a totally new set of breaks that would sound like they were culled from the hidden recesses of a crate-digging DJ's collection.
"We weren't trying to make a record – we were trying to make a breakbeat."
"I think Fred was shocked when I told him," recalls Ahearn, "not only because we weren't record producers and didn't have a budget, but because the original breaks DJs were using were selected over an eight year period of early hip hop parties, so the idea of making new ones to stand-in for them seemed incredibly ridiculous." Despite Brathwaite's initial incredulousness, they decided to forge ahead with the plan. As Ahearn puts it, "We weren't trying to make a record – we were trying to make a breakbeat."
While Ahearn and Brathwaite were busily plotting Wild Style, the Pittsburgh-born drummer Ferraro had moved to New York City and began living in an East Village apartment with his childhood friend the artist Henry Benvenuti and a female singer who'd soon join Kid Creole And The Coconuts. Despite his sterling R&B roots, Ferraro found himself playing in upwards of 15 bands a week as he floated around the New York punk scene in a bid to pay his share of the rent.
The apartment was a creative hub: Jean-Michel Basquiat was among the artists who'd stop by to watch Benvenuti paint, and connections forged on the downtown scene led to Ferraro being invited to become the in-house drummer on journalist Glenn O'Brien and Blondie member Chris Stein's public access show TV Party. The studio setting was too small for a full-scale drum-kit, so Ferraro crafted an impromptu percussion module that involved him playing a piece of cardboard, a copy of a magazine, and two small cymbals with brushes. He was also fond of carrying out magic tricks on air, with one ruse involving puckering up to Debbie Harry for a "five minute Hollywood kiss." ("She has beautiful lips," he says now.)
Reflecting the close-knit nature of creative New York at the time, TV Party was filmed by Brathwaite. The two quickly bonded over what Ferraro recalls was Brathwaite's appreciation of the way he used the word "bad" in a similar slang style to the R&B singers he used to play with. So when Brathwaite and Ahearn decided they needed a drummer to commandeer the Wild Style breaks project, Ferraro was the first name on the list. "Freddy told me there was this thing called hip hop going on in the Bronx and Brooklyn," recalls Ferraro. "He played me some music and I realized it was all about the beat."
"I just had to leave my ego to the side and let the music be in control of me – it was like being triggered to play a beat, like a human drum machine."
With Ferraro on board to lay down the drum tracks, Ahearn and Brathwaite put their plan into action. First, DJ Grand Wizard Theodore would provide a tape of his favorite breaks to act as a template to inspire Ferraro to conjure up new drum lines. Looking back on the first day's recording session, Ferraro says he cut all of his two-minute grooves in one take: "I remembered that [the breaks] were all based off of '60s R&B and that's why it was so simple for me because I grew up like a little whiz kid playing with these stars. I just had to leave my ego to the side and let the music be in control of me – it was like being triggered to play a beat, like a human drum machine."
Ferraro's raw rhythms were then looped up, with David Harper adding basslines and Chris Stein embellishing the tracks with synth-guitar licks. "Chris loved gizmos and toys," says Ahearn. "He always felt he wished he could do more stuff with interesting guitar sounds with Blondie. So for Wild Style, he'd feel a melody potential in the drum and basslines and draw it out with his guitar and then add these effects on top of that."
Then came the third day's session, which involved Ahearn and Brathwaite mixing the tracks in a manner that Ahearn likens to a couple of mad scientist chefs busying themselves along a frenzied production line. "It was kinda like making a cake and we had all this stuff to add, like here's some strawberries and let's put some whipped cream in it. We were adding stuff as the music was flying by the mixing board, like an actual one-inch tape running through a machine and we're mixing while it's doing that." Part of the spontaneous additions included vocal samples from Ahearn's personal collection of '40s and '50s TV soundtrack albums, such as the barked order "Ready on the right!" that peps up the break that's become known as "Military Cut." (In line with the impromptu nature of the recording process, the tracks were originally unnamed.)
"Honestly, I'm not sure [Grand Wizard] Theodore understood what we were doing."
When they finished, the idea was to give vinyl copies to the DJs scheduled to feature in Wild Style and let them feel their way around the breaks, hopefully repurposing them in the same fashion as they'd spin vinyl from their own vault. After a short run of acetates were produced, Ahearn and Brathwaite went ahead and placed an order for 100 white label vinyl copies of the collection of breaks.
But if the recording process went according to plan, the second stage of the saga began with a splutter. "Honestly, I'm not sure [Grand Wizard] Theodore understood what we were doing," says Ahearn. Other pioneering hip hop figures reacted in a similar manner, with most skipping over the majority of the breaks and focussing on one track known as "Down by Law." Ferraro describes the song as "the one the girls liked to dance to when we did live gigs."
Despite the ensuing ubiquity of "Down by Law," Ahearn admits he was left disappointed at the reaction. "I thought there were at least four other songs that were really interesting," he says. Instead, barely half of the breaks were eventually used to soundtrack the DJing, MCing and breaking scenes in Wild Style, although those segments of the movie featuring Charlie Chase and Grandmixer D.ST have since taken up a hallowed place in the annals of hip hop.
"I think people got confused and thought they were some hidden breakbeats no one knew about."
Ahearn and Brathwaite's plan to fabricate brand new breaks might have seemed odd at the time, but the soundtrack quickly gained a mystique. Where did they come from? Which artists originally recorded them? Where could they be bought? "I think people got confused and thought they were some hidden breakbeats no one knew about," recalls Ahearn. "They were so hard to find no one knew where they came from." The release's white label status helped add to the allure: "In one way you could see it as an ironic statement but it wasn't ironic at all – that is what records looked like when you pressed them up and didn't have time to create a label," says Ahearn.
For the ensuing three decades, the speculation about the origin of the breaks and their scarcity has cast them as a crate digger's holy grail. (Ahearn says he's received many offers to purchase copies from his stock of three original pressings, but declined to name a figure.) Now the veil of obfuscation has been lifted with a re-release of the breaks via Kenny Dope's Kay-Dee label. "I was always intrigued by the breaks," says Kenny. "Even when some bootlegs appeared over the years, like the Simon Harris one [on Music of Life], they still had this mystery about them." He adds that while he doesn't own an original copy himself, he did come across one in the Sound Library record store but it was "off limits" and not for sale.
This new-found availability of the Wild Style breaks is something Ahearn hopes will remedy his personal disappointment that more artists didn't go on to use the breaks for their own projects. "I thought it was underused compared to what the potential was," he says, citing Nas's use of the ghostly "Subway Beat" to open his Illmatic album as the most notable example. Kenny Dope agrees, pointing out how there's "some funky stuff on there, so maybe this release will be a stepping stone to more artists looping them up for new music."