Daisuke Tanabe on the Struggles of Being a Full-Time Artist in Japan
The RBMA grad talks about his new album and the struggles of being an artist in Japan.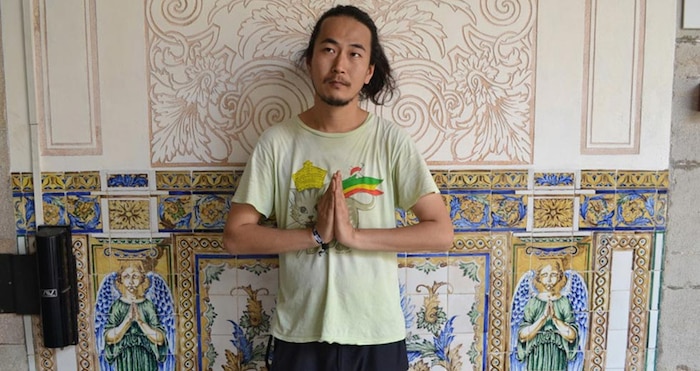 Daisuke Tanabe has been making music for more than a decade, yet it's only in the past few years that the Japanese producer and RBMA graduate started to really consider himself a full-time artist. "I thought I was half and half. I didn't know what it was to be an artist," he explains before alluding to the universal struggle that is the choice between living to work or working to live. "There was always a kind of fear that someday I'd lose everything I'd built with music and get..." He pauses, before solemnly adding, "...fucked, have nothing left."
Tanabe was born in the Hyogo prefecture in southern Japan and moved around the country during his youth, finally settling in the Chiba prefecture where he still resides today in Kashiwa City, a 40-minute train ride east of central Tokyo. The area is mostly flat, a patchwork of agriculture, industry and bedroom cities that stretches as far as the eye can see. Reflecting Tanabe's soft-spoken and reserved nature, it's within such quiet and rural settings that he creates, and where he also first came across electronic music. "I was 15 and one day my friend at school, who was really into music, told me about Aphex Twin. I listened to it, but it was really hard to understand. It was like chaos, it was a big shock. He's definitely an early, important influence."
After graduation, Tanabe went on to work as a graphic designer, believing this would be his life and that music might remain a side occupation, a hobby as the Japanese are prone to thinking. Things changed when he moved to London in the 2000s for a few years, with the goal to learn English. A friend introduced him to the underground world of weekend squat parties. The shock of the discovery fed into his own music-making, yet it would take one more jolt for Tanabe to shift from being a fan to believing he could be an artist.
During the same period another friend introduced Tanabe to CDR, a weekly event run by Tony Nwachukwu and held at Plastic People in East London. The premise of CDR is to offer budding artists the chance to have their home made music played on the club's legendary sound system in a supportive environment of creative camaraderie. "I got feedback from Tony and that was quite a culture shock. I had never had feedback on my music before, I just didn't share it with anyone."
The CDR experience also made the young Tanabe realize there was another side to the process of making music that he'd never accounted for until then. "Since CDR I've always thought about the audience, which I never did before. Things like whether or not they will like the music, or whether it will make people dance. I never really thought of other people in regards to my music."
Tanabe began releasing music through various small independent labels while still in London. The style that would come to define him emerged in the process: delicate melodies, solid bass, unusual and found sounds, and intricate rhythms that owe as much to dance music and hip hop as they do the technical noodling that gave us IDM. Most striking, though, is Tanabe's penchant for using and abusing higher frequency ranges. Sounds that may at first appear grating are subverted, and beauty emerges from a seeming mid and high range cacophony. While his time in London has given him an appreciation for the low end, Tanabe is at heart a high end enthusiast. "Some sounds have strong power, when you hear them for the first time they can give you a feeling, like happy or sad. I'm always thinking about the feelings sound can give you. I want to find feelings in sound and give that to people."
In 2010, Tanabe released his debut album, Before I Forget. The album solidified Tanabe's aesthetic, a fine balance between hip hop grooves, glitchy frequency manipulation and dub-wise energy, while also capturing a little of the zeitgeist of the times and placing him alongside contemporaries emerging from the '00s beat scene. This affiliation was further strengthened by his friendship with English producer Gerard Roberts (AKA Kidkanevil), whom Tanabe first met at the 2010 Red Bull Music Academy. Ultimately the pair cemented their musical kinship with the Kidsuke project in 2012, a dance floor-friendly blend of their own individual styles.
It was during the making of Kidsuke that Tanabe began work on his second album, Floating Underwater, which is released this September in Europe via Ki Records, one of his earliest supporters. Written over a period of two years and without any particular direction in mind, Tanabe accumulated ideas until something finally clicked. "I made the track 'Paper Planes' and it was similar to something else I'd made previously. I decided to use those as the starting point."
"I like sketching, it's relaxing and I don't have to think about the audience!"
From there, the album came together quickly with a focus on "more detailed" intricacies in the rhythms and melodies than anything Tanabe had previously attempted. To help translate this even further, Tanabe chose to have the album mastered by a close friend and fellow Chiba resident, Yosi Horikawa. He explains the choice as crucial to finding what he terms "a Japanese sound" for the album. "Our scene tends to be mastered so that the bass is louder, with more compression, like in the West. But when I heard Yosi's album, which he mastered himself, I felt the sound was soft. I wanted that." The music is completed by Tanabe's own visual touch, the cover drawing of a horse shot by an arrow is something he'd doodled years ago. "I like sketching, it's relaxing and I don't have to think about the audience!"
A recurring idea in many discussions I've had with Japanese artists over the years is the inherent difficulty in choosing a creative lifestyle in a country where individualism is discouraged and overworking is still the norm. "I still don't think being an artist in Japan is a good idea," Tanabe tells me half-jokingly when I first bring it up. "I think older generations don't necessarily understand the music or culture we are a part of. Some don't see it as art. And then there are younger people who think that artists have a good life, but they misunderstand the realities of it." Despite having performed in a few Japanese cities, Tanabe has never officially toured his home country, yet in the past three years he's toured Europe, Southeast Asia and Australia.
While the internet has freed Japanese artists from the constraints they face at home, connecting them to eager audiences in the West, there remains a gap between Japan and the West when it comes to creativity that's hard to quantify but easy to sense when you spend time there. This leads me to ask Tanabe if he thinks this year's edition of the Red Bull Music Academy in Tokyo will help provide some much needed discussions on the worth of its modern artistic heritage. "I'm hoping it will help change how people listen to this music," he replies before touching on the recent success of artists like Osaka's Seiho and the increase of discussion around club culture in light of the recent use of antiquated dancing laws to shut down night clubs and pacify the nightlife in cities around the country.
"I've never made music like this, it's like writing karaoke songs for a drummer."
A new album isn't the only thing preoccupying Tanabe at the moment. When we speak he is hard at work on another project: providing the musical backdrop to a tap dancing show by NYC-based Kazunori Kumagai, who discovered Tanabe's music through a friend. The solo tap dancing performance is set to take place in September at the Bunkamura Orchard Hall in Shibuya, a prestigious venue. For the past two months Tanabe has been writing music for the 70-minute long performance, which will also feature an African percussionist. "It's really interesting because tap dancing is like percussion, and I thought it was more classical. He's like a drummer almost, so I have to adjust my writing accordingly. I've never made music like this, it's like writing karaoke songs for a drummer."
Equally challenging for Tanabe is that he won't be on stage performing with Kumagai. Instead he'll be sat in the audience. "It's scary," he confides as I remind him of his CDR epiphany. "When I perform I'm always too busy to really pay attention to the crowd. For the first time I'm going to see how people react to my music. I'm not sure I want to be there."