Detroit to NYC: Underground Resistance at New Music Seminar
Imagine Jeff Mills, Terrence Parker, Mike Banks, Mike "Agent X" Clark, Bill "Billy Love" Beaver, Norm Talley, and Robert Hood all packed in a van en route to New York City's New Music Seminar, with Banks at the wheel, preparing to unveil Underground Resistance to the general public for the very first time. Then, imagine them partying at the legendary Limelight club, and getting into it with West Coast hip hop crew Da Lench Mob at a music industry trade fair. It actually happened. From the late '80s to the early '90s, techno pioneers from Detroit made a yearly trip to the New Music Seminar, where they helped spread the word about the burgeoning sounds from the Motor City.
"New Music Seminar was the precursor to the Winter Music Conference," says Mike "Agent X" Clark, a member of Underground Resistance and longtime Detroit DJ. "I originally started going in the early/mid-'80s because I was doing a lot of DJ contests." What Clark witnessed there was unlike anything he had ever seen before in Detroit. "I had gone to the first two or three [Seminars], and I saw cats jumping over turntables and licking the needles." Inspired, he wanted to get a group from Detroit together to attend. He reached out to his close friend Mike Banks, who – at the time – was putting the finishing touches on a new project called Underground Resistance.
Before the late '80s, Underground Resistance was merely an idea. Banks, who founded the Detroit collective along with Jeff Mills, got his start in a rock group dubbed Mike and the Mechanics. Things then transitioned into Members of the House, often known as just MOTH. Just like Underground Resistance, MOTH was an umbrella name under which several bands with interchanging members released music. But unlike UR, MOTH included singers who provided vocals, sometimes branching into very soulful, R&B sounds paired with house or techno. "I'm the second generation of MOTH," says Bill Beaver, one of the group's vocalists. "We brought Motown-style gospel vocals to techno. It was a live show – we were like the Temptations of techno."
MOTH helped shape the foundations of Underground Resistance in many ways. The sound, however, couldn't be more different: MOTH was a carefree, party sound, Underground Resistance was harder, more militant. In the late '80s, Banks and Mills had the concept for UR, but still hadn't debuted it. When Clark came to Banks with the proposal to travel together to New York, he figured it would be the perfect place to do so.
"I found out about the New Music Seminar from Mike Banks," says Beaver. "We were over there [at Banks'] cookin' up records. It was like a baby Motown situation. One day he was like, 'We're going to go to New York!' He had everyone pile into this van and we just went [with only a few weeks notice]. There were like 12-13 people in the van! I know I sat in the doorjamb all the way to New York. This wasn't a tour van; this was a regular work van."
Unsure of whether the first (full) group trip to the New Music Seminar occurred in 1990, 1991 or 1992, Clark believes it was right around the turn of the decade. "We [Banks and myself] posse-d a whole bunch of people: Terrence Parker, Norm Talley, Bill Beaver, Jeff Mills, Scott Weatherspoon, Raphael Merriweathers Jr. [and a few others]," he says.
Clark pauses for a moment to laugh as he remembers the drive. "We had a big huge van," he says. "We all pitched in for gas. I think Mike [Banks] was driving. We were debating on whether we were going to take the Canadian route or the American route to get there, and right before we actually made it to Manhattan, Terrence Parker got a phone call from his wife back then. She just had their baby, so we all celebrated."
The original New Music Seminar ran from 1980 to 1995. At its height, the NMS included early breakout performances from acts like Nirvana, My Bloody Valentine, R.E.M., Smashing Pumpkins, and Run–D.M.C. to name a few. Oasis had their debut US gig there in 1994, right before the release of Definitely Maybe. It was the spot to be discovered for emerging artists, with labels and A&R reps at every corner.
And that was exactly what everyone in attendance from Detroit needed: exposure. "The second time we went, we had an album to promote," says Clark. "[It was Underground Resistance's release with] Yolanda Reynolds, 'Living for the Nite,' which blew up [later]. That was the start of Robert Hood... we used to call him Rob Noise back then because he was a rapper. We were pushing all our [Underground Resistance] product."
While the newfound collective was gaining some spotlight locally in Detroit, their visit to the New Music Seminar was the first time the name "Underground Resistance" reached a broader audience. According to Bill Beaver, right before leaving for one of the first seminar trips, Banks actually printed the first batch of the now iconic Underground Resistance shirts, with the black background and bold white lettering – and the whole crew sported them.
Beaver says the shirts turned heads everywhere in New York City; people were constantly asking what "Underground Resistance" was. "We had our big UR shirts on and we were like, 'OK! We're here!'" he recalls. "Walking around with those shirts on was huge. The thing was, we didn't really want to talk about what [UR] was. If you knew, you knew. There was always this mystique about us. No showing faces, white labels; it really made an impact in New York."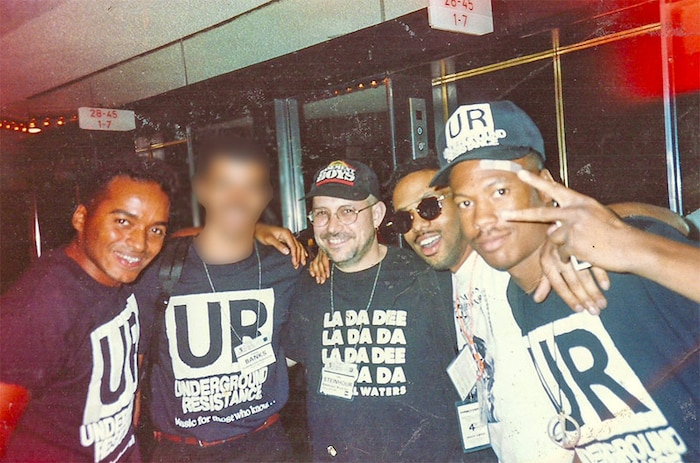 The West Coast hip hop group Da Lench Mob and its extended family, in particular, were curious about UR. "Ice Cube, Eazy-E, all them cats, first stepped into the scene [back then]," recalls Clark. "They were all California, Jheri-curled. We had a little booth at the seminar where we were selling all our [promotional] product. The cats came in and they were looking at it like, 'What's this shit right here, dawg? What's this all about?' You know, we had that militant thing about us in Underground Resistance. We were like the techno Public Enemy. Eazy-E and all them… I think they thought we were gonna look at them like we were scared.
"Somebody [in Da Lench Mob] said something smart to Mike Banks, and it kinda clipped him. Banks said something like, 'You know what? This stuff is for sale, and if you don't like it, you can put it down and keep walkin'.' They said something about being from California and we were like, 'We from Detroit!' And then they were like, 'Oh, y'all from Detroit? We heard about y'all, it's cool.'"
Clark also remembers seeing someone from Da Lench Mob briefly getting fresh with another group later that night on a balcony – and watching it go down with three very high-profile celebrities. "It was like a five-second clash," he recalls. "It didn't even mean anything, but it was all over magazines. It was in a hotel, up on a balcony. They [Da Lench Mob] came from one end, and other cats came from another end, and they all ran into each other and clashed, and then they dipped. When it happened, I was talking to Barry White, Vanessa Williams, and Sinbad."
"Back then, that seminar was the real deal," he adds. "You had celebrities and all kinds of music – New Wave, industrial. There were other styles, but techno wasn't happening. We were trying to push it." Nonetheless, Clark says that he "wound up hanging out with more of the hip-hop cats than anybody else," with Jazzy Jay, MC Hammer, and Ice-T among them.
Meanwhile, Beaver recalls meeting Kraze, Russell Simmons, Houdini, John Truelove and The Basement Boys, who had just recorded the now house music staple "Gypsy Woman (She's Homeless)" with Crystal Waters, an emerging name at the time. Waters, who headlined a 1991 New Music Seminar party at the Palladium, was one of many artists who debuted at the seminar's nighttime events called "New Music Nights."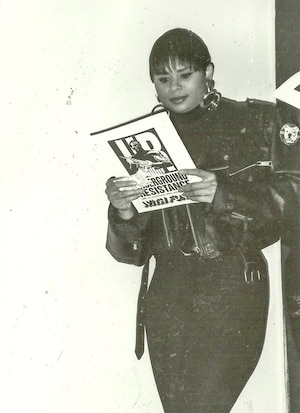 Perhaps the most memorable New Music Nights location for the Detroit gang was the Limelight, a club owned by NYC nightlife impresario Peter Gatien. "That place was too much," says Beaver of the church-turned-nightclub palace. "The sound system was impeccable. That was the highlight of that trip."
In the early '90s, Jeff Mills spun as Underground Resistance at the Limelight during New Music Nights. "People had their faces painted," recalls Norm Talley, who came along to New York to learn the process of putting out a record. "That was club culture back then… it was turning into rave culture."
But Mills almost didn't play. "I remember some guy was pushing Jeff Mills around," says Beaver, "and he was like, 'Jeff, you're going to have to wait. This guy is a superstar DJ and he's taking your spot.' Jeff was supposed to spin. [Our friend] Big White was the enforcer. I remember White almost threw the guy off the balcony, so we sent him back to his room. Jeff ended up spinning – he got right back on the booths and did his thing."
"At the end of the night, Jeff and White were offered jobs, and Jeff didn't come home with us," adds Clark. Thus began the start of Mills' famous Limelight residency that pushed his career to new levels. By 1992, he was spinning New Music Seminar afterparties at Limelight, but this time, Mills was in charge.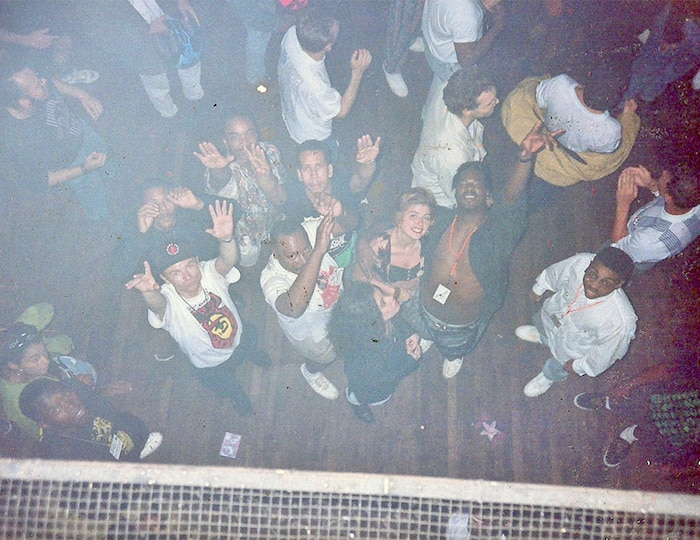 Aside from giving Mills a DJ home in New York, the New Music Seminar events were pivotal moments for the development of Detroit house and techno: they gave Underground Resistance the chance to be heard by industry professionals from around the country, and allowed emerging DJs such as Norm Talley an opportunity to learn about the music industry and the basics of promotion. Plus, the music industry connections made throughout these trips were crucial to building Underground Resistance into a name recognized around the world. What seemed to be a Detroit techno and house field trip of sorts was actually a major stepping-stone for over a dozen DJs who are now regarded as essential names in the history of dance music.
Header image © Rob Hood and Robert O'Dell