Make It Funky: The Rise & Fall of the Highland Place Mobsters
The unlikely story of the best '90s R&B group you've never heard of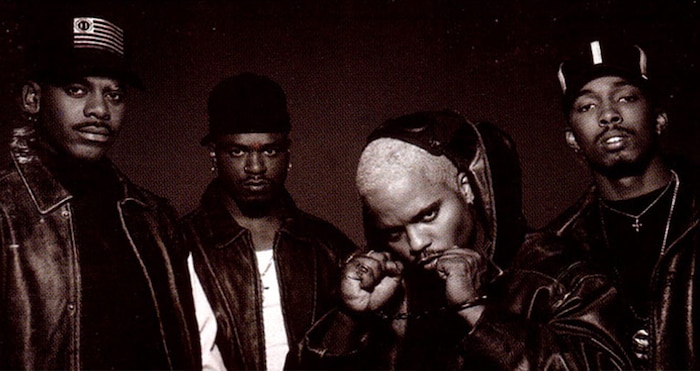 Years before Atlanta became the black music mecca it's known as today, producer Dallas Austin had a vision of becoming the next Prince. In the same way the purple wunderkind turned his hometown of Minneapolis into a promised land of musical opportunity for The Time, Shelia E., Vanity 6, and Mazarati in the '80s, Austin too wanted to create "revolutionary street music."
Back in the spring of 1992, Austin was a 22 year-old studio-whiz finally coming into his own as a producer. A skilled musician who'd been making beats and playing guitar since he was a kid growing up in Columbus, Georgia, the lanky teenager was given his break in 1989 when Joyce "Fenderella" Irby hired him to produce her first post-Klymaxx solo single "Mr. DJ," an up-tempo funk jam featuring Doug E. Fresh.
Irby, who recorded for MCA/Motown Records, signed Austin as an apprentice to her production company Diva One, which paved the way for him to make tracks for other MCA and Motown artists. "People don't even realize how much Joyce Irby contributed to the building of the early Atlanta music scene," says 49-year-old singer and Atlanta native Theophilus Glass. Coming from the notorious crime and heroin-saturated Georgia community known as "The Bluff," Glass remembers those early days well. "There were a few established artists like Cameo, Brick and Gladys Knight there in the '80s, but Irby paved the way for LaFace and So So Def."
Austin hadn't yet developed a distinctive sound, but he was soon behind the boards twisting knobs for the Michael Bivins-represented boy bands Another Bad Creation ("Iesha," "Playground") and Boyz II Men ("Motownphilly," "It's So Hard to Say Goodbye to Yesterday"). However, the year before those tracks were released, Austin worked on a new jack swing project called Glasswurk for the same label.
I was known around Atlanta as a thief, but I was also into music.
Glasswurk was a suit-wearing trio featuring Glass –whom the group was named after – and Derrick Culbreath and Melvin Davis. "Originally, I auditioned for another group called Brand-X," Glass says. Coming from the wild side of town, Glass had a bad reputation. "I was known around Atlanta as a thief, but I was also into music. I loved Prince, but when I auditioned, I performed the Cameo song 'Sparkle,' and Joyce loved it."
Glass got the job, but Brand-X fell apart a few months later before recording any material. Glass then played Irby and (Motown/MCA bosses) Jheryl Busby and Louil Silas a few demoed tracks he'd made with Dallas. Silas, who'd been instrumental in helping Teddy Riley, New Edition and Bobby Brown, sell millions, got excited over what he heard.
Unfortunately, their 1990 debut, The House That Glass Built, was a musically bland affair that lacked the aural innovations Austin would later display. After Busby abruptly left the label, Glasswurk was shelved and forgotten. Dallas Austin departed from Diva One and briefly contemplated leaving the music industry altogether.
Two important producers that remained impressed were instrumental in keeping Austin in the biz: In-demand producers Antonio "LA" Reid and Babyface (Kenny) Edmonds, who had started LaFace Records in 1989. Impressed by Austin's studio prowess, Reid and Babyface recruited the producer to their camp. Austin's first project for LaFace was writing and producing the majority of Ooooooohhh... On the TLC Tip in 1992. The girl group saved the label after the failures of newcomers Damian Dame (1991) and former Motown star Jermaine Jackson (1992).
"Dallas was a rookie, but LA and Babyface were able to bring the genius out of him," Lamont Boles, former LaFace head of Artist Development, says. "LA is a hell of a drummer and Babyface always had catchy hooks, and they passed that on to Dallas." A few months after the multi-platinum success of TLC, Austin came to the Glasswurk guys with a different blueprint.
Dallas Austin was inspired by the intensity of Nine Inch Nails, the psychedelic funk of Sly Stone and the trip hop of Massive Attack.
He asked them to shed their loud suits for cool street gear, and created new monikers for themselves: Derrick Culbreath, who also played drums, became Boo Boo, Melvin Davis went under the name Elocc, and Glass became the straitjacket-wearing Manic. Changing their name to Highland Place Mobsters, Dallas joined the band, playing guitar and keyboards, and began working on their second debut 1746DCGA30035. (The name came from the Decatur, Georgia address where they all lived in a section of town known as Highland Place.)
"Me and Boo shared vocals on every song," Glass recalls. "And [former Diva One artist] Debra Killings sang the backgrounds on each track." On the mic, their harmonies were tight. As for Dallas Austin, the former new jack swing copyist had metamorphosed into a sonic auteur inspired by the intensity of Nine Inch Nails, the psychedelic funk of Sly Stone and the trip hop of Massive Attack. Austin's arrangements became more adventurous, his lyric writing more poetic and, much like his spiritual godfather Prince, he possessed enough of a soulful sensibility to flavor his experiments with a combination of R&B boogie and crossover potential.
"Dallas also had a silly side," Glass states. "He was inspired by music he heard in cartoons like Felix the Cat and The Flintstones, or old ass science fiction movies." Austin also recruited musician/producer Randy Ran, who had worked with Jam and Lewis on Cherrelle and Alexander O'Neal albums, to assist. "We had recorded most of the album at Bobby Brown's studio and LA Reid's personal studio, which is now Usher's house."
A year before R. Kelly's defining 12 Play, three years before D'Angelo's genre-bending Brown Sugar, four years before Maxwell delivered his Urban Hang Suite, the Highland Place posse was attempting to do something different. Released on July 28, 1992, 1746DCGA30035 was far more ambitious than its predecessor. Coming at a time when soul was personified by acts like Next ("Wifey") and Jagged Edge ("Let's Get Married"), Highland Place Mobsters brought a whole new sound to the table. "I was always into music that was more aggressive. Whether it was the Sex Pistols, Bad Brains, Jimi Hendrix or Prince," says Glass. "I wanted Highland Place Mobsters on that vibe as well."
The month before the album's release, Dallas and I were having drinks on the mezzanine of the Paramount Hotel. "I use a lot of noise and street tracks," he told me. "They start out real street, and then I add a unique melody to try and make a great song. I always looked up to producers Quincy Jones, Jimmy and Terry, LA and Face, and that's what I aim for."
Guiding the fellows towards a Family Stone/Kool & the Gang/Cymande type groove with a touch of Jodeci in their beats and attitudes, Highland Place Mobsters were soon dubbed the "bad boys" of Atlanta. Performing and previewing their material at local venues, some were taken aback. "Atlanta was a very different place back then," Vanessa Levy, former director of promotion for LaFace, says. "Hip hop hadn't exploded down there yet, so people were much more reserved vibe. When they heard that LaFace had a new male group, they expected men in suits and shoes, not these guys wearing jeans, gun holsters and Timberland boots."
When people heard that LaFace had a new male group, they expected men in suits, not these guys wearing jeans, gun holsters and Timberland boots.
That year, as a writer for various magazines, I was living with publicist Lesley Pitts, who worked for LaFace Records. Lesley, who started at the company doing press for TLC, worked in conjunction with the parent-label publicist Audrey Lacatis. Returning to our apartment one evening, Lesley tossed me a cassette tape and simply said, "I think you might like this." Looking at the name of the group and the album's title, I was puzzled. "Whatever this is, it has the worst title ever," I snapped. "What the hell does that even mean anyway?" Lesley laughed. "It's Dallas' new project," she replied, which was enough for me to give it an immediate listen.
Although I hated the title as well as the artist's pretentiously dubbing their sound "revolutionary street music," I fell hard for 1746DCGA30035. It opened with a chaotic introduction that sounded as though they were leading a rebellion through the streets as whistles blew, guns were fired and a voice sang, "We live in confusion." They embraced pro-Blackness anthems ("Dirt Road White Girl," "Black People"), silky balladry ("Ho of My Own," "Take a Dip"), and funky sexuality ("R U Freaky," "N.A.K.E.D.") equally.
While the first side of the cassette featured their harder-edged tracks, the second side had a more traditional mackadocious, slow dancing under a red light bulb vibe. From the brokenhearted Stevie Wonder tribute of "Catalogs of Lost Love," which was co-written by Glass, to the soulful yearning of "If You Stay," vocalists Boo Boo and Manic could be sweet as Keith Sweat while still maintaining an edge.
Still, while the liner notes acknowledges that Glass co-wrote "Catalogs…" and "R U Freaky," he claims that his illiteracy kept him from getting proper credits on other songs. "I would freestyle the lyrics in the studio, and Dallas would get someone to write them down on paper." Executive producers LA and Babyface contributed the buttery "Ho of My Own" to the project. "We were in the studio talking about girls, and I was telling Babyface about my hoes. As a joke, he said, 'I gotta get a ho of my own.' He wrote the song that night."
But the lyrics on 1746DCGA30035 often went deeper than that. The first single was "Let's Get Naked," but Austin told me that it was "meant to be taken both literally and figuratively. It can mean strip off your clothing or it can represent a freeing of the mind." With Austin's hypnotic percussion and Boo Boo's compelling vocals, I predicted that the song would be a hit. I was wrong. Peaking at #55 on the Billboard charts, I later learned that black radio was hesitant to play the record because of its title.
The following month, Lesley and I flew to New Orleans for the Black Radio Exclusive convention. Hosted at the Sheraton Hotel from May 20 to the 24, Highland Place Mobsters were set to play for programmers, press, and other music industry folks on opening night. Music scribes Nelson George and Frank Owen were in the audience, while I stood next to the excited LaFace crew.
From the moment Highland Place came on backed by a band, their energy level was high. The young men stalked across the stage as though they were the second coming of the Bad Brains. For some reason, Manic got the bright idea to stage dive as though moshing was an R&B thing. He picked a bad spot to dive, colliding head on with a young woman who was with Dr. Dre and the Death Row stable.
Dallas liked saying he was street, but the Death Row guys were really street, and they had the LaFace team nervous as hookers in church.
"It was crazy," Lamont Boles, former LaFace head of Artist Development, remembers. "The girl got a concussion and had to be rushed to the hospital. After the show, there was an emergency meeting in our suite while Death Row was milling around downstairs. We told them we would take care of all medical expenses, but they were still plotting to do them harm. Dallas liked saying he was street, but he wasn't really street. The Death Row guys were really street, and they had the LaFace team nervous as hookers in church."
After recruiting New York hip hop legend Red Alert talk some sense to the Death Row crew, Boles moved the LaFace tour bus to the service entrance of the Sheraton as he snuck LA Reid, Babyface and Highland Place Mobsters onto the vehicle for a midnight ride to Georgia. "My only goal was to get them out of there," Boles laughs. "I stayed behind, and the next day Dre and them was still talking mess, but the LaFace folks were already home."
"Let's Get Naked" didn't make any noise at radio, so Arista demanded that a second single released quickly. While LA Reid and Clive Davis wanted to release the radio-friendly ballad "Take a Dip," Dallas choose to release the controversial "Dirt Road White Girl." The track was meant to be pro-black women, but many took it to be anti-white women. "LA Reid didn't want any part of it," Boles says. "He was against it from the beginning. There was a label conference coming up, and Dallas was supposed to present Clive with the idea of making 'Dirt Road White Girl' the second single, but he never did. Instead, he tried to force it by producing the promotional clip himself and circulating it to various video channels."
The futuristic looking clip was stylistically interesting, but the imagery of the "dirt road white girls" dressed like whores and black girls clad in African garb doing tribal dances and painting their faces was condescending to both races. "When you're talking about white girls like that, it's hard to get the white men from the label to work your record," says Boles. When Clive Davis offered to give the group another budget to make "Take a Dip" instead, Austin refused. "Dallas got too cocky too quick and Clive shut it down."
With 1746DCGA30035 no longer a going concern at the label, Highland Place Mobsters drifted apart. Boo Boo began singing backgrounds for Bobby Brown, Elocc drifted from the scene and Dallas Austin went on to major hit-making success constructing tracks for Madonna, Janet Jackson, Duran Duran, Pink and Grace Jones. In 1999 Austin won his first Grammy for his work on TLC's third-disc FanMail.
When you're talking about white girls like that, it's hard to get the white men from the label to work your record.
Meanwhile, Manic went back to The Bluff where he sank into depression and drug addiction. Arrested in 1996 on drug charges, he spent 12 years in prison where he learned to read and write beginning in 1999. Currently living with his mother, Glass still performs occasionally. "I might be living at home now, but I've owned condos and stayed in nice hotels," he says. "When Highland Place Mobsters played that show in New Orleans back in '92, Clive Davis told me I had what it took to be a star, but I just didn't take myself seriously as a singer. I never thought I was talented, I just thought I was just making a joyful noise."
Future LaFace group A Few Good Men remade "Take a Dip" in 1995 and P-Funk leader George Clinton covered "Black People" the same year for the Panther soundtrack, but nothing more was heard from the Highland Place Mobsters. "I've been scarred by this music shit, betrayed by people I thought were friends, but I'm still proud of the work I did with the group," Glass says. "The Holy Spirit gave Highland Place Mobsters the message, and we just made it funky."