Silvana Imam: The One Who Stands Out Front
Meet the lesbian, feminist, and anti-racist Swedish rapper that has taken the Scandinavian country by storm in the past year.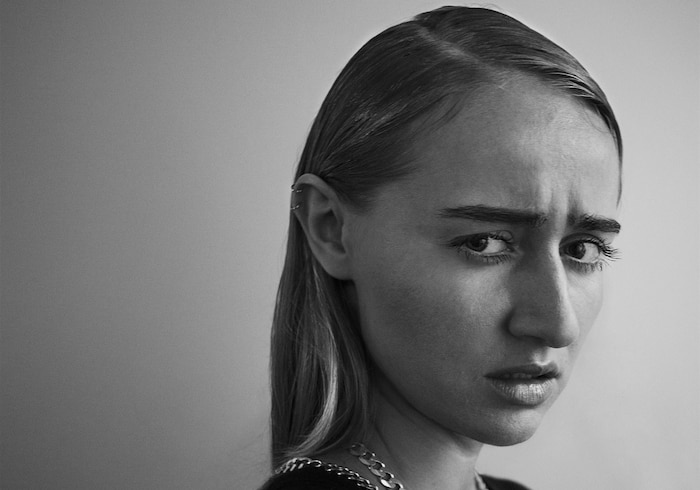 At a recent anti-Nazi rally in Stockholm, amongst all the signs one stood out. Literally translated from Swedish it says, "You say my love is a crime, I say you have a really thin dick, go and kiss your fucking swastika." It's taken from the song "Imam Cobain" by Silvana Imam, a lesbian, feminist and anti-racist rapper that has taken the country by storm over the past year.
"I want to do something new and progressive, that has never been heard before," Silvana says. "If you listen to, for instance a Drake song, it's accessible. It's something you already know and you know how to move to it. When you listen to a song by me, you don't really know how to move it to it, what comes next, if I'm going to rap or start to dance. For me it's really important that both the music and the lyrics are progressive. Swedish hip hop is quite homogenous. It's good music, and you know how to move it to it. But for me personally it's not interesting to do that kind of music."
"When you listen to a song by me, you don't really know how to move it to it, what comes next, if I'm going to rap or start to dance."
With a communist father from Syria and a politically conscious mother from Lithuania, socialism was very much a part of her upbringing. But when Silvana's parents spoke of poverty and injustice, it came off as boring. When she heard The Fugees at age seven – and found out about Xzibit on a trip to New York as a nine year old – it all made sense. The way The Fugees talked about politics and Xzibit's mixing in of classical elements on "Paparazzi" got her hooked. Classical music and the Lebanese singer Fairuz was being played at home. To mix genres and add conscious lyrics to great beats became a whole new way for Silvana to look upon music and the world.
Initially, she called herself Silvana Solo, but changed it to her given last name, Imam. (In Arabic, Imam translates as "the one who stands in front," and is a religious leader or expert in Islam.) She's labelled a Swedish hip hop artist, but it is probably more accurate to call her a rapper who raps over different music. She listens to everything – from Drake and Jay-Z to Antony & The Johnsons, CocoRosie, Banks and Swedish indie pop acts Håkan Hellström and Kent. On one track from her debut album, Rekviem, you could hear her rapping deep, personal poetry over church bells. Her latest EP sees her referencing Simone de Beauvoir, Valerie Solana and the Swedish feminist party leader Gudrun Schyman.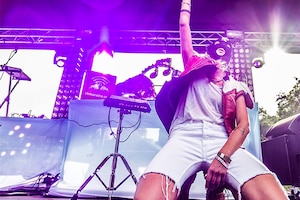 As you might expect, her shows are hardly conventional. In a mask and a sort of superwoman outfit she enters the stage with her fist in the air. One critic described it as "the wildest and most punk rap show I've ever seen." I saw her performance at Way Out West Festival drive a man to tears. Either way, it's not music that can easily be ignored. Everybody who has heard her – even the ones who don't like it – seem to agree that she's got that "something." The rest of the world seems to be catching on to as well. Even though she raps in Swedish, the latest single "Imam Cobain" has gained higher numbers of listeners in the United States on Soundcloud than in Sweden.
It's a far cry from her first performances at house parties, where she'd rap her own verses written the night before over Drake and Jay-Z instrumentals. Nowadays, Silvana works closely with the management team and record label, Respect My Hustle, based in Stockholm. With their support, Silvana now sees no boundaries.
"Often girls come up to me and say 'you got me into hip hop.' That's one of the biggest compliments I can get. I have opened their eyes and broadened their mind to what rap can be. Hip hop has been, and still is, stereotypical and narrow-minded. But it doesn't have to be. I have understood the impact I can have, and that's a beautiful thing," says Silvana.
"In the beginning, I fought against becoming a lesbian role model. But I realized there was lacking one in Sweden. Then it's my call to be one, because that is exactly what I needed when I was 15. If I had had myself when I was 15, I would have been the best in the world by now. The title of my EP När du ser mig, se dig (When you see me, see yourself), means I want to make you feel strong and great. It's not about me, it's about you. Sure, it's my bars that are awesome, but you, not me, are the truly amazing one! It's meant for you, so that you can feel good about yourself walking to school holding hands with your girlfriend, or to help you cope when a man suddenly touches you against your will."