Souls Of Mischief: Eclipsing The Infinite
The Oakland crew talks about the legacy of their greatest album and the new record that was inspired by it.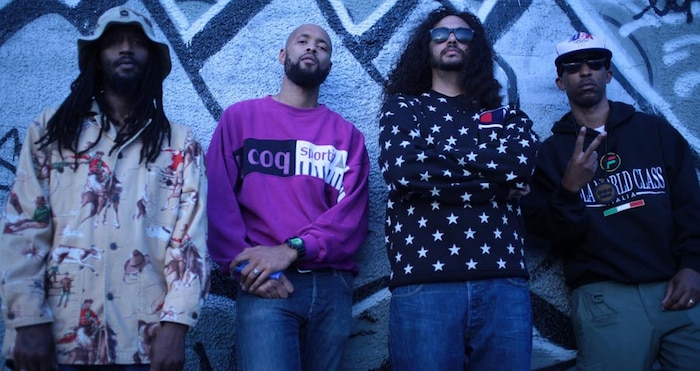 There are moments in your teens when infinity seems tangible. Moments when the illimitable moves from temporal abstraction to something you can drink from frigid 40s and inhale from the fattest stog you've ever seen. Moments when time's pendulum is a baseball bat emblazoned with your crew's logo, swinging at all bunk crews who lack the capacity to chill. But eventually the high from ruler-length blunts no longer inspires cerebral sojourns to Maui and beyond. The future rapidly becomes the present, and the belief that you and your art are infinite is written off as adolescent delusion.
Yet, on a humid September evening in downtown Los Angeles, Opio, Tajai, and A-Plus, three-fourths of Oakland rap group Souls of Mischief (Phesto is in Oakland) are still faced with infinity, their once seemingly audacious youthful proclamation now two decades closer to actuality. Seated on a couch inside Adrian Younge's Artform Studio – a small but thoughtfully stocked record store that doubles as a barbershop – their conversation with another interviewer inevitably moves from their latest album, the Younge produced There Is Only Now, which they're celebrating with an in-store meet and greet/Q&A, to their 1993 debut, 93'til Infinity.
Souls Of Mischief - 93 'Til Infinity from Derrick Stewart on Vimeo.
While 93'til Infinity only turned twenty this time last year, its place in the rap canon has been cemented since The Source named it one of the "100 Greatest Rap Albums of All-Time" in 1998. Prized both for its percussive, jazz-inflected beats and the group's kinetic, intricate and intelligent rhymes, the album is perhaps more widely recognized now than ever before. For evidence of its influence and perennial impact, you need only look to reinterpretations of the title track by everyone from Kanye West and J. Cole to Freddie Gibbs, Big K.R.I.T., and Joey Bada$$.
Despite granting innumerable interviews pertaining to 93'til Infinity for most of 2013 (and pretty much their entire career), the group still approaches all predictable questions from a markedly humanistic perspective, one that acknowledges each interviewer's inherently nostalgic attachment to their earliest work. "It's not like it's the same person asking the same questions over and over again," Tajai says during our interview, pausing to carefully crumble nuggets of Bay Area bud and roll a joint. "That would be tedious."
Unfortunately, many rap fans' fascination with Souls of Mischief rarely extends beyond 93'til Infinity. Finding effusive praise for the group's well-intentioned but creatively thwarted and under promoted 1995 follow-up, No Man's Land, is as unlikely as Paramount clearing the Bob James sample on their forever unofficially released song "Cab Fare."
Still, those who've followed Souls of Mischief know the group has remained far from dormant. Since 1995, they've released four independent albums and three albums with Hieroglyphics, the Oakland based hip-hop collective they helped found and now annually celebrate with Hiero Day, a rapidly growing grassroots music festival held on the collective's mayor-decreed holiday in their home city. They've also toured incessantly year in and year out, both perfecting their skills and strengthening already deep brotherly bonds. "There's never been a time where, even if we worked on other projects, Souls of Mischief was not active," Opio says, the few stray gray hairs peppering his thick, springy mane the only betrayal of his 40 years of age. "We are family."
"There's never been a time where, even if we worked on other projects, Souls of Mischief was not active."
Souls of Mischief's constant recording and time on the road spared them from the diminishing returns of the reunion tours that many of their '90s peers have been relegated to. However, by 2013, the tight-knit family still hadn't matched the success of 93'til Infinity. Like The Pharcyde before them – and innumerable rap groups after – their debut casts an ever-darkening shadow over their later work. When recording There Is Only Now, their first group album in six years, they hoped to move out from under that shadow. To do so, they had to go back in time.
In hindsight, Adrian Younge was the perfect Doc Brown to Souls of Mischief's Marty McFly. A multi-instrumentalist composer/producer whose early affection for albums like 93'til Infinity led him to the music his favorite hip hop artists sampled. Funk, psychedelic soul, jazz – name the genre and he's probably managed to flip it for those who hold the words "boom" and "bap" sacred.
Though Younge had always been a fan of Souls of Mischief, it was A-Plus who reached out to him about making an album. "If he was an [older] artist and we stumbled across one of his records in the crates – it's ridiculous how much you can sample off of there," A-Plus says of Younge's music. However, for still inexplicable reasons, any and all plans of working together floated in the ether for close to a year.
Then, in late 2012, as Younge put the finishing touches on his collaborative concept album with Wu-Tang Clan's Ghostface Killah, he and A-Plus picked up where they left off. "It was our first time talking on the phone, but we talked as if we knew each other for a long time," Younge says. The day following he and A-Plus' initial phone call, Younge spoke with the rest of the group. Almost immediately, he sensed their unifying but previously unspoken aspiration. "I personally felt that they wanted to go back to that time when they had arguably their best album, which is 93'til Infinity," he explains. "I just felt the fire in their voice."
The notion of setting the album in 1993 worked well for Younge, who prefers to craft every album with an overarching concept in mind. "When you give an artist a concept it allows them to be a little more focused," he explains. "Plus, [Souls of Mischief are] such good storytellers that I felt that it could push something out of them artistically."
Younge asked the group to recall any major events that happened to them in and around 1993. Before long, Opio remembered an ill-fated night in a San Francisco parking lot. As the group chilled with fellow Hieroglyphics member Domino, a man in ski mask ran up to Domino and fired a gun at his face. Turning just in time, he narrowly evaded being shot in the face. This true and surrealistic story, which is told in its entirety on album opener "Time Stopped," laid the foundation for the group to craft the rest of the largely fictional narrative.
Recording live on two-inch tape at Younge's studio, the Souls of Mischief's biggest challenge was not rapping over the intricate, ever-changing productions Younge greeted them with every time the met. Instead, it was shuttling back and forth between Oakland and Los Angeles. Over the several months that they recorded, each member drove or flew to Los Angeles for as many days as they were able. Sometimes they stayed for a week, other times they only stayed for a day. Nearly every waking, and non-waking, hour was spent in the studio. "…We all have pictures of one another sleeping [in the studio]," Younge says. "We were so comfortable with one another that we could work 24 hours."
These marathon-like recording sessions also ensured each rapper's verse stuck to the treatment they and Younge created. "You couldn't jump ahead and write some raps while you were waiting or skip on to the next song. We wrote it in order because each person writing had to know what just happened," A-Plus explains. "It was almost like we were sitting around writing a novel or a movie script."
"It was almost like we were sitting around writing a novel or a movie script."
Thankfully, the novelistic plotting, the constant coastal treks, and the exhaustive recording paid off. There Is Only Now is arguably the group's best album since 93'til Infinity. The story moves seamlessly from the initial shooting to a multi-layered narrative that becomes increasingly complex as the album progresses. As a kidnapping, a love story, and a revenge plot unfold from the perspectives of various story characters (i.e. Womack, played by Busta Rhymes) and featured rappers (i.e. Snoop Dogg), A Tribe Called Quest's Ali Shaheed Muhammad ties each twist and turn together with radio announcement breaks a la The Warriors. Yet, more important than plot cohesion is the fact that Opio, Tajai, A-Plus, and Phesto sound as energized over Younge's singular blend of banging beats and dark, brooding jazz as they did over Billy Cobham samples in 1993.
After our interview, Opio Tajai, and A-Plus rap along as There Is Only Now plays out of the Artform Studio speakers, their collective pride in the album plastered across their smiling faces. Before and after the Q&A, fans of all ages arrive to meet the group. The trio greets each one with appreciative and affectionate handshakes. And while they sign a number of vinyl copies of 93'til Infinity, they sign nearly as many of There Is Only Now. The next day, they'll perform the album live with Younge and his band Venice Dawn. When asked if an official tour is in the works, A-Plus is understandably reserved. "There's nothing etched in the books just yet, but that's certainly our plan," he says. "Who knows what we'll do next." For now, Souls of Mischief have made the album they always needed to make. They may have not eclipsed the infinite, but they're no longer in its shadow.