XXL's A Great Day in Hip Hop: 16 Years Later
Michael A. Gonzales takes a look back at the circumstances behind one of rap music's greatest magazine covers on its 16th anniversary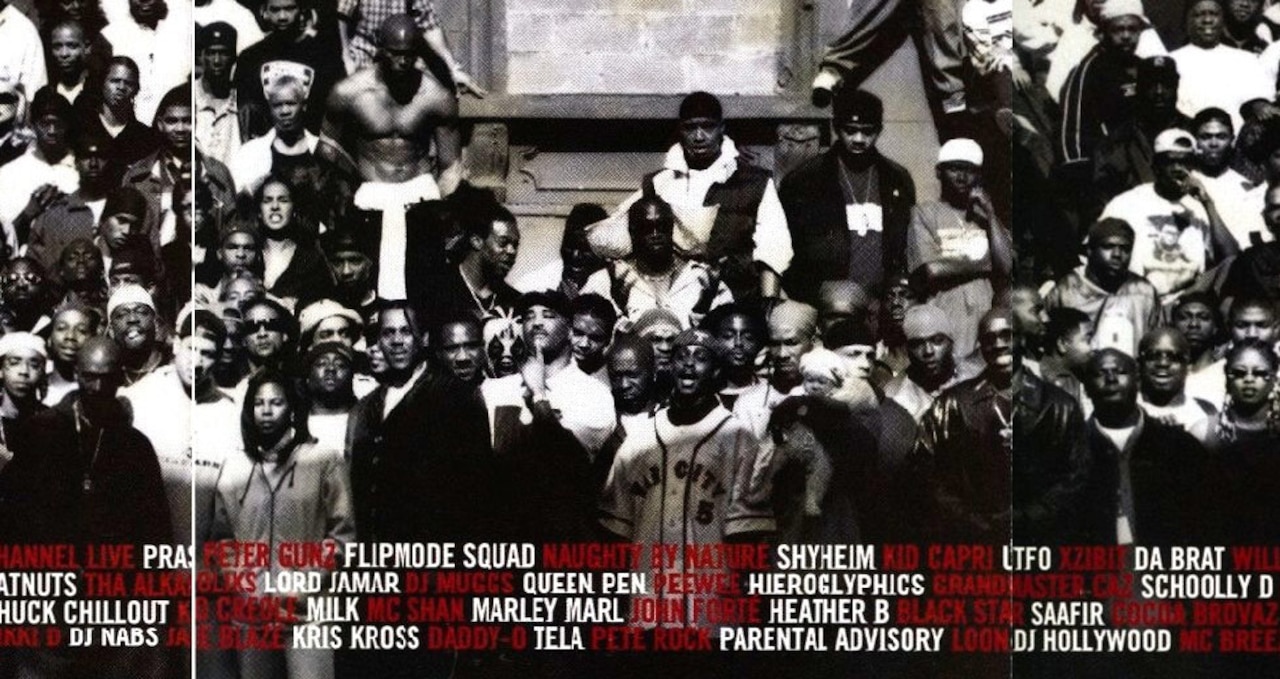 Back in 1991, when I was in my late 20s, I was good friends with a talented photographer named Alice Arnold. A short white chick from California, she knew more about jazz than most black people our age, including me. Alice schooled me on the design of classic Blue Note album covers, the music of Charles Mingus, and the pictures of various photographers.
One evening, while chilling in her Lower East Side apartment, she asked me if I had ever seen Art Kane's photograph "A Great Day in Harlem." Although I'd been raised on those uptown streets, I was ashamed to admit that I had no idea what she was talking about. However, when Alice showed me the reproduction of Kane's picture, I realized it was the same image I'd seen for years in Harlem barbershops, bookstores, and record shops.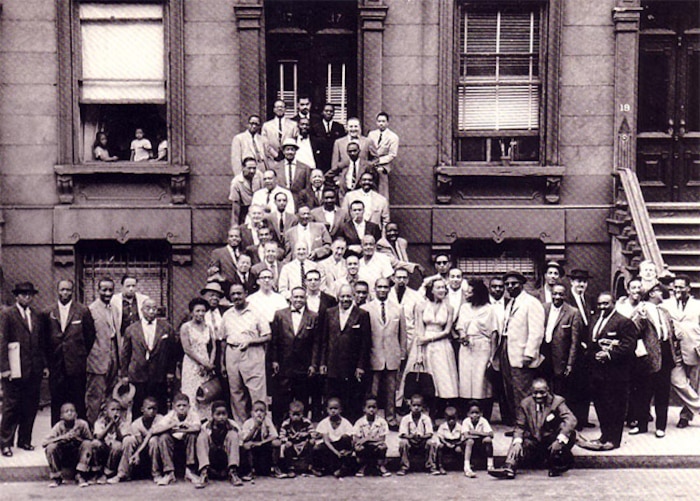 "It was originally shot for a jazz issue that Esquire did in the late '50s," Alice explained, passing me the print. Staring closely at the picture, I recognized a few of the legends posed in front of the Harlem brownstone. There was Dizzy Gillespie sticking out his tongue, Count Basie sitting on the curb with a bunch of kids and my favorite wild man pianist Thelonious Monk looking iceberg cool in his white jacket.
I knew how hard it was to get one artist or group to a photo shoot on time, let alone getting a bunch of rappers to show up on some Harlem block in the middle of the day.
Still, while I was aware of the picture, I knew nothing of its deep history until three years later when former radio producer Jean Bach directed the Academy Award nominated documentary A Great Day in Harlem. Chronicling the day that the photograph was shot, she incorporated archival photos and Super 8 footage that had been shot by bassist Milton Hilton's wife, Mona. While everyone involved, with the notable exception of perpetually grumpy Charles Mingus, seemed to be having a blast, there was no way they could know that the photo would become a lasting artifact that continues to inspire musicians, jazzbos, and photographers.
Forty years after the photograph was shot, my girlfriend Lesley, who had recently opened her own publicity firm, came home excited one evening and told me about a meeting she had that afternoon at Harris Publications, the parent company of the rap magazine XXL. Under publisher Dennis Page and editor Sheena Lester, the year-old magazine had been holding its own alongside The Source and Vibe, its two main competitors. "XXL wants to do a remake of A Great Day in Harlem photograph except with rappers," Lesley said, "and they want me to work with them to do it."

"You can't be serious," I snickered. Having written about hip hop culture for years, I knew how hard it was to get one artist or group to a photo shoot on time, let alone getting a bunch of rappers to show up on some Harlem block in the middle of the day. Realizing that she wasn't joking, I reeled in the snark and remained silent. Flopping down on the couch, I thought about how my friend and respected cultural critic Harry Allen had defined "hip hop as the new jazz" in The Village Voice a decade earlier. Although at time I didn't really understand what Harry was talking about, I was drawn to the historical poetics of the line itself.
However, when Lesley mentioned XXL's plan to photograph the hip hop generation in the same spot, it all began to make sense, at least in my mind. Like jazz, hip hop had come from the bottom of the popular culture heap. Although jazz was once, as essayist Michael Molasky put it, "the music of choice for aspiring artists and intellectuals with an anti-authoritarian bent," by 1998, hip hop had replaced be-bop as the soundtrack of artistic rebellion.
"So," I asked Lesley, "who are they going to get to shoot it?" She stared at me blankly, shrugging her shoulders. "Maybe they should try to get Gordon Parks." As soon as I'd said the name, Lesley smiled and her eyes got bright. At that moment, Parks – the pioneering black photographer who also directed films (Shaft, Leadbelly) – had been in the public eye constantly. The previous year, there had been a career retrospective at the Corcoran Gallery of Art in Washington D.C., as well as a documentary on HBO about his work.
However, as Sheena Lester would later admit, getting Parks to agree to the project took some convincing. After turning down XXL twice, Lester appealed to Parks' artistic ego. "I told him, not only do we want you to take this picture, we believe that no one else should take the picture." Finally, Parks agreed.
For the next few months, Sheena and Lesley, along with their respective staffs that included deputy editor Miles Marshall Lewis and publicist Biff Warren, worked diligently towards the shoot date of September 29. Contacting artists, making numerous trips to Harlem, and obtaining permits became a daily endeavor.
For some reason I had already decided that I didn't want to attend. In my mind, the whole was going to be chaos and I wanted nothing to do with it. But the morning of the photo shoot was one of the most beautiful of the year. Sunshine streamed through the first floor windows inside our Chelsea apartment as the chattering weatherman on The Today Show claimed that the temperature high would be 71 degrees. Shortly after Lesley left for the day, I somehow came to my senses and realized that I was being foolish. As a journalist and hip hop historian, I knew if I weren't there for the picture, I would regret it for the rest of my life.
As a Harlem boy born a few blocks away from the brownstone where Art Kane shot the ensemble of jazz musicians in 1958, I knew firsthand how much the community had changed in the 40 years since the original picture had been taken. The neighborhood had been through riots, blackouts, heroin, and the crack years.
It was a blessing; I'll never forget that day.
Getting out of the taxi in front of 17 East 126th Street, I wasn't surprised to see that one of the brownstones was sealed up, with the windows and doorway bricked closed. Seeing Lesley talking with the head of the Fruit of Islam security, I stood to the side, wondering why the street was so empty. "I thought you weren't coming," Lesley said, kissing me on the cheek. "I was afraid I might miss something," I laughed. "It's 11 AM. Where is everybody?" Pointing to a massive church on the next block, Lesley explained, "That's where everybody is staying until it's time to take the picture."
Walking down the street to Metropolitan Community Methodist Church, I was suddenly overwhelmed by the excitement of the moment. Already I could see Kool Herc, members of the Wu-Tang Clan, Russell Simmons, Grandmaster Flash, Kool Keith, Pete Rock, and The Roots. Walking into the church's basement, I saw more familiar faces, including Fab 5 Freddy, A Tribe Called Quest, Fat Joe, Debbie Harry, MC Serch, and countless others. "Everybody stopped what they were doing to be here today," Wyclef Jean observed. "That is the power of hip hop."
Over the next couple of hours folks begin to gather, often greeting one another like long lost relations at a family reunion. Blondie producer/guitarist Chris Stein asked writer Amy Linden to introduce him to Mobb Deep. Media assassin Harry Allen was smiling widely, calling out to Daddy-O. Big Gipp from Goodie Mob was chatting with Busta Rhymes. "I don't think society thought we would make it this far," said Queen Pen, one of the few female rappers to show up. "I think they thought we were going to come in like a fad and leave."
With all the commotion, chatter, and conversation in the basement of the church, I drifted outside where the street was covered with publicists, writers, Fruits of Islam members, friendly cops, and loads of artists. Like the old school rap fan that I was, I got excited when I saw DJ Hollywood, Rakim, and Slick Rick.
At some point, Gordon Parks showed up and the rappers and other folks started moving towards the next block. As Russell Simmons and Nelson George helped direct the crowd of over a hundred artists to move towards the three doorways, I went and sat on the stoop behind where Parks was preparing. Rhyme legend Rakim told me years later, "Earlier, I had sat down and kicked it with him. Then, I just stood around and listened to him talk and watched as people showed him love. I just wanted to stand by him, bro. It was a blessing; I'll never forget that day."
While most people knew who Gordon Park was, I wondered if they understood that the soft-spoken and cultural warrior who had snapped shots of Malcolm X and Grace Kelly, was a regal fighter from Fort Scott, Kansas who had also come, much like themselves, from nothing, and shaped himself into an icon. Though separated by more than a few generations, Parks understood these "kids," knew their pain, shared their desire to be heard and seen by the masses. Parks recognized that these new jack revolutionaries had selected rhymes and rhetoric, turntables and technology as their "weapons of choice" in the same way he had chosen the camera.
Suddenly, people started clapping loudly. Turning around, I saw rapper (Reverend) Run, formerly of Run–D.M.C., walking up the street, just in time. As the rowdiness soon turned to calm, a strange hush came over the block. As Harry Allen said earlier that great day, "What this says is what I've always believed, is that black culture is a continuum of black people: of our will, of our will to live and to be heard. That is what today represents. Everybody is going to get together for one picture and what it says is, 'I was here, these are my brothers and sisters and this is what we did. We changed the world.'"
Looking at the scene across the street, the three stoops covered with hip hoppers from the East, the West, the South, and everywhere in between, I experienced a sense of pride I still can't describe. Home on the streets of Harlem, I truly felt as though I was part of that collective dream known as hip hop, and that afternoon was truly a great day. Seconds later, Gordon Parks took the shot.