The Birth of Hip Hop in Japan
"I was in Tokyo and doing a show with an old Japanese friend of mine, DJ Krush, and some new folks on the block, Anticon, young white kids from Middle America. They were doing a collaboration with Krush, a piece called 'Song for John Walker' – the suburban kid who joined the Taliban. Needless to say, the backstage vibe was all about dialogue and we were all just kicking it. Krush's wife walked in and handed him a samurai sword before his set, and everyone in the room was... ummm... kind of silent. In a moment like that, the strangeness (strange-mess) of global culture, hip hop, and of operating as a DJ on a global level crystallized before my eyes." - Paul D. Miller, DJ Spooky, Rhythm Science
Hip hop in Japan spread in the same way as it did in America – through all facets of popular culture. For instance: The man regarded today as the godfather of street fashion, Hiroshi Fujiwara, was an important DJ at the birth of hip hop, while Nigo, the designer behind A Bathing Ape, was a founding member of the hip hop group Teriyaki Boyz. The hip hop and fashion world are interlinked: the designer of Phenomenon, a Japanese label that made the cover of the country's leading fashion industry journal in 2010, was a rapper in one of the most important hip hop groups of the '90s, Shakkazombie.
Meanwhile, starting in the '90s, music made by hip hop musicians and producers was used to reinforce the themes of popular anime shows like Tokyo Tribe 2 and Samurai Champloo, while the first hip hop radio program in Japan, Hip Hop Night Flight, was made possible by the lobbying efforts of the late manga artist Yutsuko Chusonji, whose own works referenced hip hop culture. One of the most important albums in early Japanese hip hop history? Constructive, recorded by Tinnie Punx (Hiroshi Fujiwara and Kan Takagi) together with Seiko Ito, a cultural figure who works as an artist, novelist, TV presenter, and continues to produce music from an MC-like position even today.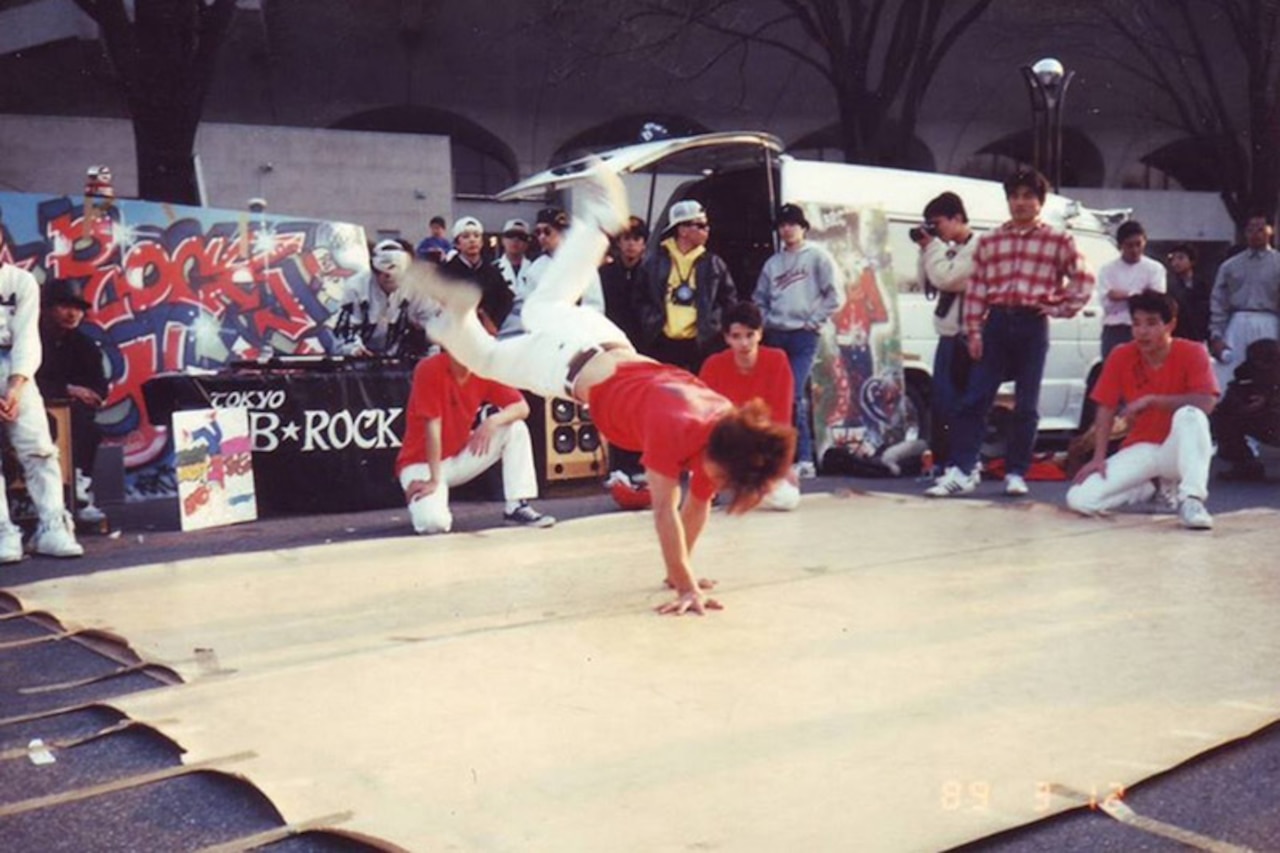 But who was the first person to bring hip hop to Japan? Toshio Nakanishi probably experienced it first when he saw an Afrika Bambaataa concert in May of 1982 while in New York City to record an album together with producer Moichi Kuwahara. Soon after, he cast the Rock Steady Crew in a video shot in the Bronx for his band, Melon. The same year, Hiroshi Fujiwara discovered hip hop in New York, and after returning to Japan began DJing in an eclectic style.
In 1983, the film Wild Style was shown in a nearly-empty Shinjuku movie theater, where DJ Krush saw it. To promote the film, around 30 members of the film's cast and crew came to Japan, performed at several clubs and appeared on TV. Almost overnight, breakdancing groups like Tokyo B-Boys, B-5 Crew, and Mystic Movers started to appear on the streets of Harajuku.
Influenced by the Beastie Boys, Scha Dara Parr grew up immersed in the indulgent pop culture of the '80s bubble era.
In terms of musical production around that time, there had already been a few ventures into hip hop by dance music producers aware of the genre, or by novelty rappers. However, it took some time before these early efforts reached a high level, due to the understanding of breakbeats and Japanese rhyming that was required. Indeed, such progress would not come until 1986, when Haruo Chikada – a musician who in the 1970s had led a camp-influenced funk band – became a rapper, changed his artist name to President BPM and founded a hip hop label, BPM.
In 1988, BPM joined together with Fujiwara, Takagi and Nakanishi, as well as Masayuki Kudo and Gota Yashiki, to form the label Major Force, under the Sony umbrella. A collection of new DJs also emerged around this time, including M.I.D. The JG's, GM Yoshi, DJ Yutaka, DJ Doc Holiday, DJ Tanko, and DJ Honda. They were no doubt inspired by the releases imported into the country, as well as the performances in Japan by Afrika Bambaataa, Run D.M.C., L.L. Cool J, and UK crew The Wild Bunch, some of whose members would go on to form Massive Attack.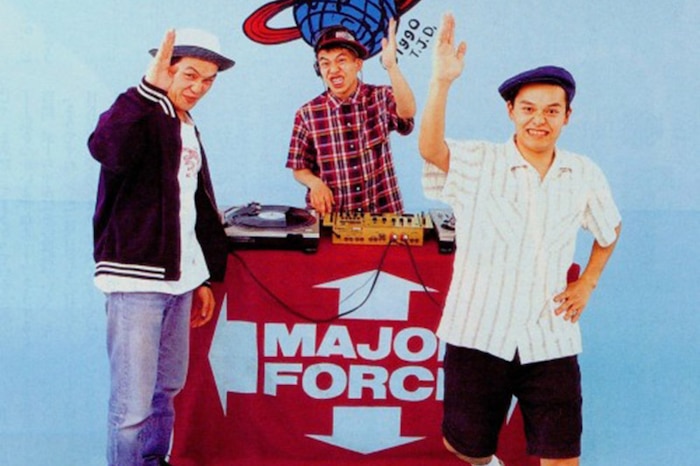 Next was the discovery of a new style. At a talent contest for DJs and rappers – "DJ Underground Contest No. 1" – the winner was Krush Posse and the runner-up was DJ Seiji, who was close with Krush Posse. But an honorable mention went to Scha Dara Parr (AKA SDP, an abbreviation in homage to Boogie Down Productions). SDP attracted attention for its completely fresh sound and lyrics. Influenced by the Beastie Boys, the trio grew up immersed in the indulgent pop culture of the '80s bubble era. SDP represents the generation that came after Seiko Ito and Tiny Panx (formerly Tinnie Punx); they rapped freely about their daily lives using a style influenced by the new forms of theater, comedy, video games, TV dramas, and films of the time.
In 1990, the same year that SDP released its first album, another essential recording emerged, called Yellow Rapculture in Your House. It's said that only between 500 and 1,000 copies of this various artists 12-inch compilation were made, but even so, it serves as a blueprint for where hip hop in Japan would head in the following years.
One of the groups featured, Home Boys, were composed of DX (now GDX), Yoggy-B and DJ Masa, though the following year DX (whose father is American) would move to LA and eventually become a member of The Zulu Nation. DX brought back American street culture to Japan, and while he currently works as an actor and recording artist, his example has led many other Japanese to travel to America, the base of hip hop, to develop their knowledge. Around that same time, Yoggy-B formed East End with Gaku MC and Rock-Tee; four years later the group worked together with Japanese idol singer Yuri Ishii as East End x Yuri, releasing the million-selling hit "DA.YO.NE." – a song that has a firm place in the canon of Japanese rap.
Krush Posse also featured on Rapculture, was a unit made up of DJ Krush, Muro (an MC), and DJ Go. Muro raps about his anger towards "dirty business," and a night at a not-too-entirely-safe club where a concert is taking place. DJ Krush sampled still-hot songs by Eric B. & Rakim and others, as well as funk breakbeats like "Sing a Simple Song," James Brown and Rufus Thomas. Still, the lead beat was "Military Scratch" from Wild Style.
During this time, various rappers and rap groups came on the scene: B-Fresh, Buddha Brand, Dassen 3, East End, ECD, Gas Boys, Kaminari-Kazoku, Kasekicider, Kimidori, King Giddra, Lamp Eye, Low Damage, Lunch Time Speax, Microphone Pager, Rappagariya, Rhymester, Soul Scream, Vibrastone, Yotsukaido Nature, You The Rock & DJ Ben The Ace, Zingi…
Hip hop in Japan had some of the same overriding questions as it did in America. "Is this hip hop?" "Who is more hip hop?"
Hip hop in Japan had some of the same overriding questions as it did in America. "Is this hip hop?" "Who is more hip hop?" Such questions were especially pointed during 1994-1995. First there was the collaboration between East End and Yuri Ishii, the aforementioned pop smash "DA.YO.NE.," which put slang vocabulary into easily understandable rhymes. Then, these questions grew even stronger after it emerged that SDP came from an educated, well-to-do background, and the group collaborated with the young pop icon Kenji Ozawa on the hit "Konya Wa Boogie Back." The song was well aware of the distance between the hip hop of Japan and the hip hop of America, and it made the listener conscious of this distance as well.
In 1996, this was drawn into full relief when two major hip hop concerts took place at the Hibiya Open-Air Concert Hall in Tokyo. The first, Thumpin' CAMP, was put on by the Major Force-affiliated rapper ECD. The second, Dai LB Matsuri, took place just one week later; it was organized by SDP, and included various artists from their circle. The difference between the two events was clear: Most of the artists who performed at Sanpin CAMP had honed their skills through years of freestyle sessions in Tokyo's clubs. People like Kaminari-Kazoku, an underground legend who, with his group Lamp Eye, was best known for the 12-inch "Shogen (=Evidence)" – a single offering a blistering critique of latter-day consumerism. Or King Giddra, who boldly pointed to the Ministry of Health and Welfare (a building visible from the stage) and accused it of perpetrating the 1980s HIV-tainted blood scandal, as they performed.
When SDP performed at Dai LB Matsuri, they were different as well, distancing their lyrics and rhymes from the '80s storytelling style that its fans had come to expect. Instead, the group juxtaposed lyrics in Japanese with set phrases from English-language rap pronounced in a Japanese accent. It was far different than, say, Buddah Brand, which the week before was rapping with sardonic and challenging lyrics.
There are different ways to think about early "Japanese" "hip hop," whether it is, "Figuring out what is essentially American, and what is Japanese," or "Looking carefully around us to see the structure that allows this kind of opposition to be produced, how it is experienced, and finding out at global and local levels what political, economic and cultural roles it plays." It leads us from an experience of single local culture to another local culture, and to a culture that is yet to be affected be commodified in the global market. A culture that kept enough room for updates and reinterpretations, and more so, a culture that transforms the reconstruction of urban identity into a powerful artform.
Header image © Major Force