Japanese Hip Hop Classics
In Japan, hip hop evolved just as much as it did in the United States; eventually a unique and distinctive style of the genre – one that no longer relied on imitation – developed. Here are ten Japanese hip hop classics arranged in chronological order: influential tunes that are forever etched into Japanese hip hop history.
Krush Posse - K.P.
Krush Posse laid the foundation for Japanese rap. Formed by DJ Krush, Muro and DJ Go, "K.P." was their first recording ever and appeared on the seminal 1990 release Yellow Rapculture In Your House. They incorporated the innovative rap style from American hip hop and combined it with a funky track. The result caused a commotion in the Japanese underground. They only have a few releases: "K.P.," "Chain Gang" and "Wagamama" featuring Monday Michiru. The group broke up before they released a full album - DJ Krush embarked on his well-documented solo career, while Muro and DJ Go went on to form Microphone Pager.
Scha Dara Parr & K. Ozawa - Konya Wa Boogie Back
The hip hop trio of Bose, Ani and Shinco, also known as Scha Dara Parr, appeared on the scene in 1990 backed by producer Kan Takagi from Major Force. They were heavily influenced by groups such as A Tribe Called Quest and De La Soul. Japanese kids who didn't grow up in the ghetto resonated with SDP's relaxed and humorous style of rap about daily life. Their collaborative single with singer Kenji Ozawa, "Konya Wa Boogie Back," sold 500,000 copies, and helped to expose rap music to the mainstream at a time when it was still an underground phenomenon in Japan. The catchy hook and comical verses are still sung at karaoke bars today, even by people who don't usually listen to hip hop. The "Smooth Rap" version features SDP's rap as the centerpiece of the song, while the "Nice Vocal" version released at the same time features Kenji Ozawa as the main vocalist.
Lamp Eye - Shyogen
"Shyogen" is a classic that epitomizes '90s Japanese hip hop. Lamp Eye is Rino Latina II, Gama, and DJ Yas. This song also features You The Rock, Twigy, and G.K. Maryan from Kaminari Kozuku (a crew that Lamp Eye members are also a part of), as well as Zeebra of King Giddra and Dev Large of Buddha Brand. These rappers all represented the forefront of underground rap in Tokyo back in 1995, and this song features a thrilling mic relay by all seven rappers. You can hear the unique flows of each MC and, needless to say, this song influenced many rappers in Japan. DJ Yas' simple yet dark and jazzy track is addictive, and is one of the reasons why this song is still popular.
Buddha Brand - Ningen Hatsudensho
When people talk about Japanese hip hop classics, "Ningen Hatsudensho" almost always gets mentioned. Buddha Brand is comprised of three MCs - Dev Large, Nipps, CQ - and DJ Masterkey. The bilingual English/Japanese raps are full of creative punchlines, hardcore yet somehow playful at the same time. The laidback and jazzy beat samples "I'll Still Love You" by King James Version, which gives the song a timeless sound.
Microphone Pager - Yamu Machi
Microphone Pager started off with Muro, Twigy, P.H. Fron, Masao, and DJ Go as members, but eventually ended up as the duo of Muro and Twigy. Together, they laid the foundation for Japanese hardcore hip hop. "Yamu Machi" was produced by Maki The Magic, who sampled Shamek Farrah's "First Impressions," and it is recognized as one of Microphone Pager's masterpieces. The Lord Finesse remix and other versions, such as "Yamu Machi Pt. 2," are also worth a spin.
Rhymester - B-Boy Ism
Rhymester is a trio composed of Utamaru, Mummy-D, and DJ Jin. Their songs come in a wide array of styles, and though they are successful in the mainstream, their deep love of b-boy culture has ensured that they still get respect from heads in the hip hop scene. The single "B-Boy Ism" off their third album, Respect, is a timeless classic for breakdancers as well as rap fans. As you might expect, all of the lyrics in the song are an expression of their love for b-boy culture. This funky track samples Dick Hyman's "Give It Up or Turn It Loose."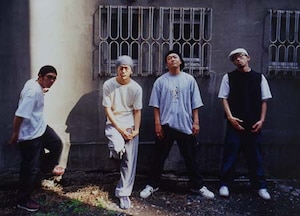 Soul Scream - Hachi To Chou
Soul Scream is a group that consists of MCs Hab I Scream, E.G.G. Man, and DJ Celory; all three are veterans of the early Japanese hip hop scene who emerged alongside King Giddra and Kaminari Kazoku. Unlike other acts who were rather obsessed with proving their "roughness," this group received recognition for their rhythmic flows, literary lyrics, and complex rhymes. This striking song, "Hachi To Chou," has a chorus that sings "Float like a butterfly, sting like a bee" over effective string riffs from producer DJ Celory, and is considered one of the masterpieces of Japanese rap.
Nitro Microphone Underground - Nitro Microphone Underground
Known as Japan's answer to Wu-Tang Clan, Nitro Microphone Underground is probably one of Japan's largest and most popular rap crews. Each of the eight members - Gore-Tex, Deli, Bigzam, XBS, Suiken, Dabo, Macka-Chin and S-Word - have different flows and rhyme styles, and the self-titled posse cut on their first album features all of them over an aggressive beat. Their innovative rap styles were hardcore and underground, but stylish at the same time, which led to their popularity in mainstream Japanese hip hop.
Nujabes & Shing02 - Luv (sic)
Nujabes is a beatmaker that is acclaimed not only in Japan but around the world. Shing02 is a rapper based in both the US and Japan, known for bilingual raps full of metaphorical and poetic references. Nujabes unfortunately passed away in 2010, but before his passing he collaborated with Shing02 on several tracks. The exquisitely jazzy "Luv (sic)," with its poignant melodies and touching lyrics, is the best of the lot. For more like this, check out the rest of the songs in the Luv (sic) series, which eventually ended up as six installments.
Gagle - Shikabane Wo Koete
Gagle is the trio of MC Hunger, producer/DJ Mitsu The Beats and DJ Mu-R. They are known for Hunger's intelligent lyrics, Mitsu The Beats' jazzy and soulful production and Mu-R's sharp cuts, which add up to a unique style that can't be categorized as pop or hardcore. "Shikabane Wo Koete," from the album Big Bang Theory, is a perfect example - its epic melodies and lyrics that talk about respecting the pioneers and moving forward made it a classic that touched the hearts of many.