Alan Oldham: The Art of Techno Futurism
"I'm the Black Man from The Future," says Alan Oldham,"I get bored with too much nostalgia"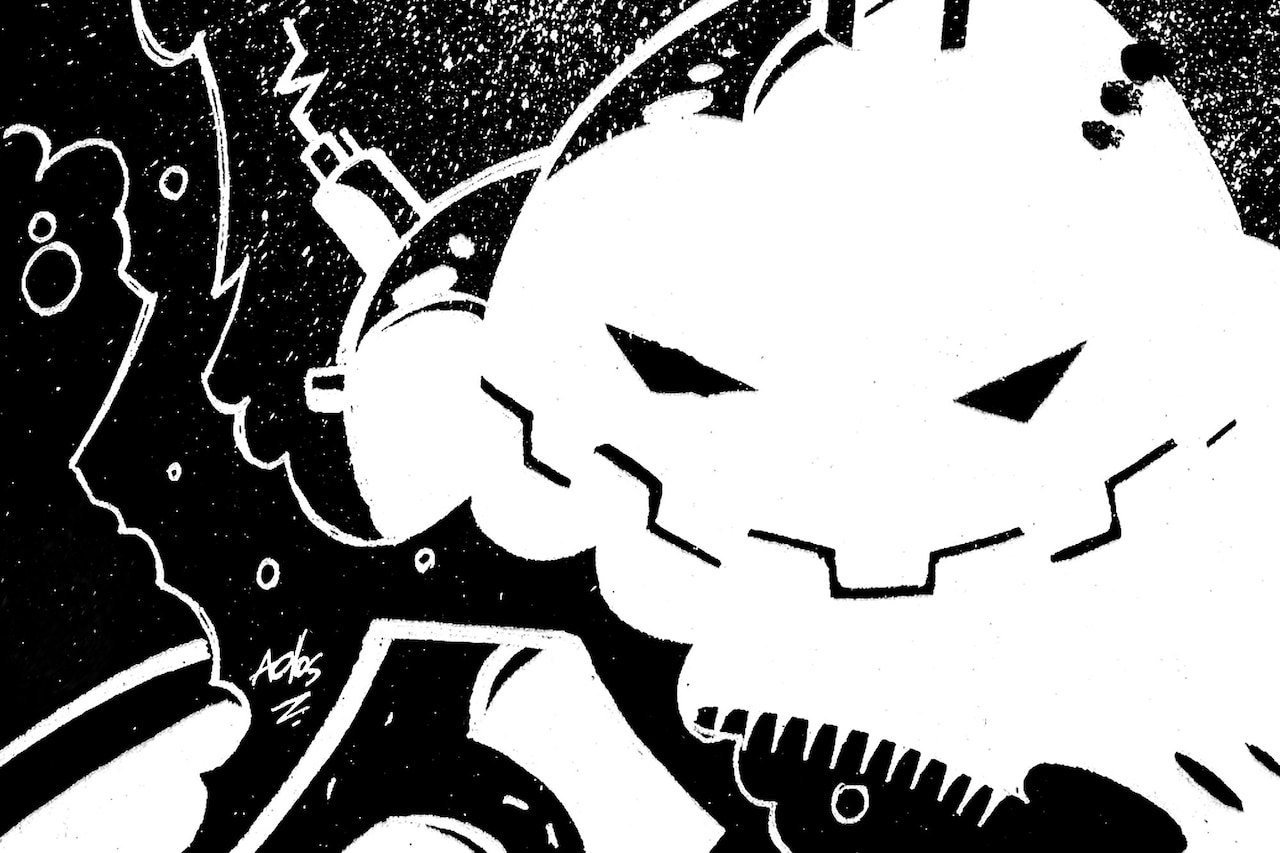 Alan Oldham is just that – a forward thinking futurist and former radio jockey whose work has long fused the not-so-distant worlds of art and music. Creating illustrations under his own name and spinning under the moniker DJ T-1000, Oldham's status as a sci-fi visionary has made him one of the most unique and important figures to come out of the Detroit techno movement. "Detroit techno, in my view, was originally about futurism," he says. "Futuristic black music. Look no further than Juan Atkins for that. A lot of old sci-fi movies and TV shows portrayed a future that had no blacks in it. [Detroit techno] was a statement that black people would be around in the far future. You can also connect Sun Ra and Mothership Connection-era Parliament/Funkadelic to that aesthetic."
In the tradition of Sun Ra's Arkestral manuevers and P-Funk's explorations of funk's outer limits, Oldham brings forth elements of science fiction, cultural awareness, higher levels of consciousness and even mythology to forge a sensibility from a future state of existence – with nods to realism interwoven. He believes those talents are innate. "I'm a natural," says Oldham. "I had an art class in high school, but that's about it. I've been drawing since I was born."
His style – sharp, angular, forward and revolutionary – reflects both the evolution of his craft and his consistency. "My style has matured a bit, especially with my move to paintings," he says. "But essentially, it's the same as it's always been."
Oldham began his artistic career as a comic book illustrator, writing for small companies such as Hot Comics, Amazing Comics, Renegade Press, Caliber Comics and a few others. "I started out like everybody else, trying to draw superheroes and trying to get in at Marvel or DC by aping their basic style," he recalls. "I came up with my own rip-offs of characters, then a few originals of my own. But once I stopped trying to draw like other people, I was able to get in on the indie comics scene of the late '80s. Anime and manga influences were coming in. It wasn't so much the basic Marvel or DC styles anymore. Teenage Mutant Ninja Turtles famously came from that scene, so it was a gold mine back then. Anybody could do anything and it would sell. You could come out with a black and white comic and sell 50,000 copies. We did over 15,000 on Johnny Gambit #1."
Johnny Gambit is an indie comic book Oldham created at Visual Noise, a studio he put together in the late '80s as a place to ink and letter the comic. (The name was recently resurrected for an art show Oldham mounted at the Record Loft in Berlin, where he is currently based.) Yet in 1986 in Detroit, Derrick May took notice of Johnny Gambit and Oldham's advanced illustrative style – and he introduced Oldham to the developing techno sound stemming from the Motor City.
"When I went to Wayne State [University] years ago, there was a place on campus called Student Center," Oldham remembers. "We all used to hang out there between classes. Some semesters I had long gaps between day and evening classes, so I was there a lot. I was drawing Johnny Gambit at the time and I would have my art supplies with me. Derrick [May] used to work at this video arcade right off campus on Woodward, and lived a block away from WSU, so I began to run into him. I had known Derrick since we were kids, by the way. Like 10-11 years old. Anyway, he was coming through Student Center when he saw me working on Johnny Gambit. He said he was starting this new label and he asked me to do the label art for it. He offered me $50 for both sides, so I did the designs. $50 was a lot of money in 1986. The record turned out to be 'Nude Photo' b/w 'The Dance' and it turned out to be very famous."
It would become the first of dozens of album illustrations for the Detroit techno community. "Derrick had this buddy who needed a logo for his label called KMS," says Oldham. "So he brought Kevin Saunderson down to Student Center one day, and I met him. I ended up doing the first KMS logo, the one that's on 'Truth of Self-Evidence,' 'Bounce Your Body to the Box,' etc. And it just went on from there."
Oldham was landing gig after gig. In 1987, one of those gigs brought him to a different world: radio. An intern at WDET (a Detroit Public Radio station) the summer prior, he was then offered his own show, which was aptly called "Fast Forward," holding true to Oldham's futuristic approach to life. "Fast Forward" had become Detroit's first-ever all-electronic radio program and ran between 1987-1992. Oldham had a graveyard shift initially – 3 AM to 6 AM – but his audience was vast, as he played everything from classic favourites to burgeoning techno beats from colleagues and friends.
Some of the music given to him for his radio show was from Jeff Mills and Mike Banks, who had just formed Underground Resistance, and they recruited Oldham for yet another gig – this time in the area of public relations for the newfound collective. "Jeff Mills was another childhood friend," Oldham describes. "Mills lived down the street from this kid I used to draw with. This kid's dad had this high-rise at 1600 Lafayette that we used to gather at to play Monopoly every week and Jeff was in the group. Years later, Jeff had hooked up with [Mike] Banks to form UR. By this time, I had my radio show on WDET, and they used to feed me reel-to-reels and white labels to play on the air.
"By 1991, UR was getting stronger and they needed PR help. I minored in English and learned to write press releases in school, so I started doing that for UR for gas money. We were all crammed into Banks' mom's basement. Rob Hood was in the group, too, designing flyers, pasting up stuff. This was pre-Mac, of course. (Little-known fact: Rob Hood can draw. Not like me, but he can hold his own.)"
Oldham's involvement with Underground Resistance led to his introduction to DJing. "When Jeff left UR in '92 and they had an Australian Tour all lined up, Banks asked me to be the replacement tour DJ," he says. "Everybody had code names in UR, so that's when DJ T-1000 was born. I went at it with gusto, 'cause it was my big break. And that was that."
However, the development of DJ T-1000 also led to the temporary demise of Oldham's comic illustrations. "Once I got into DJing and traveling every weekend and making music, doing comics took a back seat," he says. "But with the slow demise of the music business as I [once] knew it, I'm back to the first love, making comics and art again."
His travels and constant connections resulted in Oldham creating art for an impressive roster including Derrick May, Miss Djax, Ben Sims, Richie Hawtin, Astralwerks, Third Ear Recordings, Opilec Music, Steve Bug, Cisco Ferreira (The Advent), Delsin Records, AW Recordings and many others. "Because of my work for Djax-Up-Beats, robots have become a theme in my artwork," Oldham says. "People know me for that, so I decided to continue the theme in my big canvases. Big booties, stiletto heels, spaceships and robots."
Oldham's art garnered international attention through the DJs and labels, especially in Europe, where there was (and still is) a deep fascination with Detroit techno. "When I started emphasizing on doing gallery shows in Europe, the [techno] art got even more popular," he says.
Although he felt something special stirring out of the Detroit techno movement, Oldham knew his calling was overseas. "All that interest from Europe… for me, just the chance to get out of Detroit and see the world and make so many international friends was a very big thing, and still is," he says.
Today, Oldham travels the world showcasing his art, as well as his music. He continues to spread the futuristic message of Detroit techno on an international level through his talents. "My number one goal with both my art and music is to impact my audience in a positive way," he says. "No negativity, just mood and cool. I've got paintings hanging in people's homes and studios, and my music in their iPods. [I want to] push my aesthetic out there and leave my mark."