Top 10: Innovative Japanese A/V Works
With technology evolving rapidly on a daily basis, the field of visual media has likewise expanded in its capabilities. For instance, projection mapping is a technique that became possible with the advent of high-definition projectors, and the latter's ability to maintain the clarity and high-resolution of images even when projected onto such surfaces. But it's not simply down to advancements in hardware; new technology such as GPS and AR (Augmented Reality), which harnesses internet connectivity to enable simultaneous interaction with data, has captured the imaginations of filmmakers everywhere, including many in Japan.
Kazuaki Seki and Damian Kulash, Jr.
OK Go - I Won't Let You Down
This video by the indie rock band OK Go utilizes drones, which are equipped with cameras in order to shoot footage from previously impossible angles. OK Go's music videos invariably go viral on the internet upon each release, and this time it's the super-elongated, one-take camerawork that provides the talking point. Director Kazuaki Seki is known for his work with J-Pop unit Perfume (who also have a cameo appearance in the video), while Damian Kulash Jr. is one of the members of OK Go.
Daito Manabe
Nosaj Thing - Eclipse / Blue
This work uses projection mapping techniques to project geometrical designs onto a human figure. Given the quick movements of the dancer in the video, it was necessary to use a 200FPS industrial-use, high-speed camera. This particular video reunites director Daito Manabe with electronic musician Nosaj Thing, for whose track the video was shot. Manabe has an equally high reputation abroad as he does in Japan, having also directed for the likes of Squarepusher, FaltyDL and Timo Maas.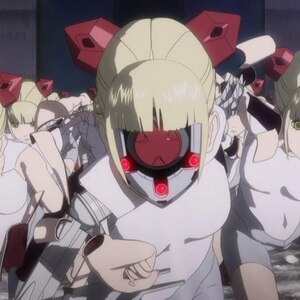 Koichiro Tsujikawa
Sean Lennon & Cornelius - Heart Grenade
A sentimental tale unfolds in the video for Sean Lennon and Cornelius' "Hand Grenade," in which a pair of robotic arms interact through the medium of CG. (The composition was also used as the ending theme for the anime series Ghost in the Shell: Arise.) Director Koichiro Tsujikawa has long been producing works that synchronise sound and visuals, a quality that is indispensable within Cornelius's visual works.
Sou Ootsuki
Sumire Uesaka - Parallax View
This music video for popular voice actress Sumire Uesaka is rife with homages to '90s retro videogames. Director Sou Ootsuki, not content with simply pursuing a style of work focusing on pixel art, has continued to challenge himself by incorporating new equipment such as 360-degree cameras and Kinect technology. On the purpose-built, interactive website, the background visuals within the web browser change over the course of the track, mimicking and complementing the embedded video, fostering a sense of gameplay to mirror the theme. He has also directed Street Fighter 2-inspired events titled Street Cypher 2 which incorporates visual and technical elements of video games in MC battles.
Takuya Hosogane and Shunsuke Sugiyama
Tofubeats feat. G. Rina - No.1
This music video delights in the incommunicable beauty of everyday mise-en-scène, with the ultra-slow motion shots (taken with a high-speed Sony FS700 camera) matching the languid nature of the track itself. The work shows off an understanding of space and intervals unique to filmmaker Takuya Hosogane, an expert in motion graphics, and is predicated on its delicate sense of balance, avoiding the accumulation of any suspense or tension in its depiction of the ordinary under the sharp-eyed, cinematographic observance of graphic designer Shunsuke Sugiyama. Incidentally, it is the track's creator – producer Tofubeats – who can be seen getting doused with soy sauce at the end of the video.
Ryoji Ikeda
Ryoji Ikeda - The Transfinite
Flashes of black and white synchronised with tonal pulses; a giant room-sized installation which invites you to confront data. Electronic, visual artist Ryoji Ikeda, forever in pursuit of new planes of perception, has created a sublime spectacle with this work, The Transfinite – an installation in New York – in which glossy, minimal electronic music reverberates in sync with the visuals. Ikeda boasts a history of collaborative work with the likes of choreographer William Forsythe, architect Toyo Ito, musician and filmmaker Carsten Nicolai, and photographer Hiroshi Sugimoto.
Akihiko Taniguchi
Holly Herndon - Chorus
In this idiosyncratic composition, daily necessities that have been digitally rendered as 3D graphics flutter about in midair around the virtual space of a computer desk. The peculiar way in which the renders float – impossible to realise through the medium of photography – creates a sensory duality of both tension and harmony. Akihiko Taniguchi, the artist behind the visuals, works in various mediums that ranges from media and net art, to live performance and sculpture, and practices a style that calls attention to the interstitial boundary between the real and the digital. This particular piece is a music video for 2014 Academy lecturer Holly Herndon.
TAKCOM
Kidkanevil feat. Phasma - Inakunaru
Incorporating the 3DCG, this video paints a sci-fi view of Tokyo in watercolour-like style. It's produced using Cinema 4D's Sketch and Toon rendering technology with added textures using After Effects. TAKCOM, who directed this video, has made many works using motion graphics with a particular focus on recreating analog textures using digital technology.
Masashi Kawamura and Kota Iguchi
SOUR – Life Is Music
In this video, spinning CDs are repurposed into phenakistoscopes (a zoetrope-esque spinning disk mechanism), with the animation coming from the pictures drawn onto the surface of the CDs. The visuals match the theme of the track, which is that "life is cyclical like music," with superlative animation work from Kota Iguchi (Tymote). Award-winning director Masashi Kawamura has previously worked with the musician Sour on videos for "Hibi no onshoku" and "Utsushi kagami." Party, the creative group to which he belongs, also includes artists such as Naoki Itou and Qanta Shimizu.
Kurando Furuya
Roy Tamaki - Wonderful
The best way to describe this music video for Roy Tamaki's "Wonderful" would be as a collaboration, with a total of 43 filmmakers participating in its creation, using various techniques. The original footage, filmed against a green screen, has been divided up amongst each of the filmmakers in five second intervals. The finished product, which patches together all of their individual efforts, shows off the individual styles of each of the filmmakers involved. It's also worth mentioning the open-mindedness of rapper Roy Tamaki, whose image is contorted and re-imagined in every conceivable way. The director Kurando Furuya publishes an annual compilation introducing filmmakers working domestically entitled Filmmakers 100, often involving his contacts in his visual work.