Interview: Detroit's Lisa Lisa on Jeff Mills, Claude Young, and Eminem
Detroit radio and dance music have a symbiotic relationship, but the personalities that have helped shape the city's sound on air are relatively few. One of the biggest personalities aside from the legendary Electrifying Mojo is Lisa Lisa. In this extended interview, conducted as part of research for an article on Detroit radio, Ashley Zlatopolsky speaks to the on air personality about her history on the airwaves in the Motor City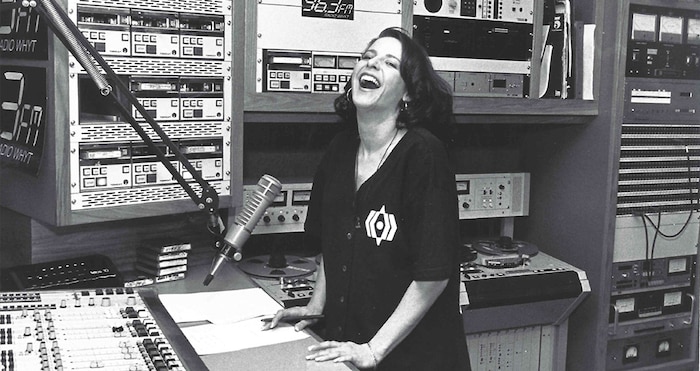 How did you first become interested and involved in Detroit radio?
I loved Detroit radio when I was a kid. I would listen to Keener 13 and CKLW on a little red transistor radio. When I was in junior high and high school, I would listen to WGPR, and WDRQ when the station was on 8 Mile Road. I would actually go to Buy Rite Records and buy 12-inches of the dance, disco and R&B I heard. When I went to college at the University of Michigan, I met a guy named Sean Ross. He's one of those walking encyclopedias – if you asked him who was the lead singer on this track and this year, he could spit it out.
U of M had a legendary station called WCBN – it was kind of like the [Ann Arbor] WDET of the college circuit. There was an AM station also in the same building that was totally student-run. Sean and I decided to petition the FCC to make it a top 40 station. We actually changed the call letters to WJJX, programmed the station and of course did air shifts on the station. I was in U of M pre-law and that was when I decided that when I graduated, I would be in radio. Getting out of school, I didn't have a job in radio so I went to my favorite radio station and said, "Hey guys, I want a job." The station was WDRQ when it was over on Civic Center Drive in Southfield. They kind of laughed at me. There was a guy named Brian White, who was the program director. He and I instantly hit it off, so he was like, "Come on, I'll let you do an internship." So I was doing a morning-to-noon internship for no money and Jerry Clifton, the consultant, came into town one day, and I guess he just thought I was a hard worker and he liked my voice, so he put me on Sunday overnights from 1 AM to 6 AM.
I told them I wanted to do this for a living, so they said, "Get an air check together." I had no idea what that was. I decided to go to Flint, and WDZZ gave me Saturday and Sunday night, 7 PM to midnight, but I would come back [towards Detroit] and do overnights at WDRQ, 1 AM to 6 AM and do my internship all week.
Your start in radio was around the same time as the conception and growth of Detroit techno. Did you see it happening around you?
I did. I decided I wanted to go into marketing after my internship, so I got a job at WJLB as a promotion director. I was the first Caucasian to have a promotion director position for any urban station in the country. At this station I organized and presented The Motor City Mix, a mixing competition that we had at the State Theater (now the Fillmore). I also made a record album of all local talent called the Motor City Made album… I remember sitting with James Alexander (the program director) and CeCe Whitmore (the music director) and listening to cassette after cassette of auditions for the contest.
After WJLB, my friend Kim Carson got me a part-time on-air shift at WCZY and while I was working there, I got a telegram from Rick Gillette, who is legendary now, asking why I never sent him an air check. Gillette was programming WHYT 96.3, which was Hot Hits at the time… it was the late '80s and early '90s. He put me on Saturday and Sunday nights. That is how Saturday Night Live: Party in the Penthouse was born. It was the first and only show like it on the air. I had a rotating "mix-o-dome" of DJs…. Dangerous Daniel Maxx, Scott G-Go Gordon, "Jack-in-the-Mix" Jackie Christie. It was on this show that Kevin Saunderson, Juan Atkins, Derrick May and others appeared.
Juan Atkins' "No UFO's" set the bar and I don't think it's been touched to this day. There was all of this change going on in music, like R&B was meeting disco, disco was meeting gay house and electronic music. Artists like Alexander Robotnik and Kraftwerk were starting the trend, and house music from Chicago and New York also had an influence. Dance music went from being made with a lot of live instruments to being created electronically with drum machines, beats and loops and samples… you could see that this whole new thing was starting.
When I was able to do the dance party show on Saturday night at 96.3, I just did whatever and I was fortunate to have a program director [like] Rick Gillette who "got it." There was so much new dance music. If you had a music meeting like they do these days, it would take three days [to go through everything] because you were getting stuff not only from Detroit, but from Chicago and New York, stuff that was traditionally gay-sounding music. Stuff that was becoming mainstream. I was able to break artists like Technotronic… "Pump Up The Jam"… [plus] tech house and Crystal Waters, which came from the clubs… the whole techno movement – I guess that's what they are calling it now – the movement was really just minimalistic disco.
Who were your favorite local artists at the time?
My favorite to this day is Kevin Saunderson and Inner City. One of my best experiences when I was doing this mix show… I think it was "Big Fun" or "Good Life," I can't remember which one he released first… the vocalist on it was a lady named Paris Grey. Kevin was one of my mixers on a Saturday night and he comes walking in with Paris Grey. I was like, "Oh my god! This is really cool!" We put the instrumental track he had on a big reel-to-reel, and I was like, "No one is going to believe this ten years from now." I knew it was going to be big. I loved Crystal Waters, Lil Louis ("French Kiss" is still a classic!), and Xavier Gold.
You also discovered Jeff Mills. Can you take us through that moment?
Going backwards, I was at WJLB doing promotions and WJLB had just flipped from AM. So we had a new program director, his name was James Alexander. The mixer on the air was a guy named Duane "In the Mix" Bradley, and he had a couple of records out. He was great. I was the promotion director, so one of my jobs was to go to clubs and find places to hold parties.
I lived in Grosse Pointe Park, which, at that time, was the DMZ – it was right at the edge of Detroit before Grosse Pointe. Not the greatest neighborhood, but there was a beautiful club over there called Club UBQ and it was on Van Dyke. So I went in there one night thinking this would be a great place to host a WJLB event. I'm sitting in the upper level, looking into the DJ booth… there's this skinny, little, young kid making records talk to each other. He'd do Prince's "Controversy," and then he'd do Hashim's "It's Time," and then Janet Jackson's "What Have You Done for Me Lately." He'd make these records talk to each other and then when he was done playing the records, he'd throw them. I'm watching this going, "This is freakin' unbelievable!"
There's never been another Mojo. There won't be.
I finally had enough guts to go over there and ask him how he was doing this, what he was even doing. I handed him my card and he's the shyest kid. He was like, "This is what I do! I just feel it, I just hear it!" He had probably four crates of records in this little DJ booth and I have never to this day seen anything like what he did there. People thought it was one big record – that's how flawless and seamless his mixes were. I told him, "Can you make me a cassette? I want you to be on the radio." I remember going to his brownstone on Jefferson a couple weeks later and he gave me a cassette and I took it to James Alexander and CeCe Whitmore and they were like, "No way! This guy was live?" So they brought him in as The Wizard.
Not how important, but I knew he'd be something, but that was before the "techno scene," so I just thought he'd be a great radio mixer who would probably make his own records and would end up in New York. But to know that he would be like this worldwide… I knew he had that "it factor," but to take it to that level [he did] from this mix I heard him do at UBQ… I'm not surprised, but I never could have predicted that.
What was Mojo's influence on you?
Can I sound like a fan for a minute? Oh my god… I mean, when I got out of college trying to do this [WDRQ] internship, I would run with a bunch of girls and we would do the little club scene thing. We would literally – at midnight – go on the porch and turn the light on, and it was like, the mothership is landing! We would be in the car and would flash our lights and honk the horn, or we'd go to the car from the club at midnight. He made you think that this was really happening. I remember hearing Prince for the first time and I went up to Eastern Michigan University and seeing one of his first tours because Mojo gave away tickets or something. There's never been another Mojo. There won't be.
Do you think you were continuing his legacy with what you were doing?
I was hoping to! When he left the air doing that show, because I was such a fan there was no way but to admit that it influenced me, [especially] the way he created the theater of the mind. I took that concept – the theater of the mind – and I decided I was going to create a nightclub in the penthouse of the Fisher building. So we called it the Party in the Penthouse: Saturday Night Live and I guess I was pretty successful because we were on the 21st floor and every Saturday, the security guard down there would say, "You have five kids down here wondering how to get into the club."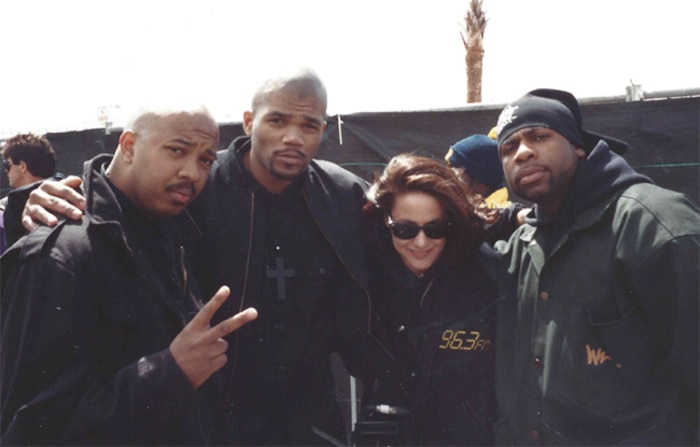 Claude Young was making beats for rappers to rap over. Was this happening during Saturday Night Live?
He was in the production room one Saturday night and he was banging around, playing with records, mixing and stuff, and I would run in there when I got off the air at 2 AM but he'd be in there all night working. I asked him, "Hey Claude, how about doing Saturday Night Live one night, or even just making a tape?" I still have that first mix, and from that mix I knew this guy would be something. Do you remember that song "Dangerous on the Dance Floor"? His mix ended up getting picked up by RCA Records. Anyway, I was like, "You lay your beats and let's see if [the rappers] can keep up!"
You gave Eminem his very first on-air break. Was it during this show and with Young's beats?
Yeah, he must've freestyled for us with Claude mixing, because it was during that show. I would have a freestyle competition where I had like 24 rappers, these young guys, and I'd keep them in rotation. I got LL Cool J to host one and I picked out three or four of the best rappers to rap over the beats Claude had laid down, and LL would jump in every now and then. I think it was Claude, but that's the show Eminem rapped on. Eminem would come down with three guys, Bassmint Productions, and sometimes they didn't have a ride, so my producer Bridget lived on the east side and she'd drive them up. In the beginning when Eminem was on, I was like, "Oh yeah, he's kind of cute, interesting little storyline, very shy," but I never, ever thought he'd become what he is today. I was like, "You're good, or I would never have put you on the air with me." To see something evolve like a Jeff Mills or a Claude Young or an Eminem years later… oh my god, at least I saw something in them! [laughs]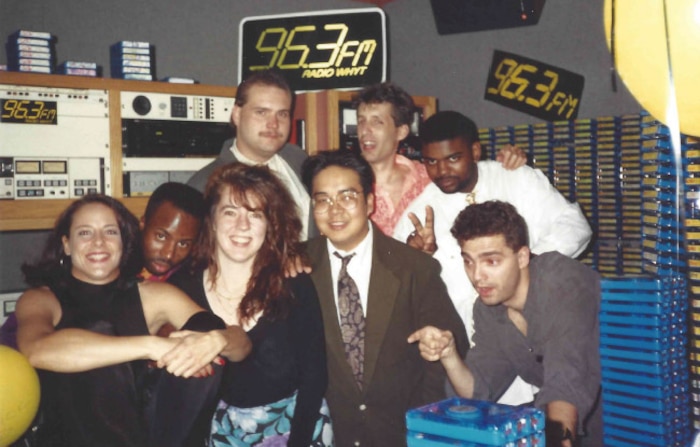 Did you have any other memorable guests?
Richie Hawtin was one of my DJs. He was a Canadian citizen at the time so that got a little tricky. Him and a guy named Scott Gordon who was also on my show played at an alternative club called Leland [City Club], and the three of us would hang out at the Shelter [at Saint Andrew's Hall]. Hawtin was always on really late on my show and the show that went on after me.
All of this music – techno, house – it was all relatively new at the time. Did you think your listeners would be receptive?
It was a perfect storm. I had the right program director, the right music director, the right interns, access from Detroit to this whole group of young guys who wanted to make something different.
I knew there would be a market for it; otherwise I wouldn't have done it. I wasn't sure though that the age group – 18 to 34 – would kind of get it because they wanted to hear records that had words, and records that they knew. The biggest obstacle I had to overcome was in the clubs. They'd say, "Why do you have to play this remix? Just play the regular version." They were more receptive to a new dance record than a remix. Our station at 96.3 was so hot at the time that we could've done anything and people would've thought it was really cool because the station had that kind of power. It was a perfect storm. I had the right program director, the right music director, the right interns, access from Detroit to this whole group of young guys who wanted to make something different who were emotional about their music, all the young rappers who were so excited that they got to do shout outs on the air… throw all that together with a DJ who doesn't care about losing my job… it was the perfect time.
What happened to all those stations? I know there were several changeovers.
96.3 ended up becoming The Planet and that's when we all got fired. WJLB is still around and very, very successful. I used to teach aerobics on top of all these other jobs and I remember coming out of my aerobics class in the morning and turning on radio, hitting scan, going to 93.1 and hearing disco music. I think it was like a beautiful music station before that – like elevator music. I thought it was like an April Fool's Joke. All these guys started blowing up my phone and they were like, "Girl, did you hear this station? You gotta work there." There was nobody on the air yet and a lady named Lisa Rodman interviewed me and she was like, "I've heard about you. You're the person I need to help me get this station off the ground."
We had a real long run – I was there nine or ten years – then Jay Towers came aboard as the afternoon drive guy. He's very underrated in his influence on dance music. He truly gets dance music. Real McCoy, Alice Deejay…all that stuff was from him because he's from Philly. After those nine-to ten years, the music started to get a little more urban and radio was getting a little more corporate and there was competition from 95.5… things changed. I remember walking in to do my show and getting called into the GM's office, standing there with my air mates and getting told, "OK, this station isn't going to be on-air anymore. It's going to be automated." We were handed severance packages. At that moment, I thought it was pretty much a wrap. I didn't think [my career in radio] would happen anymore.
What did you do afterwards?
I had been spinning in clubs – Space, Bleu, Sevin – so I kept that going so I could still play dance music. I had to have my fix of dance music, so I went out and started hustling club gigs. But now that's all changed because DJs can just walk in with a laptop. I remember carrying four crates of records and having to pay some kid $50 to load them in my car.
I passed the bar and became a lawyer while on the air at WHYT 96.3 because I wanted to represent recording artists, musicians, singers, songwriters, producers and DJs. I had always had a law practice on the side. Now I practice law full-time. I specialize in Entertainment Law, so I guess it comes full circle.
There truly are no outlets today for dance music on air in Detroit.
To create something with emotion, you can't be censored. Detroit is emotion-driven.
It's a shame, really. I think when the FCC deregulated media, big corporations came in and scooped up stations. Now you've got guys in suits and ties in Texas deciding what to play on their five stations in Detroit. I guess dance music wasn't popular enough. It ended up being a specialty show and that ended up being run by clients. It wasn't about the music – it was about this client is spending $40,000 a year, so do whatever that client says. I think the Internet has also made a big difference. I think now we're in this area between traditional radio and internet-streaming content radio. Radio is now the opposite of what dance music was or hip hop was in Detroit. It was such a grassroots [movement]… people loved what they were creating; they got emotional about what they were creating. Whether you were a rapper or a house DJ or a techno DJ, you were doing this not necessarily for the paycheck, but for the love of the craft… and I think that showed in what they produced. To create something with emotion, you can't be censored. Detroit is emotion-driven.