The Den: Ron Hardy's First Year as a DJ
Jacob Arnold details how one of Chicago's most celebrated DJs found his sound.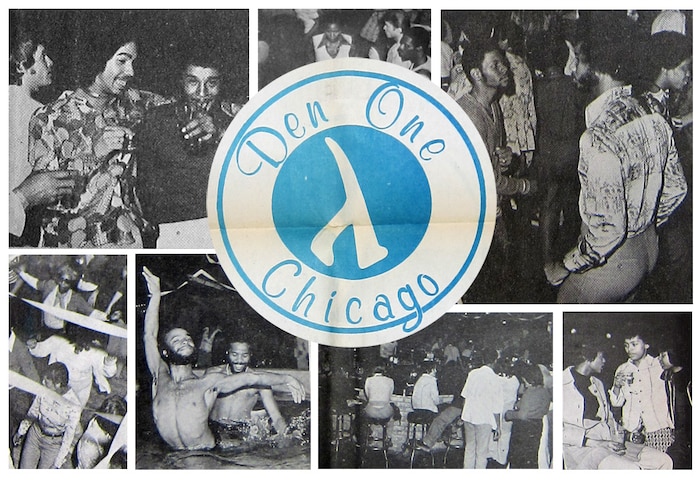 Ron Hardy was instrumental in shaping Chicago house music through his innovative DJ sets at the Muzic Box in the early '80s. Unfortunately, since he passed away in 1992 at the age of 33, Hardy's early career has remained something of a mystery. What we do know is that Hardy was offered his first residency at Den One, a club which has a storied past. The space housed a dance club for 17 years, weathering changes in ownership and musical styles, before closing in the wake of news that a notorious serial killer had picked up one of his victims there. It has subsequently stood abandoned for over two decades.
The club opened in July 1974 as Our Den in a space that was formerly a Paul Bunyan-themed family restaurant, complete with statues of the giant lumberjack and his blue ox, Babe. The neighborhood, Old Town, was in transition. In the late '60s and early '70s it was known as a hippie hangout, one of several areas where clashes broke out between police and protestors during the 1968 Democratic National Convention. It was also home to a gay community and was something of a red light district. (Located next door to Our Den was the Bijou Theater, which showed hardcore gay pornography and offered private rooms; it remains in business today.) Area entertainment ranged from a Ripley's Believe It or Not! Museum to the Second City comedy theater and head shops filled with black light posters.
For at least a year and a half, Artie Feldman was the resident DJ at Den One. He filed charts for Record World's "Disco File" beginning in 1974, reporting such tunes as Ecstasy, Passion & Pain's "Ask Me," B.T. Express' "Do It ('Til You're Satisfied)," and Bohannon's "South African Man." He also played 45s by Philadelphia artists People's Choice, First Choice, and the Philly Devotions.
DJ Charles Perkins describes Artie Feldman as "a short, white, balding guy who always wore hats." He was also a great DJ. "That guy just knocked our socks off," he recalls. While Feldman slip-queued instead of mixing songs over each other, Perkins says "everything was on-time, on-beat."
Our Den was a mixed white and black gay club, which was unusual for Chicago. After its first year, it was renamed Den One and catered to a mostly black crowd on the weekends. Asked how Den One compared to other clubs at the time, Perkins says, "Den One was it. That was the black bar in Chicago."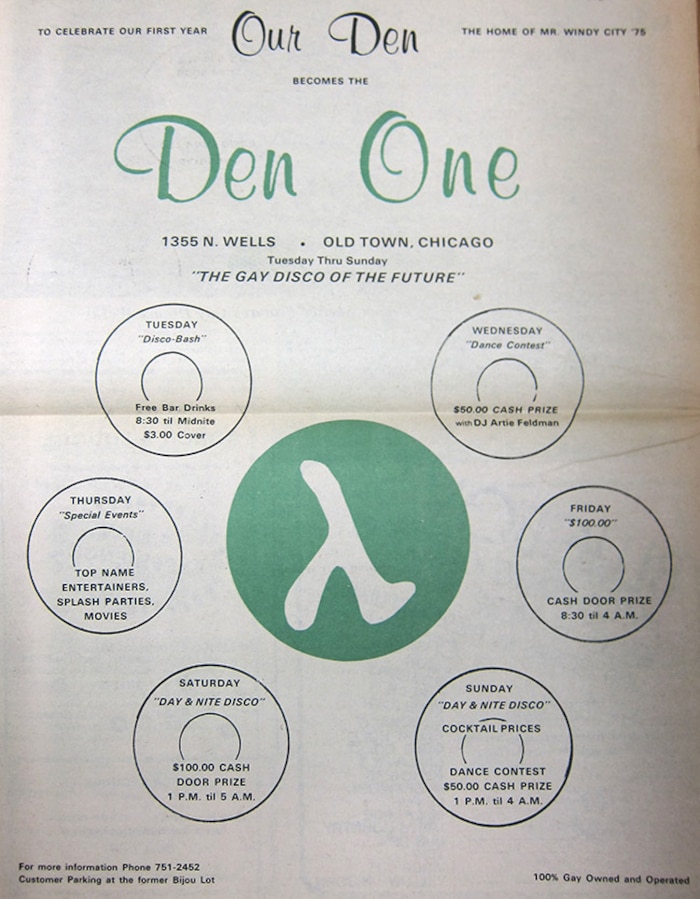 More specifically, Den One was the most black-friendly gay disco on the North Side, which isn't to say there weren't problems. According to an article in Gay Life from August 1975, the club was picketed for alleged discrimination after a black lesbian was thrown out, though co-owner David Myers countered that the patron's ejection was actually the result of her throwing objects at members of the staff.
DJ Feldman's 1975 charts for Record World include classics such as Harold Melvin & the Bluenotes' "Bad Luck," South Shore Commission's "Free Man," and People's Choice's "Do It Any Way You Wanna." In 1976, it was The O'Jays' "I Love Music," Diana Ross' "Love Hangover," and Brass Construction's "Movin'." Ron Hardy would continue to play the same tunes into the '80s.
In a January 1976 survey of local discos, Chicago Tribune writer Elaine Markoutsas wrote that, "According to one deejay, [Den One is] one of the hottest 'dance-your ----off bars' in the city," describing its "early rustic, rough hewn barn decor." In the summer of 1976, however, Artie Feldman left Den One for a disco named Sunday's, where he became Billboard's "Disco Deejay of the Year" for Chicago, then disappeared from the scene.
Maurice Chaytor was a junior in high school with a fake ID when he first saw Ron Hardy spin at Den One in 1977. "I was just a young boy, a slickster from the West Side," Chaytor recalls. "Right then and there I knew that this is where I wanted to be. I had found the society of gay... where life was free."
Ron Hardy himself would have been 19 at the time. "The music was phenomenal," Chaytor recalls. "One of Ronnie's unique talents was Ronnie could take a song and stretch it to eternity.... There's a song called 'Love Is Still Blue' [by Paul Mauriat and His Orchestra], and I never even realized that it was an orchestrated song, but he took this one snippet out of it and would extend it and extend it and extend it."
Chaytor and Hardy became friends. "We just bonded really, really well," Chaytor explains. "It was through the Den One that I wound up at the Warehouse, becoming friends with Frankie [Knuckles]. He [Hardy] took me there. After he would get through working, that was his place, where he could go and hang out, 'cause by that time his drugs then kicked in. Everybody still needed another place to release."
In Gerd Janson's interview with Frankie Knuckles for RBMA in 2011, Knuckles remembers meeting Ron Hardy at Den One in July 1977 when he came back to Chicago to spin weekly at the Warehouse. "For the most part, we were the only two black gay DJs making any significant noise on the club scene," Knuckles recalls. "Ronnie and I grew closer. We talked shop all the time. Traded music. I'd hang out at the Den and he would come to the Warehouse when he'd finished playing. Apart from Larry [Levan] he was the closest DJ friend I had at the time.... The songs that fuelled them and the energy as well came from a completely different place than I did. But their taste turned me on and helped shape me musically."
For a brief period, Den One and the Warehouse were like sister clubs. "There was a group of kids that also used to go to the Den One that used to like to go to the Warehouse too, and they were up and coming designers, hair dressers, stylists – fashionably hot black kids," Chaytor recalls. "They would all start their evening at the Den, and then end their evening at the Warehouse."
They would all start their evening at the Den, and then end their evening at the Warehouse.
Den One, however, took on the character of Old Town. "They used to have a lot of drag queens that hung out in front," recalls DJ Michael Ezebukwu. "It was just a vibrance of different cultures and people," Chaytor explains. "I knew from going down there and seeing the hippies during the daytime, but at night was the allure of other things." East of Old Town is the Gold Coast, which even then was very upscale, but just a half mile west of Den One was the notorious public housing project Cabrini-Green. This resulted in a lot of "rough-necks that down-low," Chaytor recalls. "Of course there was copious amounts of drugs in one shape, form, or fashion exchanged."
Den One was a huge club, with over 9,000 square feet of space. The DJ booth was raised above the dance floor, reachable only by ladder. "Right up under the DJ's booth, I remember there was a smaller-sized bar that this white lesbian named Elaine worked," Chaytor recalls. "Then they had the big main bar that was circular, and I think three bartenders could work it. Then there was a bar at the far back of the room."
"It had platforms. You'd come in, from the front door you'd go up on a ramp, and then it had a seating area," explains Michael Ezebukwu.
The sound was loud but clear. "It was a wonderful sound system," enthuses Chaytor. "It had its highs, it had good bottom, good mid-range," and it was superior to the sound systems in most of Chicago's straight clubs. "It was a phenomenal dance place, and that was all due to Ronnie Hardy," says Chaytor.
Dancers would vogue, back before the term was coined. "I didn't even realize, but that's what it was," Chaytor explains. "'Cause we were standing around breaking and posing and loving ourselves."
"The music he played was great. That's when he started his fierceness," Ezebukwu concurs. "He knew how to play the system." Hardy used to put on "Express Yourself" by The New York Community Choir, of which the last five minutes is a single extended drum break – a prototypical house beat track. Dancers would vogue, back before the term was coined. "I didn't even realize that's what it was, but that's what it was," Chaytor explains. "'Cause we were standing around breaking and posing and loving ourselves. There was people circling you on the floor looking at these moves that we were doing."
Ron Hardy's reign at Den One was not to last. In the fall of 1978, at the height of disco's commerciality, the club owners sold to grocer-turned-bar-owner Richard Farnham, better known as the drag queen Mother Carol. "It just went from all-black to all-white overnight," Charles Perkins recalls. Ron Hardy briefly went to work at Jeffrey Pub on the South Side before following friends to L.A., where he spun at the Catch One disco. He returned to Chicago after his older brother passed away in 1981.
Carol's Speakeasy became an incredibly successful club, despite the death of Mother Carol in September 1979. Greg Collier from Detroit was one of its first DJs. (His older brother Ken Collier was already well-known in Detroit.) Frankie Knuckles even spun there for a time. Michael Graber and Grant Smith experimented with film and video there in the early '80s. Graber would go on to open the Riverside Club, which became the Power Plant under Knuckles.
In September 1985, a heavy-handed police drug raid at Carol's Speakeasy resulted in a class-action lawsuit by the ACLU. The state and city settled in 1989, paying $227,000 to over 40 patrons who alleged their civil rights had been violated, having been ordered to lie on the floor for up to two hours, after which they were photographed without arrest.
In the late '80s, Larry Fox spun at Carol's, and the club held several Den One reunion parties. The club finally closed in 1991, several months after serial killer Jeffrey Dahmer was discovered to have picked up one of his victims there. The building has stood empty ever since.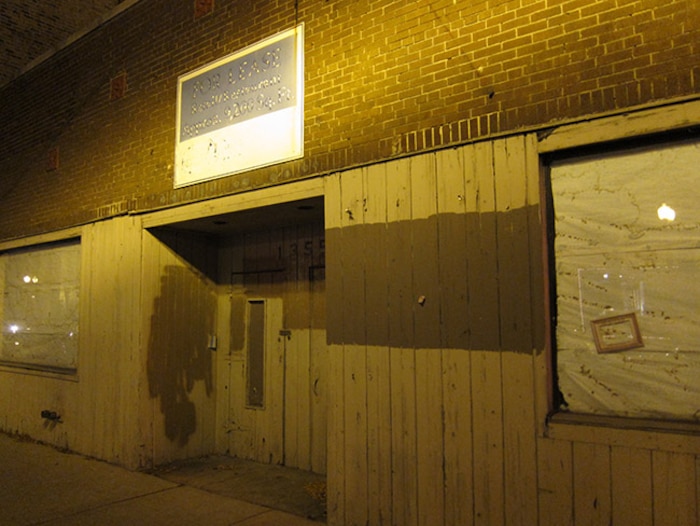 Behind the water-stained paper covering its windows and the unchanged wood-panel entrance recognizable in photos from the '70s, the space holds memories. "A classic moment at the Den One was [when] Ronnie was playing a song by Peter Brown, 'It's Burning Up,'" Maurice Chaytor recalls. "He was extending it and working the song, and the crowd was in a feverish pitch and everybody was just caught up. The song says, 'It's so hot, hot, I'm burning, burning. It's so hot, hot, I'm burning, burning up!' There was a guy that was on a bass cabinet and they were shimmying, shaking. He was really known for it – his name was Eli – and the midrange speaker caught on fire.
"You could see smoke coming out, and everybody sort of stopped. The fire department was called," continues Chaytor. "They did something, either disconnected that speaker [or] did something to it, but Ronnie started right back up where he left off with the Peter Brown song, 'It's so hot, hot,' – the room went ecstatic. They had this beam of light down on this guy who we claim set the speaker on fire 'cause he was shaking his ass so much, and the crowd went ecstatic all over again. That's a phenomenal moment."