Japanese Handcrafted Sound
Pioneer, Audio-Technica, Vestax, and Technics are all Japanese brands whose products can be spotted at almost any club environments around the world. But there are also smaller brands in Japan that create high quality DJ/sound equipment that is just as innovative as the tech giants, if not more.
Carefully handcrafted piece by piece, these products boast unmatched levels of quality, and are a testament to the dedication and passion of the skilled craftsmen. These brands are part of the reasons why many world-traveling DJs often talk about how good the sound quality is in Japanese clubs, and although many of the products they offer may not exactly be the most affordable of their kind, you are guaranteed to get more than what you paid for in terms of musical experience.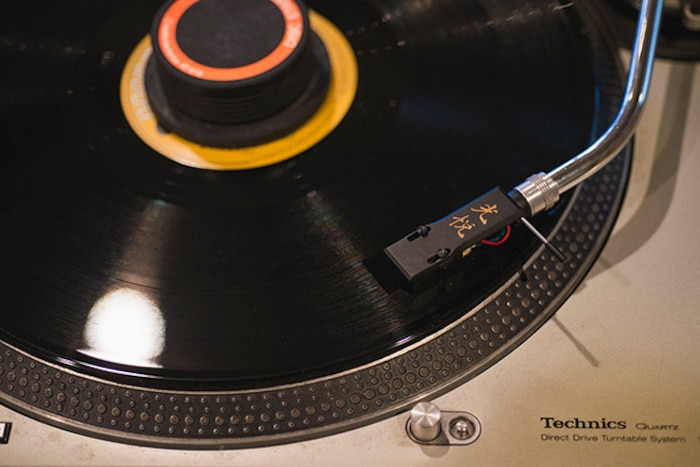 The Koetsu phono cartridge is a high-end moving coil cartridge that gained cult status among audiophiles worldwide when it was first introduced in the early '70s, but only started attracting attention from the DJ community when David Mancuso, known for his devotion to playing records at the best quality possible, started to use them in The Loft.
DJ Cosmo, AKA Colleen Murphy, is an avid Koetsu user. "The first time I heard a Koetsu cartridge was at David Mancuso's legendary Loft parties on East 3rd Street in New York City," she says. "I had never before heard such delicacy or experienced such transcendency through an audio system. David's audio set-up was like no other I had experienced. What I heard had a purity, a delicacy and a magic that I had never heard before. The purity and simplicity of the Loft system's signal path and the high-end equipment resulted in a listening experience that can only be described as truly 'musical.'"
The Koetsu cartridge was created by a man named Yoshiaki Sugano, who was a descendent of Koetsu Honnami, a famed artist, calligrapher and potter of the 16th century. For generations, the Honnami family specialized in crafting and polishing swords and Sugano himself was a known swordsmith. At 60 years of age in 1969, he retired from his executive position at automaker Toyota, and started making phono cartridges as a hobby, utilizing the skills he had gained in sword making. He called his brand of cartridges Koetsu, borrowing the name of his distant ancestor.
Sugano used high-purity copper, iron, stone and wood. He would wind the coil by hand, house it in agate or rosewood casing, and write calligraphy on each piece. When famed audio equipment maker Mark Levinson stumbled upon the cartridge, he immediately took a liking to it, and introduced the brand to a wider community of audiophiles outside Japan. It quickly became a favorite, but as the cartridges were individually handcrafted, there were times when supply could not meet demand. (In those days, a mere 60 units or so were being produced annually.) Since his passing in 2002, his sons have continued the tradition, and the cartridges now sell for anywhere around €1400 to €5600, brand new.
Norihide Masuo, who has handled lighting duties for many years at Tokyo party series Sunday Afternoon Session "Gallery," and is currently the owner of the record shop Lighthouse Records in Tokyo, is also a fan of the cartridge. "Koetsu has a sound that is very raw and real that exposes the heart of the music," he says. "But because of it, if the record is of a poor condition, or the pressing is of low quality, it really shows in the sound. The cantilever (the bar attached to the diamond stylus tip) is very delicate and the cartridge must be handled with great care." Murphy seconds this notion: "I would only recommend Koetsu's to people who love music and sound and have the desire and understanding (and the steady hand!) to set it up and use it properly. Then it can be enjoyed in its optimum capacity."
Murphy also had this to say about its name: "The Japanese characters of Koetsu translate to 'light' (光 - kō) and 'pleasure' (悦 - etsu) and I find the reference to the visual when referring to the aural truly relates the experience."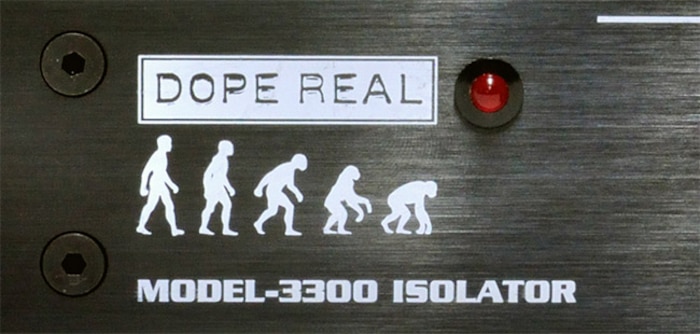 An isolator is a device that can cut off or amplify certain frequency range better than the average EQ, allowing for a wider range of control for DJs. Based in Sapporo, Dope Real is a brand that makes isolators that, despite being handcrafted in small quantities, have gained worldwide acclaim. It wouldn't be a surprise if you spotted people like François K, Joe Claussell, Danny Krivit, Louie Vega, David Morales, Derrick May, Theo Parrish, Doc Martin, Ben Watt, and DJ Spinna, or clubs like Cielo and Love in New York or Plastic People in the UK using a Dope Real. Their isolators boast a powerful 20 dB output, and an expressivity akin to that of an instrument rather than a piece of DJ equipment.
Dope Real was started by Katsuyasu Kimura in 2002, who had started making isolators in 2001. "Between 2000 and 2001, I travelled across Europe and America, going to clubs and just having fun," he says. "It was a total culture shock for me and I wanted to bring back that experience to the club scene in Japan. I happen to go to Body & Soul at the club Vinyl in NY where I saw DJs use the isolator and it kind of left an impression on me. Then naturally I gravitated towards making my own isolators."
Currently, there are three models on offer on the official website. "Model-3300 was my first three-way isolator. It was designed to sound good on a massive sound system, and to give as much controllability and expressive freedom in shaping the sound as possible. The Mini-Isolator is a more portable version that caters to the needs of the globe-trotting DJ. Compact yet durable and able to handle multiple voltages, it is equipped with an output transformer giving it its characteristic fat sound. Model-5300 is a five-way isolator and is capable of a more detailed manipulation that the Model-3300 cannot handle. Combine it with the Model-3300, and the possibility is endless."
Aside from sharing the same logo, Dope Real and Precious Hall, a Sapporo club renowned for having one of Japan's best sound system setup, have a deep connection. "I met the people at Precious Hall in 1995 when I was running a techno label called Dubrex Records," he says. "Then I started purchasing instruments and audio equipment for them and help them set up. When I was developing the isolators, they let me test them out at Precious Hall and really helped me get everything right."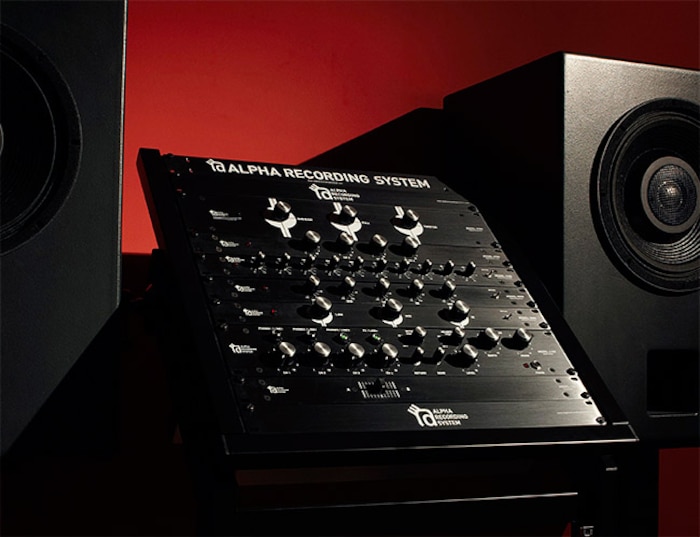 Alpha Recording System makes mixers, crossovers, equalizers, preamps and speakers. According to owner Masahiro Ishii, it started as an online store in 2001 called Alpha Musique, which imported, sold and repaired the legendary vintage rotary mixer Urei 1620. "The Urei mixers weren't in production anymore and there weren't many places where you could buy one or have one repaired," he says. "So I decided to start a shop that fixes and sells the mixers."
Eventually, he started receiving requests from customers. "There would be people asking me things like, 'Is it possible to make it so that the highs can be heard more clearly?' or 'Can you make it sound slicker?' So I decided to start making mixers on my own from scratch, and that's how I launched the ARS brand." DJs and clubs around the world that have used ARS products include David Morales, Louie Vega, Kenny Dope, DJ Harvey & Sarcastic Disco, Theo Parrish, Dope Jams, ageHa, Air, Santos Party House, and Space Lab Yellow, just to name a few.
ARS make sure their products sound the best in clubs, something that Ishii says is possible because they are club music lovers themselves. "Our number one priority is the final sound output. And to achieve the ideal sound, we do not care how much the parts cost. And we don't just go for the highest-quality, expensive parts because it doesn't always mean that they are perfect for club music. Often times, the industrial components that are not specifically made for audio equipment end up producing a deeper and thicker sound. If we're not happy with a component we would hold thorough meetings with the manufacturer and may have them custom-make what we're looking for. We test each part carefully to find the best pieces that ultimately gives us the perfect sound in a club setting."
The Urei 1620 mixer has had a devoted following among DJs since the disco era, and Ishii says it's because "the Urei 1620 is a masterpiece that has a sound no other mixer of today could match. Its sound is three-dimensional, has an excellent balance between the low, mid and high frequencies, and boasts a unique mix curve. And from aging for 20 years, the sound has a certain warmth and softness to it that people love, kind of like vintage wine."
The mixer ARS offers, Model-4100, is a rotary mixer based on the Urei 1620. "Currently there are no other brands that offer mixers that incorporate Urei 1620's volume curve, except us," he says. "This is a very important aspect. It's not just playing two tracks alongside each other. Two separate tracks can be mixed like they're being merged into one with the use of this unique curve. In addition, our mixer can reproduce a wide range of sound in high detail, and both old recordings and new recordings sound good through it." They also offer Model-3500, an innovative three-band crossover which lets you change the frequency cross point, and the Model-5000, a five-band equalizer that allows for an even more detailed and intuitive fine-tuning.
"We're planning to release a DJ Harvey model soon, and we're also developing custom-made mixers for Kenny Dope and DJ Spinna, which will not be for sale," Ishii says. "We started out making products catered to the club scene, but recently have seen artists from other genres and sound engineers embrace what we make."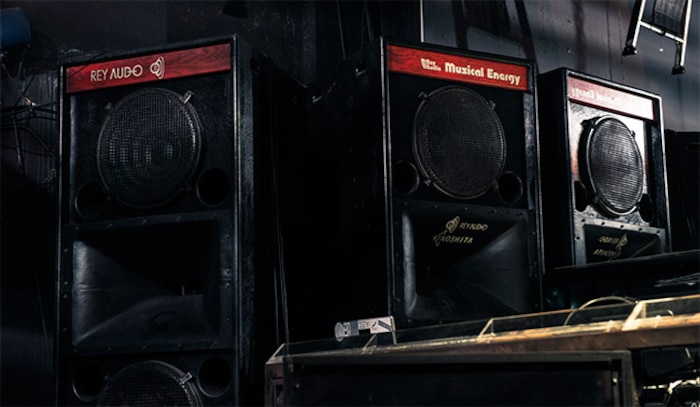 Rey Audio is an audio company started up in 1984 by Shozo Kinoshita, who decided to leave his former job as an engineer at Pioneer's TAD (Technical Audio Devices, Pioneer's line of high-end professional speakers) in pursuit of creative freedom. Kinoshita firmly believes that good sound should be accessible to everybody, not reserved for the audiophiles to enjoy, and he has since produced countless studio monitors, speakers for concert halls, and amplifiers based on that ethos, including the revolutionary Vertical Twin system, which places the tweeter in the middle and two subs above and below.
Tom Hidley, founder of Westlake Audio, has praised Kinoshita's work, installing Rey Audio's Kinoshita Monitors as the standard model in the studios he designs. You can also find Rey Audio systems being used in recording/mastering studios around the world like Music Palace in New York, Jam in Dallas, Davout in Paris, and Mosfilm in Moscow as well as various clubs, live houses, and concert halls in many cities around the globe. In Tokyo, it was the system of choice for the legendary club Space Lab Yellow and is currently supplying the sounds at the club Air.
Yuko Ichikawa, a former member of the team behind Space Lab Yellow and later Eleven, who now handles planning and public relations at Air, told a story of how Rey Audio got installed at Yellow. "Yellow opened in December 1991, a time when there were no other real clubs in Japan. There were very few venues that had good sound systems at the time, and the director of Space Lab Yellow, Daizo Murata, persuaded the owner to invest €250,000 in a Rey Audio system, convincing him that it is nicer to enjoy a good sound system with a group of people rather than buying a Rolls Royce with that money and enjoying it alone."
Yellow was renowned for having a superb sound system, which many DJs and clubgoers have attested to, and Air has also become a club with a similar reputation, which shows the level of quality Rey Audio offers. As Carl Craig tweeted in August 2014, "I wanna sit on a comfy sofa on the old Yellow club dance floor with that Rey audio system and 1 turntable and just play good music for you."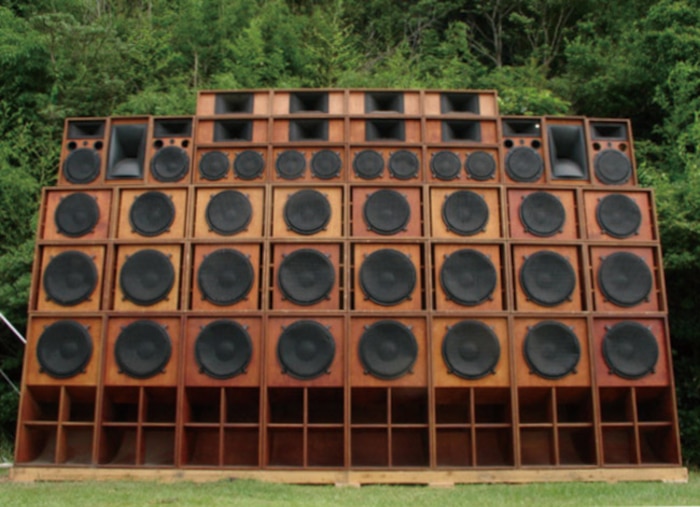 Psycho Onkyo is a sound system developed by Hiroki Takeuchi, owner of club fab-space in Himeji city in Hyogo prefecture, and woodworker Yujin Ono. Takeuchi describes how they started working together to build their massive system. "I used to own a DJ bar 25 years ago, and I used to DJ there myself. I played a mix of jazz, roots reggae and dub and I started to get invited to play at various events. But wherever I went, I'd notice how poor the quality of sound systems were, and I started to feel embarrassed to DJ. The urge to listen to music on a good, loud system got so strong that I stopped buying records and decided to invest in good audio equipment. Initially I had a second-hand bass amp that would handle the low end. Then I started to make my own speakers, but I wasn't satisfied with my DIY level of quality. Then, about eight years ago, I got introduced to a reggae-loving woodworker, Ono. When I visited his workshop, I realized he had tons of tools and machinery that could be used to make huge speakers. We immediately got to talking about making our own sound system, and that's how Psycho Onkyo was born."
Since premiering their system at Lion Rock Fiesta in 2006, Psycho Onkyo has provided its bone-rattling, explosive sound to bass-minded reggae and hip hop acts from the likes of Jah Shaka, Aba Shanti-I, Jahtari, Zion Train, Iration Steppas, DJ Krush, Tha Blue Herb, Dry & Heavy, DJ Baku and many more. When London's roots reggae leader Aba Shanti-I came to Japan, he reportedly said, "Sell me this sound system! Or come to London and make it for me!" Psycho Onkyo has steadily grown in popularity, especially in the Kansai region, and the system is now installed in many clubs, studios and bars. "The casing is sturdy, all the cables are self-made and hand-picked. The kicks are very punchy," says Takeuchi. "One of its strengths is that it is relatively feedback-proof, so it can really provide a tight sound for bands. In terms of sound quality, I was always a big fan of instruments and had experience using both acoustic and electronic instruments. So I kind of already knew what it should sound like as I was developing it."
"I'm completely self-taught," continues Takeuchi. "So I don't know how different our system is from others. But I feel like we should never give up until that ideal system is realized. We're doing something without really knowing what the correct way to do it is, so we just experiment until we fail. We are constantly repairing and changing parts, and we've been putting a lot of time, effort and money into it."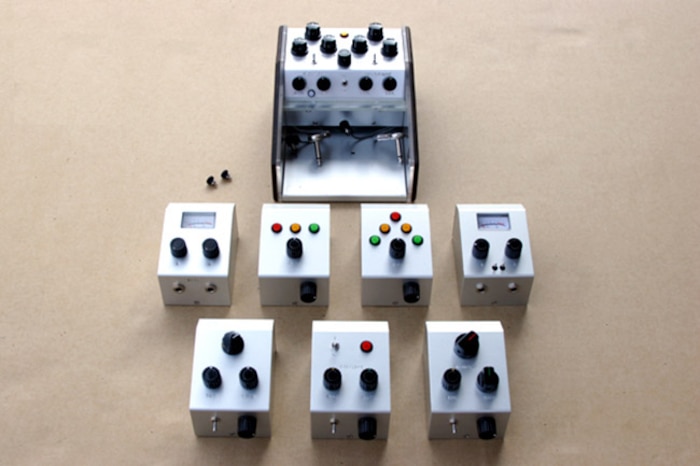 Pyung Pyung Machine is a unique effects/sound device that was the result of a collaboration between Shimomura Onkyo Ltd. (run by Shinichi Shimomura based in Kyoto) and DJ duo Mintos (Michiharu Shimoda from Silent Poets and Seiji Big Bird from LITTLE TEMPO) in 2001. Generally, an effects device is something you hook up to an electronic instrument to manipulate its sound, but the Pyung Pyung machine, dubbed "Original Siren Machine" is a device that can not only add filter and delay effects to a sound, but also make unique sounds on its own.
Shimomura explains how this unusual machine came to be. "One time, I was watching Mintos DJ at a party. They had an effects machine, and it was as big as their DJ gear, and since records already weigh a lot, I wondered if they'd be happy if there was a smaller machine they could use. So I started making devices and taking it to them, and after a few prototypes and a lot of tweaking, we came up with Pyung Pyung Machine Mintos Model. By word of mouth, people started noticing."
After releasing the first Pyung Pyung Machine, SO-A005 (Mintos Model), which had a limited run of 50 units, he listened to other musicians' opinions and gone through more trial and error and finished the SO-A010, consisting of an effects device and two interchangeable sound boxes. In addition to an LFO and a filter, the effects device has a built-in analogue delay that can create warm feedback, and the sound boxes come equipped with a pitch controller. Later, he introduced more varieties of sound boxes, and a compact effects unit Compact 11. Artists as wide-ranging as Tommy Guerrero, Dimitri from Paris, Aba Shanti-I, DJ Kentaro, Cojie of Mighty Crown, Toshio Nakanishi, and Ryota Nozaki (Jazztronik) have all supported Shimomura's creations.
Shimomura also hosts an event called Pyung-Pyung Biyori where he invites artists that use the Pyung Pyung Machine to come and perform. "(The Pyung Pyung Machine) has brought a lot of people together. The chemistry between people is wonderful, and I got to discover so much music that I didn't know about. I was always the one just listening to the music, but by putting together a show I get to tell people "Listen to this!" and spread the music and connect people."
Unfortunately, Shimomura says he no longer produces the devices. "The main reason behind that is because it has gotten harder to obtain the necessary parts, and even if I did manage, the cost has gone up so drastically since I started production." Although he has no intention of making a physical product of this sort anymore, he intends to continue organizing the shows, to create an experience that transcends. "I believe when you have the urge to do something, or see somebody, you have to act on it, instead of just thinking about it…because there may not be another chance. Nothing lasts forever, and you can't take anything for granted. I guess these machines are for those lucky enough to have encountered it on their journey."