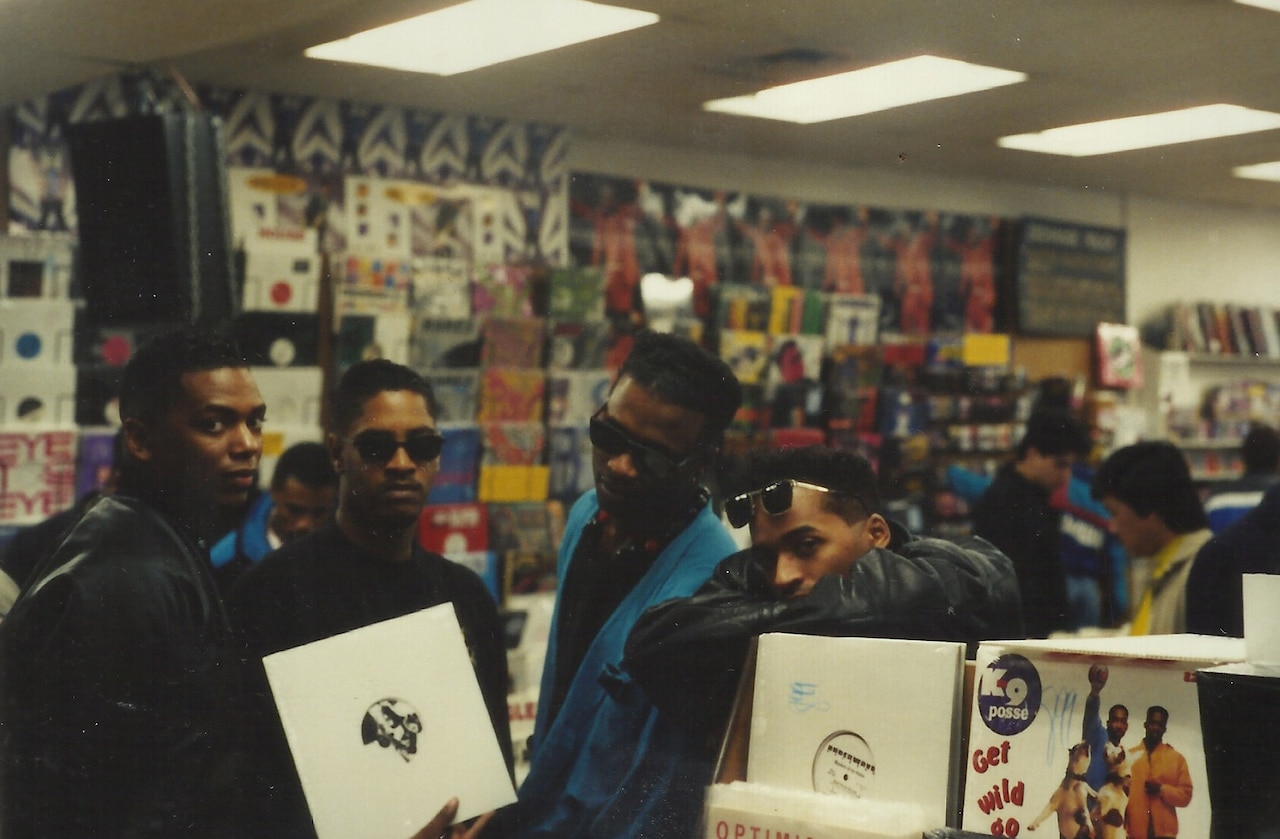 Members of the House: The Greatest House Music Band That Never Happened
It's their first time together in a room in nearly 15 years. "Members of the House was the greatest house music band that never happened," says Bill Beaver. He's one-fourth of the core unit started by Mike Banks, which evolved from a wider collective also under the Members of the House name. It's hardly remarked upon these days that Mike Banks was involved with euphoric house music at one point. The legacy of Underground Resistance is, of course, one reason. But it's also because Members of the House only put out a few records and did one single European tour, drawing thousands of fans a night – and then it was all over.
In a series of interviews, three singers of Members of the House – Bill Beaver, Hassan Watkins, and Quentin McRae (Randy "Paul" McKaskill is absent) – tell the story of how Members of the House became almost an overnight sensation in Europe and fell out of the spotlight just as quickly. Also joining are producers Derwin Hall (D-Ha) of Happy Records and Gerald Mitchell of Los Hermanos, plus Mike "Agent X" Clark, who assisted in the studio.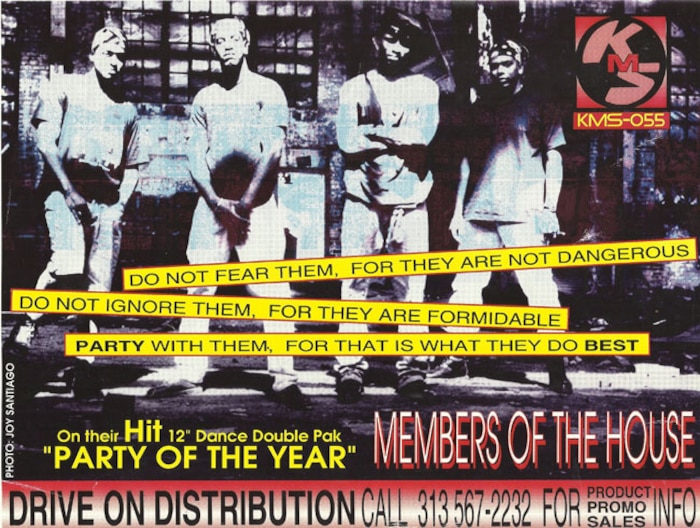 Bill Beaver
Mike Banks came up with the name.
Derwin Hall
There was a group "Members of the House" before the four-core. It was a revolving lineup. But Members of the House blew up when those four – Paul McKaskill, Hassan Watkins, Bill Beaver and Quentin McRae – got together. It broadened the flavor of the music.
Bill Beaver
The original group included Niko Marks, Yolanda Reynolds, Scott Weatherspoon, Avery Midnite, Crystal Gaynor, Bridget Grace, Tunesia Fowler… lots of cool, cosmic cats came through [Mike Banks'] basement. We all knew each other through backyard parties and grapevines.
Hassan Watkins
When Members of the House first started, it was like a Berry Gordy-type production Mike Banks put together. He had all of these different fellas in it – D-Ha [Derwin Hall of Happy Records], [Mike] Clark, [Gerald] Mitchell [of Los Hermanos] – everybody involved making music. He brought in a bunch of vocalists and I was one of them. They did a compilation album in 1987 and I was the last guy on the album. It was called Keep Believin'. It was my first time doing house music; I was a soul singer from the street who dabbled in church music.
Mike Clark
I first heard [1988's] "Share This House" and I was like, "Mike… are you doing house music?"
Quentin McRae
I kind of liked "Share This House" and that was before I knew anyone involved. But then I met the guy putting it together – Mike Banks – and he was like, "Well, I'm making this group called Members of the House. I want you to come sing for us."
Derwin Hall
Mike [Banks] was the orchestrator. The way I came in to it was when I was over at Mike Clark's house. He was DJing and he said, "Man, I got somebody I want you to meet." Never put out a record or anything like that before; I was getting ready to go to law school. But then I met Mike Banks.
Hassan Watkins
From there, it just grew. Mike [Banks] started grabbing different artists, like Bill [Beaver] and Paul McKaskill and Quentin McRae. We blew up. We toured everywhere – all over the country, out of the country… Scotland, England, Canada. We played Joe Louis Arena with Inner City.
Quentin McRae
It went from being a compilation/production company to us putting out a record called Reach Out for the Love as Members of the House.
Derwin Hall
My talent at the time was arranging vocals and writing. Members of the House was originally on Underground Resistance, but then Mike [Banks] and I started Happy Records, and that was their new portal. Members of the House made Happy Records a vocal label and an outlet for house. UR was a techno label and they were putting out house records, so we had to separate the two.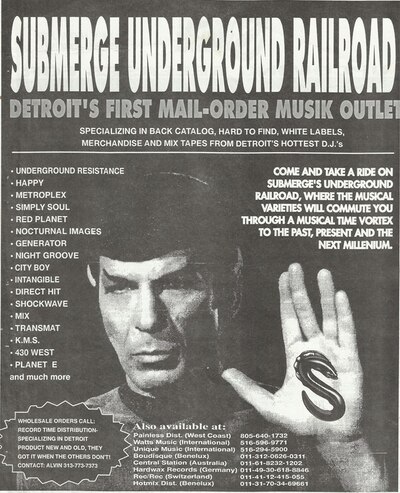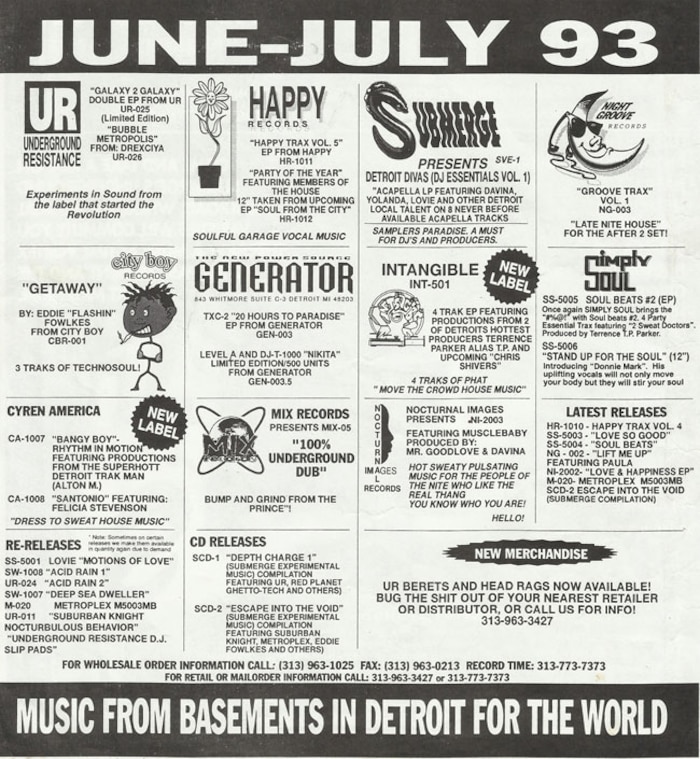 Hassan Watkins
If you go back and listen to our music, we were doing gospel-style harmony chords on top of house, fusing it. We had stacks of harmony, but then we kept unison on everything. That made it gospel-like. We were, at the time, a perfect gift for house music. I believe Mike [Banks] took four gifted folk, blended us, kind of made it almost like a basketball team… then pulled back all of that to make us one. The only group close to making that sound back then was Ten City. They were making harmonies out of Chicago.
Bill Beaver
Everybody in our group was writing songs [at Mike Banks' house]. If you were hitting your notes wrong, Mrs. Banks would come from upstairs and say, "I don't know what Michael got you doing down here, but it ain't soundin' like the harmony is right."
Quentin McRae
Sometimes we would conceive songs in my car. We used to sit there and just create harmonies.
Derwin Hall
Jeff [Mills] and them would compile the track, then we'd go and make a show version. We would edit their tracks and then Jeff and Mike [Banks] would mix them together, and that would create the show. The main producers were Mike [Banks] and myself, but Gerald and Derek Jamerson started producing, and Mike Clark, too. There were no computers back then. Everything was MIDI-chained.
Bill Beaver
Jeff Mills used to cut our tape down in the basement and edit it.
Derwin Hall
We recorded on that two-inch tape.
Mike Clark
Sometimes I would do the bassline or drum programs.
Hassan Watkins
When I left there, I really felt like I made something.
Bill Beaver
Actually, you felt like you did a workout.
Derwin Hall
Nowadays, if someone hits a note wrong, you can fix it. But sometimes that off-ness was what gave a song some life.
Hassan Watkins
My voice would crack all the time and Mike [Banks] would keep those cracks.
Bill Beaver
We were four areas of soul that came together, plus all of the brothers who gave us our focus. It took a lot of guys to make us four guys happen. It didn't just happen like clockwork. It was cultivated.
When Members of the House came along, they ended up putting a face to house music.
Hassan Watkins
We were a group nobody had ever seen. We were four different guys with four different looks and four different voices. We had everything from the bass to the top first tenor. It was like the Temptations in a four-man group. We stepped and danced to everything we did. We were young and slim, stripping off our clothes… drove 'em crazy. House music back then had singers, but they weren't groups and they weren't entertainers. We put on a full show.
Bill Beaver
We were like the Temptations of techno, or house. We did it just like the Motown guys did.
Quentin McRae
We put outfits together – white suits, turquoise suits.
Derwin Hall
That's kind of what set Members of the House apart from everybody else. House music had always been a faceless music. You could listen to house music all night long, and no one ever knew the artist or the name of the song. When Members of the House came along, they ended up putting a face to house music.
Hassan Watkins
At that time, house music was still underground; you'd find it in buildings with strung-up lights. "Reach Out for the Love" was an underground track of ours only getting radio play on the weekends. WJLB had a Saturday night house mix – by Jeff Mills – and they were backing us. Before we knew it, we started hitting all these different charts.
Bill Beaver
We had Nicky Trax, Tony Cockrum, and John Truelove marketing our music overseas.
Quentin McRae
And React Music.
Hassan Watkins
Our distribution was coming through an entity of Sony, so that's how we were able to reach different countries, too. And we were this close to signing with them. I still have the contract.
Bill Beaver
Then we got a tour. Before we did any shows, we rehearsed for a year-and-a-half.
Hassan Watkins
We practiced night after night, day after day. We had mirrors and we worked our butts off.
Derwin Hall
The show was tight and I have to give Banks credit for that. He was a drill sergeant and it benefitted everybody. We hated him for it, but we also loved him for it. That discipline he instilled taught us how to stay focused.
Hassan Watkins
When we got overseas, what blew my mind was the thousands of people who knew our record. They sung every word. Here [in Detroit], nobody knew our words.
Bill Beaver
We were in Brixton [London] walking to a little store. We looked at the magazine rack and we were in the fucking rack! Like, "OK, I guess we made it to something, fellas!"
Quentin McRae
We were at the newsstand and there was a Blues and Soul magazine with Vanessa Williams on the cover. I opened up the magazine and in the middle was this big huge picture of us. I was like, "Wow! Blues and Soul magazine is kind of big." I didn't think we were big.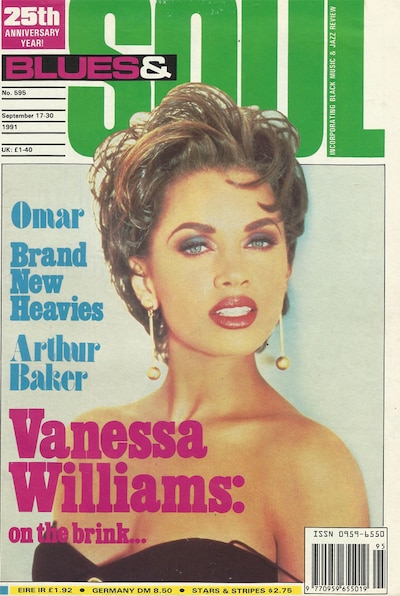 Hassan Watkins
Our popularity shined brighter overseas.
Quentin McRae
We did our first interview at KISS-FM in London. On the spot, we did a jingle.
Bill Beaver
I found out that there were a lot of kids who studied our music in Manchester. Our stuff was in their crates.
Derwin Hall
Here [in Detroit], house music was more homegrown. Family, friends, entourage. It's still that way now… same with techno. You can walk down the street here and no one knows who you are, but overseas you get off the plane and they think you're Bobby Brown.
Hassan Watkins
They thought we were New Edition!
Bill Beaver
One girl even screamed, "OH MY GOD, MICHAEL JACKSON!" And we were like, "No! There's no Michael Jackson here!"
Hassan Watkins
We were playing everything from raves to arenas to airports. We actually played in an airport hanger. They turned the hanger into a big club. One time, they gutted out a movie theater for us, removed all the seats and made it a dance floor. We had this show at a pub in Scotland… as soon as we got there, the power went out. We thought we were done for, but the people wanted to hear their stuff. They were like, "Sing some a cappella! Sing some Motown!" So we did straight a cappella and crushed them. They ended up buying us pints of beer.
Bill Beaver
Hot beer, because they didn't have any ice in the cooler and there was no power. Then the fans stole our clothes.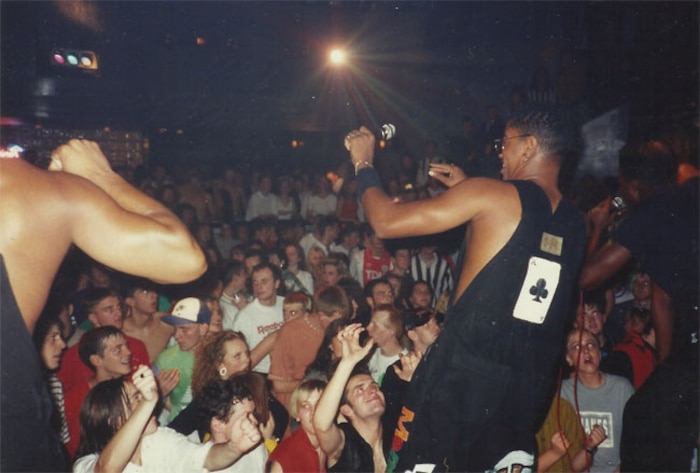 Hassan Watkins
One of the best feelings is when you're a poor boy from Detroit and you're growing up on Livernois… I'll never forget when we were in Scotland and I looked around and it was so beautiful. The prettiest green, the prettiest blue. I said, "Wow. This is a long way from Livernois."
Quentin McRae
We had shows with 5,000 people.
Bill Beaver
We met Boy George at one of the shows.
Quentin McRae
What tripped me out was that everything was totally paid for! We had drivers, we had cars. We stayed in the same hotel as the Beatles.
Bill Beaver
We did somewhere around 32 shows in one month [during our 1991 European tour]. We all got sick after.
Derwin Hall
When we came back to Detroit and hit Soul Night, that gave us our crowd [back home]. Soul Night was at the State Theater (now the Fillmore). It was a wall-to-wall crowd, jam-packed. It was one of the only places in Detroit that got 2,500 people at a party…. That was the era when house music was the biggest that it's ever been in Detroit. Then hip hop came and took us all the way out.
Bill Beaver
It was a battle on the radio between Eazy-E, the West Coast boys, and house music. WJLB used to play everything from rock to house to techno, Depeche Mode… it could be anything.
Derwin Hall
And then it got restricted. Something happened. Censorship was a big deal. That was when I first discovered the music business… those words should be reversed. It should be the business of music. The business overrode the music.
Hassan Watkins
Right after the first tour, we stopped touring. That was it.
Quentin McRae
We never got our second tour.
Derwin Hall
There were no more tours, but there were continued records for four or five more years. I think the last record came out in 1995.
Gerald Mitchell
So I got a question for y'all. Members of the House… why can't that get back together now?
Derwin Hall
Could it happen again?
Hassan Watkins
I definitely think it could happen again 'cause Bill and I never really stopped. I mean, we went our separate ways, but we kept doing music.
Derwin Hall
I don't think you can recreate Members of the House, though. It's like buying a really fine painting and putting it on the wall. You can try to recreate it, but it won't be the same thing. You can get that same artist to do something new that will be just as beautiful, though.
Bill Beaver
We're only as good as our next record.

Photos courtesy of Hassan Watkins