Interview: Chris Jasper on Playing Synths for the Isleys
Michael A. Gonzales talks to the inventive, classically-trained keyboardist behind some of the Isley's most indelible hits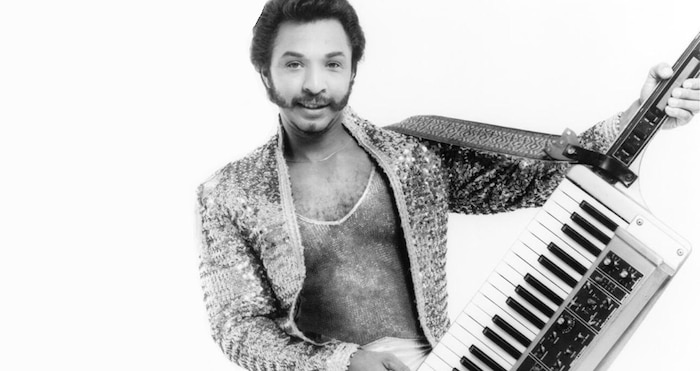 Chris Jasper was born into a musical family. The youngest of seven kids, when his older sister Elaine married her singing sweetheart Rudolph Isley, Chris was made an honoree soul brother, and welcomed into an Isley brood that consisted of Rudolph, O'Kelly, Ron, Ernie, and Marvin. The three oldest Isley brothers left town via Greyhound to New York City on a quest to become stars in those early days of rock & roll, and after striking pop platinum with their 1961 hit "Twist and Shout" they never looked back. Chris Jasper might've only been ten years old, but his musical destiny was already in motion.
Joining forces with all of his brothers-in-law ten years later, Jasper joined the group as it was just beginning to incorporate a harder edge of funk and rock introduced to the world to on the 1973 disc 3+3, the smash long-player that contained "That Lady" and "Summer Breeze." Jasper became the group's resident keyboardist and electronic music wiz, jamming on synths and Moogs alongside guest stars Malcolm Cecil and Robert Margouleff.
For the rest of the decade, the Isley Brothers could do no wrong as they made hit after hit, combining pop with soul, funk with rock and redefining the baby-making ballad for a generation of lovers. With singer Ron leading the way, they were self-contained hit-makers who were as dynamic on stage as they were in the studio.
Although their last album as a complete unit – Between the Sheets – went platinum in 1983, stressed relationships and money problems split the group. Chris, Ernie and Marvin went on to form Isley-Jasper-Isley a year later, but for a generation of music fans nothing could touch those '70s grooves made by the original six. Jasper went on to open his own label Gold City Music, where he has recorded gospel records since the '90s. On the occasion of his recent retro-soul secular treat, The One, we caught up with Jasper to talk about his extensive career.
On your new album The One you do a cover of Marvin Gaye's still timely "What's Going On." Were you friends with him? Did you ever record together.
I wish we had. [laughs] That was one of the things on my list that I wanted to do and I didn't get a chance. He was always one of my favorite singers since I was kid. I used to sing Marvin's songs walking home from school. "Stubborn Kind of Fellow," "Hitchhike," those songs he first came on the scene with; of course, those sides with Tammi Terrell. I was just a big fan of his. When he did What's Going On, I was in college and that was a revolutionary type of record. I just remember the impact that album had on people in the industry. At the time, I was also recording with the Isley Brothers then and it just changed so many things, so many perspectives on how even albums were recorded. We were impressed how the album had a theme to it and it just flowed from song to song.
There were so many revolutionary black music artists emerging during that period. Who else were you listening to?
I was a huge Sly Stone fan. Sly is another one, along with Freddie, Larry Graham and everybody else in the band. Of course, Larry Graham changed how everyone played the bass. Stevie Wonder was another big influence of mine. Sam Cooke: I loved the way he sang. Me, Ernie Isley and Marvin Isley used to have a group when we were younger called the Jazzman Trio and we used to play a lot of the Motown songs in our shows.
I understand that you started playing piano when you were seven years old in Cincinnati, Ohio.
Yeah, I used to hear Ray Charles and Sam Cooke songs on the radio. My mother played piano, and I would go over to it to try and figure out the chord progressions. She heard me doing that and said, "Chris, why don't you learn how to read music?" She knew a professor from a conservatory where my uncle, who was a concert violinist, also studied. It was when I started taking lessons, that's when I started to learn about songwriting. He not only taught me how to read music, but also what the composers was doing when they constructed a song. How they would go back from theme to theme, the chord structures and whatnot.
When I heard Music of My Mind it blew my mind, because that was such a unique way to use that instrument. Stevie used it in a different way then people had even thought of.
That was the beginning of my songwriting training. I was studying Beethoven, Brahms, Bach and those guys. Debussy was a huge influence on me, and even some of the Isley Brothers songs, is kind of reminiscent of Debussy like "Highways of My Life," "Lover's Eve," or "Love Put Me on the Corner." George Gershwin was another one; his chord structures were a little different, and I liked that. Gershwin was a student of that same Romantic period. I used a lot of those harmonies and chords on Isley Brothers material, Isley-Jasper-Isley and my current work.
You went to both Juilliard and C.W. Post University in Long Island.
I finished at C.W. Post in Long Island, because (jazz pianist and educator) Billy Taylor, who I admired a lot, was teaching a course out there. The Juilliard composition department wasn't diverse, they just wanted us to compose atonal music, which wasn't my thing; that really wasn't what I wanted to do. When I heard that Billy Taylor was at C.W. Post, I thought that would be a more free environment for me, so that's where I finished my composition curriculum.
What was your transition from playing acoustic piano to experimenting with synthesizers and Moogs? What was your introduction to the electronic side of it?
I was actually introduced to my first synthesizer from a professor at Juilliard. Synthesizers looked very different back then. There were a lot of patch cords and it was very complicated. But the way they were using the synthesizer was a lot different from the way we would use it in popular music. They were using it just to create sounds and different approaches to atonal music. That was the first time I played the synthesizer. Then, the more popular they became, different versions were made and they became more compact and I was lucky enough to play on the synthesizer Stevie Wonder played on.
This was when the Isley's started working with Malcolm Cecil and Robert Margouleff in 1973 on the 3+3 album.
Exactly. Malcolm built that (TONTO) synthesizer. It wasn't as cumbersome as the one I played in school, but it was still pretty big and he got some great sounds out of it. I guess Stevie Wonder was the first to use that one, because when I heard the Music of My Mind album it blew my mind, because that was such a unique way to use that instrument. He used it in a different way then people had even thought of.
Mainstream music critics and scholars don't seem to acknowledge the impact of synthesizers on black pop, especially Stevie Wonder and the Isley Brothers. Not a cold futuristic sound, but something that was much warmer.
The people buying the records were well aware. Listening to "Living for the City," it was out there. People asked me all the time what I was playing on "Take Me to the Next Phase." Later, there was Prince, who I really like. His syncopation and approach to funk in particular was a little different and that showed his ability to innovate. Sometimes people get into the copycat business, but Prince took a little of what James Brown did, a little of what Sly did and put his own spin on it. His use of synthesizers and guitars, and the counterpoint between the two things, was really great.
Although the Isley Brothers performed so many types of music, including Todd Rundgren ("Hello It's Me") and Seals & Croft ("Summer Breeze") covers, you're usually referred as a funk band. How do you define funk?
Funk has to have a feeling. I don't think you can play funk without touch sensitivity. Plenty of times I have heard guys playing who thought what they were doing were funk, but it wasn't, because they don't have the touch. Larry Graham is the perfect example of a guy who has an extremely good touch, you can feel it. Lewis Johnson (the Brother's Johnson) is another good example. You can't really teach that, you have to have it in you. You got to live it. It's not just about taking bass lessons, you gotta live funk a little bit.
Although my mom played the Isley Brothers when I was growing-up, my consciousness of the group wasn't until "Fight the Power" from The Heat Is On (1975) came out. I think I got slapped in the mouth for screaming "Bullshit!" like Ron Isley does in the song.
[laughs] I've heard stories about that. None of us knew that word was going to be said in the song. The original word was "nonsense." That was what was on the page. When Ron said "bullshit" instead, everybody just stopped and looked at each other like, "Oh no, what did he say?" We talked about it, and I said, "Well, that's what everyone is thinking though. That's what on the minds of people, the bullshit." We did an edited version, and put a beep in there. When it was released, the first station I heard it on was WABC in New York, which didn't play that many black records; the station did their own edit. That's when I knew we had a hit.
The engineer had miked everything wrong; when Malcolm Cecil walked into the studio, we told him we have to do this whole thing over again.
That particular album, The Heat Is On, didn't start out that good. We used to record everything in New York and these albums starting with 3+3 and ending with Harvest for the World, we recorded those at the Record Plant in L.A. The way we record, me, Ernie and Marvin would go in first and do the track. So, we got there and the drums were set up wrong. The engineer had miked everything wrong; when Malcolm Cecil walked into the studio, we told him we have to do this whole thing over again, so we didn't even know if we were going to record that first day, but they soon as they got everything straight. It was still a slow start, but it turned out great.
Did the Isley's do a lot of pre-production?
We rehearsed a lot in New York before we left. We had a four-track recorder and we would put down some basic parts, so we knew what parts worked on the rhythm section, the basic track. So, when we got to the studio we wouldn't be hunting for chord changes and grooves. There were other things, like overdubs, that we worked out in the studio. We also traded off on instruments, and sometimes I played bass and guitar. The whole thing between all of was, if you can do it, just go ahead and do it.
Then in 1977, with the Go for Your Guns album, you guys started recording at Bearsville Studios (owned by Bob Dylan's then-manager Albert Grossman) in upstate New York, which was where Todd Rundgren also recorded.
I don't know where I heard it, but I'd learned that the studio up there had basically the same set-up as the set-ups in California. I made a trip up there and checked out the studio. I said, "Hey guys, instead of going 3,000 miles we can go maybe a hundred miles upstate and get the same sound." They had little apartments up there, so we just stayed up there and recorded. There was nothing around there except woods and trees; no distractions at all.
In the '70s, the Isley Brothers were known for putting out a new album every year.
At the time, man, I was always writing, no matter where I was. That's where my head was, that was where my focus was.
What was the Isley's songwriting process? How did it work?
Well, basically those songs were written between me and Ernie; Marvin contributed ideas too, here and there. We'd work them out together. Some of them were complete ideas, other times we'd collaborate on stuff. Because of my training, I worked on the compositions and production, which I didn't mind; Ernie had a lot of good melodies and song ideas. Ernie also had his great guitar solos, which gave the songs another flavor.
The last Isley Brothers album you appeared on was Between the Sheets in 1983, leaving the group along with Ernie and Marvin to start Isley-Jasper-Isley. What was it like to be away from the big brothers?
We just turned back into the Jazzman Trio. [laughs] We started off that way, we joined the brothers and now we were back as our trio. We did the music [for the Isley Brothers] anyway, so it wasn't that much of a difference other than they weren't around. It didn't put us in a spot, because we knew what to do.

Isley-Jasper-Isley released three albums between 1984 and 1987. Their most successful was Caravan of Love, with its folksy soul title track that was later covered in the U.K. by the Housemartins. The song became a Quiet Storm/easy listening standard. In 1988, they too disbanded.