A Guide to the Unhinged Genius of Jean Pierre Massiera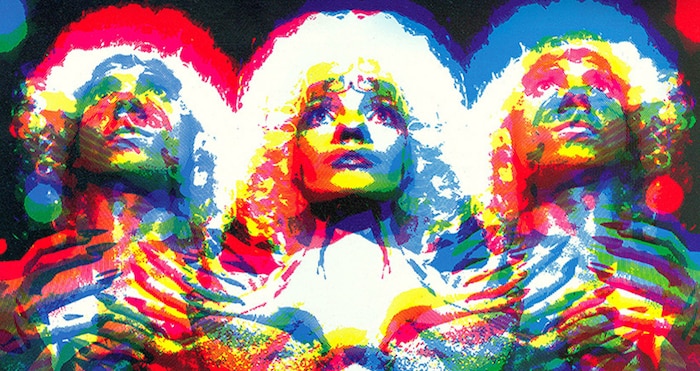 Jean Pierre Massiera is one of those rare musicians who was not only hugely prolific, but also someone that held convention in complete disregard. Throughout the '60s and '70s Massiera masterminded records in wildly different genres, from intergalactic Italo disco and psychedelic rock to spine-chilling soundtracks.
Massiera grew up in Buenos Aires and first played guitar with beat band Les Milords / Les Monegasques. After moving to France, he set up his own SEM Studio (Studio d'Enregistrement Méditerranéen) in Nice, which although short-lived, was enough for Massiera to establish himself as a producer with a schizo-delic vision, ploughing through fuzzy psyche-beat and tripped-out funk, while leaning heavily on experimental effects, religious imagery and all-round weirdness.
Massiera's next stop was Antibes, and his reputation as a mixing desk genius made him the go-to man for any artist or group looking for a raw, psychedelic edge to their music. With his new studio he hit his stride as a perverse purveyor of cosmic disco, and putting his touch to a raft of uncategorisable masterpieces that are still sought after today. RBMA's Max Cole takes a look at some of the better known records from Massiera's strange world below, touching on the many styles across his discography.
Herman's Rocket - Space Woman

Probably Massiera's best known track, this 1977 space chugger features the cream of JPM's studio band, notably his half-brother and songwriting partner Bernard Torelli, co-producer Patrick Barbero, and the powerful vocals of psych rock singer Jessy Joyce. Apparently requested to create a one-off space disco project by label owner Meme Ibach, Massiera and the crew flipped some prominent disco tropes of the day and sent them into orbit on this 12-inch before stretching the lunar mirrorballs and sci-fi disco themes across a whole album.
Atlantide - Le Regard Des Dieux

Showing Massiera's more folky proggy side, this one-off project demonstrated that in the mid-'70s, it wasn't just the UK or US that claimed the world's best prog rock bands. JPM and his band – including longtime collaborator singer Patrick Attali – took cues from Yes and King Crimson, flipping them in their own French way, adding a touch of sitar and mellotron, and even some gothic chorals.
Jessy Joyce - Only In My Dream

One recognisable aspect of Massiera's sound was singer Jessy Joyce, who after two 7-inches of funky soul and wild hard rock, crafted her debut album with a four piece overseen by Massiera, with an emphasis on hypnotic harmonies, heavily contrasting dynamics, and weighty grooves.
Visitors - Joyo Can You Hear Me Pt. 1

Another one of Massiera's most enduring projects, Visitors embraced outer space with typical psych rock bombast, including violins from Didier Lockwood, before transforming into a cosmic electronic band in 1981. The title track of the second LP comes across as some kind of industrial Sesame Street theme tune, with its percussive sequences and insistent spelling, but it's "Joyo Can You Hear Me Pt 1" that really charts unknown territory. (Plus the cover looks like a HudMo t-shirt circa Satin Panthers.)
The Starlights - Mao Mao

One of Massiera's passions was field recording. You can hear it on this 7-inch record from The Starlights, with Massiera and a band including Gerard Brent underpinning the themes from African singers to create some deep tribal funk.
Venus Gang - Love to Fly

Following the success of Herman's Rocket, Massiera put together another one-off project called Venus Gang, from which this slow disco jam is taken. Jessy Joyce delivers another two-headed vocal, switching from seductive whispers to a psyched-out scream with ease. According to Massiera, "the tracks were composed with mixes of delirious voices and Moogs. Musicians and singers improvised totally. Afterward I added 'theme' gimmicks and different mixes keeping it fresh and unplanned." This album also reveals Massiera's fondness for studio techniques and eccentric mythologies, with a disco version of Joe Meek's "Telstar" closing out side one.
Horrific Child - L'Etrange Monsieur Whinster

If there's one album that might best sum up Massiera's vision, it would be this Horrific Child project. Filled with prog riffage, African rhythms, spoken word and chaotic tape samples, this record was an experiment in uneasiness, a listening experience with only the faintest of familiar tropes to hold onto. Utilising tape sections from the studio vaults, the album was given some semblance of cohesion with added basslines and recitations from HP Lovecraft and Baudelaire.