TSONYC: The Mutiny That Relocated the Philly Sound
Throughout the '70s, MFSB defined the Philadelphia disco sound. In the late '70s, however, key members of the group defected to New York and created another set of legendary tunes for Salsoul. Nate Patrin explains why.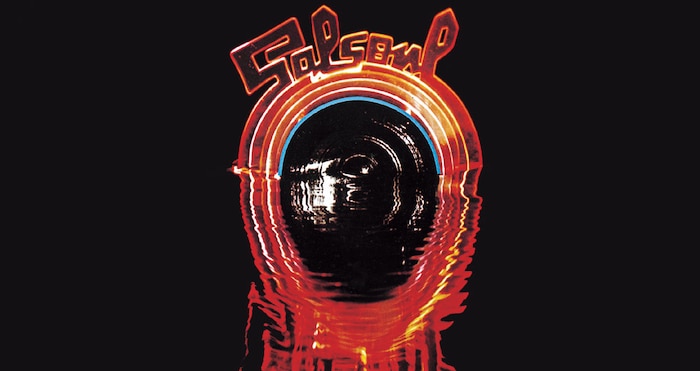 In 1976, Salsoul Records helped an obscure R&B vocal group from Philadelphia called Double Exposure put a multi-layered stamp on music history when they released the single "Ten Percent." As the first commercially available 12-inch record and a major crossover from disco floors to pop charts, "Ten Percent" set an early precedent for hits made outside of the airwaves, tunes championed by DJ tastemakers that had the advantage of measuring real-time audience impact.
What's often forgotten in all of this, however, is the label that put it out. At the time of "Ten Percent"'s release, Salsoul had been around for less than a year. Yet with limited resources, they managed to convince a group to come to New York after they helped make The Three Degrees, the O'Jays, Billy Paul, and Harold Melvin & the Blue Notes some of the decade's biggest soul hitmakers. This group wasn't the top-billed singers themselves – or the songwriting and arrangement nucleus. It was musicians from Philadelphia International Records' MFSB, studio hands who had previously seen only a fraction of the revenues and a minimum of credit for one of the most recognizable sounds in R&B history. And their exodus from Philly into the newly formed Salsoul Orchestra would change the sounds of two cities – and worldwide dancefloors – in remarkable ways. MFSB made countless appearances on PIR's early '70s hits. Under their own name, they also created a song that became the theme song to Soul Train ("T.S.O.P (The Sound of Philadelphia)") and one that writer Peter Shapiro credited as "the national anthem of New York" ("Love Is the Message"). They had done more to turn a city's identity into a region-defying musical blueprint than any label since Motown. But just like the renowned Funk Brothers made the sound of Detroit into the Sound of Young America while remaining largely anonymous themselves, the melting pot wrecking crew of session players that delivered the sonic imprint of PIR's orchestral funk and soul were expected to remain behind the scenes, no matter how much they contributed to the songwriting and arrangement processes.
For all the contributions MFSB made to a multi-million-dollar music empire, they began to get the feeling that their relative anonymity, lack of publishing or songwriting credits, and minimum-scale pay were intractable problems.
What they contributed, incidentally, was monumental. The reason the particularly hi-hat-heavy strain of disco that MFSB-backed records provided came to dominate was because the metronomic cymbals of drummer Earl Young made beat-matching records that much easier. Bassist Ronnie Baker was a creative powerhouse, steady and unobtrusively propulsive when he needed to be, but just as likely to come up with something so gripping – the basslines for The O'Jays' "For the Love of Money" and Harold Melvin & the Blue Notes' "Bad Luck" – that massively lush arrangements and from-the-gut vocals could be built around them while still deferring to the groove's power. Norman Harris, practically inseparable from Young and Baker since childhood, was a guitarist who excelled as an arranger, having already proven his pre-MFSB bona fides as a key component of hits by The Delfonics ("La La Means I Love You"), Jerry Butler ("Only the Strong Survive"), and Wilson Pickett. If that sounds like an impressive array of credits, well, it is – which made their alienation from Philadelphia International's Gamble/Huff/Bell nucleus both disappointing and unsurprising. For all the contributions that these and other members of MFSB made to a multi-million-dollar music empire, they began to get the feeling that their relative anonymity, lack of publishing or songwriting credits, and minimum-scale pay were intractable problems; John A. Jackson's book A House on Fire: The Rise and Fall of Philadelphia Soul quotes guitarist TJ Tindall as saying that "[I] made more money doin' Wranglers commercials than I did on [MFSB sessions]."
Even the band's top-billed moments of triumph became increasingly whittled away: 1973's meet-the-musicians effort MFSB gave full credits and band-member photos on the back, along with a set of liner notes by Soul columnist G. Fitz Bartley that played up their paid dues. ("[T]hey have become more than just studio musicians. They are, in fact, the sound behind Philadelphia International.") But by the release of the hit-packed Love Is the Message less than a year later, the musicians' names were off the sleeve and their faces were scattered through a jumbled montage of postage-stamp-sized anonymity. By 1975, both names and faces were gone from the sleeves of Universal Love and Philadelphia Freedom, though the latter LP's gatefold did include a passage from The Revelation of St. John the Divine: "I know thy works: behold, I have set before thee an open door, and no man can shut it: for thou hast a little strength, and hast kept my word, and hast not denied my name."
Eventually, Baker, Harris, and Young established their own publishing house where they composed and arranged their own songs; check out First Choice's first two proto-disco classic LPs on the Philly Groove label, 1973's Armed and Extremely Dangerous and 1974's The Player, for a sense of just how well they could do for themselves. Still, they had to get those affairs in order amidst hours upon hours of playing on nearly every release under PIR's purple-and-mustard banner.
So, once they found an out, they were keen to take it. As luck would have it, that out came from Vincent Montana, Jr. Montana was a versatile percussionist and vibraphonist who'd gigged with everyone from Sarah Vaughan to Frankie Avalon in the '40s and '50s, had a hand in helping recording engineer Joseph Tarsia set up the original Sigma Sound Studios location in Philadelphia, the home base for PIR's roster and many others from B.B. King to David Bowie. Montana was one of the increasingly disenchanted members of MFSB's ranks, and by 1975, he'd heard from a new label with deep pockets and some interesting musical ideas.
That label was Salsoul, an imprint making waves with a couple of Latin-inflected Joe Bataan singles (Gil Scott-Heron cover "La Botella (The Bottle)" and Deodato number "Latin Strut," the latter of which was sold to CBS Records for $100,000 after legendary New York tastemaker DJ Frankie Crocker put it in heavy rotation on WBLS). According to a 2004 interview with disco-disco.com, Ken Cayre used that windfall to lure Montana and other MFSB members – including the Baker-Harris-Young core, string arranger Don Renaldo, and the talented but underpromoted Philly legend Bunny Sigler – to record a trio of cuts for a group he'd christen the Salsoul Orchestra.
Montana was intrigued, as he'd long harbored an interest in incorporating salsa and other Latin sounds into his arrangements. By October 1975, the first self-titled Salsoul Orchestra record hit shelves, just a month before the release of The O'Jays' Family Reunion and Harold Melvin & the Blue Notes' Wake Up Everybody – the last two Philadelphia International LPs to feature the original MFSB core.
And this is how the sound of disco's soul-sourced pulse wound up becoming something of a dichotomy. Back to Double Exposure: "Ten Percent," and the 1976 album of the same name, are so thoroughly PIR in sound and feel — the strings that alternately jab and soar; the buoyant bassline that sneaks some hyperventilating intensity underneath the lavish, joyous arrangement; the percussion that's as steady as human hands can get, yet as organic as locked-in rhythm can feel — that it sounds like a deliberate shot across Gamble and Huff's bow: this is what we could've done for you, if only you'd given us the chance. But Salsoul's aims — going for the discotheque rather than the airwaves, diversifying the roster with Latin and European influences, privileging giddy hedonism and passionate melodrama rather than traditional signifiers of soul — made it a different entity entirely.
You can perhaps hear the change best in 1977. In June of that year, Harold Melvin & the Blue Notes' Teddy Pendergrass finally earned top billing on PIR after years of being the lead singer of a group that wasn't even named for him. Despite the absence of the personnel that made "If You Don't Know Me By Now" and "Bad Luck" such definitive examples of the Philly sound, Pendergrass's self-titled solo debut does its best to maintain that same brassy, orchestral early '70s feel. And it's to memorable ends, especially in the storming disco-tempo charge of opener "You Can't Hide from Yourself" and the hit ballad "The Whole Town's Laughing at Me."
That same month, The Salsoul Orchestra released Magic Journey, which also opened with an uptempo disco cut – one that feels like almost the exact opposite of the guilt-wracked introspection and call for cold, hard reality of "You Can't Hide from Yourself." "It's a New Day" is almost deliriously optimistic, shrugging off despair with a carefree escapism: "Got no money to spend, not a dime or a friend / Yet things are gonna go my way." Magic Journey occasionally lacks the soulful seriousness of Teddy Pendergrass – "It's a New Day" and classic Loleatta Holloway showcase "Runaway" bookend a particularly egregious death-by-camp arrangement of the Royal Teens' 1958 novelty hit "Short Shorts" – but the album's audacious mix of offbeat cheese and symphonic opulence proved to be a strong example of Salsoul's foundation for success.
At its peak, the Salsoul sound took the MFSB lineage to dizzying heights of full-fledged disco intensity.
At its peak, the Salsoul sound took the MFSB lineage to dizzying heights of full-fledged disco intensity, especially with remixers Tom Moulton and Larry Levan on board to give those tireless grooves even more stamina. Loleatta Holloway proved to be one of the most powerful singers anybody in the Orchestra ever worked with, having rocketed into diva immortality off 1976 gem Loleatta (featuring Philly-redolent masterpieces "Hit and Run" and "Dreamin'") and finding an eclectic cross-section of Sigma Sound and Muscle Shoals spirit on her 1979 self-titled LP.
Instant Funk's "I Got My Mind Made Up" was an ace in the hole from a band brought into the fold by Bunny Sigler, who produced and co-arranged the single into a #1 R&B and dance hit that had enough grit to make it a classic of both disco and funk. And First Choice, the early breakthrough of Baker-Harris-Young's work outside the Gamble-Huff umbrella, found their way to Harris's Gold Mind Records imprint and cranked out the best girl-group disco-soul vocal tracks this side of the Three Degrees, with the glamorously bitter "Double Cross" near the top of the pack.
And, in the end, even as their old influences slowly faded away in favor of Euro-disco and boogie-funk at the end of the '70s and inexpensive synthesizers made the soul orchestra an endangered species, those lifelong friends from Philly were given the freedom to stand out on their own. As B-H-Y, Baker, Harris and Young put out an LP in 1979 that was a no-nonsense collection of luxurious yet groove-heavy R&B ("Handle Me With Love and Care"), high-energy disco ("Marathon Dancer"), and – freed from the obligation to fit a house style – a strain of bugged-out, Parliamentary funk they'd rarely toyed with but handled well ("We Funk the Best"). It wasn't a hit, but they still had their names. Even if the mainstream version of music history still tends to overlook them, Salsoul gave the once-anonymous MFSB ranks the credits they were owed. Like the song goes: ten percent of something, it beats one hundred percent of nothing at all.