Nightclubbing: New York City's Better Days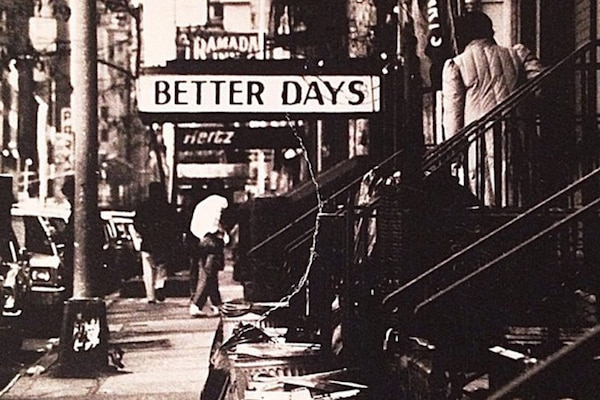 It's no secret that the '70s and '80s were the prime decades of New York City clubland, particularly in the underground. David Mancuso at the Loft; Nicky Siano at the Gallery; Larry Levan at the Paradise Garage; Tony Humphries at nearby Newark, New Jersey's Zanzibar – DJs and venues that not only helped to build the scene, but also helped muscle our very notion of "clubbing" into existence. But there's an equally influential dance spot from those hallowed days that seems to fly below the radar: Better Days, which opened its doors in 1972 and died an ignoble death, as even the best clubs sometimes do, in 1990.
Better Days wasn't exactly fancy – a bar, a dance floor and some minimal lighting – but some of the giants of the New York scene worked their magic from within the spot's DJ booth. Larry Patterson, Kenny Carpenter, Timmy Regisford and Andre Collins were among the stalwarts to have played there, as did superstars like François K, Robert Owens, Frankie Knuckles, Tony Humphries, Shep Pettibone and Robert Clivilles. It was one of New York City's great dance-music incubators. Among many other claims to fame, Better Days spawned the seminal house track "Do It Properly" and, later, C&C Music Factory. But most importantly, the club played host to two iconic residencies: one by the late Tee Scott, the beloved spinner and remix savant who called Better Days home from the venue's early days through 1980, and Bruce Forest, the prolific studio wizard who went onto produce and remix everyone from Giorgio and Carl Bean, to Madonna and Whitney Houston.
Perhaps even more than its contemporaries, like the Garage, Better Days was a safe haven for the disenfranchised. As Glenn "Sweety G," the vocalist for such late-period Better Days favorites as Cultural Vibes' "Mind Games," puts it, "The overdue rent, the arguments, the job that you couldn't find – you would just leave that at the coat check. You'd just be partying in this space that felt like somebody's home. And guess whose home it was? It belonged to the people on the dance floor." Below, some of those people – including Tee Scott's sister, Melanie – tell the story of Better Days.
Melanie Scott
We grew up in the Bronx. At one time in our house, we had an organ, two guitars, a ukulele, a clarinet, a saxophone and two pianos. Somebody was asking my mother about all that, and it was like, "Well, Scottie plays the clarinet and saxophone and the piano; my husband plays the piano and organ; Melanie plays guitar, and Cheryl also plays guitar." And they asked her what Tee plays, and she said, "The record player!" He used to set up the record player and narrated these stories, and punctuate the stories with various songs.
Bruce Forest
The club was on 49th Street between 8th and 9th Avenue, in the middle of the block. The place opened in '72. It was called Pea Nuts then. The first DJ was a woman named Bert Lockett. She was very nice. It was kind of a dive bar at first. There was a dance floor, which was maybe 50 feet in diameter.
Melanie Scott
It was basically a big, dark bar. They had a back room, but that wasn't for the faint of heart. I think I only went back there once. The clientele was… well, sketchy. It would crowd up after about two in the morning, because that's when all the guys who worked on 10th Avenue would get done. And when I say worked, I mean working on the streets – there was a heavy transvestite presence.
"Better Days was in a very rough part of town."
D.C. LaRue
It was in a very rough part of town. Right across the street there was one of those typical, big West Side parking lots with a chain-link fence around it. I won't get into my personal sexual predilections… but that area was seedy beyond belief. It was really funky and hot and sexy and groovy, with the strip clubs and the go-go boys and the hustler bars and the street action. It was just my cup of tea.
Bruce Forest
The old Madison Square Garden had been across the street. It was really rough looking. When they took out the Garden, they had left all the underground stuff, like the hallways and the basements, and basically just covered it with asphalt to make this huge parking lot. It was a whole city block, from avenue to avenue. It was also the number one source of rats in all of New York City! When they finally started digging it up in the mid-'80s to build the Worldwide Plaza, those rats started flowing out like water. They were running around in every direction. People were screaming. It was brilliant!
David Steel
The crowd was gay and 95% black, maybe with some Latin – but, most important, they were people who were just there for the music. And the music was great.
Bruce Forest: Tee was a big fan of Thorens turntables, so that's what was in there. And he was incredibly good with them. He could really turn it out. He was one of the best DJs I've ever heard. He wasn't technical - just a long-ride, smooth kind of DJ. What he did was play good music. First Choice was one of the biggest groups at Better Days, and their "Love Thang" was Tee's first mix.
Melanie Scott
Actually, his first remix was of Robert Flack and Donnie Hathaway's "Back Together Again." He didn't get any linear credit for that back then. Now, people are beginning to find out about that.
Bruce Forest
He would play a lot of stuff like Blue Magic, Teddy Pendergrass, Loleatta Holloway, Jocelyn Brown and Grace Jones.
Mike Barnes
I can remember Tee playing C.J. & Company's "We Got Our Own Thing" and "Sure Can't Go to the Moon," Dr. Buzzard's Original Savannah Band's "Cherchez la Femme," "Shame" by Evelyn "Champagne" King, "Hot Shot" by Karen Young, "Love Hangover" by Diana Ross, "I'm On My Way Home" and "Lovin' is Really my Game" by Brainstorm, "High Society" by Norma Jean… I could keep going.
Cynthia Cherry
Tee knew how to make the crowd just melt. You look up in the booth and you see this big man with this big smile – how can you not love him?
David Steel
Back in those days, so many songs were about love and kindness. Tee played that kind of music. An energy of happiness seemed to flow from his choice of music.
Judy Weinstein
Tee was part of a crew. It was Tee, Larry Levan, Kenny Carpenter…this group of black gay men that really ran the circuit that was Zanzibar, Better Days, the Garage, Bonds and a few other places. And Tee was one of the best of them. But there was no competition among them; there was a real camaraderie.
Melanie Scott
People typically say that Larry Levan was the best DJ around, but for me, the big difference between Tee and Larry was that Larry wasn't consistent. He would play according to his mood. But no matter what Tee's mood was, he could always elevate that mood through his music.
"There was so much energy that it felt like the whole room would lift off and explode."
François K
The Garage was like a giant party, but Better Days was church. Maybe it was because the DJ booth at Better Days was right over the dance floor, but when I would start pumping vocals – I can remember this particularly with Chaka Khan records – you could feel the energy right there, right in front of you. It was spine-tingling. There was so much energy that it felt like the whole room would lift off and explode.
Bruce Forest
I used to buy a lot of records at Downstairs Records, just like everybody else in New York did back then. Sometime around autumn of 1979, my girlfriend at the time, Leslie Doyle, was with me at the store, and she asked Yvonne Turner, who was working there, "Can you please send us to the place where the music is decent, and that we can get into?" And she said, "Go see Tee at Better Days." And after that, I was probably there four days a week.
Leslie Doyle
The first time we pulled up, Bruce was like, "I don't know.…" It looked a little rough, and he was nervous, but I said, "Come on, let's just do it." Once we started going, we got the lay of the land pretty quickly, and inside the club it was pretty benign. People were free to be self-expressive.
Bruce Forest
Do you remember an old cartoon named Courageous Cat and Minute Mouse? Remember the Frog? That was the owner of Better Days. He called himself Al Roth. He used to walk around with a drawn .38 revolver. Apparently, Tee didn't get along very well with Al, but because Tee had the crowd in his hand, there wasn't much that Al could do about it. But one night in very late 1980, Al Roth looks at me and asks, "Do you DJ?"
Leslie Doyle
He asked Bruce if he wanted to audition. Bruce couldn't believe his ears – but yes, of course he would audition!
Bruce Forest
When I came to audition, Al said, "Alright, go ahead and play!" I start playing – I think I started with two copies of Imagination's "Burnin' Up," which wasn't even out yet – and he just wanders back into his office. I kept playing for a half hour, even though I knew he wasn't even listening. He was on the phone. But finally he comes out of the office and says, "Kid, you're fucking great. You want the job? I just fired Tee." I was like, "Excuse me?" That's like going to Microsoft for a job interview, and them going, "You're gonna replace Steve Ballmer." Anyway, on my first night, I basically got a circle of 500 people just looking at me with their arms crossed. "Who the fuck is this white guy?"
Cynthia Cherry
I'm standing on the dance floor and I see Bruce coming in. I'm like, "Oh my God – a white boy in this club? They're gonna eat him alive." This crowd was cut-throat. And I could tell he was really nervous, because as he was walking in he dropped all his records on the dance floor. I helped him retrieve his records and him get into the booth.
Bruce Forest
I played and I played and I played as hard as I could. I knew I wasn't bad, but they were having no patience with me whatsoever. It was like, "They took away Tee Scott and replaced him with a short, skinny white guy?"
Leslie Doyle
I don't think either of us understood the backlash that Bruce was going to get when he stepped in for Tee.
Mike Barnes
When Tee left, it hurt me. And I think it was the same for a lot of people. And it must have been hard for Bruce; when you're taking over for Tee Scott, that's like taking over for Frank Sinatra in his prime.
"They were jumping up and down, going, 'Timmy! Timmy! Turn this motherfucker out!' At the end of the night, the tarp drops down and I'm standing there smiling at them."
Bruce Forest
Al said, "They don't want a white guy, so I gotta hire a black guy." I said, "Okay, I'll make you a deal. Thursdays and Sundays are your slow days, and I'll keep those. Wednesdays, Fridays and Saturdays, we'll have my friend Timmy Regisford come in. They'll love him." Timmy was good friends with Tee and he knew how to play, so I knew that it would work. So he started playing, and the crowd loved him. But it was still empty on my nights, and busy on Timmy's. After this had been going on for about two weeks, Al suddenly decides to paint the place, and there were tarps hanging all over the place, including in front of the DJ booth. That Friday, Timmy calls me up and says, "I can't come in tonight. Can you go in and play?" So there's this tarp in front of the booth, I start playing, and everybody thinks that it's Timmy. They were loving it, jumping up and down, going, "Timmy! Timmy! Turn this motherfucker out!" At the end of the night, the tarp drops down and I'm standing there smiling at them.
Cynthia Cherry
And the next thing you know, you'd go in and they'd be yelling, "Bruce! Bruce! Bruce!"
Bruce Forest
In 1982, no one had even thought about bringing studio gear into a DJ booth. I discovered a device called the Instant Replay, which was the first consumer sampler; you could record a couple of seconds of sound and play it back. Not long after that I got a CZ-101, one of those little Casio keyboards. Then, I bought two Korg samplers. I split the cue, so that I could sample things without it going out into the house – for instance, I could just sample "It's not over" off the cue, and then play the sample whenever, and it would seem like it came out of nowhere. The place would go crazy! Eventually, we had almost a complete recording studio in there.
Leslie Doyle
You have people like Danny Tenaglia, Louie Vega and David Morales all crediting him with being one of the DJs who influenced them the most.
David Morales
Watching Bruce Forest play on three decks with samplers, drum machines and keyboards… he was the one who introduced me to drum machines and keyboards, really. From there, I was intrigued. To say that Bruce Forest had a big influence on me is an understatement.
Bruce Forest
One day, one of the regulars came up – this little short guy with red hair – and said, "You're an amazing DJ, but you can't play keyboards for shit." I started laughing – "Do you think you can do better?" He said, "Well, I'm a pianist at my church, and I fool around a little at home." So I beckoned to him and said, "Let's go!" I think I was playing a Shep Pettibone remix of Loleatta Holloway's "Seconds"; I had an early copy of that on tape. And he started jamming, and this guy was absolutely awesome. The crowd just stopped. They didn't know what the hell was going on. There was this screaming piano part that they knew wasn't on the original. The guy, of course, was David Cole, and he ended up playing there almost every night. I'd be sampling, and I added another keyboard, which I hooked up to MIDI. Sometimes a guy would even come and set up his drum set. I was still playing records, but really, we were creating music the whole night. We were basically doing the same kinds of things that guys do with Ableton now – but we were doing it in 1983.
Robert Clivilles
I had a great time the first time I played. The crowd was great and I rocked the place. Bruce called me and asked me to play a second time. That's the night I met David Cole. He came in the DJ booth, introduced himself and complimented me on the way I was playing. He asked if he could play keyboards, I said sure, and we had an awesome night. After that night, we went out to eat breakfast and became really good friends. We had a lot of similarities: We both came from big families, we both were into music and both just finding our way, and we were both poor. We started working together, and we did "Do It Properly" maybe about six months or a year into our relationship.
Bruce Forest
One of the things that David and I would do a lot was this: I'd play "No Way Back" by Adonis, and scratch over it or play other records over it, and he would play on top of that. Eventually a record was made of that: "Do It Properly," by 2 Puerto Ricans, A Blackman And A Dominican.
Robert Clivilles
I don't think I was aware of David jamming over Adonis, although he certainly could have. But I can say that Bruce influenced that song. I can remember watching him rocking "No Way Back," and putting records over it and triggering his sampler. I was like, "Wow, that's hot!" That's what led us to make "Do It Properly."
Leslie Doyle
Bruce didn't get any credit – there was no "Jew" in 2 Puerto Ricans, A Blackman And A Dominican, if I recall. But Bruce didn't seem to mind. Robert Clivilles and David Cole later went on to become C&C Music Factory, of course. By then, I think Morales was pursuing his own career, so it all worked out.
Bruce Forest
Better Days became quite the place. Sunday nights, especially the day before a holiday, were so crowded that you couldn't even breathe.
François K
It was not uncommon to see sweat dripping from the walls, the ceiling – everywhere. It was that powerful.
"The owner says, 'Those were John Gotti's guys. I think I was just bought out.'"
Bruce Forest
Around 1987, Al calls me into the office. I say, "What's up, Al?" He says, "My name's not Al!" I mean, I had been calling him Al for seven years. "My name is now Dave Fisher!" I'm like, "Dude, I've seen your license!" He goes, "If anybody asks you, that fuck Al Roth is dead." Okay.… One night in 1988, pretty early in the night, I saw a bunch of guys with suits come into the office to talk to Al. When they left, I went in there, because it just seemed a little weird. And he was sitting in a pool of sweat. I asked if he was okay, and he said, "Yeah, talk to me when the night's over." So the night ends, I go back into the office and ask, "Who the fuck were they?" He says, "Those were John Gotti's guys. I think I was just bought out." I obviously thought it was a bad idea, and I didn't want to be involved in mob stuff. So I told Al that I was gonna quit. After that, they took down all the theatrical lights, and put up Italian hangings and grapes and all sorts of weird shit. They changed the name to Bedrox, and it became a half-assed hangout for hookers and Italian guys.
Joe Sheridan
I attempted to go to Better Days one night and realized it had changed to Bedrox, which did not look like it was doing too well. It was sad seeing the strange crowd that had replaced a down-to-earth gay crowd that had made a home there. I had the idea to go to the next day and propose bringing it back to the basics. Calling it Better Days again. I actually always loved the name of the club, Better Days. That was my main motivation, I think. Out of desperation, they listened to me, and I brought in new DJs.
John Hall
I was working at the Dance Tracks record store, and Joe Sheridan walked in and asked if he could put up a poster for a party he was doing at Better Days. I was thinking, Better Days? I thought they had closed and become Bedrox. Anyway, I just said, "My God, I'd give anything to play there." I told him where I had played before, and he said, "Okay – it'll be you and Robert Owens and Andre Collins."
Joe Sheridan
Dave Fisher, who was still there, was an asshole. He had a bullet practice poster on his office door with the names of promoters that did not produce.
John Hall
Joe booked Master C&J with Liz Torres, and the club was the most crowded it had ever been in my time there. The dance floor was packed all night. But this hippie soundman who was working there confided in me that they weren't going to get paid - which ended up being true. At the end of the night, when they were waiting to get paid, I could tell there was a lot of tension. There was a lot of posturing and vague threats. If fact, there was an ambulance parked outside, which I assume was there at the behest of the Gotti boys in anticipation of bloodshed. Joe was very upset about this, of course, and quit in disgust on the spot. At least nobody pulled out any guns.
Bruce Forest
Apparently, at some point, one of Gotti's guys, Anthony Mascuzzio, came to collect. He asks all for his cut, and Dave told him he didn't have it and had to go to the bank. So he pistol-whips Dave across the face, and Dave pulls out his .38 and shoots him four times. Dead, in the corner. Then Dave has a heart attack! The paramedics come to load Dave into the ambulance, and go, "Who's that in the corner?" Dave goes, "That's the fuck that hit me!" I was glad I wasn't involved in the club anymore.
John Hall
I can't remember if it was a grand jury investigation or an actual trial, but they decided it was in self-defense. He could afford a good lawyer, obviously.
Melanie Scott
Tee was diagnosed with colon cancer in 1990, and ended up being a five-year survivor. He was still DJing after that, though he wasn't a resident anywhere. All of his Japan gigs were after that. At one point, he went back to working at the Empire Skating Rink, where he had DJed so many years before, which I thought was a little weird. But it got to the point where the DJing work kind of dried up, and he was working as security guard. And that's what he was doing when he died.
Bruce Forest
I've done a lot of stuff in my life…but nothing was as cool as DJing at Better Days. But without Tee, there wouldn't have been a Better Days.
Glenn "Sweety G" Toby
The legacy of the nightclub and the DJs went far beyond the walls of that space. It was one of the clubs in the history of clubs.
François K
I look back so fondly at Better Days. It gave me some of the watermark experiences I've had in New York clubbing. Of course, it's a stereotype to say, "Oh well, they don't make them like they used to." But in the case of Better Days, it's not an exaggeration to say that when that particular club disappeared, nothing at all could take its place. Those who were there know – it was truly tremendous.
Header image © Courtesy of Bruce Forest