Nightclubbing: Minneapolis' House Nation Under a Groove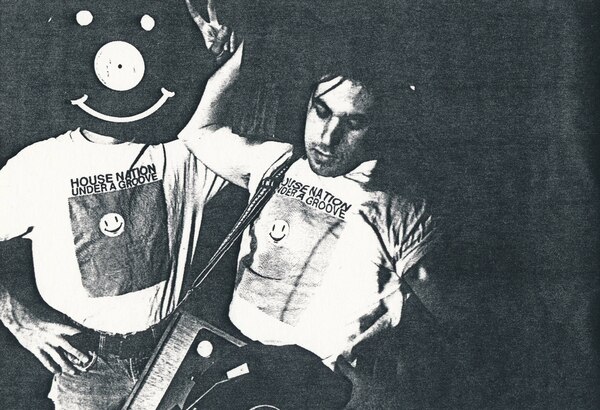 1978 was a bricklaying time in the musical life of the Twin Cities – the medium-sized metropolises of Minneapolis and St. Paul, Minnesota, dead center in the United States' northern half. That year, Prince released his debut album, For You, on Warner Bros. A guitar-playing punk from upstate New York, Bob Mould enrolled at Macalester, St. Paul, where he'd soon form a punk band called Hüsker Dü. And Kevin Cole was given the job of head DJ at the downtown nightclub Uncle Sam's – a cinderblock former Greyhound station downtown that, after opening in 1970, featured a weekly mud-wrestling night as its star attraction.
"I took over when it was still a Saturday Night Fever suburban-type disco," says Cole. "I have no idea why – I had no super-dance background." Cole was a longhaired rocker who hung out at punk den the Longhorn Bar; like his beloved Ramones, he wanted the airwaves. "I had experience in radio broadcasting, but there wasn't any radio station I wanted to work for. I wasn't interested in just going to a radio station and playing records that I didn't like." Spinning increasingly adventurous sets at an increasingly popular spot, Cole learned about funk and disco on the job and broadened his already wide palette. "I realized that I had been blind to a whole lot of great music."
At the end of 1981, the club grew into its new skin by adopting another name, First Avenue. (The setting for Prince's live performances in 1984's Purple Rain.) First Avenue's musical remit was shaped by general manager Steve McClellan's adventurous tastes, ranging from Lucinda Williams to Mahlathini and the Mahotella Queens. It was also a reliable stop on the '80s indie-rock circuit, many of whose bands – Hüsker Dü, the Replacements, Soul Asylum – were locals that regularly played either in the First Avenue Mainroom (which holds 1,200) or the 7th Street Entry (capacity: 225). On certain nights both rooms would be open to all.
In Purple Rain's wake First Avenue became something of a tourist attraction, and but by 1986 things were settling down. Cole was still a resident, throwing the Tuesday night, industrial-leaning party Club Degenerate. He also worked as a buyer for Platters, the vinyl arm of the used clothing store, Tatters. "We stocked about 2 or 3,000 titles, mostly imports," says Cole. These included early sides on Trax Records: "There was a little buzz about it from the independent music distributors. I remember listening to it thinking, 'Wow, this shit's super minimal' – Marshall Jefferson, Adonis."
No one knew until Thomas Spiegel died that he'd managed a hedge fund worth a quarter of a billion dollars.
At Platters in 1987, Cole met a Minneapolitan who'd recently lived in New York DJ named Thomas Spiegel. "He was a house purist – already – a Paradise Garage-type purist," says Cole. Speigel had picked up on the music in New York, where he led a curious double life – a DJ by night, an investment banker by day. He neatly compartmentalized them up to his death in late 2012. "No one knew until he died that he'd managed a hedge fund worth a quarter of a billion dollars," says Chris Strouth, who promoted a number of events with Cole and Spiegel in the late '80s and early '90s. "His mom didn't know about the music stuff until somebody showed her the obit I wrote in City Pages. She'd had no idea."
Spiegel's inspirations were a roll call of foundational New York house – Larry Levan at the Paradise Garage, Frankie Knuckles at the World, Tony Humphries at Newark's Zanzibar – and he played in their manner. Strouth recalls once complaining to Spiegel about people mispronouncing his name (which rhymes with "mouth," not "youth"). "He said: 'You should change your name to Chris Silver so you can be like this really cool promoter in New York.' He was dead serious." Rod Smith, a Minneapolis DJ and writer then working at First Avenue, adds that Spiegel invariably referred to house simply as "The Music."
As inspirational as New York was, Spiegel the promoter still found it intimidating. "In New York, he was one guy doing the things a lot of other people were doing," says Strouth. Minneapolis was relatively virgin terrain – and Cole was energized by Spiegel's single-mindedness. Cole hardly needed the help: "I can remember Kevin turning me onto Carl Craig, Drexciya – at his house," says Smith. "He'd invite me over. That's how much of an evangelist he was."
I wanted to do something where you could have a transcendent experience, either through the music or through dancing.
Cole met Spiegel as Club Degenerate was winding down, a period when Cole was already adding house music to the playlist. "That first wave [of Minneapolis DJs] was mixing acid house with Skinny Puppy," says Strouth. "Because you just didn't know; there was no historical context of even what house music was. A lot of guys made that jump about that time, because that [dark industrial] realm was dying." Strouth, for a moment, was one of those DJs, playing records during late-night parties at Hair Police, a punk-bohemian salon in a loft on Lyndale Avenue and Lake Street, whose owner, Sonia Peterson, was a local-scene den mother, nurturing numerous local arts ventures. (Peterson died of lung cancer in 2004.)
House music's utterly new feel also suited Cole, who was looking for a change. "I'd just gotten sober after ten years of hardcore partying," he says. "I'd studied a number of approaches to sobriety before I took the path that I took. Most approaches, like your typical 12-step program, wanted you to remove yourself from your friends. I was unwilling to do that – to quit my job or quit DJing in a bar. So I took a different approach. I wanted to do something where you could get high, you could have an uplifting experience, a transcendent experience, either through the music or through dancing."
After a couple of nights in the Mainroom, Cole and Spiegel started a Thursday night in the 7th Street Entry called House Nation Under a Groove, a moniker Spiegel had previously used for small events in New York. "A lot of the house music was really all about just dancing," says Cole. "So we created a night where you couldn't socialize. It was only about the music. We'd take the whole stage and fill with a wall of bass bins – a sick sound system."
"The bass bins were everything," says Strouth. "Tom loved bass more than anything. It felt like a small cavern. It had such an underground vibe. The only time I ever felt something like that was the first hardcore [punk] show I saw – you're in that moment and you're trying to remember everything, because you know it's going to be really special."
With the Entry's small stage thus unavailable, the DJs huddled in the tiny sound booth, an elevated cage with a wire screen facing the stage. The room's sound system had to be tweaked by Entry stage manager Bill Batson: "That is a mono system that's set up for rock, so if you bring in extra bass and extra amplification, you have to make some pretty serious adjustments. Otherwise you end up with mud," says Smith. "[Batson] could actually get it to sound right. They used Spiegel's odd EQing method – which, strangely, is almost identical to Steve Albini's early EQing method, the only difference being, Albini would completely dial out the warm mids to give everything this really cold feeling, whereas Spiegel would dial out the warm mids and boost the bass and the treble – a lot. It was, by far, the most immersive thing that had happened in Minneapolis."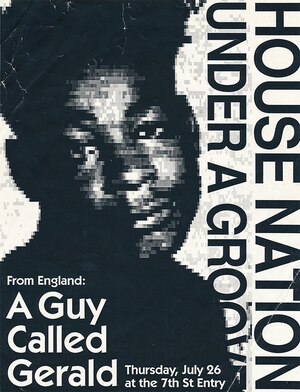 The sound wasn't the only thing House Nation altered. "We would have strobes that would go off intermittently, like every 30 seconds, but other than that, no lighting, just a black room," says Cole. "We'd hang shit from the ceiling so you'd bump into stuff. You had a weird sensory-deprivation experience. You couldn't talk to anybody. You couldn't just hang out in there – the music was so loud and so intense, all you could do was dance." The surroundings disoriented even Cole: "When we would start mixing, it would take about 30 minutes to acclimate to the room because it was so overwhelming – loud and bass heavy – that I sometimes felt sick for the first 15 to 20 minutes of setup. Once the body got used to it, it was amazing – for me it was like chakra therapy. I felt like once you left that room, you'd been biochemically altered and realigned" – chemicals without chemicals, perfect for a newly sober DJ.
It was upsetting to a lot of the rock community that we would have a disco night in the punk rock room.
Many club regulars balked. "It went over well with a lot of people – DJs, however, were another matter," says Smith, who recalls resistance from some of the club's other regulars. Not to mention its staff. I worked for the club a decade after House Nation took place, and the staff's diehard rockers were still complaining about Cole playing house music. "It was sacrilege," says Cole. "When we started, the night was severely polarizing. It was upsetting to a lot of the rock community that we would have a disco night in the punk rock room." But eventually, some of the rock crowd joined in, including ex-Hüsker Dü drummer Grant Hart. "He would dance for hours," says Cole. "For me, that was validation."
Many of House Nation's first regulars were transplants from larger cities with active house DJ scenes, many of whom were brought in by Spiegel. "The Chicago-New York transplants – an archetypal house crowd: gay, black – knew the music and were jonesing for it," says Cole. "That group in particular would show up the minute we opened the door and dance for four hours straight in the Entry." Befitting Spiegel's tastes – Smith recalls him playing solely Chicago tracks – House Nation's guests included Windy City pioneers Bad Boy Bill and Tyree Cooper.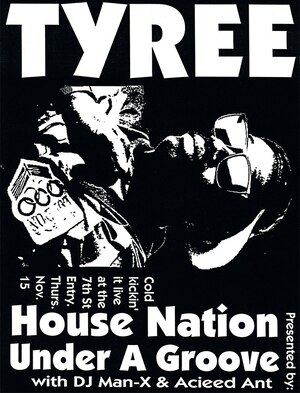 Shortly after House Nation Under a Groove settled into the 7th Street Entry, Strouth invited Cole and Spiegel to play at the late-night Hair Police events. These were some of the first true all-nighters in the Twin Cities, which then had a 1 AM dancing curfew, and they operated under subterfuge. "We'd do these art openings – which justified us being able to do it – and then have the party," says Strouth. The brainstorm had been Peterson's: "We hit upon this goofy-ass idea that we could rent theaters and call it an all-night performance-art piece where we put the audience onstage. I had to tell people this is what we were going to do with a straight face. And it worked."
The two DJs and two promoters became a crew unto themselves. "We were all kind of straight-edge at that time," says Strouth, who began bringing Cole and Spiegel in to spin at Hair Police. "Kevin had just gotten sober; Sonia was a recovering addict; I didn't drink; Thomas didn't. A Ren Shen Feng Wang Jiang ginseng bottle – that was the thing. Thomas had this pouch that all the junkies carried. The first time I saw it, I thought it was drugs, but it was nothing but herbal supplements."
Though one of Strouth's friends chided him when he saw Cole's name on the flyer ("You're advertising the fact that you have a guy from a record store?"), the Hair Police parties with Cole and Spiegel went gangbusters. "They were getting well past capacity," says Strouth. "We had this line into the alley." But as the crowds got bigger, the police started sniffing around; one party got so out of hand the cops shut down the entire corner of Lyndale and Lake. Larger venues beckoned.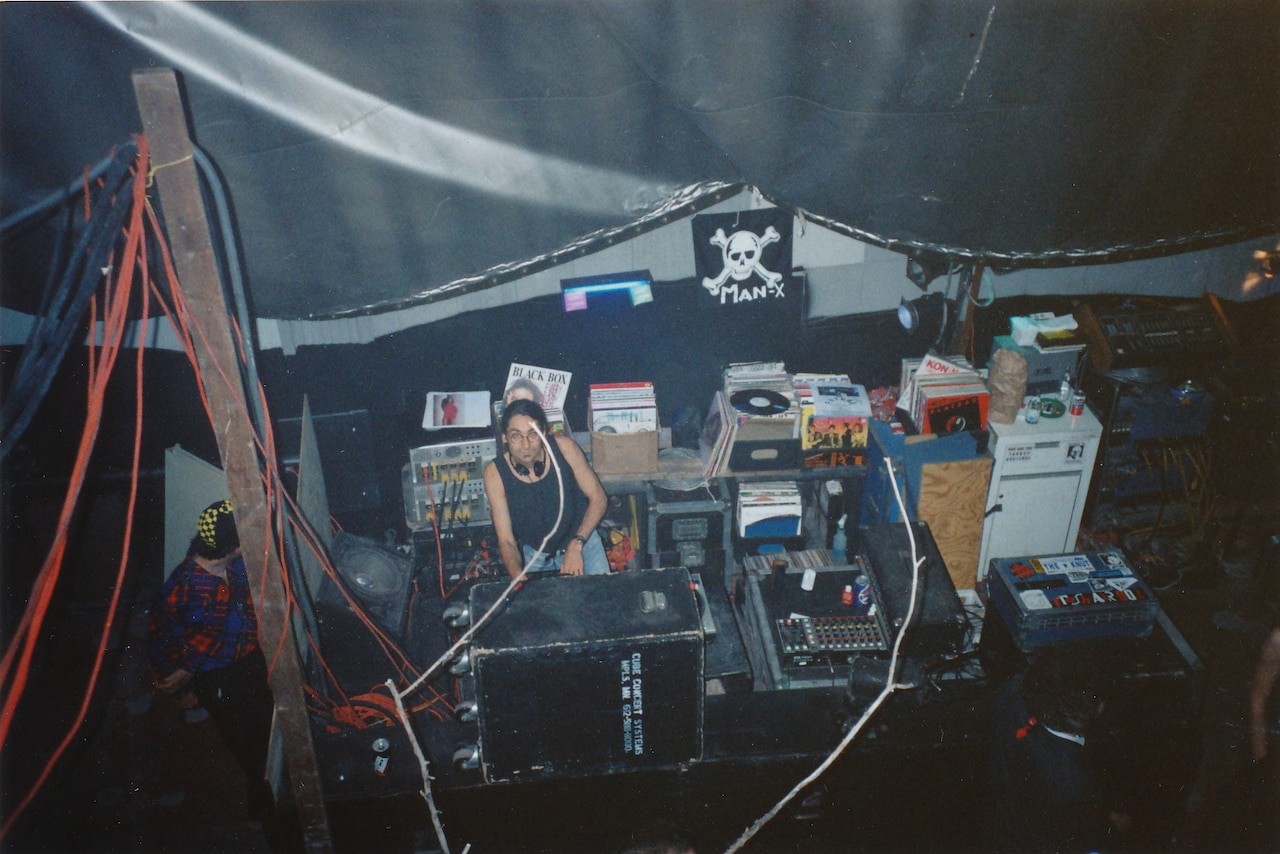 The first was downtown Minneapolis's high-ceilinged Cricket Theater, which held about 600. The Cricket allowed the promoters to cultivate a different audience than the 21-and-up 7th Street Entry. "We'd do all-ages, all-night after-hours shows," says Cole. "We'd go from 10 PM till four or five in the morning. We didn't have alcohol. We didn't even have juice – just water and a huge PA." There were also a number of adult entertainers – Strouth would fax the local strip clubs to let them know dancers were allowed in free – and local artists.
Accordingly, the décor differed greatly. "The Entry was a blackout zone, but the Cricket Theater nights, we had an amazing light show," says Cole. "We had a huge room, so on the two sides, Richard Tatge, a crazy-ass psychedelic lighting guy, straight out of the Sixties, would do these beautiful moving color-scapes – a bombastic sensory experience." Strouth recalls putting in a green fluorescent sculpture in the middle of the floor: "It was minimal," he says. "You wouldn't have anything, then all of a sudden [mimics noise] BZZZZ BZZZZ POP. BZZZZ BZZZZ POP. As long as we brought something new, people loved it."
Tom would blow up PAs. I love Tom. [But] he was like a child in a lot of ways. He'd be throwing tantrums, and the tantrums could involve certain amounts of bass.
Strouth, Cole, and Spiegel tried other spots as well. One was the Varsity Theater, near the University of Minnesota, where all the profits went to paying off another promoter's debt. "We ended up cleaning that place because it was just disgusting," says Strouth. "Water was under shag carpeting, which is grosser than the description. They actually hired a girl I knew to pretend to be a Wiccan and perform a cleansing ritual." Another was the scuzzy south Minneapolis disco Norma Jean's, where the House Nation crew showed up only to find half the PA missing. An irritated Spiegel opened the set by "playing hip-house records and cutting everything after 30 seconds – that was his way of working off his anger," says Smith. "All the cuts were perfect. I'm just thinking, 'Where the fuck did you get all these hip-house records?'"
Scratching up a storm wasn't Spiegel's only steam-venting mechanism. "Tom would blow up PAs," says Strouth. "I love Tom. [But] he was like a child in a lot of ways. He'd be throwing tantrums, and the tantrums could involve certain amounts of bass. We blew up the PA at a number of places because they wouldn't let us bring in extra PA; I was like, 'Well, that's a mistake. Oh, we're not responsible for any damage? Also a mistake!'"
One night while DJing in the Entry sound booth, Cole looked up from the decks and saw a head bobbing along to the music – and staring past the wire screen at the record label. The tall kid, Woody McBride, had just moved from North Dakota to attend the University of Minnesota's Twin Cities campus. "Pretty much the only light in the room was the two little lights over the turntables," says Cole. "He would just watch what I was doing, totally fascinated."
McBride soon became more fascinated by DJing than by school, and quickly began working at Northern Lights, a record shop around the corner from First Avenue. Cole quickly took him under his wing. "He gave me a start playing in the Entry with him before I even really knew how to mix," remembers McBride. In much the way Cole's encounter with Spiegel had determined the shape of House Nation Under a Groove, so McBride's wilder, more youthful tastes precipitated another directional shift for Cole. "The music started evolving for me," says Cole. "I started getting a little more electronic, more acid house. Probably my favorite band was Underground Resistance. Then the English stuff started coming in – I really enjoyed that, and started working that into my mix. For Thomas it was house – nothing else."
By 1991, House Nation had run its course; the split, says Cole, was amicable. It also mirrored the way the burgeoning U.S. rave scene was pulling apart from the older, clubbier house scene. Briefly, Cole and Strouth threw a weekly called Cyber Church, bringing in New Yorker DJ Moneypenny (Lea Brakk), a Limelight regular who edited the zine Brand X. "It was a photocopied, Kinko's, folded zine of the old school," says McBride, who was inspired by Brand X's mix of DJ charts and taste-making columns to make his own zine, Disco Family Plan. "I had a part-time job at Kinko's at the time, which helped." DFP's style was cut-and-paste, punk style. "We had limited technology," says McBride. "Computer access and graphic design – few people knew how to do that, so you had to just do your best."
McBride was making other moves as well – beginning to purchase equipment with which to make tracks ("I put two and two together and figured out that DJs who produced went places," he said in 1999), and he was on the ground floor of Cole's next clubbing venture. Initially, Depth Probe was the name of Cole's DJ-mix radio show. He'd finally found a station that would let him play what he wanted: KJ-104 (KJJO 104.1-FM), a hard-rock station that took the plunge into the Modern Rock format in early 1991. It would be off the air in the summer of 1992 – right as some 100 other U.S. stations were adopting the "commercial alternative" format. On KJ-104, Cole hosted three shows, including Radio Depth Probe, Saturdays at midnight, where he'd spin the newest house and techno 12-inches for two hours, in sets he'd record at home on his kitchen counter.
When Cole started Depth Probe as a new dance-night umbrella at the First Avenue Mainroom, he brought in McBride as one of his first guests. "It wasn't locked in as a monthly," says Cole. "We would get whatever we could – a Tuesday or a Thursday, sometimes a Wednesday. Even so, it was packed."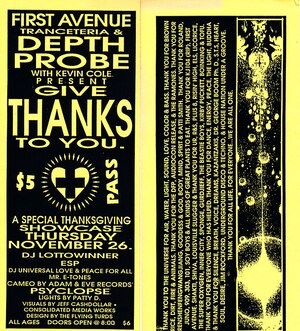 But as the '90s continued, the music began to broaden and factionalize – too much so for Cole's taste. "Part of what I didn't really understand, or fully embrace, as DJs got more specialized, was when DJs started talking about, 'I only play music that's 120 BPM,' 'I'm breakbeat,' 'I'm jungle,' or whatever," says Cole. "When there's so much incredible music out there, and so much of it that is still underground? Why deny yourself? Even if something was maybe commercial but still cool – as long as it doesn't lean too heavy in that direction?"
McBride was leaning that way, drawn deeper into the hard acid coming out of Germany, England, and Detroit – and the younger DJs he was helping recruit for Depth Probe were attracting far younger crowds. "At the time, Kevin thought it didn't matter [whether Depth Probe was all-ages]," says Strouth. "I was like, 'It's the only thing that matters.' That allowed that whole realm four years of additional buoyancy, because they were bringing in new people. It was able to build ahead."
In 1992, McBride put together an event at a local skate park headlined by several fellow Depth Probe regulars, including Cole. "It was a little bit of a stretch for Kevin – he was beginning to move into the radio realm," says McBride. "He was quick to see the rave wave was coming to the Twin Cities, but it was a kids' game." By 1993, McBride was working on his own, throwing parties in local warehouses and ushering in the Twin Cities' rave scene proper, and beginning his long-running production and DJ career. He still throws the Bassgasm parties at First Avenue.
Cole, for his part, moved deeper into radio; in 1995, he would launch the Twin Cities modern rock station REV-105, which folded two years later; not long afterward, he moved to Seattle, where he is now senior programming director and afternoon DJ for Seattle's popular public radio station KEXP-FM. His House Nation partner never strayed from the purist path. Spinning as DJ Man-X, Spiegel eventually relocated to Miami Beach, where in 2005 he launched the label Deep Haven Music. That's where he passed away at age 47 on December 30, 2012. "Bon route, brother," Strouth wrote in his obit. "I hope heaven has enough bass bins for you."