Nightclubbing: Space Lab Yellow
How an unassuming club became Japan's most influential venue, as well as a beloved home-away-from-home for countless international DJs.
Just a few blocks away from one of Tokyo's largest nightlife districts, Roppongi, there's a much quieter crossing called Nishiazabu intersection. If you walk onto a small side street from there, a blank yellow sign glows in the dark outside a building. This is the entrance to Space Lab Yellow, a nightclub more widely known simply as Yellow.
Open the heavy thick door, and you'll be greeted by a staircase made of encased marbles leading you down to a basement. As you advance, step by step, you can feel the vibration of the kick drum getting louder. The wall is covered with party posters, a pile of flyers lies the corner, and people's voices, at first indistinct, become clearer and clearer. This is the moment you walk into the night. The moment where the party begins.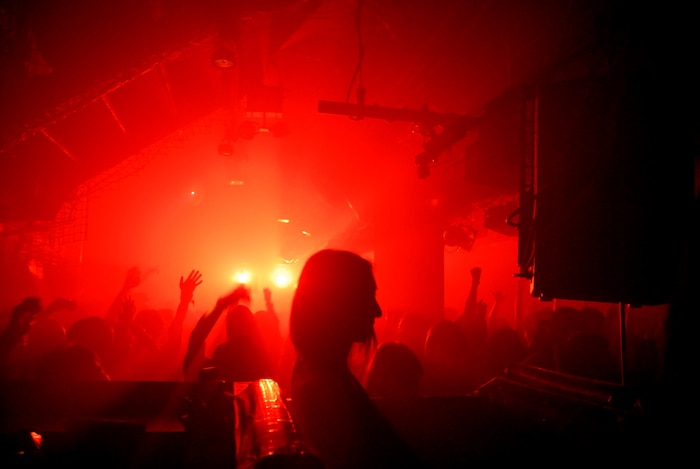 That was what it was like to enter Yellow for the 17 years it operated. It was a place that attracted all kinds of people. You had regulars, "industry" types, businessmen in suits who probably had dinner in the neighbourhood after work, gaijins who drifted over from Roppongi, music nerd students, DJs you'd see play elsewhere, stylish people, and even celebrities you see on magazines… There were small groups making toasts at the bar, couples trying to make out, people in front of the DJ booth screaming in ecstasy, dancers with their eyes closed, and a few others lying on the side of the staircase too tired or too drunk.
Everybody who went to Yellow was able to enjoy it in the way they wanted to, and everybody was treated equally. Exceptions were made only for the DJs who were charged with determining the fate of the night. When they entered the venue with their record bags, everybody would step aside to make a path. One of the most outstanding qualities of Yellow was the effort and willingness of the venue and staff to make the best environment possible for the DJ. A perfectly designed DJ booth, roughly ten square meters in size, to play at Yellow was every Japanese DJ's goal.
Yellow consisted of three rooms – a lounge area called Nano Space on the B1 level which held about 150, another bar area of approximately the same size on the lower level called Chaos Bar, and then the 400 capacity main dancefloor on the same level. When you went through the Nano Space and took an extremely narrow spiral staircase, you would find yourself near the center of the main dancefloor. The ceiling was two stories high around the open stairwell, but the rest hung rather low. The room's walls were painted black and, unlike the loud, cheerful bar area, the closed room had a feeling you'd almost want to call sacred – somehow liberating but also overwhelming at the same time. Many described the club as "where the god of parties dwells."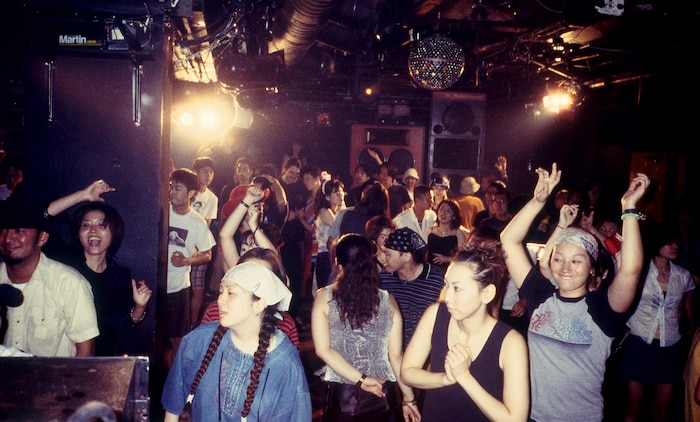 Yellow was conceptualised by Daizo Murata back in the late '80s. Murata was involved in earlier clubs such as P. Picasso which opened in Nishiazabu in '85, and Cave (which later changed its name to Module) in Shibuya in '89. He describes the pre-Yellow club landscape of Tokyo. "In my understanding, so called 'club culture' (that's different from disco culture) existed in Tokyo from the early '80s. The music being played was mostly rock-oriented, but then other styles such as reggae, jazz funk, hip hop, and… something we called 'body music' (it wasn't called techno yet) were slowly introduced around the time I was working for P. Picasso. When Cave opened, we already had a quite healthy underground scene, I think. Cave was designed to be the testing ground for Yellow. We needed to start with a smaller test case to successfully launch a club that was as large as Yellow."
In the same year Cave opened, a seven-story former warehouse club called Gold emerged as the first mega club in Tokyo. One of the key figures was resident DJ Tohru Takahashi, who had just returned from New York City, and had been converted into a house music believer by Larry Levan at Paradise Garage. Gold successfully imported the outrageousness of New York's vibrant gay clubs to Tokyo's bubble-economy fueled nightlife, and made a huge contribution in establishing the concept of a modern nightclub to Japan. (Gold was the club Larry Levan played with François K as a part of the "Harmony Tour" only a few months before his death.)
"The main reason I made club Yellow was because I wanted a place I could go out to myself," explains Murata. "I visited clubs in London and Paris when I was about 22 years old, but I didn't want to copy any of them. I felt more responsible to educate and train local DJs. There were bits of different styles such as hip hop, house and techno introduced in Japan, and I knew that in the '90s, all of these styles would be mixed and fused together. So I designed the venue to encourage such a merger. For example at Cave, we always had different styles of music playing simultaneously in the B1 room and the B2 room. I knew that new music will emerge when different groups of DJs and audiences mix together. That's why I decided to call the new venue Space Lab Yellow, a place for experiments and development of new ideas that we could call something our own."
There's an idea behind the color yellow as well. "Some objected against using the word, because it represents negative images such as the expression "yellow cab." But turning something negative into positive gives us a stronger sense of identity, so I was very persistent about using this word. It does come from the fact that we are of yellow race. There are music cultures of black people, white people, and of certain countries such as Jamaica or Germany. I gave it the name in hope that something really original will emerge from Japan."
To this end, Murata built an in-house recording studio "on a level above the club, so that DJs can make music of their own." He explains, "We needed the music, and most DJs were not earning enough money to build a studio by themselves back then. So we provided the facility for that purpose as well."
One of the first tracks that was made in the studio and released into the world was Tee Scott's "Moments of Madness." The man who coordinated the 1992 project was Hisa Ishioka, who was living in New York City, and would later found his own record label, King Street Sounds, in the following year. His life course also took an unexpected turn after experiencing Paradise Garage. By spending many nights at The Loft and Zanzibar, Ishioka built a network of club promoters and DJs in New York. Within a year after Yellow opened, DJs such as François K, Walter Gibbons and Larry Heard were all invited to play.
With Yellow and King Street Sounds as touchpoints, the bond between Tokyo and New York City's house music scenes grew stronger and stronger. François K and Joe Claussell became regulars throughout the club's history. In 1993, Masters At Work's Nu Yorican Soul release "Nervous Tracks" came out with a "Yellow Mix," inspired by their experience at the club. According to Ishioka, M.A.W. were so impressed by the reaction of the audience at Yellow when they performed at the club, they decided to make a mix to remember the night. The same went for Kerri Chandler, whose album Trionisphere Live was recorded in the club, and contained a track straightforwardly entitled "Yellow."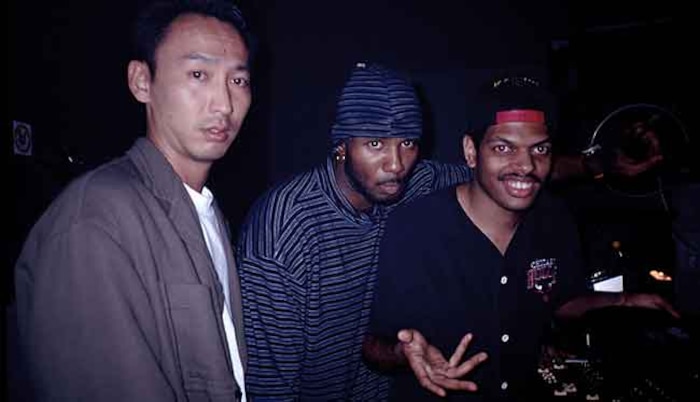 Although Yellow was known best for its house nights, it wasn't the only genre that Murata had in mind for the club. Murata says he "basically built Yellow for DJ K.U.D.O., who was one of the first people to play quality trance and techno music in Tokyo. I really wanted to push local talents like him. I think he was a genius of some sort. Famous Japanese artists such as Ken Ishii and DJ Tsuyoshi all grew up listening to K.U.D.O.-san, so they all have a great respect for him."
When the club founded its own imprint, East Edge Records, the first release was a self-titled double 12-inch by DJ K.U.D.O., which was produced in the accompanying studio. Even before he became the first resident DJ of Yellow, K.U.D.O. already had a regular event called Trance Night at Cave. He kept it going at Yellow under the name "A.R.T." (later called Zero from '94) on Friday nights. Other Friday residents included U.F.O. (United Future Organization), who also continued their resident night Jazzin' from P. Picasso and Cave. (At the time that Yellow opened, U.F.O. was hitting their stride in the acid jazz scene, a movement spearheaded by DJs like Gilles Peterson in London.)
On Saturdays, the party series World Connection showcased the best of house music. The very first guest DJ at Yellow was Loft and Paradise Garage regular Victor Rosado. As previously mentioned, Hisa Ishioka played an important role finding and sending over talents from New York. Daizo Murata explains the concept behind World Connection: "Back then, DJs from New York or London had much higher skills than DJs in Japan. I was inviting these inspiring DJs not only for the audience, but also for the domestic artists and DJs. The Japanese Yen was much weaker around that time, like 360 yen to one US dollar, so not that many young people could just travel to another country easily. That's why I thought we had to invite them, and also provide an environment that can allow these DJs to bring out their best performance."
With this idea in mind, Yellow was equipped with top-notch gear and facilities that were unlike other existing clubs at the time. "Top DJs are like top Formula-1 drivers. They can't perform what they're capable of unless they are given a proper machine, can they?" Being an audio nerd himself, Murata installed a Japanese sound system called Rey Audio. To have that system in a nightclub was a big deal among audio fanatics. "I wanted to have realistic sound. Convincing sound. The sound that really conveys the power of music. That was the basic direction, so I looked for quality monitoring systems that are used in top recording studios. Then we added a bit more emphasis on the bass, took the high frequencies higher and gave a bit more movement. At that time, New York club sound was considered the best in the world. That's why Ministry (of Sound) hired an engineer from New York to design their system. The V-shaped sound (more emphasis on bass and highs) was the trend, but I wanted a more realistic sound for Yellow."
By providing such an ideal environment, the club nurtured DJs and artists, and educated audience's ears. As a result, Yellow quickly grew into one of the top clubs in the world. Another important – but perhaps underrated – element of the club was a monthly flyer called Yellow Mag. From '92 until its closing, this folded leaflet provided the monthly program, as well as performer's biographies, interviews and release information crammed into one large sheet of paper. [Editor's note: Check out our special website collection of nearly every single monthly Yellow flyer here.]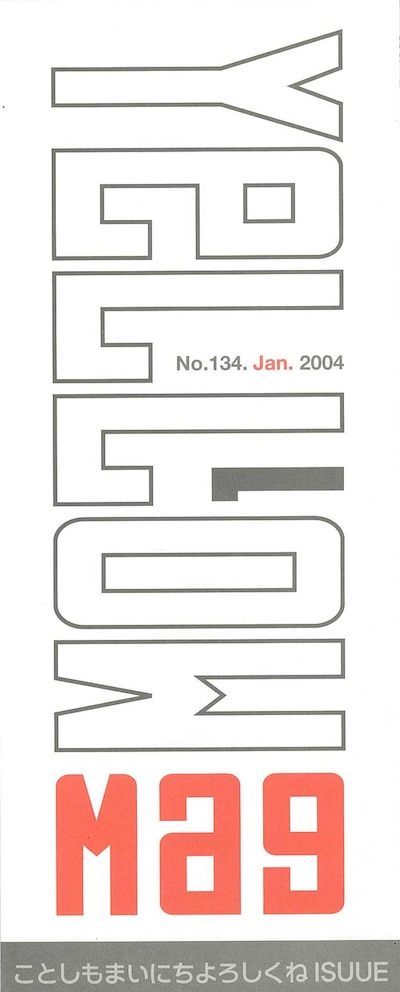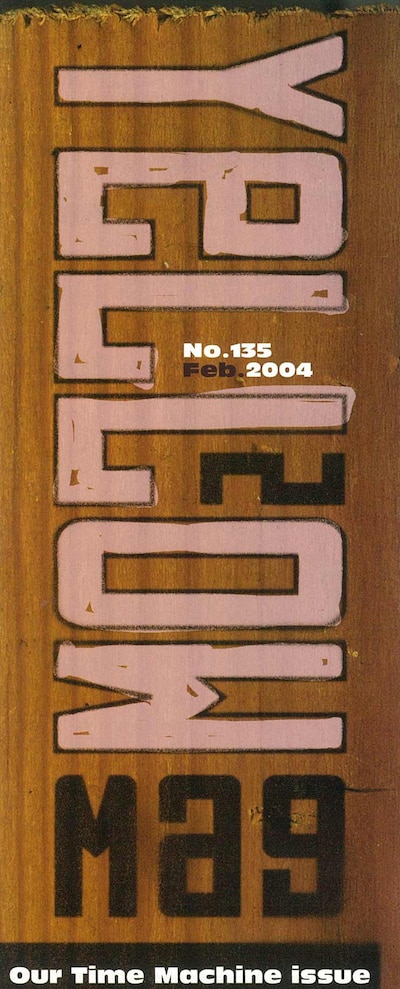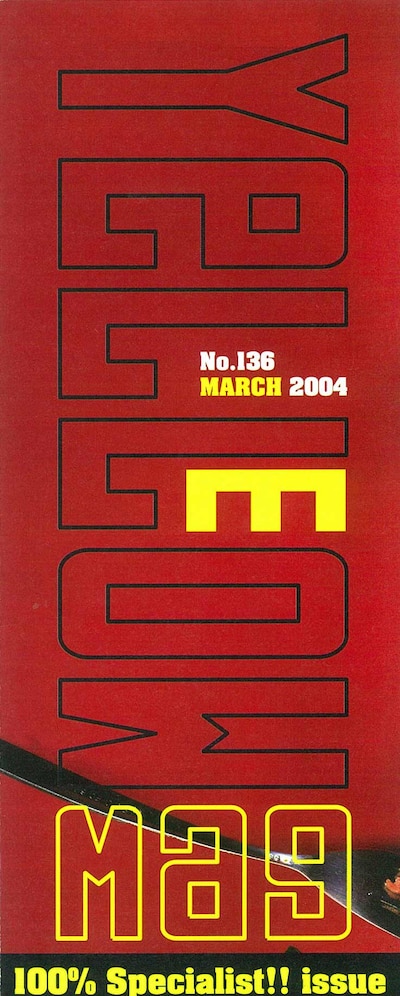 Other groundbreaking events at the club included gay parties, which were held often on Thursday nights from the start of its history. There also used to be a popular night held on Mondays from 1994 to 1999 for hairdressers, literally called "The Biyoshi (Hairdresser's) Night" because they all had Tuesdays off. Also in '94, an up-and-coming techno DJ from Osaka named Fumiya Tanaka launched his regular night Distortion. Another techno DJ, who was more known for his pop project Denki Groove, Takkyu Ishino, began his monthly party called Loopa at Yellow in '96. Hard house icon Ko Kimura started a long-running monthly residency called Kool in the same year. 1997 saw the beginning of a hip hop night Savage!, hosted by DJ Muro and DJ Kensei. DJ Emma's widely popular Emma House night led to an acclaimed mix CD series.
It's not easy to mention even a fraction of events that took place at Yellow, but their general approach was to incorporate all kinds of music – from reggae to rock, hip hop to jazz funk, soul, jungle, and drum & bass – that was relevant and fresh, but also try to build long term partnerships with promoters and DJs to develop solid residencies. This was key to the club never losing its underground vibe, even after it established itself as "the club in Tokyo that everybody knows." This was the reason its loyal customers kept coming back.
Among the countless talents who blessed the venue, however, it's François K that perhaps holds the most special place in Yellow fans' hearts. He made his first appearance in '92, played for the club's 9th anniversary in 2000, 10th anniversary in 2001, and on many, many other celebratory occasions. In June 2008, he was asked to play the closing night, bringing an end to the venue's 17 year history.
"I think the reason François became so important to Yellow was because he played everything," explains Ryo Watanabe, a long time promoter who worked with the club. "He would play half an hour of hip hop or drum & bass, and then Latin jazz, roots rock reggae, or dubstep. He doesn't just play things for the sake of variety. He would select deep tracks from each style. That's why he was capable of bringing all Yellow crowds together. He often said to me that DJing is not about making a party, but more about touching the audience. If he played a Jimi Hendrix song at 3 AM in the morning, most people would walk off of the dancefloor. But a few people might jump in for it. He would challenge the audience like that. He was aware of the fact that artist like DJ Premier or Lee Perry had also performed at Yellow, so he tried to represent the freedom of music. The club had full trust in him, so they knew they couldn't go wrong with him. As a result, it allowed him to be flexible to play even more freely than he would normally play at Yellow."
More freely and longer too. Yellow came to be known for its marathon sets from the likes of Laurent Garnier, David Morales, Theo Parrish, Joe Claussell, Danny Krivit, and Derrick May… just to name a few. On the weekend, the party normally went on until around 8 AM on average, so many DJs would bring more records than usual and happily play an 8, 10 or even 12 hour set.
In June 2008, Yellow was forced to close down due to a major reconstruction plan of the building that housed the club. The grand closing parties went on for one week. Monday the 16th, Last Step In Jazz, was hosted by local jazz DJs such as U.F.O.; Tuesday the 17th, Beyond The Dance, was helmed by Derrick May; Wednesday the 18th was Danny Krivit's Love Saves The Day; Thursday the 19th saw the return of Fumiya Tanaka's Distortion; Friday 20th was Laurent Garnier all night long; and Saturday the 21st through to the following Monday morning was François K's A New Awakening.
However, the reconstruction never actually took place. The owner of the building sold it to a real estate company for personal reasons, and a couple of new owners took charge, with new tenants following shortly thereafter. Yellow's manager left the business in the meantime, but a group of passionate staff came together to reopen the club under a new name: Eleven. The new club was a work of dedication, but the magic Yellow had was missing. It was an extremely good club, but it wasn't the same. External factors such as the mood of the time period, musical trends, the economic climate, and the increased problems caused by Fueiho (night entertainment laws) obviously had an effect. You could also mention the slightly modified interior or soundsystem. Or both. Nonetheless, Eleven soon became one of Tokyo's top clubs, but before it gained momentum comparable to Yellow, it closed its doors in 2013. The space was then completely renovated by a third party, and turned into a new club.
But its spirit lives on. As Yuko Ichikawa, a former PR and planning office member of Yellow puts it, "Most staff applied to work because they liked the club, and that's why they stayed. It was a small universe, but somehow open to everyone. There are many other great clubs, but Yellow was the ultimate club for me."


Special thanks to Yuko Ichikawa, who generously provided a load of material and advice for this article, as well as help in putting it together. Thanks to Daizo Murata, Hisa Ishioka, Makiko (Kobayashi,) Ryo Watanabe for answering my questions. Thanks to all Yellow staff, promoters, organisers, artists, and random people I spent the night at the bar or on the dancefloor for teaching me how to enjoy and appreciate music. Thank you for all the wonderful nights.
Check out our special website collection nearly every single monthly Yellow flyer here.