Center of Chaos: Common and Electric Circus
In the wake of the wide-ranging To Pimp a Butterfly, Michael A. Gonzales looks back to Common's most ambitious full-length.
Watching rapper/actor Lonnie Rashid Lynn Jr. (Common) on the Academy Awards red carpet dressed in a navy velvet Prada tuxedo, I rewound back to the first time I met him back in 2002. Standing in the lounge of famed recording studios Electric Lady on 8th Street in New York City, he shook my hand. "What's up?" Cool as an intergalactic mack b-boy, Common was dressed in lime green vintage Pro-Keds sneakers, Adidas sweat pants and a knit orange hat. Moments later, I followed him down the long hallway to Studio B where he and the production crew, the Soulquarians, recorded his then-upcoming psychedelic free jazz mau mau of the moment Electric Circus.
The Soulquarians were a rotating collective spearheaded by Questlove that included late beat master J. Dilla, trumpeter Roy Hargrove, rapper/producer Mos Def, singer/producer Erykah Badu, multi-instrumentalist D'Angelo, keyboardist James Poyser, rapper Talib Kweli, singer Bilal, bassist Pino Palladino, and rap/producer Q-Tip, whose Native Tongues group A Tribe Called Quest had inspired them all. A crew of aural avengers, they were sonic experimenters on a mission to launch the next generation of black bohemians.
After the gold-selling success of Like Water for Chocolate in 2000, which, like Electric Circus, was executive produced by Questlove, their mutual record label MCA expected crossover greatness. Yet, having heard the first single, a wack Neptunes-produced Mary J. Blige duet called "Come Close," I had no expectations at all.
The record Common ultimately delivered, was a sprawling, messy disc crammed with electro distortion, Astro dub machine drones, turntable scratches, screaming guitars, Joni Mitchell-inspired lyricism, African chants and aesthetics, pimpin' politics, sample science and spacey spirituality. Like jazz critics struck deaf by Miles Davis' breaking glass bop bizzaro On the Corner or rock reviewers retching to Lou Reed's abrasive Metal Machine Music, Electric Circus was called self-indulgent, over-produced and crazy. In Questlove's autobiography Mo Meta Blues, he said, Common had, "…an appetite for experimentation. He was interested in experimenting in a way I had never heard before, from him or anyone."
Considering that Electric Circus was recorded two miles away from the World Trade Center, where on the morning of September 11, 2001, the gleaming Twin Towers were destroyed, the bedlam of the beats, the madness of the music, the rage in the rhythms and the sometimes loony furor of Common's lyrics shouldn't be surprising. It's impossible to ignore the chaos of the music and lyrics on "Electric Wire Hustle Flower," where Common sounds as though he's screaming at the universe. Those of us that were in the city that day are still mentally wounded, our psyches scared. Living in the Fort Greene section of Brooklyn at the time of the attacks, Common came outside and saw thick black smoke billowing towards the clear sky.
I liked him as a rapper, but Common wasn't exactly pushing any envelopes before Quest brought him into the Soulquarian circle.
"9/11 was scary, but the biggest fight is of the spirit," he said. "We have to move towards God, because the devil is roaming. There was a lot of chaos and it came out through the music. To me, that's what the circus somewhat represents, the chaos I was feeling. I didn't want to release it in a negative way, so I turned it into a higher energy. Chaos can also be a way of finding peace, and Electric Circus became about me finding it. I wanted to get to the center of that chaos."
Vocalist Vinia Mojica, who chanted a Yoruba prayer for freedom on the moving "Ferris Wheel" said in 2002, "Common is very childlike in his curiosity about music." Mojica, who worked with De La Soul and Tribe Called Quest said "[Common] was always ecstatic when he heard some new music."
For Common, that evolution equated freedom. "I want to musically expand where it's not just about hip hop. I call it 'free music,' because it's so wide it can't be contained. When you start looking past the neighborhood you realize hip hop can be more than just music that appeals to drug dealers. There are still elements of hip hop, because I'm rhyming on the tracks, but musically it's expanded." Common said.
On Electric Circus that expansion included Prince, whom the Soulquarians all worshipped and often paid homage to. The Purple One contributed keyboards to the existential erotic dreamscape of "Star 69," a song about phone sex. "Prince is a blessing," Common said at the time. "He had a jam session at his studio, and he invited Erykah Badu, Alicia Keys, Macy Gray and me to Paisley Park and gave us so much love. He wasn't weird or any of the stories you hear. I didn't feel none of that. I brought a couple of tracks and he choose that one. It was an honor that he even knew my music, but when he agreed, that was even better."
"The impact of the Soulquarians was about who they brought on," cultural critic Greg Tate said. "I liked him as a rapper, but Common wasn't exactly pushing any envelopes before Quest brought him into the Soulquarian circle of progressive music." For the Soulquarians, Electric Lady became their new Brill Building. Beginning in 1997, D'Angelo and Questlove began working on Voodoo and the Soulquarians drifted together; they were later responsible for production on The Roots' black shock wave Things Fall Apart (1999), Badu's fierce Mama's Gun (2000) and Bilal's stellar debut 1st Born Second (2001).
While Common was more conscious and Afrocentric than ever on Electric Circus, his rapping roots remained: On the Dilla produced "Soul Power," the first song Common recorded for the album, he reminded us that he's "black like Bernie Mac," while at the same time being, "the future of the b-boy." So what exactly was that future? Common laughed. "Being a grown man and still having fun, that's the future of the b-boy. NWA did it, Public Enemy did it, the Roots did it. Now I want to try."
Dilla's relationship with Common was truly collaboration on equal footing. Each of them brought out the best of the other's gifts.
If you listened hard enough to his music before, you could hear hints of what was to come with Electric Circus. Refusing to conform to stereotypical poses of black masculinity, Common often talked about the world in the voice of various characters, like a rapping Anna Deavere Smith. And his One Day It'll Make Sense collaborations with Q-Tip ("Stolen Moments, Pt. 3"), Lauryn Hill ("Retrospect for Life") and future girlfriend Erykah Badu ("All Night Long") foreshadowed his journey from Chi-town dude to NYC/BK boho.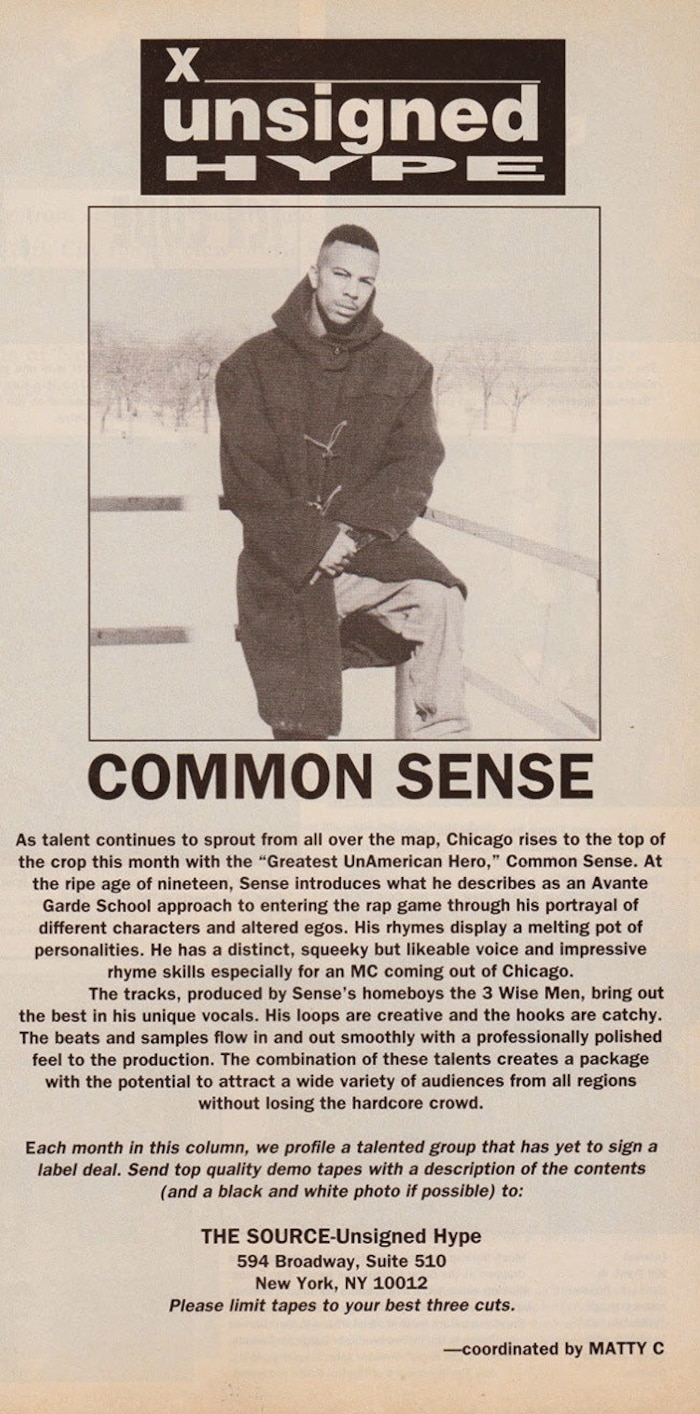 In the late '90s, Common literally made that move from Chicago to Brooklyn and started rolling with Rawkus Records rebels Pharoahe Monch, Talib Kweli and Mos Def, all stars on the leading underground label. After he left Relativity in 1999, Rawkus tried to sign him, but MCA A&R Wendy Goldstein – who signed the Roots and Dilla – offered him more money and freedom.
They recruited drummer/producer Questlove, who had produced the jazzy "All Night Long" on ODIMS, to helm 2000's brilliant Like Water for Chocolate. The album featured scorching tracks by D'Angelo ("Cold Blooded") and James Poyser ("A Song for Assata"), but most of the production chores on Like Water for Chocolate were handled by Detroit native J. Dilla. Jordan Ferguson, author of a 33 1/3 book on J. Dilla's Donuts says, "Dilla's relationship with Common was truly collaboration on equal footing. Each of them brought out the best of the other's gifts. Com would defer to Dilla's judgment as a producer and push to bring the best version of himself to those tracks. Their energies complemented each other."
Although Like Water for Chocolate was his best selling album, Common wanted to take his music further into stratosphere. "I finally decided, I don't care what anyone thinks," Common said in 2002. "I'm about to go for it; busting down barriers, breaking free of the chains of what we think hip hop needs to be."
At the same time, Questlove had transformed himself into the unofficial ringleader of the backpacker/alternative rap/soul scene happening in New York City during the late '90s and early '00s. As far back as 1997, Questlove was telling me, "I want to be to hip hop what Wynton Marsalis is to jazz." In truth, he was more like Andy Warhol, and Electric Lady became his factory.
At the urging of Roots manager Rich Nichols, he was working already working with and befriending elder musical mentors like M-Base founder/ saxophonist Steve Coleman, as well as writer, photographer and avant-guitar rock star Vernon Reid. "I embrace hip hop culture wholly," Questlove said at the time, "but also have other (musical) interests. I'm a cultural sponge that just takes in everything. Right now I'm listening to Hendrix, Sonny Sharrock and David Murray." (One of the more "free" songs on Electric Circus was the voodoo chile tribute "Jimi Was a Rock Star," a frenzied idol worship anthem that sounds like Albert Ayler was playing "Third Stone from the Sun.")
Always the coolest nerd in the room, Questlove began letting likeminded eclectic folks into Studio A of Electric Lady, where he and D'Angelo worked. Folks came by to watch his three hundred hours of Soul Train shows, argue Blue vs. The Hissing of Summer Lawns, listen to Prince bootlegs, hang out with model chicks, debate spirituality, speculate on soul, play Johnny Guitar Watson covers and jam until the break of dawn.
Common got down with the get down of the Soulquarians at the right time, and it was obvious he belonged: He was the perfect combination of lofty and grounded, esoteric and street. "Other rappers are happy being safe," Common said, "but I was at the point in my life, [where] my mental space and life space needs something else." Back in 1991 when Common was still an unsigned, he described his style as "Avante Garde School;" 11 years later, he finally delivered on that promise.