Remembering Detroit On-Air Mixing Pioneer Duane "In the Mix" Bradley
With such a wealth of instrumental figures, some of the most innovative tend to become lost in Detroit's vast legacy. Duane "In the Mix" Bradley is one of those individuals whose story remains sealed in history. Bradley was essential to shaping early house and techno culture through his work in radio, but his name is not often brought up in the globally accepted narrative of dance music. "In New York, they had Tee Scott and Larry Levan," says Mike "Agent X" Clark. "In Chicago, they had Frankie Knuckles and Ron Hardy. In Detroit, we had Ken Collier and Duane Bradley. These were our heroes."
Bradley left a lasting impact on those who knew the DJ and producer, felt all the way from Detroit to Chicago and beyond. He helped bridge the two cities by introducing originators of Detroit techno to pioneers of Chicago house, such as Jesse Saunders, who writes how Bradley was vital to jumpstarting his career in his autobiography House Music… The Real Story. To help keep his legacy shining bright, Bradley's friends and coworkers share their memories of the brilliant turntablist and discuss how he brought house music to the masses through airwaves.
A key figure on WJLB for nearly 20 years, Bradley held a lunchtime slot called Midday Cuisine Mix and would often play the Saturday Night House Party. (On Friday and Saturday nights, WJLB aired live broadcasts of house, techno, electro and booty bass from Detroit clubs.) He could also be heard on sister station Mix 92.3. "Duane was the first on-air mixer at WJLB," says radio personality Lisa "Lisa Lisa" Orlando, who was Promotions and Marketing Director at WJLB at the time. "He was flawless on-air… there were no edits, no drum machines or anything. It was all vinyl and he was live." James Alexander, who worked alongside Orlando as the station's Program Director, recalls how precise Bradley's master mixes were: "He had a natural flow for the structure of a song and that allowed him to mix effortlessly."
Jeff Mills competed with Bradley on-air as "The Wizard" and constantly analyzed his mixing techniques. "Duane really excelled at the 'transition mix' and had an extensive knowledge of music," says Mills. "He knew exactly what people wanted to hear and when to play it. He had a certain way of mixing that seemed to focus on the dissolve of sound, rather than the accumulation of sound."
Terrence Parker, who once drafted a list of 10 DJs who influenced him most, put Bradley near the top for his inimitable mixing skills. "Duane always put together his music in a way where it flowed so smoothly, basically making it seem like it was one long record," says Parker. For Mills, this resulted in a special listening experience: "He really loved the art form of DJing – what mixing does to the music," he notes.
All other DJs, including myself, would have to quickly scramble to find out what Duane was playing and have it ASAP.
Lunchtime slots on radio, like the Midday Cuisine Mix, tend to draw smaller audiences compared to early morning or drive time, but the audience listens longer. (Ratings are broken down by audience size and time spent listening.) In the '80s and '90s when Bradley was on-air, WJLB Arbitron ratings were consistently high due to its specialty mix shows. "By 1987 or 1988, we had double digits [in ratings]," recalls Orlando. "The only station that ever came close to beating us was WJR."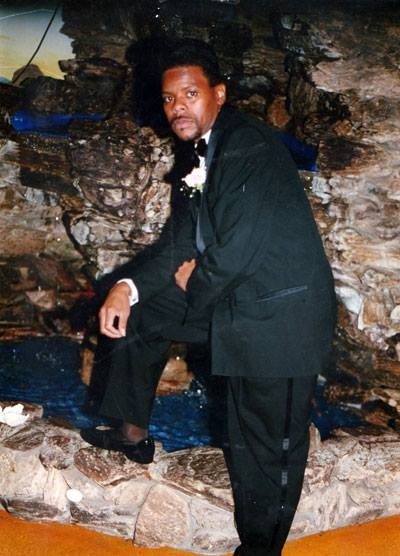 The famed Electrifying Mojo was one of WJLB's biggest names during the '80s. But while Mojo played a wide range of music ranging from Prince to Peter Frampton, Bradley's sets honed in on Detroit techno and house, which were still in their early stages of development. "The first time I ever heard Derrick May's 'Nude Photo' was when Duane Bradley played it on his lunchtime mix," recalls Parker.
Bradley was keen to playing tracks that would soon become hits, thanks to radio's unlimited and unrestricted programming at the time. There were no guidelines as to what had to be played, leaving selection completely up to the DJ. "Duane Bradley was singlehandedly responsible for the success of many, many records," says Mills. "All other DJs, including myself, would have to quickly scramble to find out what he was playing and have it ASAP."
Bradley was also an experienced writer, arranger, and producer. Alongside Don Was and Ken Collier, the trio formed the Detroit Wasmopolitan Mixing Squad, which produced and mixed a number of tracks, and Bradley frequently worked with Kevin Saunderson as well, remixing Inner City records such as "Big Fun," "Set Your Body Free," and "Ain't Nobody Better," taking each song and putting his own unique spin on it.
Duane brought a lot of that Chicago house sound to Detroit.
While Duane mostly worked on music in Detroit, he also made his way to Chicago, remixing one of house pioneer Jesse Saunders' records. Saunders first met Bradley when he traveled to Detroit for a record release at Buy Rite Music – Bradley coordinated the in-store event for Saunders' 1984 track, "Funk U Up." He also helped set up a live gig on WGPR's TV show The Scene, a televised dance music party that was a major part of Detroit dance culture. "Duane was our champion in Detroit," says Saunders. "He took us everywhere… all the clubs, introduced us to everybody up there, all the big name DJs. I didn't know anything about Detroit prior to that."
Bradley was an important bridge between Detroit and Chicago, making sure that their developing music scenes intertwined. "Duane brought a lot of that Chicago house sound to Detroit," says Orlando. "I think Duane was the first person to really get involved with everyone [in both Chicago and Detroit] and get to know both sides," notes Saunders. "He was a very good person who wanted to make things happen."
Club-wise, Bradley had a residency at Club Taboo, located in the Rivertown warehouse district of Detroit, just east of downtown. "Taboo was one of those New York premier, swanky, awesome nightclubs," remembers Orlando. While Taboo wasn't necessarily a house music club, Bradley turned it into one on the nights he spun, rocking Monday nights in particular. "I think the first time I had a conversation with Duane, he was judging a DJ contest that I was in at Taboo," recalls Parker. "I remember him coming up to me afterwards and telling me how good he thought I was." For Parker – who was still breaking into Detroit's house music scene at the time – this was a big deal, considering Bradley was working with everyone from Kevin Saunderson to Juan Atkins.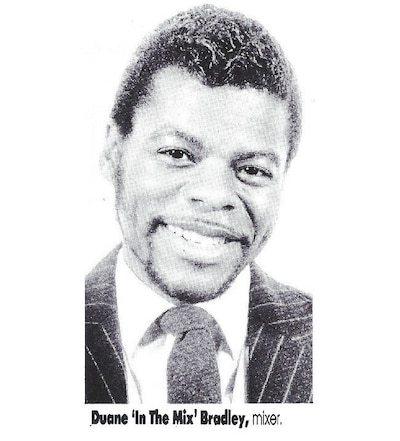 Bradley also played at Chessmate and Todd's, two gay clubs vital to the development of mixing in Detroit and the progressive music scene. "Whether you were doing a hustle at a cabaret, sipping spirits at a happy hour, or sweating your hair out to some hip hop or house, Duane Bradley was probably involved in some form or another," DJ Cent once said. "Duane has a huge place in the history of our music scene here," notes Parker. "Maybe it was because he had a midday spot at lunchtime, but he was just the guy to talk to if you wanted to find out what this house music thing was really about. He was one of the main DJs who helped push the music forward."
Above all, Bradley's unwavering dedication to his work and music is what's remembered most by his peers. "The main thing I remember about Duane was his contribution to the radio station – that really went unnoted," mentions Orlando. "He DJed every charity event I put together, including numerous Coats for Kids events. He never asked for money and he would play like he was playing for thousands of folks."
Although names like Juan Atkins, Kevin Saunderson, and Derrick May have more worldwide recognition, Bradley was one of the forgotten forerunners. "I think he's the unremembered guy, "continues Orlando, "the guy who never got any accolades and really should have gotten a lot more. He truly was one of the pioneers of mixing on the air. He was a jewel Detroit lost way too soon; he never got his props while he was alive."