Indonesian Duo Senyawa Is One of the Most Intense Live Bands in the World
Senyawa, an experimental duo from Yogyakarta, started with a dare. It was 2010, and Wok the Rock, a prominent local artist and underground promoter who parents the Yes No Wave label, goaded Rully Shabara and Wukir Suryadi into taking the stage for an impromptu improvisation session. Rully was fronting a rock band called Zoo, and Wukir, a self-taught musician and instrument builder, had been composing for a Javanese theatre company. Their chemistry was so good, they say, that four days later they had recorded their first EP.
Senyawa's sound borrows from the metal bands they listened to as teenagers – Black Sabbath, Metallica, Iron Maiden – and Indonesian ritual and folk idioms, specifically the traditional singing of Sulawesi, where Rully grew up. Located off the coast of Borneo, the island reaches toward the Pacific from the crux of the Asia-Australia collision zone. "In the communal singing called Raego," he explains, "people sing on top of each others' voices for ceremonies for a harvest, marriage, or welcoming." His own vocalizations range from the deep, bronze-belly droning of Tuvan throat singers to jagged, hypnotic chants, birdlike coos, and shivery falsetto riffs that curl upwards and disperse into vapor. Onstage, he is often in motion, crouched low with his arms out to his sides like wings, as if riding an equatorial trade wind.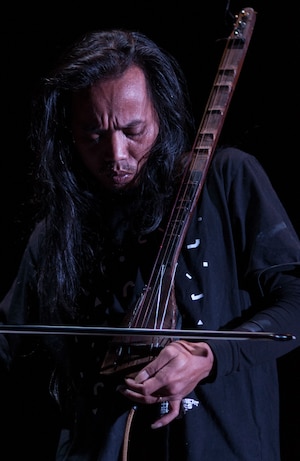 Wukir came to Yogyakarta by way of Malang, in Eastern Java. At 12, as an apprentice, he began making music for plays and poetry recitals under the informal tutelage of WS Rendra and I Wayan Sadra; he later spent time in residence at Amsterdam's esteemed Studio for Electro-Instrumental Music. Among his arsenal of self-made instruments, his namesake, the bambuwukir, is the most recognizable: an amplified bamboo zither, with a pointed head symbolizing Indonesia's resistance to Dutch colonization. Its metal and bamboo-fiber strings can be bowed or plucked with long nails, and its resonant body doubles as a percussion instrument, drawing from the frenetic rhythms of Kuntulan drumming and Kuda Lumping, the horse-riding dance often linked with trance. In a review for The Wire, Edwin Pouncey aptly described Senyawa's neo-traditional freeform as a cross between "shamanic ritual and transcendental shadowplay."
In Java, the most densely populated island in the Indonesian archipelago, residents are accustomed to gentle tectonic shifts and tremors underfoot from the ridge of active volcanoes that runs from east to west. Fittingly, Senyawa are often compared to natural forces, with the influences of landscape, ecology, and spirituality evident in many of their songs. Their latest songwriting project, they tell me, involves traveling to Borobuder Temple, an eighth-century Buddhist monument, to retune their relationship with nature through ritual.
In 2012, Senyawa was the subject of a short film by French filmmaker Vincent Moon, who spent a day with them taxiing around Yogyakarta and the lush, mineral green that unravels from the city perimeters. Rully and Wukir riff on a porch while an aging farmer ploughs a flooded rice paddy, and roll an amp down a strip of highway while mopeds and bicycles swerve past. At an amusement park, Rully lets loose a ferocious stream of glossolalia for a crowd of unimpressed off-duty rickshaw drivers, reclining in the cabs' empty seats under the white haze of the sky. They play overlooking a dump, where cows with sharp spines feed among the plastic bags and garbage pickers rifle through the detritus. Moon titled the film Calling the New Gods. Rully and Wukir shrug and say they don't really know what that's supposed to mean.
While Southeast Asian expressive traditions have been mined by artists and ethnomusicologists the world over, Indonesia isn't exactly known as a hub of experimental music. The government, Rully says, prioritizes infrastructure projects like building schools over arts funding, and much of Indonesia's contemporary music carries strong political sentiment, or panders to the more lucrative tropes of traditional or Western popular music. In Jogja, venues are also in short supply, so Senyawa's hometown circuit often includes literature festivals and outdoor performances. (The lack of venues may explain why, in recent years, some artists have taken up noise bombing: the guerilla tactic of rigging up amps in public spaces and staging loud, unsanctioned sonic assaults.)
Internet access became more widely available in the early 2000s, opening channels for digital file sharing and a bootleg media black market, and since then, Jogja's experimental scene has picked up some momentum. Locals often turn out to see Senyawa or likeminded DIY outfits, whose performances are archived by Rully's Kebun Binatang project on YouTube. But still, opportunities for Senyawa at home are limited. During a gala performance in Yogyakarta, event organizers cut the electricity in the middle of their set because "some people thought the music was too uncomfortable." (In response, Rully and Wukir went swimming in the venue's pool and exited dripping and defiant via the dining room.) They've found more receptive audiences in Australia and Europe, where experimental music scenes have already been well established, and there is a wide network of festival promoters and labels to support them.
Since playing their first gig outside Indonesia – Melbourne Jazz Festival, 2011 – Senyawa has been touring steadily. In Japan, they challenged legendary experimentalists (and personal heroes) Keiji Haino of Fushitsusha, the grindcore-influenced band Melt Banana, and Yoshida Tatsuya to improv face-offs, and they've shared bills with German krautrock originators Faust and minimalist composer/iconoclast Charlemagne Palestine. Following the release of their last album, Acaraki, on Justice Yeldham's Dual Plover label, they joined up with Yeldham collaborator Lucas Abela, an Australian extreme noise musician best known for bloody performances that involve playing sheets of contact-mic'd glass with his mouth. "It was interesting," Rully says, "but then we realized – this guy played noise, just noise all the way. And it's harsh noise. Senyawa is not harsh noise. We need noise, but we need dynamics as well."
The play between extremes is at the heart of Senyawa's sound. "Imagine if you listen to soft song," says Rully, in a blue-walled Middle Eastern restaurant one bright, freezing Sunday in Berlin. "It is beautiful, but imagine if you hear the same song after hearing something harsh and noisy. It will sound even more beautiful. Senyawa is always both extremes. High-low, harsh-soft, heavy and beauty. I scream a lot, but it's pain, not anger."
That dynamic is perhaps best realized on Menjadi, their latest album, which was produced by Lebanese DJ Rabih Beaini (AKA Morphosis) and released on his Morphine label. The record marks a departure from electronic music for the imprint, which has recently issued LPs from Buchla pioneer Charles Cohen and German-Iranian sound artist Sote. (Cohen remixed Senyawa's "Di Kala Sudah" for a 12-inch recently, which Rully and Wukir laughingly coin "techno Senyawa.") Menjadi, meaning "to become," was recorded over just a few days in Beaini's Kreuzberg studio. "This one is less aggressive, but it's very intense at the same time," Rully says of the resulting nine songs. "A different kind of intensity. The previous album focused more on the lyrics, but this one is more acoustic and focused on the beat."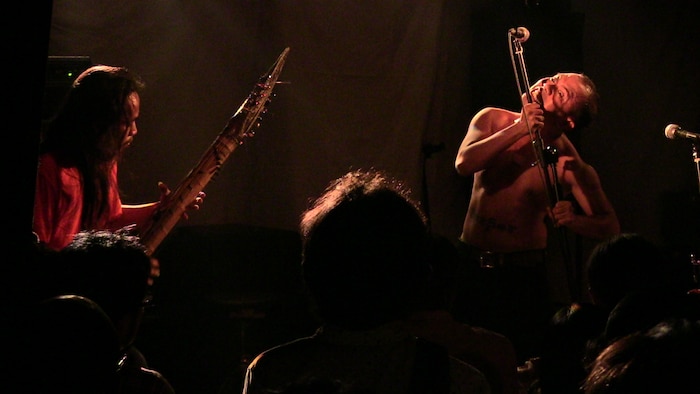 The new album may make for better home listening than previous releases, but "headphone Senyawa" is still a diluted version of the live experience. For Rully and Wukir, songs don't really come to life until they play them in the presence of responsive listeners. They've performed twice now in Berlin, most recently at the 2015 edition of CTM Festival. It was January, and they had seen snow for the first time the night before. Rully came onstage in gloves, scarf, and the same beat-up leather biker jacket he sports in the tropical humidity of Java, and the amplification on Wukir's strings was so unnervingly keen that it itched my ears and made my eyes sting and water. After the show, an insistent knot of bodies formed around the duo and I observed one middle-aged German man buying five copies of their CD.
But they were arguably best when they played the graffitied, punkish sweathole of Urban Spree: a roughly 200-capacity space that occupies a corner of the Revaler Str. 99 complex, resembling a squat from the urban grid above. For that show, everyone stood pressed closely together, feeding off their neighbor's cigarette smoke. By the end of it Rully was shirtless and sweating and spent, the makeshift stage swamped in neon pink light.
Audience members will come up to Rully and Wukir after a performance often and say that they were crying, or want to connect with them in some way. Like the Swede from Gothenburg who told them they'd given him a great experience, so he took them around the city by wooden boat to level the karmic score. Or the 11 year-old kid from Tasmania who talked his parents into inviting Rully and Wukir to lunch after seeing them perform. Senyawa's following is still small, but it loops in listeners with varied allegiances and identifications: jazz, metal, hardcore, noise, the so-called electronic avant-garde.
"A lot of Indonesian bands, they say 'I want to make songs that are real Indonesian,'" Rully says. "We don't do that, it will sound fake. And we don't have to, because we are Indonesian. So do what you want to do. If you do it honestly, it will be authentic. As long as no one calls us 'world music,' we don't care how we're classified."


Header image: Lelaki Budiman