Is the UK Funky Revival Upon Us?
With a well-received Rinse event and Boiler Room behind them, UK Funky pioneers DJ MA1 and Donae'o feel something in the air.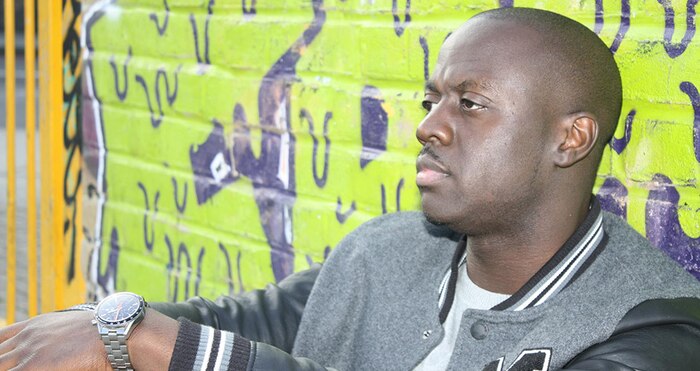 Last September, Rinse FM celebrated their 20th anniversary with a series of free parties in Dalston's Dance Tunnel. Each event was dedicated to a different sound that had shaped (and been shaped by) the station. Tucked in next to grime, dubstep, jungle, house, and garage was an anomaly: a night of UK Funky – the fractured house hybrid that had flourished in Rinse's pirate, pre-license days, and then promptly disappeared.
Among the headliners for the event? DJ MA1, a jock instrumental in pushing the sound on Rinse in its brief heyday. "They asked me to play," MA1 remembers, "and I was like, 'Whatever, people aren't really into the music no more, but I'll come down.' I went and did it. And. It. Was. Amazing! The response from the crowd, the people – it was a complete surprise, because the music was never that popular. It took me back to what we were doing before 2009, 2010 and gave me a glimpse of what the scene could be."
Galvanised, MA1 started calling his peers from the Funky days and collecting dubs, pulling together a mixtape for XLR8R that featured unheard gold from the scene's greats – Crazy Cousins, Hard House Banton, Fuzzy Logic, Zinc, Geeneus, FunkyStepz and more. It was an instant success, and a month later he had Boiler Room on the phone asking him to curate a UK Funky special. By now, MA1 was excited. After last year's emphatic, media hyped "return of Grime," why couldn't there be a Funky revival?
Even in our current climate of constant churn, it almost seems indecent to reclaim a scene that only happened five or so years ago – roughly from around 2006 to around 2010. But UK Funky came with a unique set of peculiarities that stopped it ever delivering on its early promise.
The schisms that led to Funky's untimely demise were sewn into it from the start. Two distinct groups had found themselves occupying a middle ground. Coming from one direction were a set of DJs who had made their name playing 2 step, soulful house, afro house and broken beat, people like MA1, Pioneer and Supa D. In the mid-'00s they started swapping imported US tunes for tougher UK variants, tracks built around ramped up percussion and bursts of soundsystem bass, mixed with a love for genuine, traditional soul songwriting. (You can hear the sound developing as far back as 2003 when UK acts like Ear Dis and Bugz in the Attic were interrupting smooth vocals with sharp, chiselling percussion.)
By 2006, these "proper" house heads found themselves playing sets that appealed to refuges from the grime scene. As grime and dubstep hurtled towards sweaty build-and-drop brostep, the syncopated pulse of UK Funky grabbed the attention of MCs and ravers who wanted a bit more from their music than half speed smash and bass wub. Suddenly you had producers like Lil Silva and Ill Blu combining the aggressive stabs of grime with swinging, house tempo grooves. Kids with cracked copies of Fruity Loops rushed to bang out beats, and MCs were finding plenty of space amongst the pared down rhythms to spit catchy, dance obsessed lyrics. For a couple of years the scene was incredibly productive – and incredibly divided.
Donae'o – whose killer Funky single "Party Hard" remains an anthem in clubs today – points to the proliferation of MCs as a cause of friction in the scene. "I feel partially, the scene got over run with MC records, with skank tunes. Some were good, but it was too many. Producers felt annoyed that their music was getting bootlegged and they weren't getting compensated for it. 'Head, Shoulders, Knees and Toes,' 'Migraine Skank,' 'R U Gonna Bang,' they were good tunes. After those three records, everyone started doing tunes like that, rather than 'In the Morning,' or 'Do You Mind,' or 'In the Air.' Everyone was trying to make a quick buck. Don't get me wrong, I like MC tunes – I think 'Too Many Men' is a great record, but that has more substance to it, it's more of a song. A lot of these other tunes were people jumping on things and not delivering."
While ravers may have lapped up the fusion of smooth house melodies, romping rhythms and raw MC flows, the producers felt different. As Donae'o puts it, "I don't think the public turned their back on funky – the people who made it turned their back on it." Essentially something unprecedented happened – the core DJs simply abandoned ship.
"A lot of the DJs I was playing with week in, week out, they – we – weren't really feeling the production values of a lot of the tracks that were coming out," remembers MA1. "It was a young scene and it didn't really have time to develop the mixing and mastering and all that. People were just making the tunes and putting them out – or not even putting them out because there was no infrastructure to sell tunes, people would just make the tunes and give them to their mates, and they'd get leaked. There were very few labels releasing records. So DJs like me thought, 'Some of this music just ain't that good,' and we left the scene, which is pretty unique and weird – what scene do you get where the people responsible for it just leave?"
While this sort of in-fighting was present in garage, grime and jungle, there was always the carrot of a major deal to keep artists sticking to the sound. Dizzee Rascal and Roni Size both won Mercurys, and So Solid Crew memorably took their brand of controlled chaos to the Brit Awards. Funky had nothing of the sort – there was a baffling lack of major label support for tunes that pulsed with pop essence. Everyone is wise in hindsight, but it was strange to see Virgin spending 2009 putting all their energy into pushing David Guetta's electro pop, while barely promoting Fuzzy Logic's "In the Morning" – a tune now widely acknowledged as a UK classic.
The lack of support wasn't isolated. Take the case of Katy B's breakout single "Tell Me." As MA1 notes, "That tune got signed by Ministry of Sound and it seemed that for whatever reason the tune didn't come out properly. It didn't get a video. Maybe by the point the labels picked up on it, it was too late. You would have thought that by the time Ministry got hold of it they'd have an opportunity to market it to people who didn't know about it. Maybe they thought it was a bit too ghetto. If 'Tell Me' had crossed over, or 'In the Morning' had gone Top 20, it would have changed things."
Donae'o is more cynical. "With funky, we didn't know what we were doing, we were just making music that we liked. The major labels got involved, but none of them really liked the music. They were just signing records, but they weren't pushing anything. When we're signing, a major goes, 'Yeeeahhhh, we didn't really like your record when we signed it, but it was doing really well, but now we're not really confident in what you're doing, so can you do something we're a bit more confident with…?' People got disheartened and stopped making the music."
Fast forward to January 2015, and the Boiler Room Funky special, where MA1, Marcus Nasty and Pioneer were joined by PAs from Egypt and Donae'o. It was a reminder that the media landscape has massively shifted in the short years since Funky. If the Grime revival proved anything, it was that new avenues of communication exist between fans and artists. Platforms like Boiler Room, Just Jam, SBTV and GRM Daily allow the UK underground a credible place to be seen, undiluted. The traditional reliance on Radio 1 play has been weakened. Twitter and Instagram offer instant feedback, and an uncertain artist might be more apt to stick to their guns.
To be honest, I don't know if Funky can come back or not. All I know is that I'm getting a crazy response from making it.
"I'm doing it again because I love it." Donae'o enthuses. "To be honest, I don't know if Funky can come back or not. All I know is that I'm getting a crazy response from making it. The Grime revival was a bunch of guys putting out what they liked, rather than what the mainstream wanted, and it worked. Sometimes you gotta remember that there's nothing wrong with making underground music, and if you do it right, it's gonna go mainstream anyway."
There are indications that a resurrection of some sort may be on the cards. MA1 has a new EP coming out at the end of March. Donae'o has launched a new label called Passion and Progress, dedicated to pushing new Funky. Roska, one of the names that emerged in the first wave of Funky, has just announced a new EP that MA1 describes as "embodying the new sound," while acts like Champion, Funkystepz, Mele and Mosca – who never stopped pushing the Funky template in the first place – continue to make tunes. While it's doubtful that the whole of the UK is going to go Funky crazy, there is a feeling that the absolute domination of deep house may have reached its saturation point – the dancefloor is ready for a bit more skank in its step.
"I just had an awakening at Dance Tunnel," laughs MA1. "I was like fuck all of that! I'm going to go his way. The thing about Funky is that it had a stigma, it was like a swear word almost. If no one wants to get involved then fuck it, I'll do it on my own. But just the other day I saw Julio Bashmore tweet out 'Next year people need to be making funky' and I was like wow! It's coming from everywhere."
"I've had such a good response, I know I'm in the right place," concludes Donae'o. "And I kinda don't care either. All I care about is my core audience, all I care about is the people that wanna hear Funky, and wanna be entertained by it. And I will scream and shout about that. I just wanna make people dance and vibes."