The Safety of Place: How GHE20G0TH1K Started a Wave
Since 2009, Venus X and GHE20G0TH1K have been redefining the creative and social parameters of New York nightlife. Judnick Mayard outlines the party's importance to the city's culture – and to her life.
I've lived in this city my whole life and the summer smell never stops affecting me. I don't mean the stench of melting trash; I'm talking the first hot day when the air is heavy with all the trouble you could ever get into. The mischief has changed throughout the years – when I was a kid in Brooklyn, it meant sneaking out to hang on stoops. More recently, the memory is specific to music, like international DJs playing new mixes on The Fader's "The Let Out" show at East Village Radio's First Avenue storefront on a warm Friday afternoon. The best was if the weekend held the promise of a GHE20G0TH1K party, ensuring that you would watch the sunrise one more time. These memories don't just make me think of summer, they sum up why I'm still in New York.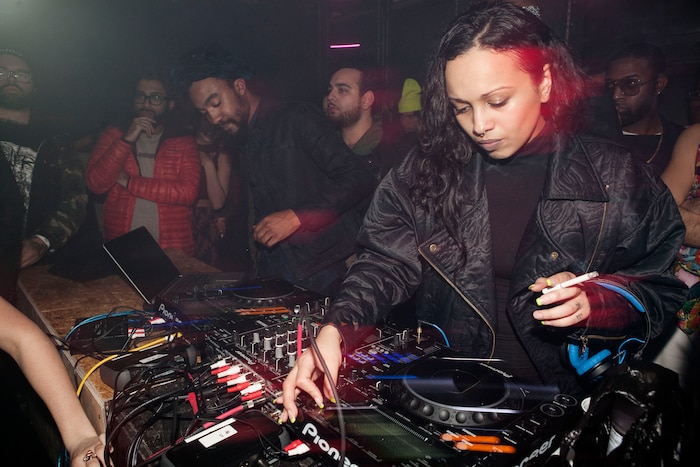 When you grow up here, in theory you can eat, speak, and learn whatever you want; in practice, many New Yorkers are still more comfortable among their own. I was a child of Haitian immigrants living in East Flatbush, but I grew up in the entire city: Upper East Side, the Bronx, Lower East Side, Bed-Stuy. The priceless glory of New York is in finding those deep holes where you can hold your club meetings, the dark spaces where the culture melts, cliques meet, and folks get to learn a little more about each other. Most of these places are parties. Parties in New York are the culture – and when they actually reflect the culture, they create a singular moment. It is not just a routine turn-up, but a chance to see something new. If you are at a good party, you can do anything in the dark.
My journey through New York City nightlife has been led by women. Women are its life-force, despite all attempts to teach me otherwise. With every new girlfriend, I found access to a new cave. The one who helped me discover GHE20G0TH1K in 2010 was Julianne; she promised that it would be "the most fun," a seemingly lackluster argument, except that ours was a friendship originally forged at 1 AM with a promise to cross state lines for a block party (and that's an offer as good as gold). By that point I'd spent years looking for a scene that didn't exhaust my patience. I had tried going to raves, but there is a certain BPM where I have no body-rolls to deal, and the mostly white crowd left much to be desired. I was a dancehall kid, used to fêtes where people always danced, and where weed, Henny, and Mo' were the only substances required to set a night off. I needed to hear my music and see people who looked like me. Life brought me to Julianne and she led me to Venus X.
GHE20G0TH1K is a tour de force. Founded by Venus X in 2009, it was an art/fashion "rave" started by a Dominican woman from Washington Heights, a place where you could meet actual 'hood kids, where you could be "ghetto" and gay and goth and a million other outdated labels that supposedly never went together. It wasn't about being one thing or another, but simply being real. To me, this wasn't out of the ordinary – it was familiar.
In Brooklyn warehouses and downtown haunts, Gallery Bar's basement or Santos Party House, the party was dark and sweaty, like the bashments I'd always known. The sights, sounds, and steps, everything was mixed in a fog. I would dance carefree until I couldn't feel how long I had been dancing; if you wanted to try your hand at vogue moves or grind on friends inappropriately, nobody was going to give you shit. ASAP Rocky's "Peso" and Sissy Nobby's bounce played next to alternative rap (at a party where the rappers were, in fact, gay and proud), followed by club and bass music not just from Jersey and Baltimore and Chicago and Miami, but from the rest of the world. It was YouTube music, played by DJs I'd never heard of back then – Brenmar, Nguzunguzu, Jubilee, Total Freedom, Kingdom – but who remain favorites to this day.
The party was also stylish as fuck, the outfits explaining the people when the opposite normally applies. It was like a Missy Elliott video, where outlandish accessories and futuristic looks mixed with plain, oversized, and even grunge-era clothes that represented comfort and ease. Everyone wore their best ideas, and the room fed off its own cozy energy. To be clear, the fashion cool kids were definitely present – but really anyone could be down. A style editor put me on to Hood By Air, Shayne Oliver's fashion line, his vision of what we all saw in the club. HBA is not "inspired by" but rather part of GHE20G0TH1K itself. The designs are direct from the dancefloor.
GHE20G0TH1K made something very clear to me: I am a woman of color with a backstory I refuse to leave behind. The parts of me that weathered the brainwashing of Upper East Side prep schools, using the protective cool of my 'hood's culture; the parts of me that spent summers listening to grunge out of sheer curiosity and hypnosis – all are authentic. But I don't have to pick one version of me, and the world doesn't either. GHE20G0TH1K is a reflection of my generation – our real shit, and not just the corny version of what people think we should be. We can explore and learn about things like electronic music, "weird" rap, and all things subculture, and still be "hood." I wasn't intimidated anymore. I was at the party to discover music and fashion I would never have found otherwise, and to be close to Venus' powerful energy. Eventually we became acquainted enough to talk, and I always wanted to ask her, "How did you figure it out?" But the question was rhetorical. I already knew the answer: Venus is a New Yorker. She has stayed true to herself and her family, true to curiosity and to the culture, true to her story.
When you hold something special, it is your responsibility and nobody else's. When Venus spoke out against the cultural appropriation of the party by outside forces – and received love and hate for it –I understood. As women and queer people of color, we are constantly being erased; society thinks we should be happy when an industry (art, fashion, music) discovers our shit – we should be grateful to be copied and receive attention, grateful when finally recognized. Society doesn't acknowledge that this gratitude means denying identity and history. Gay brown kids and every "other" who was celebrated on the GHE20G0TH1K dancefloor are a real and true story, not a trend, and the experience that they collectively create cannot be commandeered. The defiance I felt and expressed through my friends, my music, my fashion — my existence – was something to be protected. In watching Venus and Shayne uphold what had become their brand, I learned that I was my own. My story, my being in this place, deserved the same safeguard.
While GHE20G0TH1K went on temporary break in 2011, I kept exploring. I followed the DJs and music I had discovered. Everything has its wave, and this one took me from Kingdom and Fade to Mind to Kelela, from Jubilee and Dre Skull & Vybz Kartel and Mixpak to Popcaan. And it wasn't just music. I learned about the deep connection between DJs, promoters, hosts, dancers, and musicians, the worldwide network of weirdos who sustain New York's nightlife, who live to take chances, explore, and ride for each other. I didn't change who I was, just how I thought.
Last year, when HBA was up for a Council of Fashion Designers of America award, I saw all the potential and validity of my experience, not adjusted for code and not betrayed. The black girl who had subscribed to Vogue in high school was finally seeing herself in its pages – and not someone's interpretation, but the story as told by the same people who had given me this freedom.
In May of 2014, Venus put the party on hold indefinitely because of celebrities appropriating the swag. I did not feel nostalgic — I felt inspired. I hoped she would start something new, but also thought that if not, it's up to us to keep this wave going. The community that Venus developed through GHE20G0TH1K continues to operate with a freedom and confidence in itself. It's part of what is being reborn in this city — the natives are taking back control of the culture, even if we can't control where it goes. More importantly, we are fearless, going forward without limits or stereotypes of what we should be into, what our parties should look like. What Venus provides is the experience of connecting with yourself in a safe space. At GHE20G0TH1K I learned who I truly am. As a queer, foreign woman of color, raised in two worlds, I had never been secure enough to connect with myself. GHE20G0TH1K created a reality that was no longer optional. I am every part of myself and it works. I am the culture. My voice was always there, and will never go quiet again.

GHE20G0TH1K returns to life on May 2nd as part of Red Bull Music Academy Festival New York 2015. To find out more, check out the event page on nyc.redbullmusicacademy.com.