Kingston Ave. Dreaming: Dancehall, Hip Hop and New York City
Back in February, New York City's iconic hip hop radio station Hot 97 debuted Kendrick Lamar's lead single off his new album, "The Blacker the Berry," on Ebro Darden's daily show Ebro in the Morning. The song features an impassioned, no-holds-barred commentary on the roles that race and political corruption play in a deceptively free society. In its midst, the Jamaican deejay and vocalist Assassin's guttural patois rises through the dark synths to sing the powerful hook: "I said they treat me like a slave cah' me black / Woi, we feel a whole heap of pain, cah' we black." It's a heavy addition to a song rife with social critique, comparing the chains of slavery with the modern-day bling worn in the 'hood. Darden, the station's influential former program director, and his co-host Pete Rosenberg instantly declared the song a hit, yet the featured dancehall artist responsible for the hook was never named.
In 2015, the influence of dancehall feels more present in mainstream pop culture than it has been since the mid-'00s, when artists like Shaggy and Sean Paul were pop stars and ambassadors of Caribbean music to the United States. Back then, their successes owed much to the major-label support behind indie record label VP Records, whose home base of Jamaica, Queens, benefitted from the fact that New York City is also home to the largest Jamaican-American population in the country.
As Caribbean artists became successful in their home islands, their music would naturally migrate to New York (and the closer hub of Miami). Dre Skull, longtime Vybz Kartel collaborator and the founder of Brooklyn's Mixpak Records, recalls how there was once a push for the sound to go big. "In the late '90s and early '00s, major labels were investing in the music and the community," he says. "They were great at making someone a star." And when tracks by artists like Beenie Man, Elephant Man, and Shabba Ranks became hits in local NYC clubs, local radio stations like Hot 97 followed suit, catering to the hometown community of immigrants and influencers.
Since the New York City area has the largest Caribbean population in the country, its local rap and R&B radio stations – Hot 97 and Power 105 – have become a powerful guide for the rest of the nation: a song or an artist needs to break in New York before they can break anywhere else.
Brian Greenspoon of VP Records credits specific radio personalities for helping bridge the divide between Caribbean audiences and hip hop heads. "Influential Caribbean music mixers like Hot 97's Bobby Konders and Jabba used to have much more autonomy when it came to selecting tracks for airplay," he says, referring to the DJs' diverse blends of music that ranged from dancehall to soca or melodies of bachata. Greenspoon says the reason that more island singles aren't breaking into pop playlists is because of the structural nature of radio. "[Those DJs] have become relegated to station-mandated playlists that include the mainstream hip hop and R&B titles you hear during daytime rotation."
That's just one reason why Caribbean artists have become keenly aware of the necessity to blend into genres outside of their own, making their music more accessible to a wider audience. "Some of Sean Paul's success can be attributed to his work with DMX, Busta Rhymes, and Beyoncé," says Greenspoon. "The hip hop audience embraced him because he had infectious melodies, a unique multicultural look, and a tone reminiscent of another dancehall crossover phenomenon, Super Cat."
Some newer artists have followed a similar path. In 2010, Jamaican artist Gyptian found success among Caribbean audiences with the single "Hold Yuh" (produced by Brooklyn-based singer Ricky Blaze), before Nicki Minaj jumped on a remix, putting the track into daytime play at Hot 97. Soon after, Major Lazer's official remix of "Hold Yuh" hipped the track to EDM crowds (part of the then-trending Moombahton craze that gave dembow an electronic dance spin). In 2011, Blaze would remake the instrumental of the track as "Just You and I," scoring his own underground hit.
Such cross-sampling of riddims and vocals is part of island music's community appeal, helping to push artists out of their primary market. When soca king Bunji Garlin's "Differentology" first came out in 2012, it ascended to the coveted position of Trinidad and Tobago's official Carnival theme. But it wasn't until 2014, when the record was remixed – once by Busta Rhymes, then by Major Lazer – that it broke out Stateside. The remixing happens in reverse as well, when reggae or dancehall artists release their own versions of pop hits. In recent years, MIMS' "This Is Why I'm Hot" spawned a version by Junior Reid, and Jamie Foxx and T-Pain's "Blame It" made way for the culty reggae hit "Blame It On the Weed" by Wayne Marshall. The riddim from "Pon de Floor," released in 2009 when Major Lazer was recording at Tuff Gong Studio, and featuring Jamaican dancer Skerrit Bwoy, was remixed and reused by Busy Signal and Vybz Kartel before ultimately reappearing in Beyoncé's chart-topping "Girls."
As radio listeners become more comfortable with Caribbean riddims and vocals inside pop hits, the divide between genres gets more nuanced. But when will we hear pop artists guesting on dancehall tracks, and will pure dancehall ever make it into mainstream rotation?
The process of breaking dancehall musicians to rap- and pop-loving audiences hasn't changed. Jamaican artists are frequently recruited by big-name hip hop stars to bolster the creative, sonic aspects of the music, as well as to bring awareness to a genre of international black music with shared roots. In turn, the Jamaicans receive cosigns from chart-topping artists. Over the past few years alone, DJ Khaled signed local hero Mavado onto his We The Best imprint for three albums, and Kanye West's Yeezus featured a standout sample from Beenie Man's hit "Memories"; Drake's new release If You're Reading This It's Too Late gave a nod to the Caribbean population of his hometown of Toronto and was heavily influenced by Vybz Kartel protégé Popcaan, as well as upstarts Chromatic and Aidonia, with its Jamaican slang and skits; and the islands were established as an ever-present part of Nicki Minaj's creative DNA (sometimes as subtly as the passing dembow riddim in the middle of the otherwise brutal bass on "Stupid Hoe").
While rap radio works these artists with ease, New York's local scene continues to push new, upcoming musicians with the same fervor, expanding the scope of Caribbean music to include younger and more inclusive audiences. Longstanding New York crews like Federation Sound and Deadly Dragon Sound have become ambassadors between the islands and the city, throwing regular parties and working to foster genre-crossings. (Sean Paul and the Marleys have visited Deadly Dragon Sound's store and radio show; Federation Sound DJs have produced and performed alongside those same artists, toured with up-and-coming star Chronixx, and fostered new artists like Natalie Storm, Tifa, and Aidonia.) Local party crews such as Que Bajo?! and Mixpak take the sounds to their big, tropical club nights, where dancehall shares the setlist with cumbia, salsa, and various bass-minded tracks from around the world.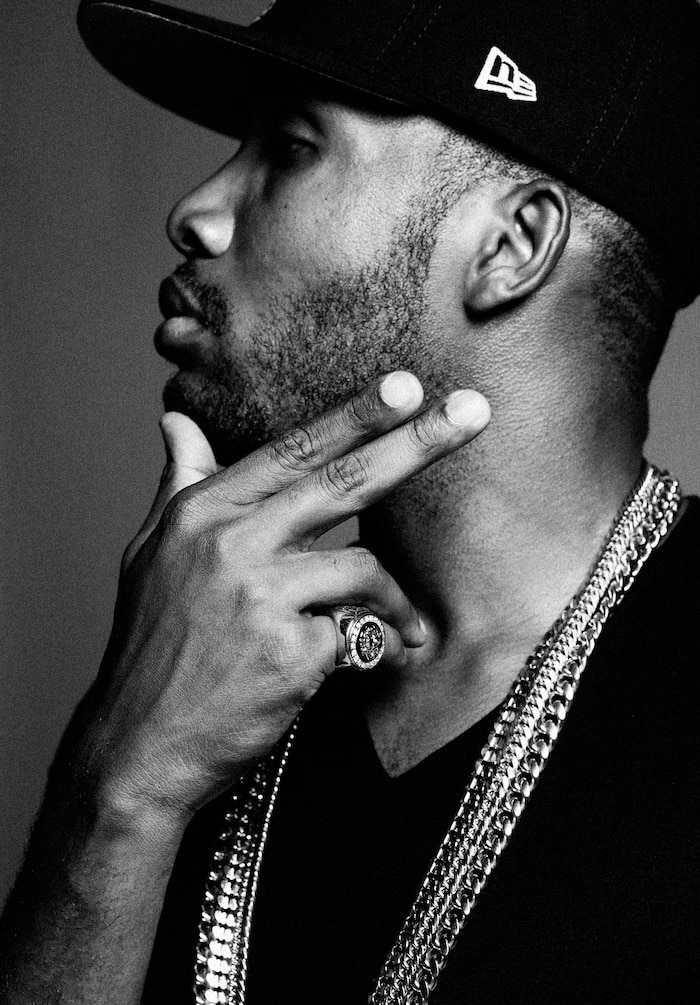 Dancehall artists like Assassin share similar goals. "When I am making a track, I am always thinking about how to make it global, how to make it good for audiences outside of just Jamaica," he says. Assassin remains uncredited on his song-defining hook of "The Blacker the Berry," but recognizes that selling samples, verses, or hooks has been an ingrained part of the dancehall artist's hustle to break out of the genre ghetto – the hope is to land on that one track that hits worldwide, or to nab a major-label deal.
When I ask him about his placement on Lamar's song, and about his appearance on Kanye West's "I'm In It" (not as a feature, but rather credited in the liner notes by his government name, Jeffrey Campbell), Assassin explains that both tracks were just lucky breaks. He explains that when Kanye and Kendrick had producers in town, they asked him for music and he offered a couple of recorded tracks and verses that he had on hand. In both cases, it wasn't until weeks later that he knew that they would be used in the rappers' songs, and was thrilled at the prospect. "I make hooks with that in mind," he says. "I think about it throughout the process, from start to end. I want it to have a good melody. It should have a message that speaks to many people, and can be understood by anyone. It should be clear."
When I ask Hot 97's Darden about how a dancehall verse might work on a hit rap single – in an attempt to get a rap-head's take on what a rapper's ear might be searching for – he agrees with Assassin. "When we can hear a song is huge in the local clubs, the next thing is to make sure it's understandable," he says. The "understandability" that both Darden and Assassin are referring to here is patois, the language native to Jamaicans that, while a hugely important element of the culture, makes it difficult for sing-along hooks to connect with non-patois speaking fans.
Cross-platform networks have sprouted up to deliver dancehall to a younger and more diverse audience from the underground up. "There is a system of pirate stations that is unique to the Caribbean community, so before a dancehall record even gets a shot on late-night mainstream radio, it has to garner support on the core underground stations," explains VP's Greenspoon. "The pirates are the voice of the streets and they generally dictate which records are primed for the next step. MIXX 96 (Miami) and Brooklyn's Red Hot Radio play a key role." Streaming sites like YouTube, Soundcloud, and Vevo are also crucial in dictating a track's potential. "In the case of Spice's 'So Me Like It,' the official video tallied 19 million views. The next step usually means specialist play on Urban and Rhythmic stations in markets with the largest Caribbean populations, like NYC," he says.
Dre Skull's Mixpak Records is one of the most exciting labels to be growing the island underground in New York right now. The label's small roster is born from Dre Skull's production work on the 2012 Vybz Kartel album Kingston Story, which was released on Mixpak. While continuing to work with producers who toe the line between global influences, electronic music, and New York swag, Mixpak's most recent record of note was Popcaan's Where We Come From, which was critically acclaimed by mainstream press and radio.
Yet the tyranny of distance remains. "Getting artists into the country and able to be seen is half the battle for some of these musicians," says Dre Skull. He references the other ways that Popcaan has been inadvertently marketed in the US, mentioning Drake's constant homage to the young singer on Instagram and the "OVO Unruly" shout-outs. "The audience is here, and I think the market is ready for a new dancehall star," says Dre Skull. "It's just a matter of all the right people continuing to work together to make it happen."

We'll be celebrating the world of dancehall on May 10th as part of Red Bull Music Academy Festival New York 2015. To find out more, check out the event page on nyc.redbullmusicacademy.com.

Header image: Natalie Keyssar/INSTITUTE