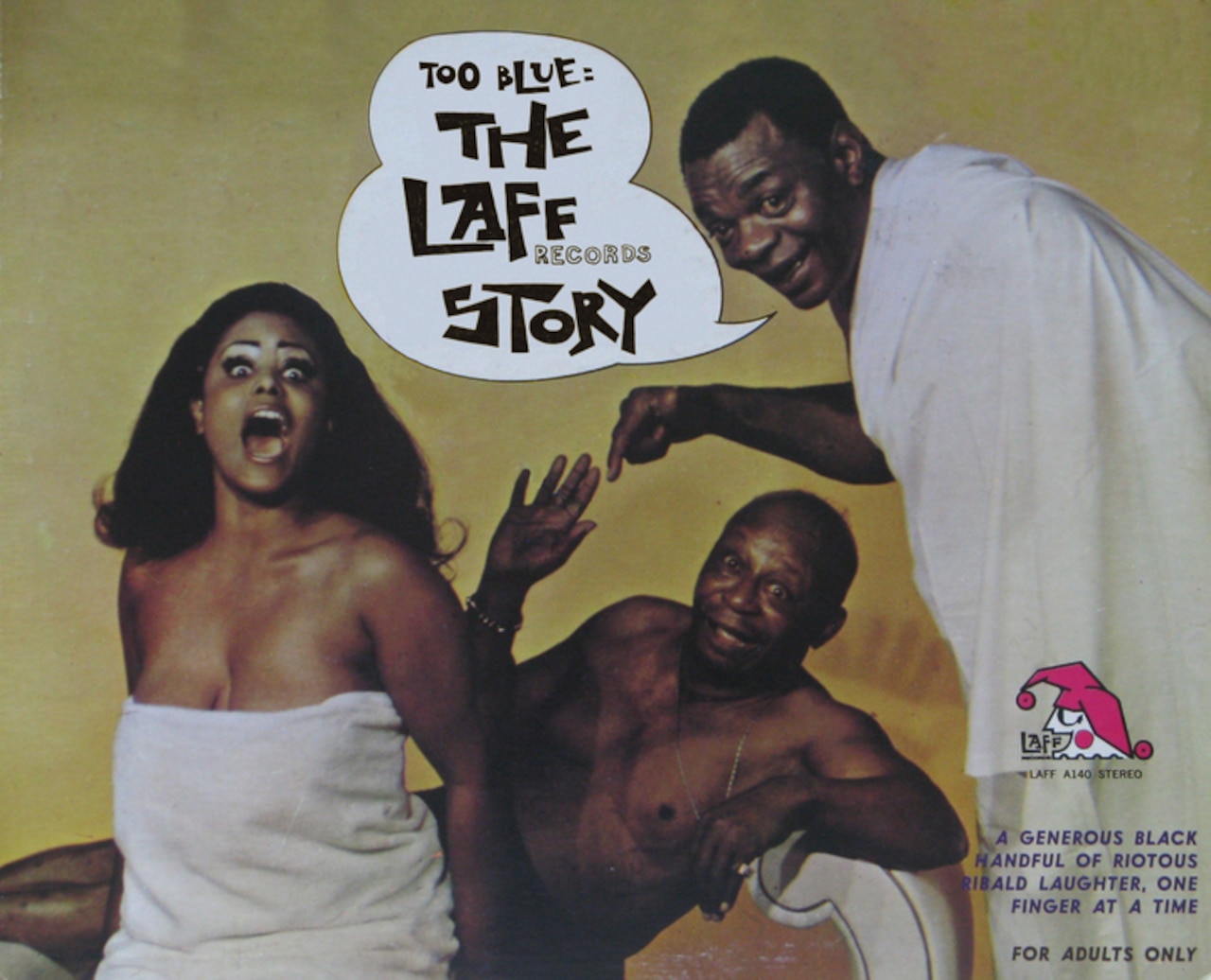 Too Blue: The Laff Records Story
Years before Comedy Central and specialized podcasts, dirty joking black comedians Richard Pryor, Redd Foxx, Lawanda Page, and others had few outlets where they could be filthy funny. While each would later crossover to television and movies, these potty-humored pioneers first spread their brand of "blue" hilarity through records released on small West Coast labels. Although Dootoo Records was the first to venture into the marketplace, it was Laff Records that would become the leader of the foul-mouthed pack. "I almost had a deal with Laff Records," Jimmie Walker, who played J.J. on Good Times, once told a reporter, "but they were a little too dirty for me."
I was barely 13 when I discovered a collection of Laff records tucked between the black metal racks of my aunt's record player. But knowing a little about the birds and the bees barely prepared me for what I heard. Not only did these comedians curse and talk frankly about sex, drugs and other vice-soaked adventures, they used the n-word more than any modern day rapper. Back then, even black people were shocked to hear the word used so casually on a record; still, it didn't stop Laff from becoming best-sellers.
As comic book writer David Walker explains, "Laff Records was a world within a world that has become a forgotten part of our history. People barely know the comics or the context of that kind of humor." Walker has been a fan of Laff's gutbucket humor for years. "People are so sensitive now; if these comedians were around today, people would find them so offensive."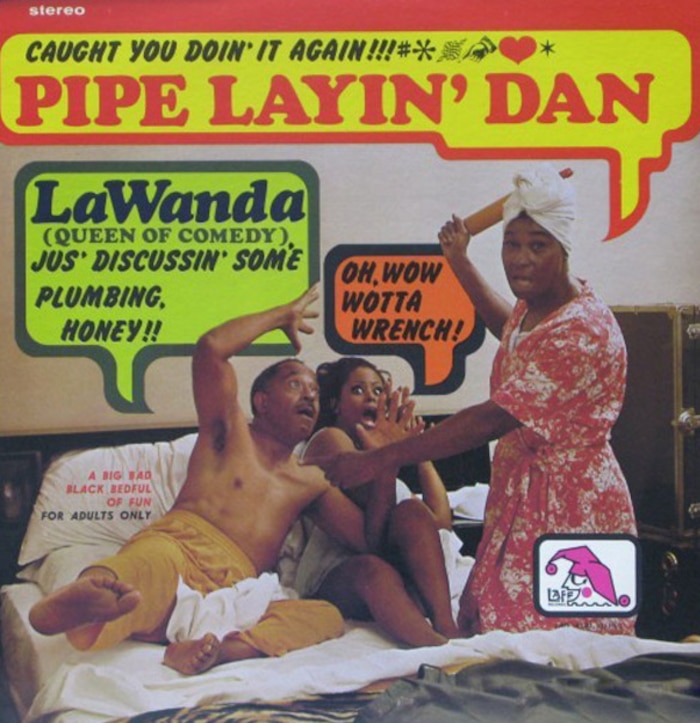 Almost 40 years later, I still remember the adults at my aunt's parties gathered in the basement smoking cigarettes and swilling booze as they laughed uproariously at the bawdy comedy sketches. Standing at the top of the stairs, I was not just listening, but absorbing the "blue humor" crackling through the stereo speakers. These days, potty mouthed comics are the norm, but in the '60s cursing cats like Lenny Bruce went to jail for saying much less.
Comedy records weren't an easy sell in the beginning for the performers. They thought no one would come see them live, if they could simply sit in their living room and listen to their routines. Redd Foxx reluctantly recorded the first stand-up album Laff of the Party for Dooto Records in 1956. Kliph Nesteroff, the author of the forthcoming The Comedians: Drunks, Thieves, Scoundrels, and the History of American Comedy, says the fear didn't last long. "When he sold over 250,000, he changed his mind quick. Between 1956 and 1958, he released 14 albums."
An underground sensation that was primarily "a black thing," Dooto Records soon had a few competitors. "Laff started selling black comedy records because it was a genre that wasn't cornered," explains Nestheroff, who included a chapter about the imprint in his book. "The label's owner, Louis Drozen, took out radio ads in major black markets and the records took off."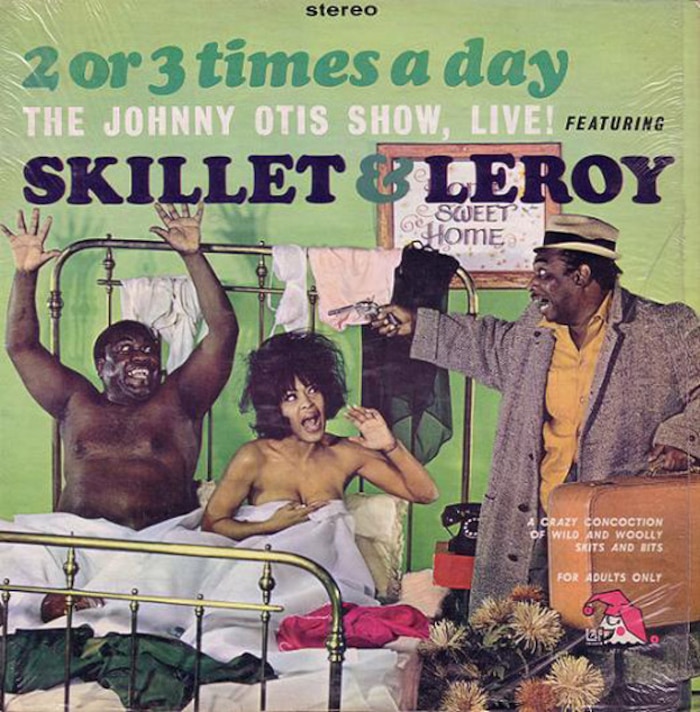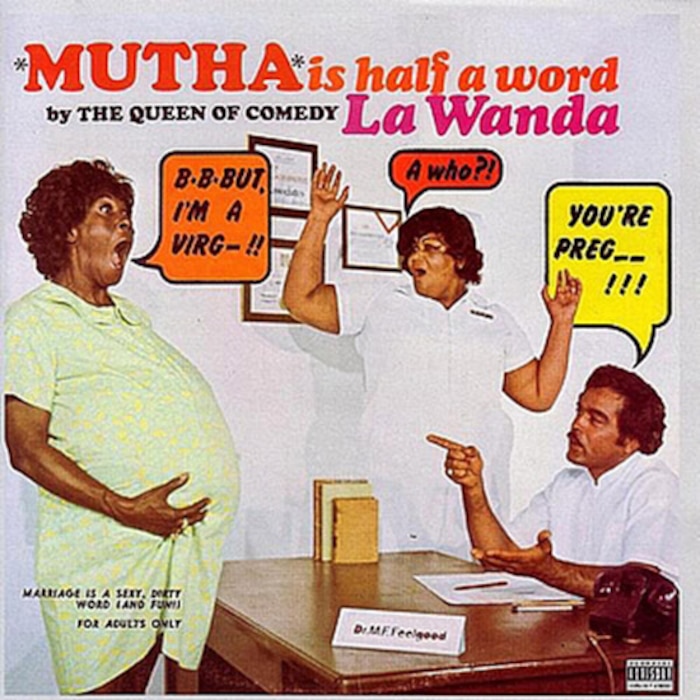 The album covers didn't hurt. When you picked up an album at the store, the photos – shot mostly by Bud Fraker and Dominic Belmonte – often weren't even visible. Like old school pornography, the records were sometimes sold wrapped in brown paper that completely obscured the cover image. The words "FOR ADULTS ONLY" feature on many of them as well.
The back covers, meanwhile, had liner notes written in a bizarre, black beatnik language that no one in the hood ever spoke. Although the strange essays were written by Shelby Meadows Ashford, a woman who joined the company as a bookkeeper and later became the head of promotion, they read as though they were penned by Chester Himes on acid: "A parade of clowns and jesters…so, like it or lump it, hate or hump it…your lights are gonna be blinking bright over this risqué disc…Blackfolk taught Whitefolk how to dance and then they taught Whitefolk to LAFF…spend another XXX filled evening with another XXX filled album."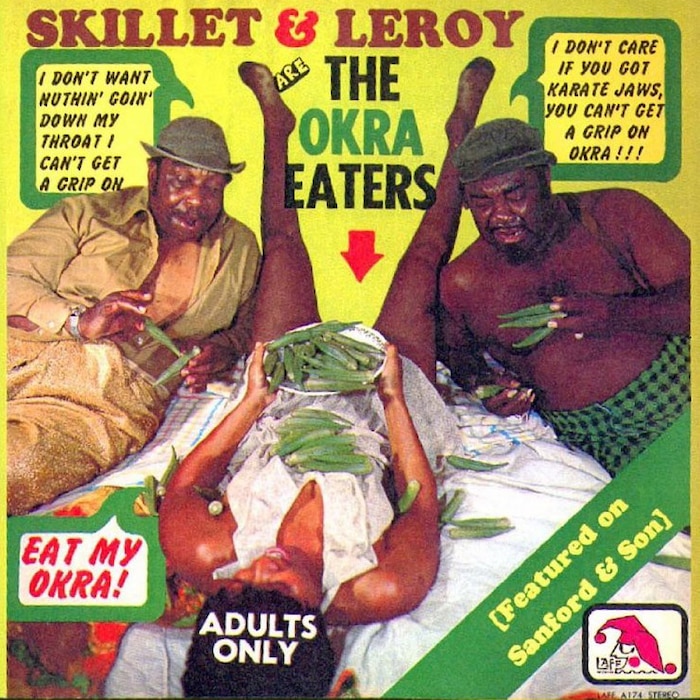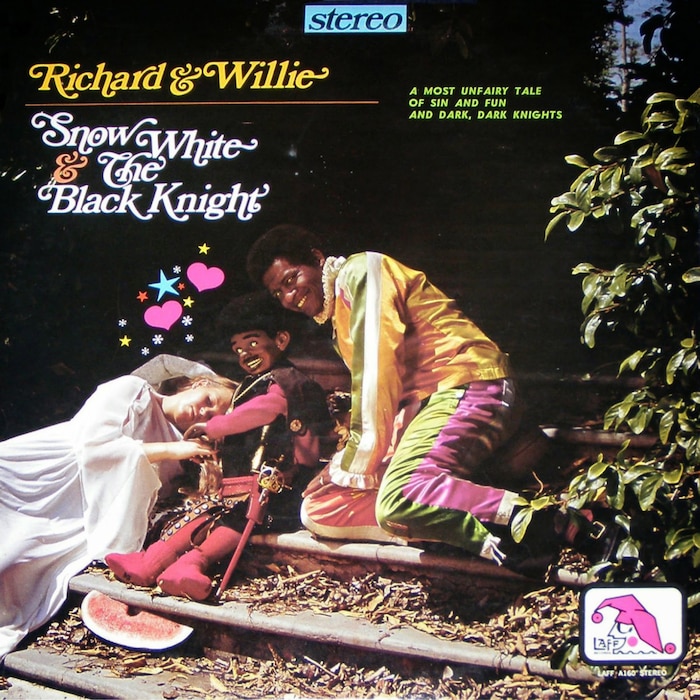 In some African-American households, Laff's chuckling court jester logo was as familiar as the snapping fingers of Stax or the blue tint of Motown. Still, parents often went to extreme measures to stash their collection from innocent eyes. "My mother used to have a bunch that she tried to hide from my sister and me by putting them beneath the bed," laughs producer/former Stetsasonic co-leader Daddy-O. "But we found them anyway."
Sneaking to play the records before his mother returned home, some of the records featured a boozy backing band. Comics Skillet & Leroy performed on The Johnny Otis Show, and his band accompanied them on The Burglar in the Bedroom and 2 or 3 Times a Day. While Daddy-O never sampled any Laff Records performers, plenty have. That long list includes DJ Quik (LaWanda Page/"Tear It Off"), N.W.A. (Skillet and Leroy/"She Swallowed It") Madlib (Auntie Tina Dixon/"Interlude 7"), and the Beastie Boys (Richard Pryor/"Flute Loop").
The sound quality of the records, however, never seemed to be a major concern. "They never sounded as though they were properly recorded," Stand Up! Records label head Dan Schlissel says. Since 1999, Stand Up! has released comedy albums from Lewis Black, David Cross, and Hannibal Buress. "There was very little effort put into the technical side."
That was partly the point. On the back of a few Laff Records, you'll see a note: "Recorded at the scene of the applause, on stage or at the intimate party." And, according to a 1978 Billboard article, some of the albums were done in a studio. It just wasn't the normal recording studio situation. "Recording of the artist typically took place in a studio with an invited audience which was treated to a party atmosphere to liven it up. The artist would do two 30 minute routines with a short break in between." Others were recorded in nightclubs where the sound of clinking glasses and silverware could be heard in the background.
Perhaps one of the most underrated things about Laff was its openness to female comics. One of the best acts on the label was the rawest chick this side of the Mississippi, LaWanda Page, who played devoted Baptist brimstone hauler Aunt Esther on Sanford and Son. In her earlier days, Page was a dancer and a fire-eater who billed herself as the "Bronze Goddess of Fire." Turning to comedy when she was already over 50, anyone who listened to Page's debut Mutha Is Half a Word (1971) or the gold-selling sophomore disc Watch It, Sucker! (1972) expecting the Bible-thumping shrew from Sanford was in for a surprise. Skits titled "Husbands & Whores," "Open Drawer Whores," and "Freaks" say it all.
While some '60s era black comics like Dick Gregory and Nipsey Russell performed in Las Vegas and dressed in tuxedos on television, most of the Laff artists toured the chitlin' circuit, playing Negro resorts and urban clubs. Yet, according to comedy historian Daryl Littleton, not all comedians wanted to be in the desert entertaining crossover audiences and amusing the Rat Pack. "All comics have to be true to themselves or they end up killing themselves," Littleton says. "These comics simply wanted to play for a crowd that appreciated them for what they were. This was who they were, and they figured their true audience would find them." Drozen felt the same way with the label. When asked by Billboard why he didn't import his records to the UK, he replied, "They may understand English, but they never seem to understand the humor."
When home in Los Angeles, fancy named nightspots like the Brass Rail, Redd's Place and the Parisian Room, became their hangouts and work spaces for black comics. Located at 4960 W. Washington Boulevard, the Parisian Room, with its dark interior, low-ceiling and little round tables, was a favorite. With respected saxophonist Red Holloway leading the house band, musical artists Dizzy Gillespie, Nina Simone, Esther Phillips, and Ramsey Lewis also performed. Comic Reynaldo Rey, who co-wrote "Superman Lover" with Johnny "Guitar" Watson, was the host. Holding down the spot for eight years, the freckled faced comic recorded his 1978 Laff album The Rising of Reynaldo Rey there.
Laff also provided a home to ventriloquist comic Richard Stanfield, who also recorded and performed at the Parisian Room. An admirer of old school ventriloquists Paul Winchell and Edgar Bergen, after Stanfield bought his own doll, he painted it black and named him Willie. The dummy was described on the back cover of Snow White & the Black Knight as Stanfield's "sharp featured, Afro-coffied, quick tongued, irreverent, three foot, four inch counterpart."
Although Stanfield recorded blue material, with some referring to him as "Pryor with a doll," his Laff recordings sold well. Stanfield could also tame his act when he went on the road, opening for Roberta Flack and Nancy Wilson. He stayed at Laff until 1980. "Louis [Drozen] was the brains behind the organization. Louis ran a good company," Stanfield told Daryl Littleton. "They knew how to sell records."
While Lou might've been the one receiving accolades from Stanfield, it was David Drozen that saw the potential in a lanky comic named Richard Pryor. Although Pryor would go on to superstardom elsewhere, his 1971 record Craps (After Hours) was one of the first hints of the foul-mouthed genius within. In the first five minutes of the album Pryor covers toking weed, sniffing cocaine and fighting his wife. As Pryor would prove throughout his career, nothing was off-limits. "You better not grab my nuts," he yelps when arguing with his woman. Having recorded his debut three years before, Craps was Pryor's second album, but his first classic.
Pryor recorded Craps at the Redd Foxx Club (AKA Foxx's Place) on La Cienega Boulevard. Foxx's place, a cramped club where Bill Cosby was one of his partners, was popular with young comics. In Furious Cool: Richard Pryor and the World That Made Him, authors David and Joe Henry explained how Craps was constructed. "Laff producer David Drozen went through hours of material… and spliced together a ragtag assemblage of 31 tracks, 16 of which were less than a minute long."
Writer Gary Phillips recalls hearing Craps while on summer vacation in 1971. A former varsity football player, he said, "What an impact that record had on us black players on our high school football team. We came back in August, because we had to start practicing a month before school started, and quoted the bits from the record in the locker room much to the consternation of our fellow white players."
After the success of Craps, the hot comic jumped ship for Stax Records, wooed by a six figure advance. But as he recorded his follow-up, Stax went bankrupt. Pryor wound up at Warner Brothers, and Laff Records continued to release the remaining Pryor material in their archives after winning a lawsuit. The more famous Pryor became, the more Laff Records flooded the market with inferior product. It wasn't until 2002 that Pryor won back his masters.
David Drozen left Laff Records in 1984 after years of fighting with his dad. "I could no longer work with him," Drozen told the She Said What podcast. "Everything I wanted to do was an argument and a fight, and he made my life miserable." The following year Laff Records went bankrupt. "Once their partnership was dissolved, they saw each other about once or twice," Darryl Littleton said. "After that, they never fully buried the hatchet and then Louis died."
When pieces of the company were being liquidated, Loose Cannon Records reissued Craps in 1994. Film producer Lisa Cortes was the president of Loose Cannon at the time: "I remembered being a little girl in Harlem and my father and his friends would be listening to them while I pretended to be asleep. Those records were so raw and live, and today they serve as an amazing time capsule. It's interesting the way those records were involved in our culture; Laff Records touched so many people."

Richard Pryor - Craps (After Hours)

Introduced as "the crowned prince of comedy," Pryor went beyond mere jokes and proved to be an extraordinary storyteller as well. From how men should never take their wife to an orgy to black preachers knowing God personally, Pryor never disappointed.

Richard & Willie - Red, White & Blue from a Black Point of View

Playing straight man to a shit talkin' dummy wasn't always easy, but Richard Stanfield's 1976 album was as political as it was hysterical, making pointed jokes about interracial dating, George Wallace and school busing in Boston.

LaWanda Page - Mutha is Half a Word

LaWanda wasn't much of a lady, but she knew how to get laughs with her rapid fire delivery. She touched on subjects ranging from whores in church to a black pilot assuring his passengers: "We gonna smoke some weed baby, we gonna snort some coke, we gonna get high as the sky if I ever get this muthafucker up off the ground."

Tina Dixon - Calling All Freaks

Although there isn't much known about Auntie Tina Dixon, on record she reminded you of the drunken relative at the backyard BBQ wisecracking through the night. The more she drank, the funnier she got.

Skillet & Leroy - The Okra Eaters

Regulars on The Jonny Otis Show, these old school vaudevillians updated their act with jokes about hookers and oral sex. Trombonist Fred Wesley, who performed with in LA afterhours clubs, said of the duo in his 2002 autobiography, they "were so raunchy, they would make Richard Pryor and Eddie Murphy sound like Sunday school teachers by comparison."