Left of the Dial: The Evolution of Punk, New Wave and Indie on American Radio
When the punk revolution first happened, American radio was not interested. Trouser Press founder Ira Robbins recounts the story of how the punks, New Wavers, and early indie kids stormed the airwaves, and who was there to help.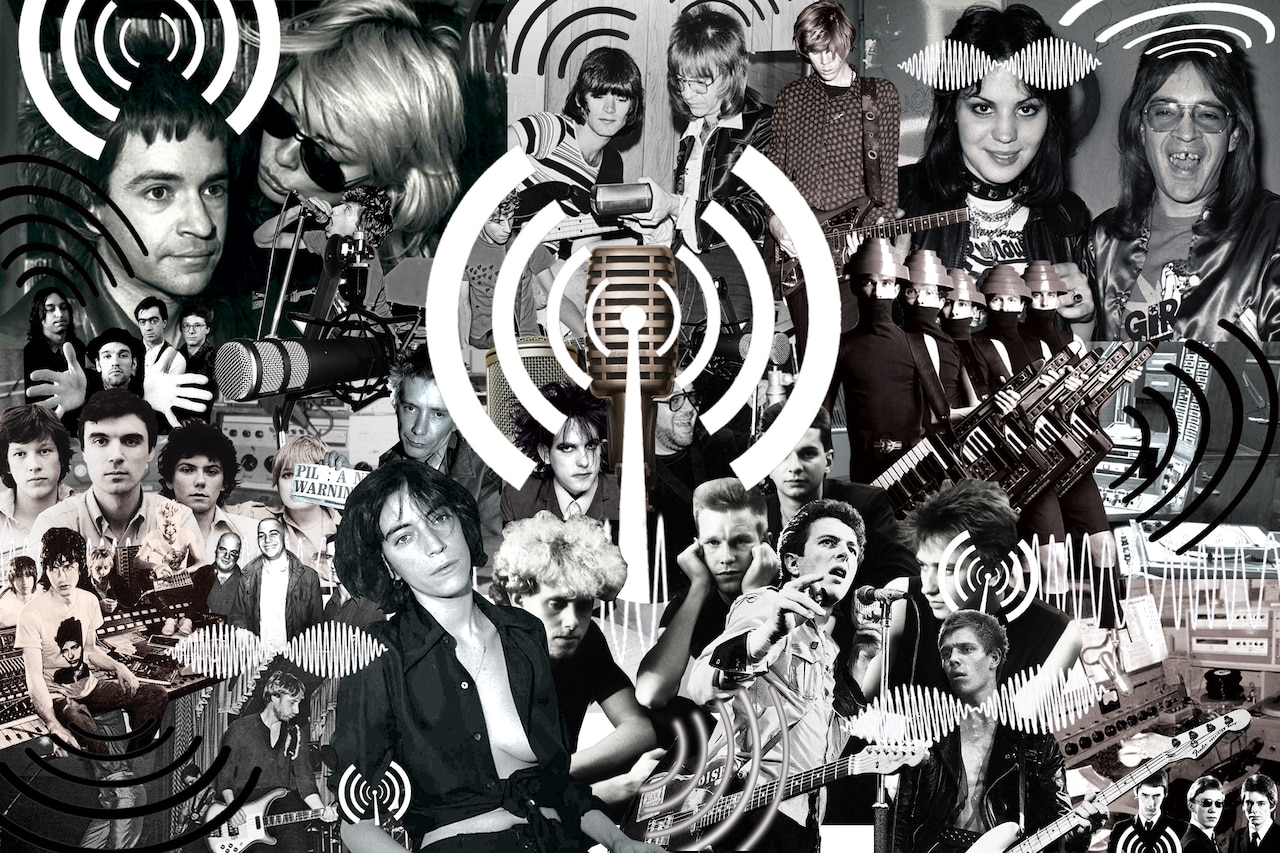 Rock and roll was born to give offense, and radio has long served as the music industry's primary gatekeeper. AM, FM, free-form, Top 40, AOR, left of the dial (was there ever a right of the dial?) – the programmers who pick which songs get on the air (whether based on gut feeling, label entreaties, payola, peer pressure, or audience testing) live and die by the records they choose. These firing-line calls can seem bizarre in retrospect: radio, and its audiences, has often latched on to (or flatly rejected) the most unpredictable songs. Even bands headed for the cultural pantheon have struck radio as ones to avoid. The Clash, Ramones, Sex Pistols, Stooges, Patti Smith – all of them are in the pantheon, but none of them had more than a song or two (if that) in serious rotation.
Punk and New Wave was never embraced as a genre by American radio, so the hits that broke through in the late '70 and early '80s now seem entirely arbitrary, novelty records more than exemplars of a musical movement. There's no correlation between "Turning Japanese," "I Ran," "She Blinded Me With Science," the wrong Romantics song ("Talking In Your Sleep" rather than the enduring "What I Like About You"), or "White Wedding," and any critic's list of the 10 Most Important Punk and New Wave Artists.
Until MTV came along in the '80s and became (more or less) a national music channel, radio – thousands of individual stations, each with its own playlist – was the primary medium responsible for driving records toward popularity. The evidence of MTV's successes with post-punk and new wave acts (Duran Duran, Billy Idol, the Police, Culture Club, Cars, Go-Go's, Thompson Twins, Tears for Fears, etc.) is enshrined in Billboard's Top 40 chart books, but that still leaves a huge realm of important and beloved songs that never received adequate (or any) airplay. Those who grew up on music from outside the mainstream never heard it on commercial radio. The real wild ones – bands like Richard Hell and the Voidoids, Dead Kennedys, Sex Pistols, the Germs, the Damned, Teenage Jesus and the Jerks, Black Flag, and hundreds more like them – might as well have been quarantined from the airwaves.
When the Ramones played at CBGB in 1974, they did not strike people as a band whose music would eventually be heard at sports stadiums. Many thought the Ramones were a joke, and there was little chance of a record label seeing the potential in "Gabba gabba we accept you." Growing fat on the backs of mainstream, commercial-pop enterprises like ABBA and the Bee Gees, American major music companies had no use for the snarl of punk or the innovation of new wave. Luckily, there were a few visionaries: Sire Records saw the value in these burgeoning genres and made recording artists of the Ramones, Talking Heads, Richard Hell, and the Dead Boys. By 1977, other labels had signed Patti Smith, Television, and Blondie. The UK sent over albums by the Sex Pistols, Clash, Generation X, Jam, Vibrators, Elvis Costello, Nick Lowe, and the Stranglers, putting them on the to-do lists of radio promotions people.
But the charming culture chasm that aided the '60s British Invasion didn't work this time. Punk attitudes didn't unlock the hearts and minds of American radio programmers; those keys were held by the polite and the poppy, the well-connected and, by the early '80s, those anointed to participate in the soundtracks of John Hughes films. Mainstream radio scoffed at all but the most appealing and accessible songs: Blondie's disco-fied "Heart of Glass," The Clash's soul-influenced "Train In Vain," Talking Heads' Al Green cover, "Take Me To the River," and, to a lesser degree, the Ramones' Phil Spector-produced "Do You Remember Rock and Roll Radio."
Little by little, there were outcroppings on the dial. Starting in the summer of 1976, Rodney Bingenheimer made KROQ the Los Angeles powerhouse of punk, a driving force in the exposure of English bands and LA scenesters. His show, "Rodney on the ROQ," gave a foothold to everything from the Runaways to Public Image Ltd, as well as to SoCal hardcore upstarts like the Circle Jerks, Social Distortion, and the Minutemen. On New York's WNEW, a cornerstone of free-form FM radio, Vin Scelsa's Saturday morning show began in 1973 and demonstrated the same eclecticism that's shaped his broadcasts ever since (that is until May of 2015, when he finally retires from his current radio perch on the listener-supported New York station WFUV). An October 1977 show featured a tribute to the recently deceased Bing Crosby, selections from Meat Loaf's first album, tracks by Queen and the Steve Miller Band, and also the title number of Iggy Pop's second solo album. "Lust for Life" was a potent bolt of decadence and corruption – too corrosive for the mainstream upon release though later deemed an apt jingle for a cruise line.
So many mainstream stations clung to familiar artists and proven sounds that new wave opened a huge gap, one that was filled from America's college campuses. By the early '80s, student DJs flipped the switch on a new kind of DIY industry. College radio was the electronic beacon of that new infrastructure, spreading the word and transmitting a sense of community and purpose. Young musical strivers could drive all night in a rusty van to play a gig that might cost them money, but with a few spins on a college radio show at least they could hear that the effort meant something to people.
Although their broadcast signals were often small and local, college radio offered a crucial assist to bands as diverse as R.E.M, Husker Du, Sonic Youth, the Replacements, Minor Threat, the Dream Syndicate, Bad Brains, Bad Religion, Los Lobos, and the Violent Femmes. One memorable program emanated from New York University, where future journalist, MTV personality, musician, and label executive Tim Sommer literally screamed his way through "Noise, the Show," a weekly blast of hardcore that helped launch the Beastie Boys' career.
I gave up on the radio for a while back there. I was running a music magazine (Trouser Press) and had all the new music I could handle. But in 1982, WLIR – based not in the nerve center of New York City but out in the suburbs of Long Island – switched from being a standard FM rock station to the first new wave station. Out went Stevie Nicks, Pete Townshend, and the Rolling Stones; in came Killing Joke, B-52s, Violent Femmes, Lords of the New Church, Translator, and Talk Talk. (To its credit, the station didn't "dare to be different" overnight – Human Sexual Response, Yellow Magic Orchestra, Classix Nouveaux, and the Waitresses were played on LIR as early as 1980.) Program director Denis McNamara dedicated the station to new music, delving deeply into all subgenres then associated with post-punk – synth pop, New Romantic, goth, batcave, reggae, two-tone – and was at the forefront of introducing America to U2, the Cure, New Order, Depeche Mode, and other bands who helped define "the '80s." When a local rockabilly revival trio, the Stray Cats, issued two albums only in Britain, LIR played the imports, no doubt helping to encourage the US release of Built for Speed, which sold a million copies.
At its heart, radio is an agnostic form that can embrace all kinds of music (limited only by the vaguely defined decency standards mandated by the Federal Communications Commission). But abrupt cultural shifts naturally generate resistance, and radio can't be expected to embrace everything new with open airwaves. Each hit single adds to the definition of what people will accept, and the passage of time bathes it all in a glow that softens the lines guarding the airwaves. Stylistic pivots that may have felt monumental in the moment sound trivial in hindsight.
Did "Smells Like Teen Spirit" strike anyone as a likely Top 10 single when Nirvana released Nevermind in 1991? That record now sounds exactly like a hit record. Same goes for the herky-jerk camp of Devo's "Whip It," the homoerotic release of Frankie Goes To Hollywood's "Relax," the rudimentary sci-fi of Gary Numan's "Cars," and the religious geo-politics of the Clash's "Rock the Casbah." Now, after decades of clinging tightly to rock and roll's early days, America's classic hits format is no longer called "oldies" but instead focuses on tunes from the '70s and '80s. Sure, it's sad and ironic for some aging hipsters to think of new wave as nostalgia – this is music that was once cutting-edge and modern – but check a calendar: it's been four decades since the Ramones first counted up to four, and three since Billy Idol's snarl topped the charts. Meet the old wave…

Radio in New York is one of the many themes we're exploring this year as part of Red Bull Music Academy Festival New York 2015. Join us on May 27th as we host a roundtable discussion exploring the hip hop, house, and electro side of things at Red Bull Studios New York.
Header image © Hisham Akira Bharoocha