Origin Stories: Missy Elliott and Timbaland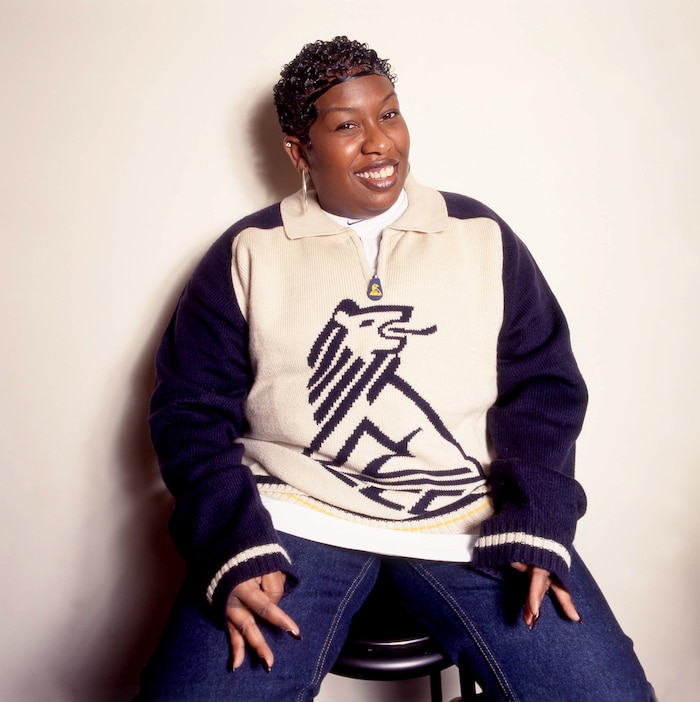 Over the past 20 years, Virginia has been a hotbed of musical innovation. Missy Elliott. Timbaland. The Neptunes. Teddy Riley. In the next three weeks, Chris Williams will take an in-depth look at this area of the United States, examining why it's birthed such talent. The first article in this series sees Chris sitting down with Melvin Barcliff, formerly known as the rapper "Magoo," Lenny Holmes, a famous guitarist, Louise West, a prominent entertainment attorney, and Angelique Miles, a high profile music executive to discuss their roles in shaping the beginnings of Missy and Tim's career.
When and where did you first meet Missy Elliott and Timbaland?
Melvin Barcliff
I first met Tim through a guy who is Tim and I's best friend. His name is Larry Lyons. I met Larry when he came to Chesapeake, Virginia to attend high school. He was from Virginia Beach. Within a month, he started telling me about this guy in Virginia Beach who was a really good DJ, beat boxer, and producer. But at the time, Tim was more well-known for being a DJ. I met Tim in 1988 when he was 16 years-old. I met Missy through someone else, too. Initially, Larry, Tim, and I were in a record store. Missy was in a group called Fayze, and they had a record out locally and it was playing on the radio already. The song was performing pretty well. While I was in the record store, I picked up their record. I was like, "We have to meet these girls." About a month later, a guy from my neighborhood calls me and said, "I have Fayze in the car with me." So, I get in the car with them, and I started telling them about Tim. We ended up going over to Virginia Beach, and when we got there, they met Tim. When they met him, they wanted to pick him up as a producer. Unfortunately for the guy who introduced me to them, he was also a producer, but they ended up choosing Tim to work with. This was around 1991 or 1992.
Louise West
I first met Missy when she was about to be signed as an artist with Devante Swing. She was in a group, and she signed on with Devante. I just had a special interest in Missy because she was from Virginia, and I was born in Virginia. She was just so bright and so curious and so interested in learning everything she could about the music business. So – that was great for me because it was a teachable moment. I had a client that wanted to learn. So – I almost took a special protective interest in them, you know. Over the course of time, when she was signed to Devante, she was studying the music business. Little did I know there was a whole camp of people involved with Devante. She went back to the group and told them, "I found the lawyer for everybody." So – in comes Timbaland, Melvin "Magoo" Barcliff, his partner, Ginuwine, and later on Stephen "Static Major" Garrett. I had the pleasure of working with and representing these guys. I used to tease Tim. I said one day, "Are you guys going to college?" They responded, "No. We're going into the music business." I told them, "Well, you're going to college in my office. You have to read a lot of books, study really hard, and you have to get this information because it's a business." Of course, Missy was just a dazzling student and so was Tim. Both of them were my prize students. They would knuckle down and read books about getting into the business. As time went on, it was time to think about their publishing. Both Missy and Tim said at the same time, "Let's not sell our publishing." I was like, "Great." Angelique [Miles] understood that and took it to her company, and the rest is history for the both of them.
Angelique Miles
Well, I met both of them around the same time because they were represented by Louise. Louise brought Timbaland to my office. He only had one song on him to play for me. That song was "Pony" by Ginuwine. It hadn't been released to the public yet. I signed him based on that song alone. I did their deals at the same time. A short time later, "If Your Girl Only Knew" came out by Aaliyah. Then, Aaliyah's One in a Million album came out. It just blew up from there. It came as a surprise for most people because no one had ever heard about them before. Everything that they came out with after that was a smash, especially the Aaliyah album. The Aaliyah album really put them on the map as a songwriting team.
Lenny Holmes
I think I first met her in 1998. I met Missy when I was working out of a studio called Master Sound Studios in Virginia Beach, Virginia. Missy, Timbaland, and The Neptunes before they were actually The Neptunes were all working out of this studio. There was an engineer working there named Rob Ulsh and another guy named Drew. They said to me, "Lenny, if you and Gerald can leave me a CD, I can get Missy to listen to it." Well, we left him a CD, and we received a call from Missy a week later. Missy said she wanted us to come down and listen to what she was doing. She specifically wanted to see if I could play some guitar on some of her tracks. When we got there, Missy was in the studio working and Tim was in the studio working. I remember Tim drove up in a platinum colored Lamborghini. He took me for a ride in it. They were a team. They were doing a lot of records together. So – I began to listen to some of the stuff she and Timbaland were doing and the stuff that she was doing. She single-handedly molded me in how to do hip hop guitar parts. At that time, she was getting ready to do the movie soundtrack for Why Do Fools Fall in Love. She was getting ready to produce Total. She was just doing a ton of stuff. It was just an honor and great pleasure to work with her. We did some songs together on Nicole Wray's album. We did a lot of stuff together. We worked on the Paula Cole project together. I was in the studio with her one time, and she sent me over to work with Timbaland on Janet Jackson's "Go Deep (Remix)." On the Total record, we did three or four songs. We did the "Confessions" record on Destiny's Child's album. We also worked on Scary Spice's album. She groomed Gerald Thomas and I. Our production team was named the Dynamic Duo. She just had a beautiful personality. She was the hardest worker and motivated, and she didn't have an ego. One of the sweetest people I've ever met.
During this time period, as you guys were getting to know each other, who were some of the local musical influences that were inspiring Missy and Timbaland that would lead to you all experiencing commercial success in the mid to late 90s?
Melvin Barcliff
For me, it was Teddy Riley. If you look at it, it's not a coincidence that The Neptunes, The Clipse, Mad Skillz, Missy, Timbaland, I, and a bunch of people that followed us came from this part of Virginia. When Teddy Riley was living here, he was the only major superstar living here. Teddy was huge! He inspired me personally because having someone locally where you could ride by their studio was great. We didn't have anything like that before. He was an inspiration here locally. That is why a lot of young kids like Timbaland, me, Chad [Hugo], Pharrell [Williams], and later on Danjahandz believed we could make it. He just influenced us by living here. He did talent shows and shot videos here. His greatness is another story. His presence was huge as well. He was a mentor to Timbaland, me, and everyone else who was around. Teddy was larger than life around here back in the day. When he would put on his talent shows, he would be right there! We had nobody like that around here. We had a lot of great athletes in the Norfolk and Virginia Beach area like Allen Iverson and Alonzo Mourning, but we never had someone in 1991, 1992, 1993 until Teddy came. It wasn't until Mad Skillz came out – he's from Richmond, Virginia – that we had someone represent Virginia in music.
Teddy gave back to the community when he was here. Teddy was the person that made me see that I could do this music thing. Before him, I was just writing little raps and doing songs in Tim's room with him and Larry. When Teddy came here, it changed everything. To me, he is the least appreciated great music producer of all time. If you think about what he created with the New Jack Swing sound, it had the same impact that other great genres of music had, but he has never gotten the recognition he deserves. His music was so impactful, not only in R&B and pop, but in hip hop. There have been very few producers that have been able to do that. Timbaland has been able to do it and The Neptunes were able to do it as well. Teddy can do R&B, pop, hip hop, and rock; he can do anything.
It was like overnight he figured it out. The night before he was a dope producer, but the next day he woke up, and he became incredible.
You mentioned that you were working with Tim and your friend Larry early on in your careers. Take me through Tim's evolution in high school to the point where you guys met Devante Swing and you become a part of his Da Bassment collective.
Melvin Barcliff
There is a gentleman that I left out from earlier when I was talking about Tim, Larry, and I. He is still a mutual friend of ours. He was in our group back then. His name is Glen Yonkers. Our first group consisted of Tim being the DJ and he would do some hooks every now and then, but he wasn't rapping yet. So, the group was Tim, Larry, Glen, and I. Early on, when we first started, Tim was making music using a little Yamaha keyboard, and he would connect it to his DJ equipment and somehow he would be able to record vocals with his DJ equipment. When I look back on that time, there was something different about Tim. Now that he has had all this success, it all makes sense. Maybe his mind was in a different place. Maybe he knew that he was going to make it one day. The fact that he had the ability to make productions with his DJ equipment by using a little Yamaha keyboard was amazing to me. I don't know how he did it. As far as his progression is concerned, as a DJ, he was influenced by Pete Rock, Kid Capri, and guys like that from a national level. He was an astute, amazing DJ. When I was say he was amazing, he was a great DJ. [laughs] He was as great of a DJ as he is a producer now. Tim was so dope as a DJ that people say he was DJing but he wasn't. That's how good this cat was when I first met him. He worked on his craft all the time.
It was a natural progression for him from when I first met him to when we got to Devante. He wasn't where he wanted to be or needed to be when we first started working with Devante. I think Devante gave him a platform to work on his craft. I recall the first record he did that was a hit. It was "Pony." This was in 1995 before it came out. He was working with Ginuwine. When he produced this song for Ginuwine, we were still working with Devante. Tim had never produced anything like "Pony" before. This was a new sound, but I didn't know it was going to become a new sound. So, he plays me the song in the studio, and I didn't think he produced it. It was like overnight he figured it out. The night before he was a dope producer, but the next day he woke up, and he became incredible. I asked him, "How did you do that?" He replied, "I was just playing around with some sounds. I was playing around with them and it just turned into a hit." Just imagine that you're in the studio with your friend and you're in the same group at the time, and you hear him do something that he didn't do the day before. I just couldn't believe it.
Were you working with Missy around the same time you started working with Timbaland prior to meeting Devante and joining the Da Bassment collective?
Melvin Barcliff
When I first met her, we went over to Tim's house and recorded songs. It took us a while before we got to the Devante situation. We would record all of the time and hang out with each other. We were really young back then. No one was trying to mess around with each other. She was in a group with four girls, but we hung out with the girls like they were our homeboys. I think that's the reason why she looked out for us. We weren't some guys she just met; we were actually friends when she got with Jodeci. We would've done the same thing for them at that time. If we would've got on first, we would've told them, "Hey. We know some talented girls that can sing. You really need to see them." We didn't have an agreement that any of us would do that, if we got in that type of situation, but it went without saying. We would travel back and forth to New Jersey together when they first got on. We had a real friendship between all of us. It was rare for guys and girls to be friends like that. They were our sisters.
Tell me about the day you all met Devante Swing. How did he decide to start working with you and Timbaland?
Melvin Barcliff
Tim and I didn't meet Devante backstage at a Jodeci concert and perform for him like Missy and her group and others did. But Missy deserves a whole lot of credit, though. The public may not know this, and I want to make it very clear. Missy and her group, Playa, Ginuwine, and everyone else performed backstage for Devante. When we met these guys, they told us that's exactly what they did. I think, Missy, initially, performed for Mr. Dalvin, and he told Devante about Missy and her group. When they got their audition, they came back and told us they met Jodeci and that they were asked to go to New York City. Missy was nice enough to tell Devante that the demo tracks they used were from Tim. He liked it, but he didn't want to use Tim. She told him, "If Tim isn't coming, then I'm not coming." [laughs] So, Devante agreed to let Tim come up to New York City. When Tim came up, she was able to get us an audition for me and the guys I was rapping with. Tim agreed to be just a producer at this particular time. He wasn't in a group with anybody anymore. He was going to be a DJ, but he was going to be our DJ, if we got on. He was going to DJ for Missy and them because they were already on, and he was going to produce for them. He was going to produce for my group once we got on. We auditioned for Devante, and he only picked me. To be honest, I went back to Virginia and the rest of the guys and girls stayed in Teaneck and Hackensack, New Jersey. After a year, I eventually went back up to New Jersey to Da Bassment.
When I went back up there, it was Playa, Ginuwine, Missy and her group, Tim, and me. With Tim and me already being in a group, I had to sit him down one day. Many people don't know this, but Tim didn't want to be an artist. Tim just wanted to be a producer. I sat him down and told him, "Tim, I want you to stay in a group with me." He replied, "Magoo, I'm not a rapper." Tim used to do hooks and say stuff on a record. His voice was dope, and he was funny. I told him I thought he could do it because his voice was dope. Tim said, "I don't know if I want to be an artist." I said, "Trust me, man. We need to stay together as a group. You'll be the DJ and you'll do songs with me. What would Babyface be if he wasn't also Babyface the artist?" I just gave him examples of people who parlayed their careers from being producers and writers to being an artist. He was like, "OK. I see what you're saying." We were already a group because he was the DJ. It just transferred into him also being an artist. He wanted the name of the group to be Magoo and Timbaland. I told him it didn't sound right. [laughs] I told him it would sound better as Timbaland and Magoo.
As a musician, Devante is the most talented person I've ever been around.
When you went by your moniker, was it your own creation or did someone else bestow it upon you?
Melvin Barcliff
This is what I've always hated about my rap name. I'm glad I chose it for the reason, but the result was not what it was supposed to be. My aunt raised me. She was my mother's sister. As a tribute to her, I named myself Mag-an-ooh. Her name was Magdalene, but people called her Mag for short. So, my real rap name is Mag-an-ooh. For some reason, people started thinking that I was Mr. Magoo, but that had nothing to do with me. I hated it. My name had nothing to do with Mr. Magoo. Maybe I should've named the group Tim & Mag-an-ooh. [laughs] I didn't like the fact that people thought it had something to do with Mr. Magoo, but hey, what are you going to do?
When you, Tim, and Missy were in Da Bassment crew, would you say that Missy and Tim were the standouts from the rest of the crew and what was the creative atmosphere like during that time?
Melvin Barcliff
It was competitive, but it wasn't a hateful competitive atmosphere. The competition was to get Devante to like what you were doing. There wasn't any stabbing in the back because that wouldn't help you. Devante only responded to what was top shelf. It was always about the music. As far as standouts are concerned, I would say everybody had their own thing that was unique because I have a sense of perspective now. During that time period, I think Devante's favorite artists were Playa. This is only what I thought. As time developed, Missy became one of his favorites, too. Devante had an impeccable ear. If you look at the people he picked out, the ones that didn't make it is because they didn't get in the right situation. If you look at me and Tim as a group, Missy as an individual, Ginuwine and Tweet, it's not a coincidence why he picked these people. He should be where Puffy is with Bad Boy.
As a musician, Devante is the most talented person I've ever been around. For me, as a lover of music, I think the world got cheated that Jodeci didn't put more records out and that Devante didn't do a lot more. I don't know why that happened, but he was the most talented person I've been around. You know I've been around some talented people. He could play Bach and Beethoven impeccably. He taught himself how to play guitar in two weeks. He taught himself how to use a vocoder just so he could use it on Jodeci's "Feenin'" record. He was teaching himself this stuff. I was watching this guy in awe. How can you teach yourself how to play guitar that fast? Learning how to use a vocoder is difficult. The only other person I heard use it effectively was Teddy Riley. The geniuses figured it out. He is a musical genius. He was our mentor. He was always working. He didn't tell us what to do; he showed us what to do. This is why you have a Timbaland and a Missy Elliott because he was our example. So, if your example is working two days straight, and he goes and takes a shower and then comes right back to the studio to work more, he is leading by example. He would sleep for three hours and go back to work. The way he taught us is that we had to work for it. That type of work ethic is what makes you successful.
You referenced the moment where it clicked for Tim after he made "Pony." Take me through the time after he created "Pony" to when he signed his first publishing deal.
Melvin Barcliff
The thing about Tim being taught by Devante is he already had a great work ethic. Through Devante's example, I believe it helped him take it to the next level. After he did "Pony," Tim figured out that it was going to be his sound model, and he just built upon it. The money was never an issue with him. You never got into a conversation with Tim about publishing deals or what he was going to buy. It didn't matter. The only thing that mattered to him is that he wanted to be great. He would just work so much. I remember asking him, "Why did you work so much?" He said, "I don't want to lose my job." I told you he was peculiar when I first met him. In hindsight, he probably thought that way when he was 16 and 17. I was 15 when I met him, and he was 16. He had to be thinking like that back then. He wouldn't say anything about it, though. He would just say, "I just pray to God things will turn out OK. If things go bad, leave it in God's hands and keep working hard." It was almost like the guy knew something that I didn't. He always had a focus that was different. He wasn't the type of guy that was going to talk, yell, scream, and fight somebody. He was focused on becoming great as a producer. His time and energy outside of God and church, was in his music. Of course, he had girlfriends in between, but music was his love and it still is. Nothing changed between the times of him creating "Pony" to signing his first publishing deal. He was always competing against himself to become better.
When Timbaland played "Pony" for you, what made you want to sign him and Missy to their first publishing deals?
Angelique Miles
He was kind of shy at the time. He didn't say much, but I could tell through his music it was different. "Pony" didn't sound like anything else at the time. There wasn't really a formula for me to use, especially at that time. I just had a good ear. I could hear his potential from that one song. It was a great song; it was well produced. Sonically, it sounded good. I knew they were working with Aaliyah, but I hadn't heard the music from that album. I signed Timbaland off of that one song, and I signed Missy off of her "Steelo" song and her feature on Gina Thompson's song. She didn't get her deal with Elektra until after that. It kind of all worked out. The deals weren't for a lot of money. They were admin deals, which were unusual at the time, but they're more popular now. Louise is a smart attorney and they did admin deals for very little money, but they received really huge royalty checks as a result of that. I signed them to their deals in 1996. After signing the both of them, my career skyrocketed.
I heard that Timbaland and Pharrell went to the New Jerusalem Church of God in Christ together growing up. Is this true?
Melvin Barcliff
Yes. It is true. They went to this church together and Teddy Riley went to the same church when he moved to Virginia Beach. There was something about that church. It was an anointed place.
I call Missy "The Queen" when I talk to her because she is the queen. She is such a strong woman.
Did some of Timbaland and Missy's musical influences come from gospel music?
Melvin Barcliff
Tim's inspiration always seemed to have God infused in it. I met him way before the fame and success. When I met Tim, it was a little after he had been shot. He was accidentally shot. His friend Larry [Lyons] told me how much it affected him. So, when I met him, he was ultra-religious. His mother is a God-fearing woman. She was one of the Saints in the church. She was one of those people in the church you go to for prayer. He comes from a very religious upbringing. Everything with him was biblical, but his music was secular. Even though his music was secular, you could still tell that God was in it. The music tickles your ears a little different. Come on, man. Who makes a track with a baby laughing in it and makes it sound good? God has to place something on your mind for you to be that great. Tim fits that mold and Missy definitely fits that mold. I call Missy "The Queen" when I talk to her because she is the queen. She is such a strong woman.
What is the story behind you and Timbaland getting your record deal with Blackground Records?
Melvin Barcliff
An incident happened when we were still with Da Bassment. I'm not going to get into it, but after the incident, some people left. I ended up leaving before Tim left, and Tim ended up leaving a little bit after me. Tim went out looking for a deal with the "Pony" record he produced. I was already in Virginia, but when Tim left, he came back to Virginia. He used to travel to New York with an engineer by the name of Jimmy Douglass. Jimmy Douglass was a well-respected veteran engineer in the music industry. So he got in front of Epic Records and played the "Pony" record. They didn't know Ginuwine was a good looking pretty boy. After he played the record, he got a deal. From there, once we got the deal for Ginuwine, I came up to New York and that's where we recorded his first album at. I ended up writing a couple songs on his album. Tim produced that whole album. From that, people started hearing about Timbaland. Missy was already out there writing songs after she left Da Bassment. People like Mary J. Blige and Faith Evans were helping her out. Missy told me this herself. She was writing stuff, and she told me that Puffy one day asked her to do a verse on Gina Thompson's song. So, we know what happened after that. She started getting offers left and right. Tim was doing stuff with her, and they ended up doing the Aaliyah project. From the Aaliyah project, Barry [Hankerson] approached him about doing a record. Aaliyah heard our record, and she told her uncle that she liked it and that's how we got our deal.
After Missy left Devante Swing's Da Bassment collective, did you still work with her?
Louise West
Well, when their deal was over, Missy and I started collaborating on what she could do and where she could go after that. I told her she needed to focus on being a songwriter to get toward being an artist and fine tune relationships. I told her to go to Bad Boy Records to see who was there that she knew. So basically she plotted her own path as a songwriter and started collaborating with Faith Evans who helped her a lot in terms of her writing and connecting her to people. Before we knew anything, she had three or four songs on the charts. Then, she gets in a Gina Thompson video doing her Hee-Hee-Haw and the next thing you know; all these people are trying to sign her. A short time later, she brought Mona Scott on as her manager.
What was it like working in the studio with Missy and Timbaland after they were starting to experience some success in the late '90s?
Lenny Holmes
I just want to say she has an incredible mind as a producer, writer, rapper, and singer. She is a great singer. She has a great ear for harmony and pitch. She was very innovative and different. She would always pull different ideas out. I can remember her telling me, "Yeah. That's cool but you're doing too much. I don't need that." Then, I would play a few notes, and she would hear something and catch it. After she did, she would say, "OK Y'all. Excuse me." She would put everyone out and after she put everybody out, she would go and write. We would come back in the studio a little bit later, and she would have the whole song written out. I can clearly remember that. Back then, we knew that Missy and Tim were hot. We knew about Missy's "The Rain." When Rob said he could get our little CD to Missy, we were thinking no way. But the Lord opened up a door for us. She heard it and her exact words to us were, "I think y'all are cool, but I'm not really feeling what y'all got here. I think y'all could play on some of my stuff. I want y'all to come down here and listen to what I'm doing."
I remember going and being excited. Gerald Thomas and I drove back and forth from Richmond to Virginia Beach every day because we were that excited. We must've done that for a full year just so we could get on some of her tracks. We went through boot camp with her. Finally, she asked us, "Do you have something for this?" I would come up with something, and she would chop it up and use different pieces of it. It was an art. It was just an awesome time. I remember she was with Sylvia Rhone and Elektra Records. I remember Sylvia Rhone coming into the studio to listen to her tracks. Not only was she getting offers to do R&B, but crossover people were calling her, too, like Paula Cole. Everybody was calling Missy to help write and sing. If you listen closely to some of the tracks she produced for other artists, you can hear her singing background vocals. Because if she produced a song and the background vocals weren't too right, she would go in there and sing them herself.
I learned how to layer tracks from her. I learned how to listen for certain intonations. The thing about Missy was, if you didn't play things a certain way, she wouldn't use it. She was very particular about what she wants to hear. I'm a traditional guitar player, meaning I come from the old school where you played a song from the beginning to the end. However, they broke the trend of that when they started doing the Pro Tools stuff. They started chopping stuff up. Timbaland used some of my guitar work. He ran it as a sample into the ASR-10, which is a keyboard he loves to work with. He chopped up the guitar note and put it on a key. So he could play the key the way he wanted it. [laughs] Yeah, man. I could go on and on. They really formed my career. It was hard for me because I was a traditional player. I played with the original P-Funk, Mutiny, and Mazarati. I've done a ton of stuff on my own. But I have to say this; nothing was greater than when I got with Missy and Timbaland.
Also, Pharrell [Williams] and Chad [Hugo] were right there at the same studio as young kids. I remember Rob Ulsh telling me that he had these young guys and that they wanted to get in the studio. Missy and Timbaland had the main studio at Master Sound Studios wrapped up. They had it locked down. So, Rob, the owner, built this little side room and put some stuff in there, so Pharrell and Chad could begin recording. They were in the B room off to the side of the main building. I have the same amount of respect for Chad and Pharrell because they came from the same stomping grounds. They're made from the same material.
My career today wouldn't be what it is without Missy and Timbaland. I thank the Lord for them. They changed my life. What I'm trying to say is, they're real musicians. They were teachers and innovators. I still love Missy and Tim. They will always be my favorites. I'm so happy for her that she's coming back. When she was performing at the Super Bowl, I was in tears because I love her that much. I was in tears seeing her back on stage doing what she loves to do.

Header image: David Corio / Redferns