Inside the Curious World of Detroit's Waajeed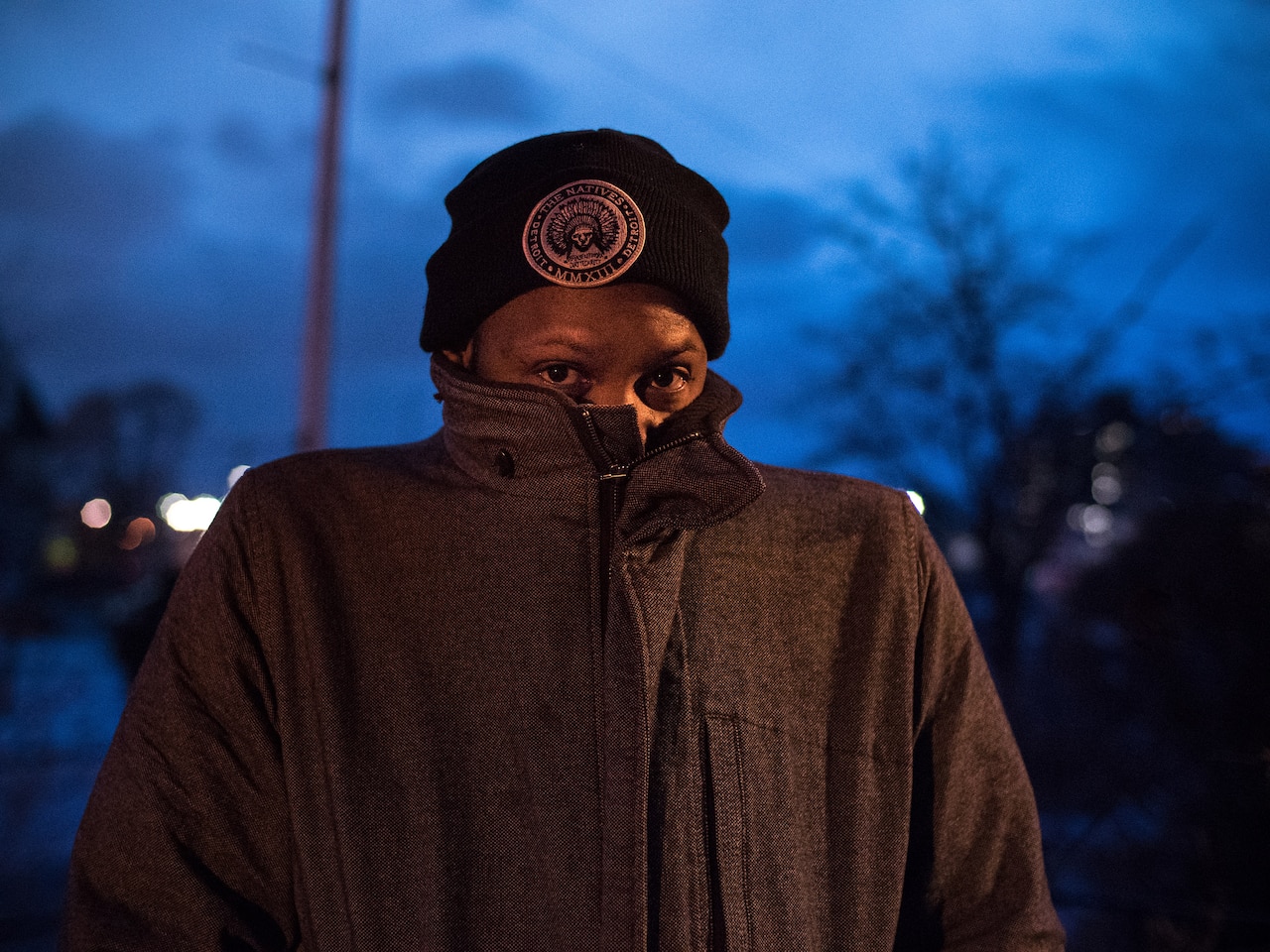 Waajeed is a producer, DJ, visual artist, illustrator, and photographer. "I've never been a one-trick pony," he says with a smile, reclining in a chair at Submerge with his feet kicked back. "I think that's a disservice to people, to not open themselves up to many things."
The Detroit native is a complex individual. His reigning Waajeed persona is made up of sub-personas: every day, he morphs into a different one, depending on how he feels. Today, he's Church Boy Lou, a new alias steeped in gospel house and slave anthems. Inspired by weekends spent at church with his grandmother, Waajeed fell deeper and deeper in love with vocals throughout his childhood, following a voice that would eventually manifest as Lou.
While his young life was colored by the sounds of the church organ, it was also filled with jazz and Afro-futuristic artists like Funkadelic. Some of Waajeed's earliest memories of music are evenings spent listening to his father's records in their east side Detroit dining room. His father's hip hop collection hit hard, inspiring him to start making music and spin records as a DJ, but it wasn't until he met a new family at the age of 14 that Waajeed entered the music business. That trio – T3, J Dilla, and Baatin – was hip hop group Slum Village.
My first time out of Detroit really made me think about my options differently.
As Slum Village's teenage DJ, Waajeed grew alongside the crew. But when he received a scholarship to Detroit's College for Creative Studies for illustration at the age of 19, Waajeed reluctantly put his music career on hold. "I was in a dilemma," he says. "Like, do I leave my chosen family – these guys in Slum Village – or do I pursue my art career? And my parents were like, 'Fuck that. You're going to school.'"
Almost three years later and on the brink of graduation, Waajeed dropped out of art school to reunite with Slum Village for a European tour. "The very first place we went was London," he remembers, "and it fucking changed my world. When we showed up, we called ourselves the Black Beatles because everybody knew the words to our songs. It was my first time out of Detroit and it really made me think about my options differently, 'cause where I'm from, you don't really have a lot of options. I remember telling myself on that trip, 'I can do this for a living. I can make a career out of this.'"
Returning to Detroit following the tour's conclusion, Waajeed locked himself in his apartment for a full year to focus on music. His father once told him if he wanted to be great at anything, he had to deprive himself of all vices and distractions. Waajeed spent his days cooking beats with Dilla, and when Slum Village's Fantastic, Vol. 2 dropped in 2000, it became an underground success thanks to the group's relentless focus in the studio.
When Dilla left Slum Village in 2002, Waajeed stepped into his shoes and produced several tracks for Trinity (Past, Present and Future), proving himself to be as adept behind a sampler as he was behind the decks. Around that same time, he also developed Bling47.com, a music-centric platform for himself and his friends. Bling47.com's first release was The Official Jay Dee Instrumental Series Vol.1: Unreleased, an album that proved essential in shaping beat culture. "We put out those instrumentals against Dilla's wishes because he didn't think anyone would listen to them," Waajeed remembers, "and they did really well."
Following two releases as part of hip hop/R&B group Platinum Pied Pipers with multi-instrumentalist Saadiq, Waajeed returned to developing a digital home that could house his various artistic endeavors. The result was 2012's Dirt Tech Reck, a platform similar to Bling47.com but also encompassing art, photos, and visuals. The first release was Scorpio, produced under the alias of Electric Street Orchestra alongside "Mad" Mike Banks of Underground Resistance, fusing techno with hip hop.
Church Boy Lou's Weep EP is the latest effort to emerge from Dirt Tech Reck. Backed by Chicago house, Detroit electro, and disco, Church Boy Lou aims to inspire people to think twice about beauty and how it's defined. "Detroit is beautiful," Waajeed says as rain taps against the windows of Submerge. The clouds outside are dark and ominous. "I think there's a beauty in these dilapidated houses and these gray skies and these people who appear to be broken on the surface. They connect to spirituality in their own ways, like through the pulse of 130 BPMs in the middle of the night. I think music serves as a church. You go to church every time you go to the club or you're in the car listening to your favorite tune. It's frequencies, it's vibrations, it's energy."
Church Boy Lou is a channel for Waajeed – a way to connect to his deepest influences, he says. It's a new identity with a new vibe. "I wanted to start Church Boy Lou to really fuck people's heads up," he continues. "Church Boy Lou deals with black people's struggles in the United States. The church has always played a role of a newspaper, a CNN, for black culture. Whatever was happening in the hood, you'd be able to communicate those things to folks in church."
Named after the wailing in the EP's third track, Weep is only a taste of an already developed Church Boy Lou universe, which has a stockpile of around 18 tracks. "Before a new identity comes out, I've been working on that identity for some time," Waajeed explains. He has been creating Church Boy Lou material for almost two years. "I don't want people to expect 17 Church Boy Lou records, though. It just won't happen."
He plans on only making a few records as Church Boy Lou before moving on. "These identities don't last long because I have a short attention span," he says with a laugh. "I always want to grow and I always want to put myself in positions where I'm growing. It's difficult to redo the same thing twice."
Waajeed's studio is located on a nondescript street deep in Detroit. It appears vacant from the outside, and the entire street is lifeless aside from two parked cars. But walk through the door and you're transported to a realm of innovative technology. Inside the studio – which belongs to Complex Movements, an artist collective consisting of Waajeed, Wesley Taylor, Invincible (ill Weaver), and L05 (Carlos Garcia) – is what Waajeed refers to as "the pod." It's a massive mobile art installation in a 400 square foot polyhedron dome-like pod structure with three projectors and an 11-speaker system. It's like stepping inside of a virtual spaceship.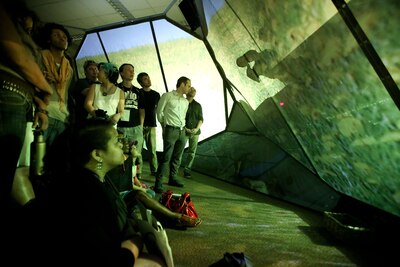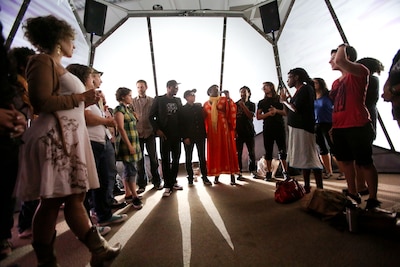 Combining visual design, hip hop/electronic music, architecture, and theater, a design-based performance is generated onto the surface of the pod – made up of life-size video screens – to create an immersive visual and sound experience. "It uses Ableton in ways never used before," says Waajeed. "The technology has never been done. We've been working on this thing for the last three years." The project is called Beware of the Dandelions, and it aims to highlight connections between complex science and social justice movements to support the evolution of communities. The entire pod has been disassembled and transported to Seattle, Washington, where it is currently on display until May 10 at On the Boards. It will continue to tour in Detroit, Dallas, and Miami.
Following the Beware of the Dandelions tour, Waajeed plans to return to photography, a hobby he picked up in college. He hopes to put together a Dilla photo book from the thousands of live Slum Village photos he shot while the group was on the road. "I'm already onto my next venture," he says.